It can be pretty hard to see all the live streams since the schedule might overlap with your sleep schedule or other activities. Therefore, using a live stream screen recorder could help you record your favorite content and never miss your favorite streams.
Here on this article, you will find some of the best live screen recorders and we also mention how to record screen live stream with other alternatives like Windows and Mac features.
8 Best Live Stream Screen Recorder
1. iMyFone Filme - Most Recommended
iMyFone Filme is one premium Software that could solve all your streaming problems. You can try the free trial to get not only an reliable screen recorder, but a nice video editor. Its friendly-user interface makes it rather simple to use even if you are a beginner.
This tool is compatible by almost any desktop pc or mobile device, so you can keep a live stream of any video or game at all time.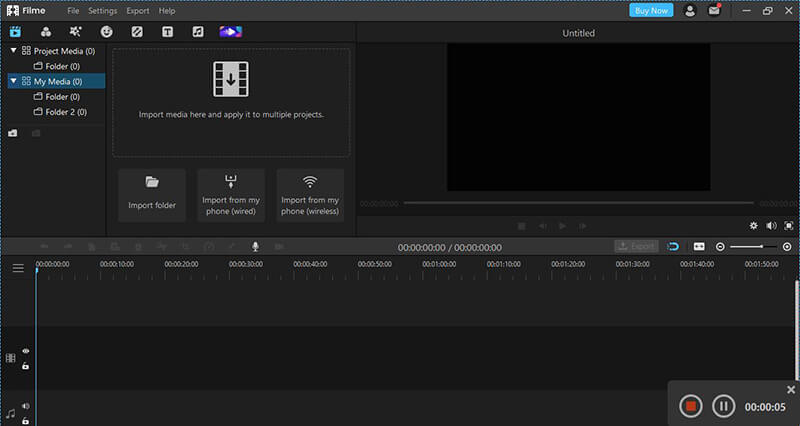 Features of iMyFone Filme:
Support to import various file formats.

Record computer audio, microphone audio, or both simultaneously.

You can share the recorded video on YouTube, Twitter, Facebook and Vimeo.

You can also record the gameplay on live stream.

Do the screen recording with high quality.

You can adjust the size and shape of the cursor.

Export the recorded video to multiple formats.

Simple user interface, even for new streamers.
Compatibility: Windows and Mac.
2. OBS Studio
OBS Studio (Open Broadcaster Software) is a free alternative you can use as live stream screen recorder. It was created by the collaboration of different entertainment companies to offer tools to their content creators.
It has an elaborated but intuitive user interface that will require some learning process but once it is mastered, will allow you to create high quality live streams. If you want to learn how to record live streams using this tool, there are forums of user available.
You can record only one window or the entire screen. You might as well adjust hotkeys to keep the control easily during all the recording time.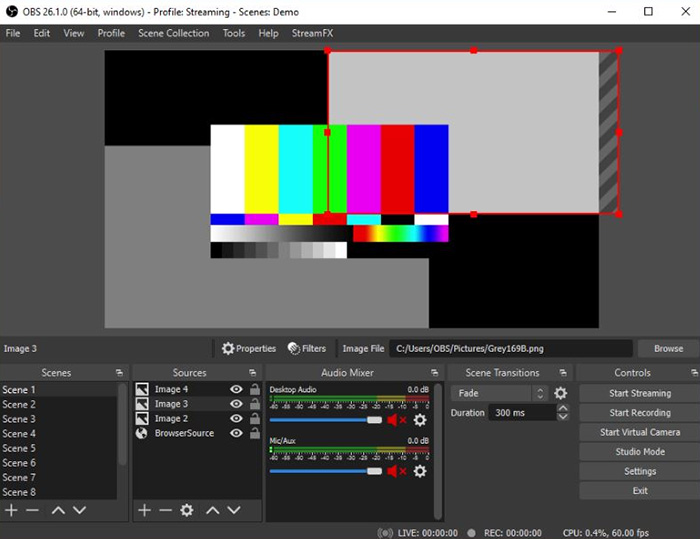 Features of OBS Studio:
No limit of the length of the streams.

Free and open source tool.

It supports live stream on platforms like YouTube, Facebook live and Twitch.

High performance and optimized functionalities.

You can adapt custom transitions.

It includes an audio mixer with specialized filters.
Compatibility: Windows, macOS and Linux.
3. ScreenRec
If you need a lightweight live stream screen recorder, ScreenRec is your alternative. It is a tool created to facilitate remote work experience and communication. You can get this live stream screen recorder by free download from their official website.
You can activate it only on a portion of your screen and delimitate a custom window of recording. This live stream recorder can include your screen, microphone, audio, and webcam recording at the same time if you require it.
You can also prepare annotations for screenshots with only a click. Once your recording is ready, you can share it right away with your friends or colleagues through a mail or a media share. You can start using it right away thanks to its user-friendly tools.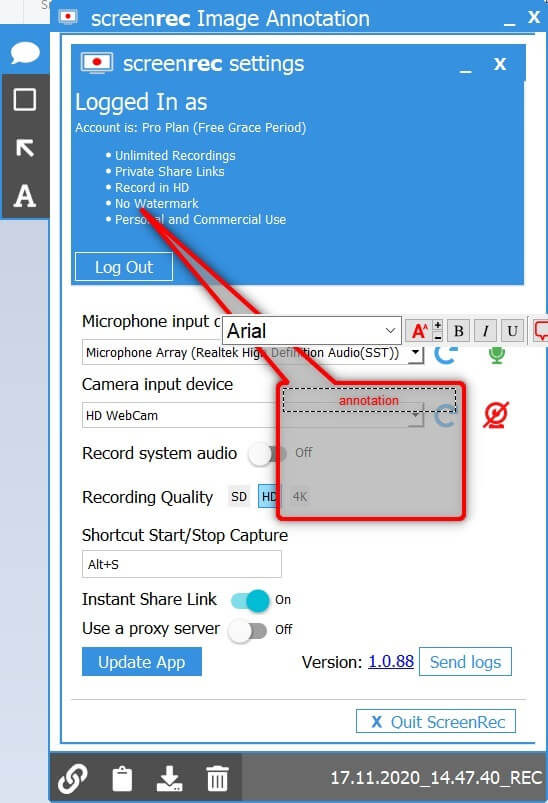 Features of ScreenRec:
Easy to use with no learning cureve.

No watermarks problem.

Unlimited stream recording length.

Records computer sound.

Free and private cloud storage option.

Screenshots with narration tools.
Compatibility: Windows, macOS and Linux.
4. QuickTime Player
Quick Times Player is an Apple tool and program that can be a live stream screen recorder. It works actually as a video player and has video editing functionalities. Yet, among the functionalities it has, it can record your computer or iPhone screen.
It is a tool not mainly designed to be a screen recorder with live stream. Therefore it lacks many of the functionalities you might need for a screen recording tool. However, it is a free alternative that you can use to record quickly what is displayed on your screen.
You might as well include a microphone audio narration to your recordings. You can do a bit of editing of your video afterwards.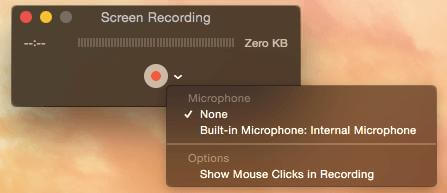 Features of QuickTime Player:
Simple options and functionalities.

No watermarks problem.

You can set the area of the screen recording.

You can add screen pointers or clicks to the recordings.

Small screen options to control your screen recordings.

Option to add a microphone audio.
Compatibility: Windows, macOS and iOS.
5. XSplit
Xsplit Broadcaster is a professional live stream screen recorder. This is a broadcast studio created for gamers. Therefore, it facilitates the creation of engaging content through streaming. It is also a safe platform for team works and business streaming if required.
It has hotkeys custom settings, audio filters and selection of the screen recorded. All of these functions are vital for a good screen recorder with live stream. It also supports some of the most popular streaming platforms. You might as well do a little editing to your video after it is done to share it. It gives a professional result with an affordable cost.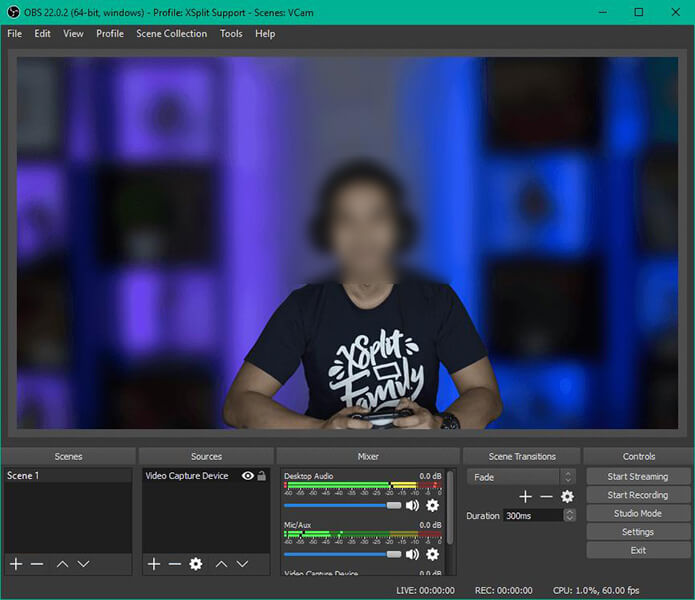 Features of XSplit:
Simple options and functionalities.

It is supported by streaming platforms like YouTube Live, Facebook Live, Twitch and others.

Flexible and powerful plugins and extensions.

Scene presets and effects for the broadcasts.

Noise suppression and other audio filters available.

Custom transitions for your recording.

Background video settings.
Compatibility: Only on Windows (Windows 7 onwards)
6. CloudApp
Cloud App is a screen recorder with live stream option. It is a free tool that you can use to facilitate communication during meetings. Sometimes a quick video can smooth a business meeting and clear up any misunderstood right away.
You can combine screen recordings, narrated screenshots and GIFs to explain anything easily. These functionalities are ideal for business projects and sales negotiations. It includes other functionalities like collaboration tools and task management tools. It can be a valuable tool for team projects management.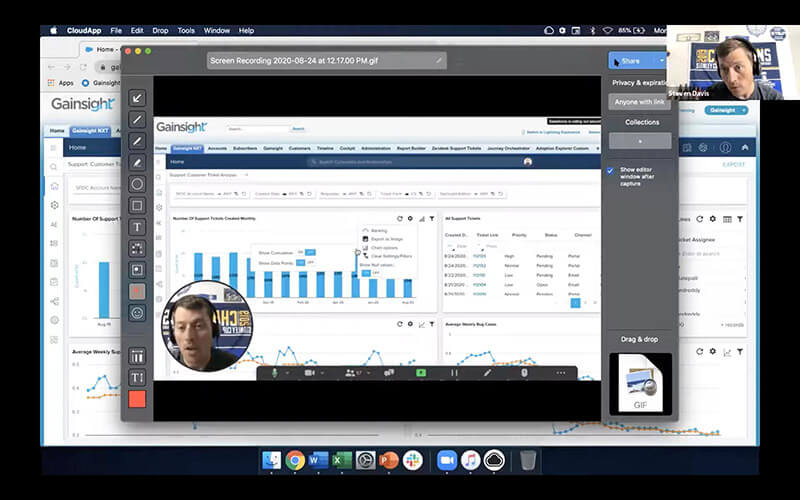 Features of CloudApp:
Simple and quick to use at any moment.

Text and annotations add for additional context.

Cloud App alternative for mobile devices.

Sharing link available once the recording is done.

It can be integrated with other productivity Apps like Atlassian JIRA, Slack, and Trello.

Screenshots of custom areas of the screen.

GIF recording for quick explanations.

Cloud save and sharing option.
Compatibility: Windows, Mac, iOS, and Linux.
7. Camstudio
Camstudio is a simple but usefull live stream screen recorder. You can record and convert all your activity into an AVI video file. It is a really convenient tool that you can download for free. It is meant to make the computer and technical support easy and demonstrative.
Although it is limited to only one video format, it is a free and simple alternative if you require a straightforward and reliable tool, this is a great alternative. You can share the video afterwards, but it does not support any sharing or broadcasting platform.
It includes microphone voice recording. Another feature you can use is adding simple video effects to your recording.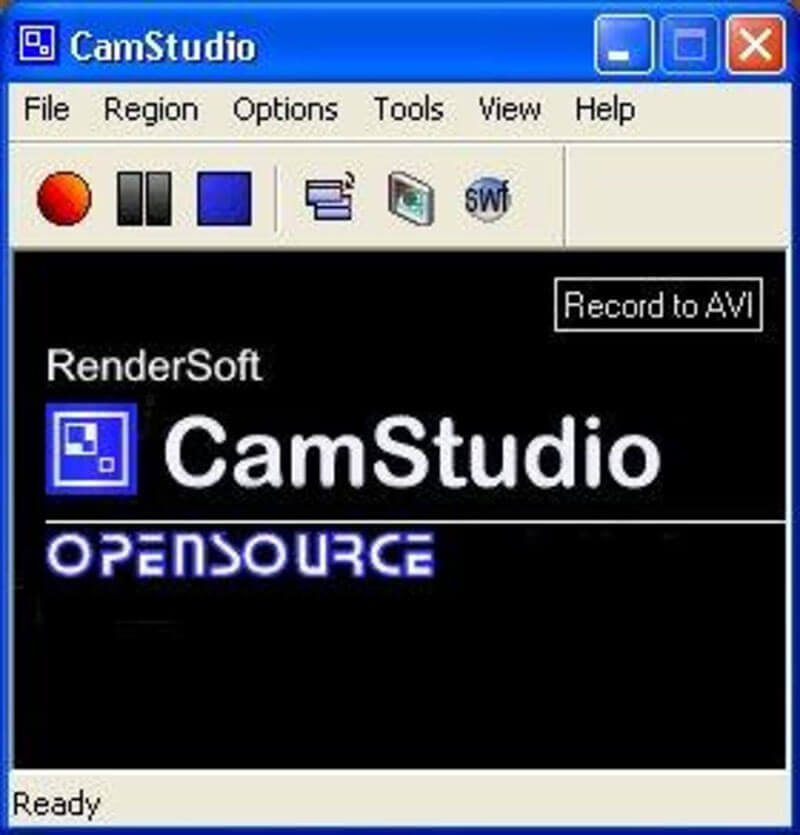 Features of Camstudio:
User-friendly interface.

It supports AVI format for the videos.

Video annotation feature.

Custom cursor modification.

Free tool you can download from the official website.

Codec adjustment of the final video.

Microphone audio recording.

Simple video effects feature.
Compatibility: Only on Windows (Windows 7 onwards)
8. VLC Media Player
VLC Media player is a well-known video player. What some might not know is that it can also offer a screen recording functionality. It is not it main feature, yet, with a little configuration it could help you record your screen activity
It is not the simplest interface to set up. However, it is a free alternative you might use If you already have the program downloaded. You can find plenty of tutorials online that will help you configure your screen recording function.
It is important to mention that these recording do not include webcam recording, computer audio, or microphone audio. It only will record the screen of your computer.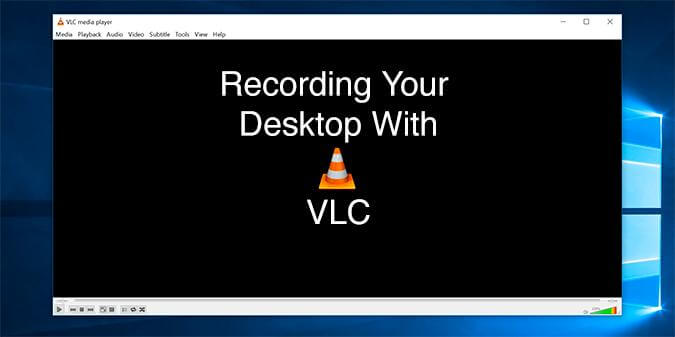 Features of VLC Media Player:
Complicated set up.

Simple screen recorder with no editing tools.

Free tool you can download from the official website.

Framerate adjustment.

Saving location set up option.

No audio recording.

No microphone recording.

No webcam recording.
Compatibility: Windows, Mac, Linux, iOS, Android and other specific systems.
Or You Can Record Live Streaming Videos with Built-in Screen Capture Tools
There is millions of live streaming being broadcasted each minute on the internet. It is impossible to keep up and watch these live transmissions as they might occur even while we are asleep.
However, there are some solutions for this schedule problem to help you record your favorite live stream record. In the same fashion as we recorded TV shows and radio songs, you might as well record your live streaming.
We already mentioned some of the best live stream screen recorder tools. But, you have options available that depend on your Operating System. Here is a guide on how to record screen live stream if you are a Windows or mac user.
For Windows 10 users:
Step 1: First, open your Game Bar by pressing the keys combination: Win+G
Step 2: On this mode you can chat with other windows users and see your PC performance. To start recording, click on the recording bottom at the upper bar. You might as well take screenshots.
Step 3: A bar of recording options will open up as the recording start. To stop recording, click on the red "Recording" bottom.
Step 4: Now, the video is saved. You will see a notification pop up confirming it. if you click on the notification, it will open the file location of your recording.
Step 5: You can customize the video recording shortcuts and other functionalities of the Game Bar.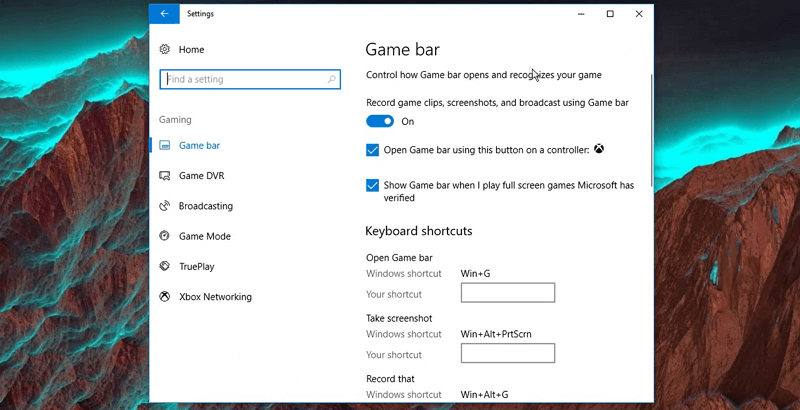 For Mac OS users:
Step 1: To gain access to the recording app press the "Shift+Command" keys and a control panel will appear on the bottom of your screen.
Step 2: With this small control panel, you can select the screen portion you want to record. It is a square area.
Step 3: Press the "Record button" on the control panel to start recording your delimited screen. Place on this space the live stream you want to record.
Step 4: Once the recording is ready, click on the "Stop" icon on the small control bar. Now you can preview your recording video and open the video file.
FAQs About Live Stream Video Recorder 50 cada 100 total
1. What is the best live streaming video recorder?
There is no perfect answer for anyone. There are many live screen recorders with different features, prices and compatibilities. You need to see among all the available options to find the one that adapts best to your necessities.
It also depends on what you need the recordings for. For example if you need the screen recorder tool to make live broadcastings or to share the content with your work collages.
2. Can you screen record a YouTube livestream?
Yes, you can use one of the live screen recorders we mentioned previously. You might as well use the Windows and Mac extensions to make the YouTube Livestream recordings.
There are also online alternatives you can use. For example you might try with a browser extension to keep your recording online without any additional download.
3. Can I record a live stream on my iPhone?
Yes, the screen recording function is a feature available on all 11 iOS devices onward. To set it up, you need to open your control center buttons to add the "Screen Recording" options.
4. Can I record a live stream on my Android phone?
Yes, it is a feature available on version Android 11 onward. You need to open your notifications menu and there you will see the screen recording option.
Conclusion
We hope that this guide was useful to learn how to record screen live stream. We mentioned some of the best live stream screen recorder you might use for your content. Remember that iMyFone Filme is one of the best alternatives you might use as well since it offers compatibility with many devices and offer the most formats outcome for your recordings.