The Microsoft screen recorder allows users to record clips of their favorite videos, to share with others at a later date. Microsoft users will be happy to know there are several neat, user-friendly, and free screen recorders available for these platforms. Read more on downloading information, usability, and troubleshooting.
Part 1. Free and Good Microsoft Screen Recorders (Windows 10, 8, 7)
Let's take a look at some approved Microsoft screen recording tools. The XBOX game bar option is more likely to be a common application for younger, gaming users, as it offers more than screen recording options.
XBOX Game Bar Windows 10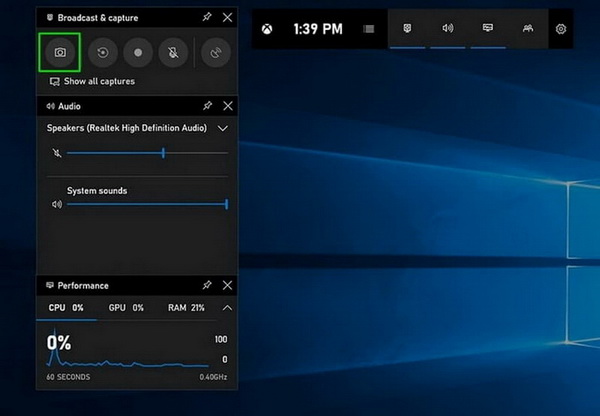 Features Include:
Content creation directly from games and from specific apps.

Screenshot options, recording options, and streaming options directly from a game, or an application, without requiring additional software.
File Size: approximately 40.64 MB.
Pros and Cons of Game Bar (for windows 10).
Pros:

The samecontroller used for games is used, easily, to screenshot, record, and capture game clips.

It gives users access to multiple widgets which help with video capture, controlling audio, and sharing of these clips.

The audiobit rate and video quality are decent enough for good video capturing.
Cons:

Not compatible with all games – some games may not allow the game barto record clips.

Only works with one application, meaning, it won't work with File Explorer or other applications.

Xbox game bar has a maximum recording duration of 4 hours; meaning you have to utilize other options to stretch your range limit.
Conclusion:
This tool is useful only if you use certain games, and would like to record those. However, if you seek to record much longer, perhaps better quality clips, you may need to download other pay-per-use applications. It is Microsoft screen recording option number one.
OBS Screen Recorder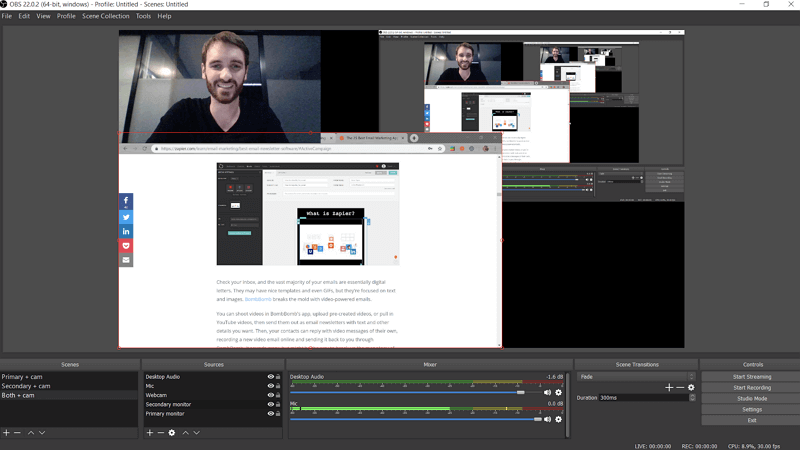 Features Include:
up-to-the-minute, real-time source recording and device capturing.

It also allows users to compose scenes, recording, video encryption, and, of course, broadcasting.

It is an open-source application, i.e. anyone can use it, free of charge.

It also boasts Multiview, hotkeys for quicker accessibility, OBS filters, and an audio mixer.
File size: 32-bit storage limited to between 2 and 4 GB storage.
Pros and Cons of OBS screen recorder.
Pros:

User friendly and according to user feedback, you will accomplish streaming efficiently.

Several options availed for sources – you can hop from one to another as you broadcast.

Intuitive and easy-to-apply options for editing and designing material for viewership.

Works perfectlywhen it comes to converting files.
Cons:

It is a pretty detailed and easy-to-use platform meaning any upgrades to it would mean a paid product.

You cannot connect several devices for multitasking or networking.

Layout (apparently) seems cluttered for the not so tech-savvy.

Some users experience a continual screen recording even after they stop the application.
Conclusion:
Works quite well as a free-to-use base, and if anything were to be added to it in terms of functionality, it would be a paid application. It is the perfect utility for professionals on a budget, rather than gaming enthusiasts.
PowerPoint

Features Include:
File sharing and screen capturing, screenshots as well as slide master to view recorded pieces.

You can thus create multiple presentations using templates, configure your slide shows and finalize and send share your recordings.
File Size: the maximum file upload for PowerPoint is 100MB, but there is no limit on local files.
Pros and cons of PowerPoint screen recorder
Pros:

Helps you create a smooth, PowerPoint slide show with videos, picture or texts.

Extremely user-friendly even for users who are not as tech-savvy.

Has very few glitches, i.e. doesn't require much to be perfected, and has very few customer complaints.

Easy to network with other apps, e.g. Captivate.
Cons:

Lacks a few analytical functions found in other equally good applications.

When users do not know how to use it, the program can be as destructive to a presentation as it is useful to some.

If presentations become jarring, it is difficult to get back up to speed, and save a presentation.

When you finally have your videos and slide show ready, there is little you can do to change your slide-show as it is running in terms of annotating etc.
Conclusion:
The perfect screen recorder for those on a budget, but, it may not be as user-friendly as some claim. PowerPoint recorder requires ample practice before using it for professional presentations.
You May Also Want to Know: Best Ways to Record Your Computer's Screen & Webcam
Part 2. A Reliable Screen Recorder for Windows Users
We are not knocking any of the aforementioned screen recorders, but there are several other options one can explore before deciding which to apply. Some applications are easier to use, others cheaper (free☺) while others boast more relevant features. Here I would like to introduce iMyFone Filme as an option that you should check.
Features Include:
Efficient video mode, several editing modes and a very quick slideshow creator is available.

For effects, you have transitions, and thereafter users have the option to preview their work instantly.

There are also multi-layer options, several audio tracks and options to adjust styles.

It is a decent alternative Microsoft encoder 4 screen recorder.
How to Easily Make use of Filme Screen Recorder:
Step 1: After you download and install iMyFone Filme on your desktop, launch the application.
Step 2: Click on the Video Recording button to activate the screen recorder. You will see this above the timeline section of Filme's interface, as shown in this screenshot.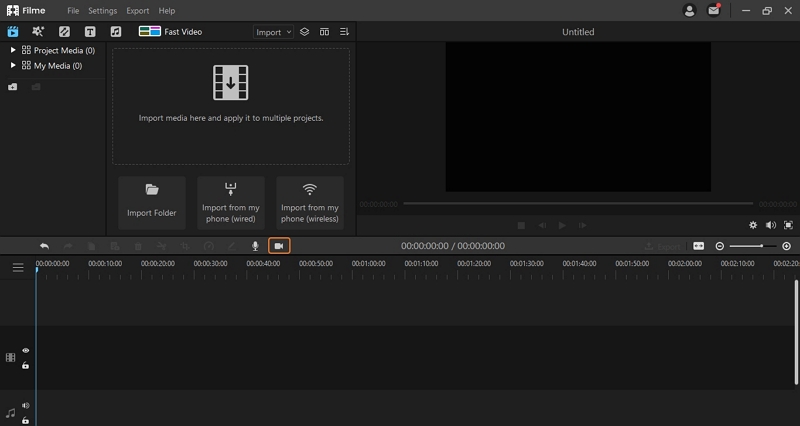 Step 3: A movable screen selection area will be visible - resize and reposition it to capture the required area of your screen.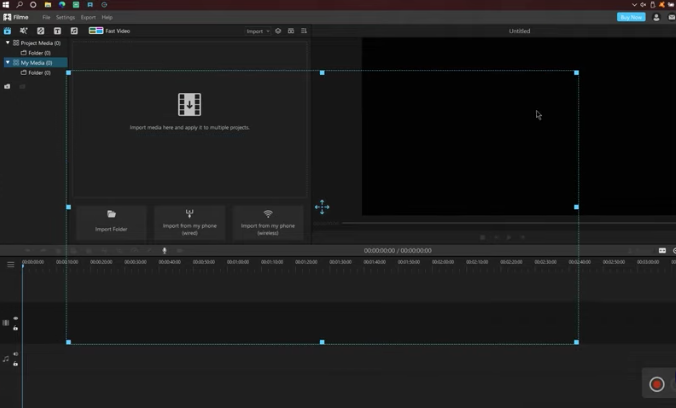 Step 4: Click the Record button that you see on the bottom-right side of the Filme interface to initiate screen capture. A countdown timer allows you to toggle to the application where you want to do the screen recording.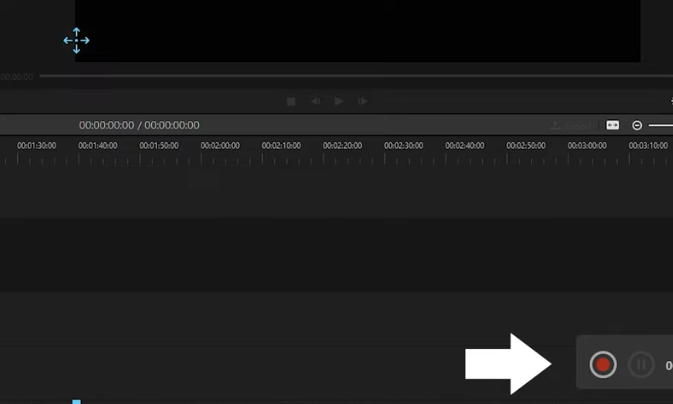 Step 5: When you finish recording, you can hit Stop or Pause.
Step 6: You will see the screen recording in the timeline. You can now do other edits like trim, crop, cut, etc. You can also add transitions, audio, effects, and so on.
Step 7: Finally, export the file to the desired location.
Part 3. FAQS
1. Does Microsoft have a built-in screen recorder?
Microsoft does in fact have a built-in screen recording feature, not known to many who are unaware of the Game Bar and its utility. Under the start menu, you can search for game bar and a Game Capturing option will appear. Press Windows+ Alt+ R to begin recording – it is as easy as one, two, three.
2. How do I record full screen on Windows 10?
When it is time to begin recording what is on your screen, you may feel the need to capture the full screen. Simultaneously press Windows+ Shift + F, at which point the record button is availed on Microsoft expression encoder 4 screen recorder and other free-to-use screen capture apps.
3. How do I record my screen with Microsoft teams?
Click the Meet button and choose a meeting to engage. Simply click join now. A preview window will appear, showing you that your video capture is working fine.
Once you select Join now, you can select begin video recording to capture the ongoing meeting.
As you carry out your presentation, do not worry about glitches or mishaps on your part. These you can always fix thereafter.
Bottom Line – Verdict
These software applications have usability that surpasses most pay-to-use screen recorders. You can download the screen recorder utility from Microsoft, and for the most part, many of these applications are user-friendly and easy to install. Make use of a free Microsoft screen recorder app today; it might make a difference in your gaming abilities and possibly be the missing link in your professional presentations. Try Filme to make them look even more professional and polished.