Are you looking for the best voice changers with suspense sound effects to turn your sound into something like a Ghost? Using the scariest voice changer is the best way to prank your friends. But, it can be very difficult for you to find the right one.
In this article, we will review the five scary voice changers with suspense sound effects. Let's delve right into the article!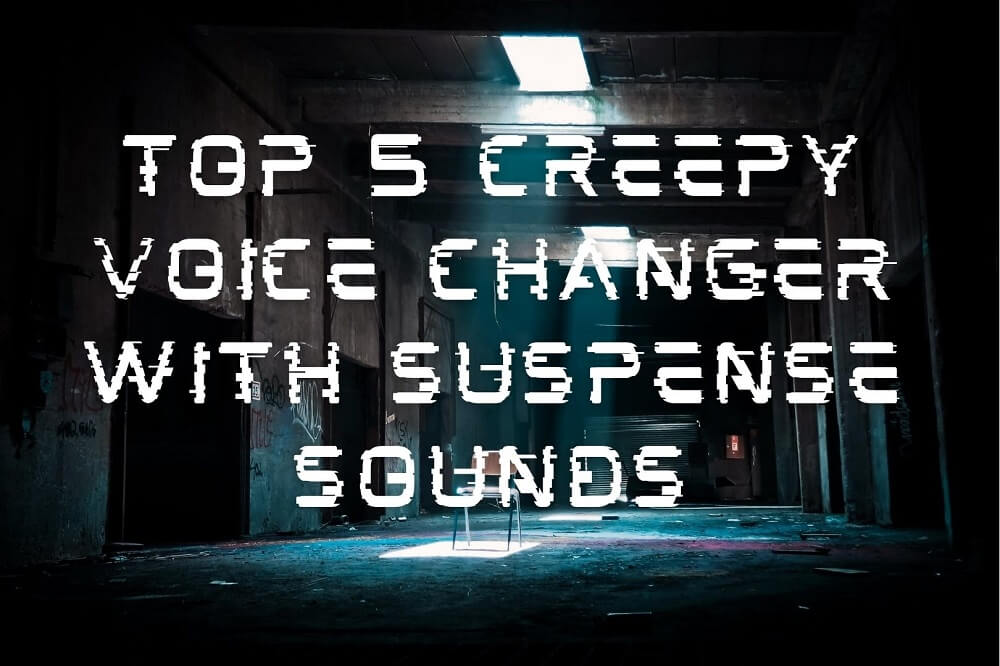 Part 1: 5 Best Creepy Voice Changer with Suspense Sound Effects
Do you want to change your voice into a scary sound effect? iMyFone MagicMic is one of the best voice changers. With a user-friendly interface, it helps the users to get some of the scariest sound effects.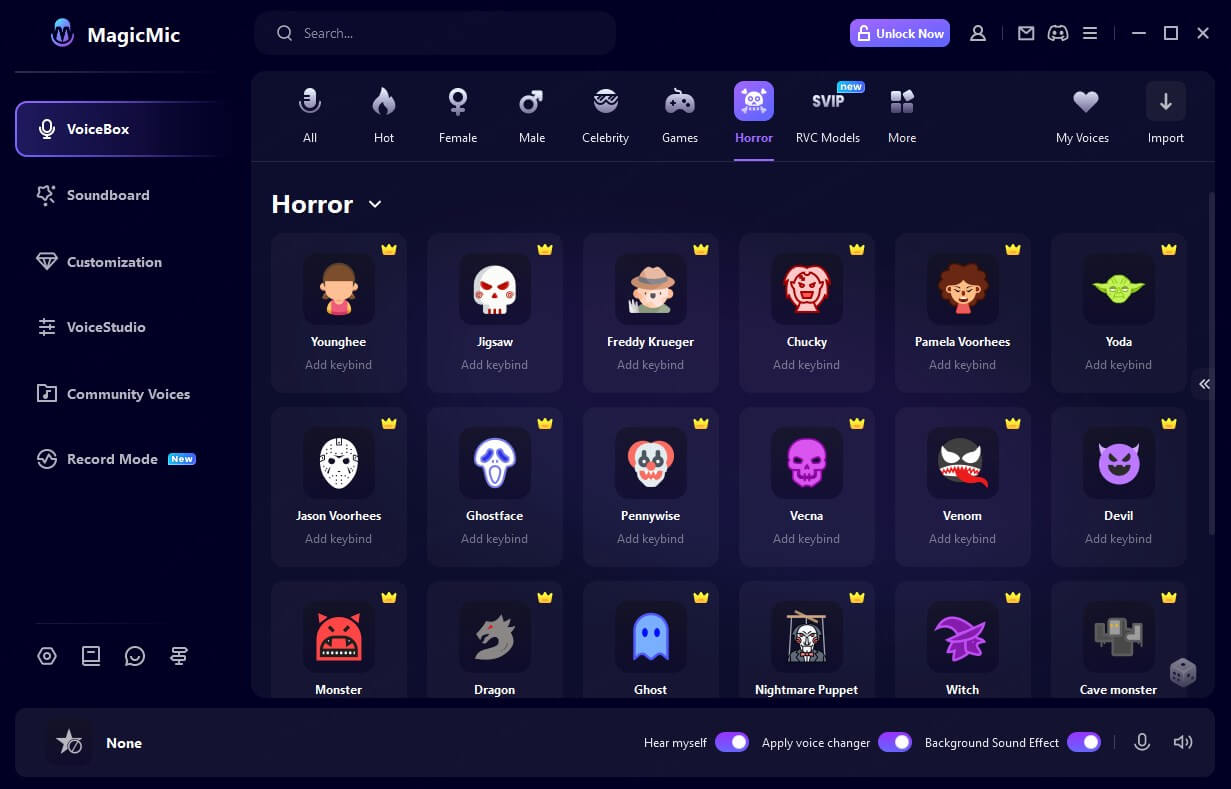 Most importantly, it saves you from the hassle of changing your voice. For this reason, it is the best tool for people who want to prank his friends online while chatting, gaming and live streaming.
Here are some of the unique key features of iMyFone MagicMic.
Features
500+ Sound Effects: iMyFone MagicMic allows you to choose from 500+ sound effectsand voice memes which makes your voice feel horrifying.

100+ Voice Filters: It is a real-time voice changer allows you to change voice 1 click instantly.

Suitable for Most Systems: This voice changer is suitable with Windows and Mac devices.

Compatible with Most Platforms: You can have fun with MagicMic in Discord, PUBG, WOW, Zoom and most of the gaming, chatting and live streaming platforms.

Superb Customization: With its customization options, you can create whatever voice you like.
Steps To Apply or Add The Suspense Sound Effect
iMyFone MagicMic lets you convert your voice in easy steps. Let's take a look at some detailed steps to use the best voice changer.
Step 1: Launch iMyFone MagicMic
In the first step, you need to install and launch iMyFone MagicMic on your device.
Step 2: Set the Input Device
Make sure to select your microphone as the input device. At the same time, your headphones should be the output device.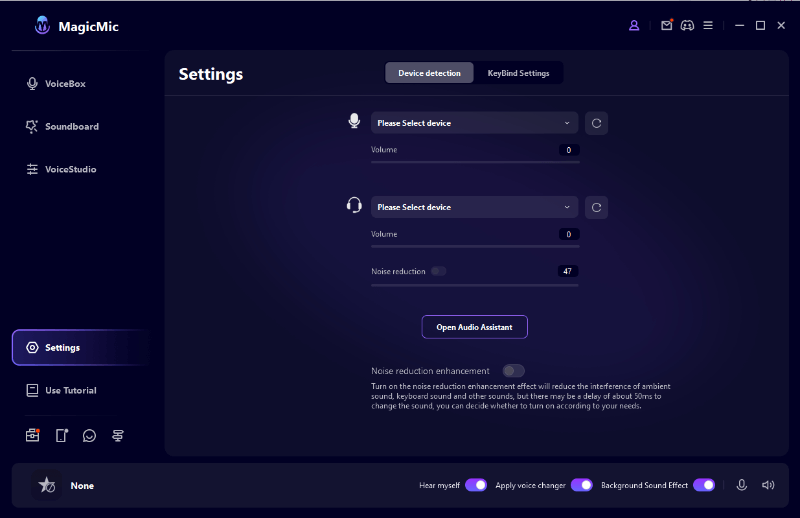 Step 3: Choose Sound Effect
Select your favorite sound effect and click it, then check if you can hear it with you. Enjoy yourself!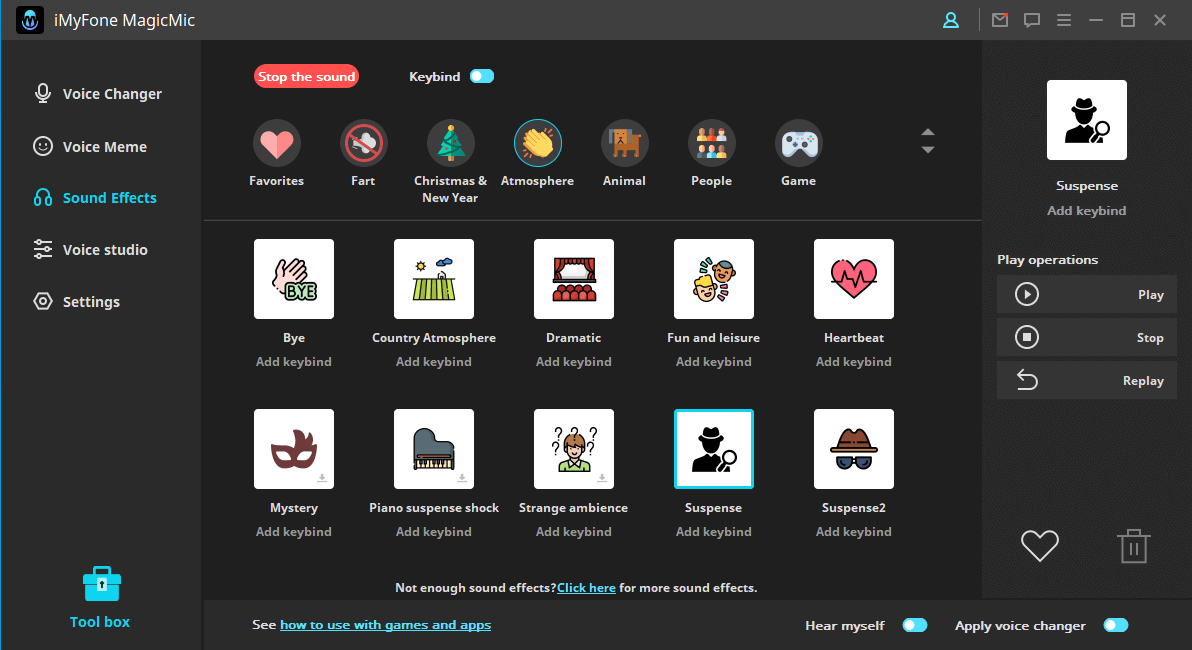 Watch Video Guide About Voice Changer with Sound Effects
Looking for the best voice changer online to create a suspense music sound effect? This is where Scary Voice Changer comes in handy. It can help transform your voice in real-time.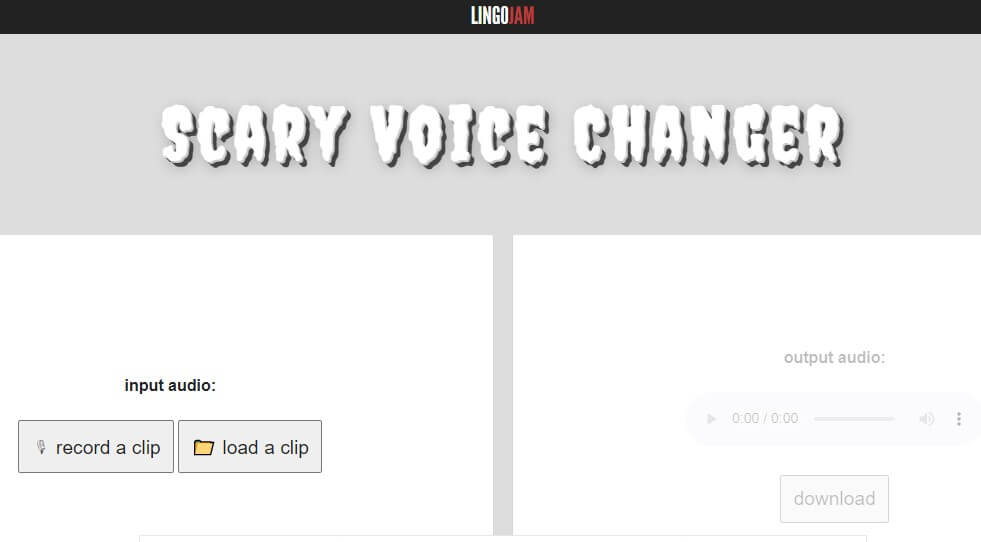 As it is an online tool, there is no need to download any software. You just need to record your voice and select the desired sound effect. As a result, this online tool will change the voice quickly. It generates the results quickly and effectively.
All you need is to click on the record a clip button and start recording your voice. Choose a voice change effect and it will convert your voice automatically.
Features
100% free to use.

Upload audio clips.

A wide range of scary sound effect.
This app comes up with a series of preset sound modifying effects. So, you can record your voice and then alter it with a suspense horror sound effect.
Changing your voice into something like a monster or zombie can freak your friends out.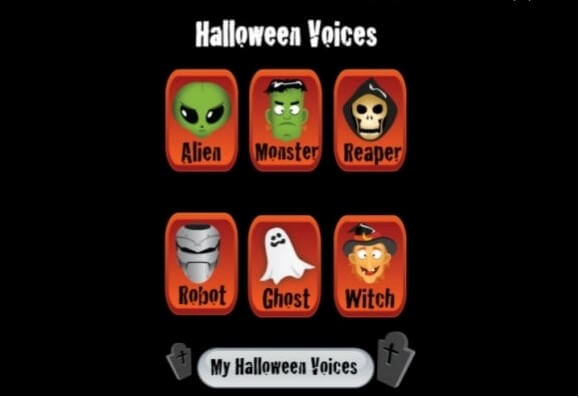 Want to pull some terrifying pranks? Record your voice and make all your friends afraid of a scary sound effect. With a world of scary ghosts and monsters, you can prank your friends without any effort.
Features
Instant voice modifier.

Awesome sound effects.

Use your recording as a ringtone.

Male to female voice changer.

With the Scary Voice Changer, you can create a powerful sound to frighten anyone. It can make you feel like a demon from a horror film. This is one of the best voice changer apps for Android users.

If you are an Android user, Scary Voice Changer might be an ideal choice. It can work perfectly on your device. Go to the Play Store and download the app on your phone. It will take only a few seconds to download the app.

Features

An excellent voice changer with terrifying dramatic suspense sound effects.

Instantly play a customized sound.

Convert men to women voice.

Here comes another good quality voice changer. It offers a couple of different packages to change your voice. Whether you want to use a free or a Pro version, MorphVOX is a perfect choice.

MorphVOX allows you to change your voice for free. You can optimize your voice with perfect customizations. Most importantly, this tool ensures to upgrade the features regularly.

Features

Ultra-quiet background cancelation.

Many sound effects for free.

Easy to use, beginner-friendly.

Part 2: Other Sound Effects that May Scare You

There are many other sound effects to scare your friends. In this section, we will discuss five of the best sound effects to prank anyone. You can use a sound effect to suit your likings.

Footstep on the Wood Floor

Have you ever heard the sound of footsteps on the wood floor during midnight? You will never know if there's someone behind you.

Sudden Laughter of Children

Everyone loves to have children in their house. But, the sudden laughter of children in the darkest nights can make you feel super terrifying. The best voice changer enables you to use this sound effect.

Slow Ticking of the Clock

Clock ticking is a quite common sound at home. However, what would be the ticking noise if the clock is broken?

The old wooden door opened by the wind

The old wooden door opened creakily, and you thought it was the wind, until you find the trees outside standing steadily, without moving a leaf.

As you can see, a scary voice changer can be used for making prank phone calls. Choosing the right app is the most important decision. You can find hundreds of voice changer apps.

Conclusion

Are you searching for the best creepy voice changer? We have reviewed the top 5 voice changers with a suspense sound effects to prank your friends or family. Each one has its unique features. All you need is to select one that offers ease of use and a wide range of sound effects.

For this reason, iMyFone MagicMic is the recommended voice changer for you. It allows you to make suspense sound effects in real-time.

100+ Voice effects for one-click voice changing in real-time.
Huge library with 300+ Voice Effects and 150+ Voice Memes.
Sound emulator in games, live, chatting, online classes, and more.
Voice recording and audio voice changing is supported.
Voice studio lets you create any voice you like.