Music players, such as Play Music, YouTube Music, and jetAudio, can automatically fetch audio files present on your device. It is beneficial for the user as there is no need to find music files and browse dozens of folders.
However, imagine yourself enjoying music, and suddenly, you encounter a WhatsApp voice message.
And the worst case is when you are enjoying music on an external audio device with someone else, and the player starts playing your private voice messages.
We are here with a few methods that can refrain Play Music and other players from playing and displaying WhatsApp audio.
Method #1 Create a .nomedia File
The simplest method for refraining Play Music from reading your WhatsApp audio files is using a .nomedia file in the directory. If you create such a file in WhatsApp's audio directory, Play Music or any other player will ignore the folder after seeing this file.
For this method, you need a file explorer or file manager to create the file inside the folder. Some Android devices have a built-in file manager, but you cannot use it to create a folder inside the WhatsApp directory. You need a file explorer application; you can check ES File Explorer, Solid Explorer, or similar apps for the method.
Step 1: Open WhatsApp Audio Folder
Download ES File Explorer and open it. You need to find the WhatsApp directory. By default, it is stored in the internal storage of your device. But if you can't find it, just type "WhatsApp" in the search bar, and you will have the folder. Now, you need to go to WhatsApp>Media>WhatsApp Audio.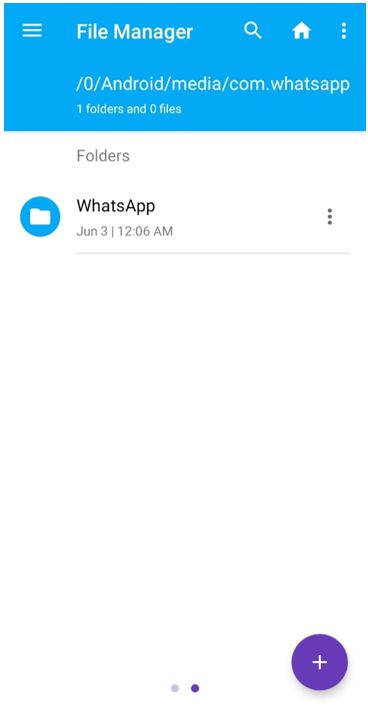 Step 2: Create a File
Tap on the "+" button on the bottom right corner of the screen. You will see different options; tap on File.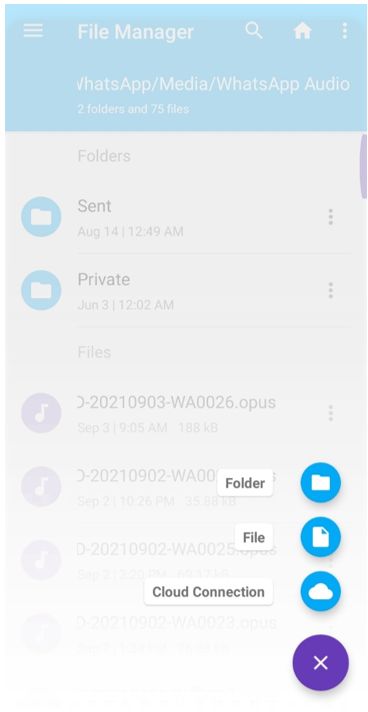 Step 3: Name the File
Type the file name as ".nomedia". Tap on Create. That's all.
Note: Don't forget the period in the file name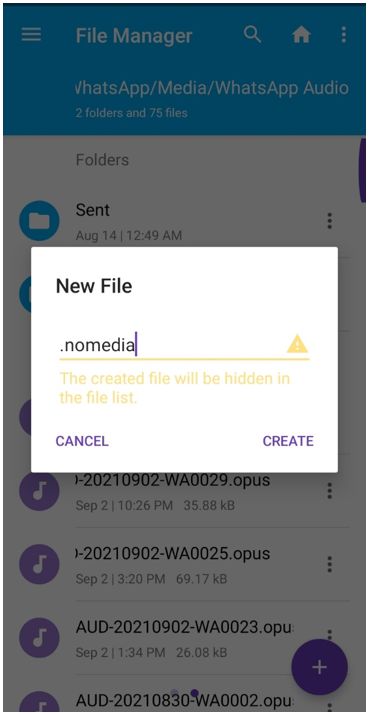 Now, you can go to the Play Music app, and you won't find WhatsApp audio there.
Method #2 Copy the File!
If the previous method is not working on your device, you should try this method. It works well on almost all devices.
Have you ever thought about why your sent audio files are not displayed or played on Play Music? Your sent files are also stored on your device, but the folder is restricted, and Music Players do not consider its files as media files. We need to do the same with the folder where your received files are saved.
For this method, you need a file explorer. But not all file explorers can do the job effectively; therefore, we recommend Material Files. We need to find a hidden file in this method and then copy it to the WhatsApp audio directory.
Step 1: Find the WhatsApp Folder
Open Material Files. Type WhatsApp in the search bar and find the folder. Then, go to WhatsApp>Media>WhatsApp Audio>Sent.
Step 2: Find Hidden Files
Tap on the three dots icon on the top right corner. Tap on Show Hidden Files.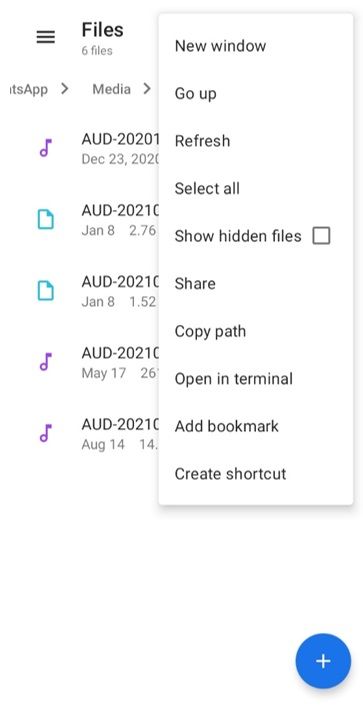 Step 3: Copy the File
After that, you will see a new file in the folder with the name ".nomedia". You need to copy this file. For that, tap on the three dots icon on the file and tap on Copy.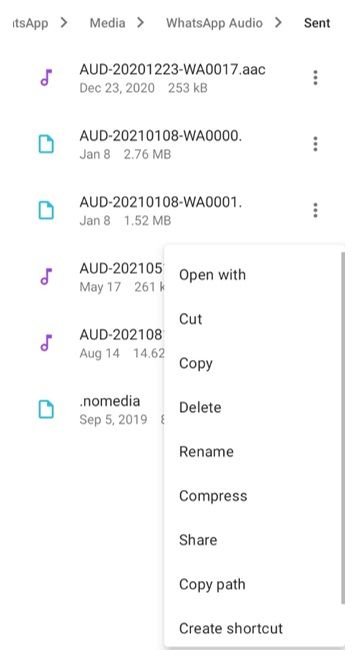 Step 4: Paste the File
Go back to the WhatsApp Audio folder. You will see the Copying prompt at the bottom. Tap on it to paste the file.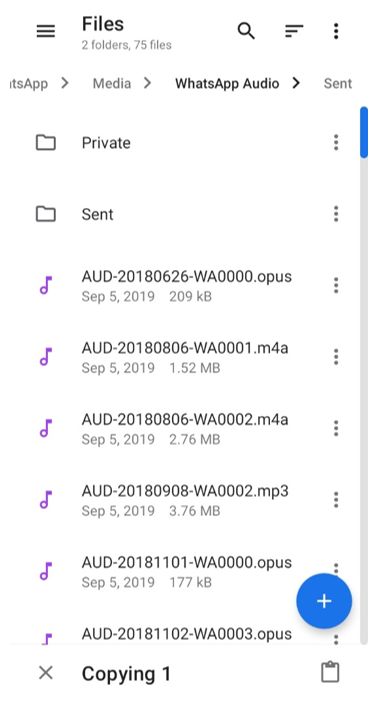 Now, you can go to Music Play and enjoy music without any disturbance. There won't be any WhatsApp audio files.
Method #3 Hide the Files!
You can also hide the audio files, and it will prevent them from appearing inside Play Music. After hiding the files, the folder will not be visible inside the file explorer. Thus, your private files are completely safe.
You need a file explorer that can hide files. We recommend using Solid Explorer for this method. Let's have a look at the steps.
Step 1: Open the App
Download Solid Explorer and open it.
Step 2: Search the Folder
Tap on the search icon. Search for WhatsApp and then go to WhatsApp>Media>WhatsApp Audio.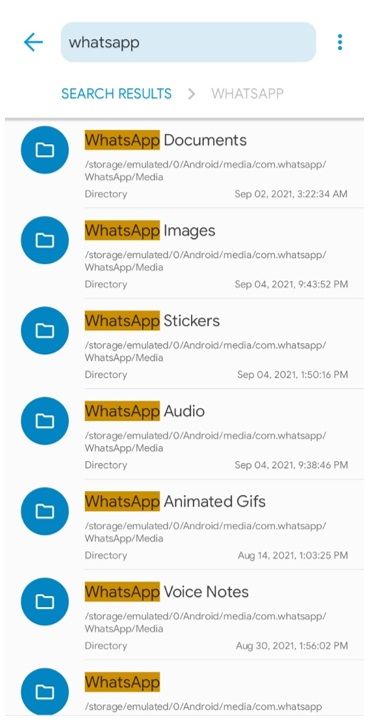 Step 3: Hide the Folder
You will see the WhatsApp Audio folder. Tap on it and hold it. Tap on the three dots icon at the bottom right corner. Tap on Hide.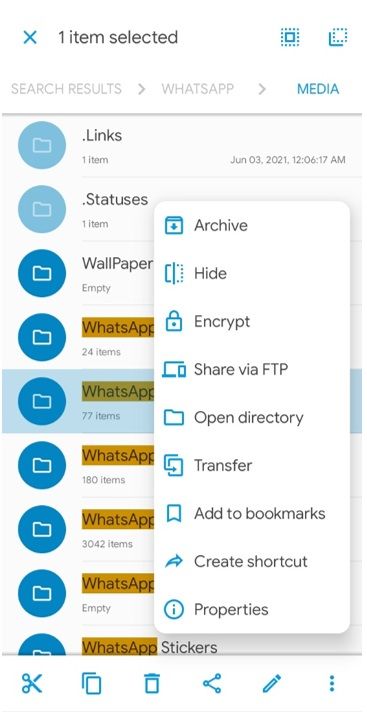 Congratulations! The folder is hidden, so you won't see the audio files in any music player, and no one can access them using a file explorer.
People Who Liked this Content Also Liked
7 Best Whatsapp Call Voice Changer App >>
How to Convert Video into GIF in WhatsApp >>
How to Remove Audio from Video – 8 Methods You Should Know >>
How to Remove WhatsApp Audio Using iMyFone Filme
Filme is a professional yet beginner-friendly video editor that can help you create stunning videos. It is a versatile video editor along with a voice changer, slideshow maker, video resizer, video converter, and screen recorder. It has got everything that can help your videos stand out from the crowd.
Features:
Filme is a simple video editor that anyone can use. Even if you have no experience in video editing, you can use it without any hassle.

You can do all the basic edits, including trimming, cropping, splitting, speed adjustment, color adjustment, and voice recording. It has got every tool you can expect from a video editor.

It has its own library of everything, including 110+ transitions, 80+ filters, 35+ effects. 200+ audio files (music+sound effects), and dozens of slideshow templates.

You can export the file in the desired format. It allows you to change the resolution, file container, frame rate, codecs, bit rate, and other settings. Thus, it can create videos for all social media platforms.
Step 1: Open Filme
Open Filme on your computer. For video editing, you need to click on Editing Mode.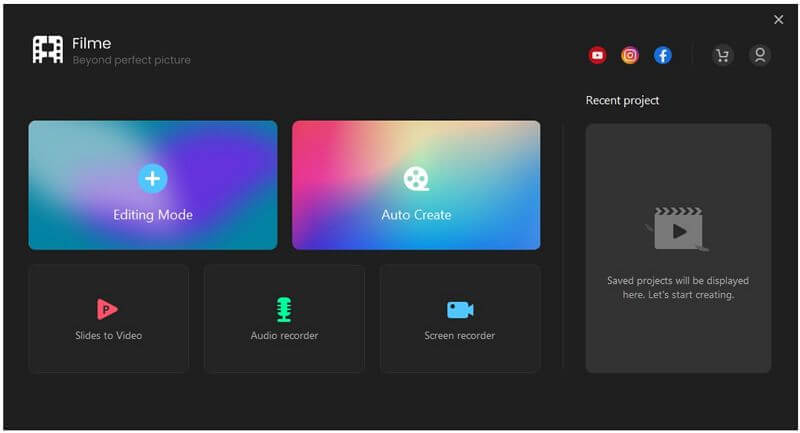 Step 2: Create a New Project
You will enter in the video editor, which is your play area. First, click the File menu, go to New Project and select the desired aspect ratio.
Step 3: Import Files
From the media menu, you can import your files. You can import from your computer or mobile phone via a wireless or wired connection. After importing the video, drag it to the timeline.
Step 4: Basic Editing
You are ready to edit your video as you like. Above the timeline, you will see some basic tools that can be used to cut, trim, change speed, adjust color, crop, and make other changes. You can use any of them to make your video perfect.

Step 5: Detach Audio
For detaching the audio from the video, right-click on the video. Click on Detach Audio. You will see a separate audio file in the timeline. You can delete it or edit it as you like.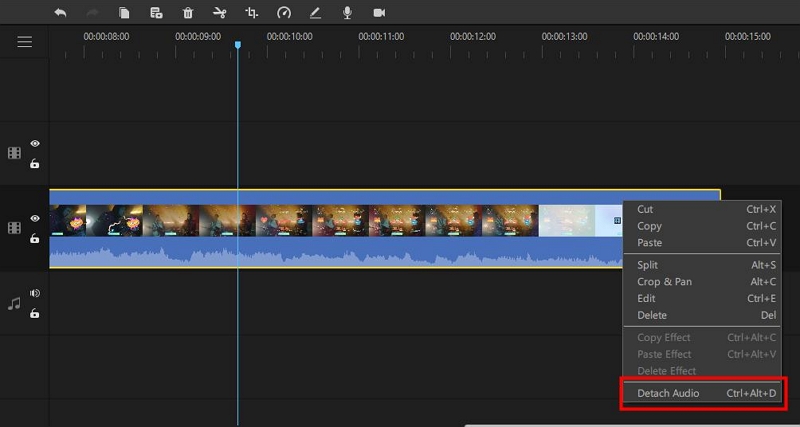 Step 6: Music and Voiceover
You can add music and sound effects from Filme's library. You can also record your voiceover and change the voice in real-time.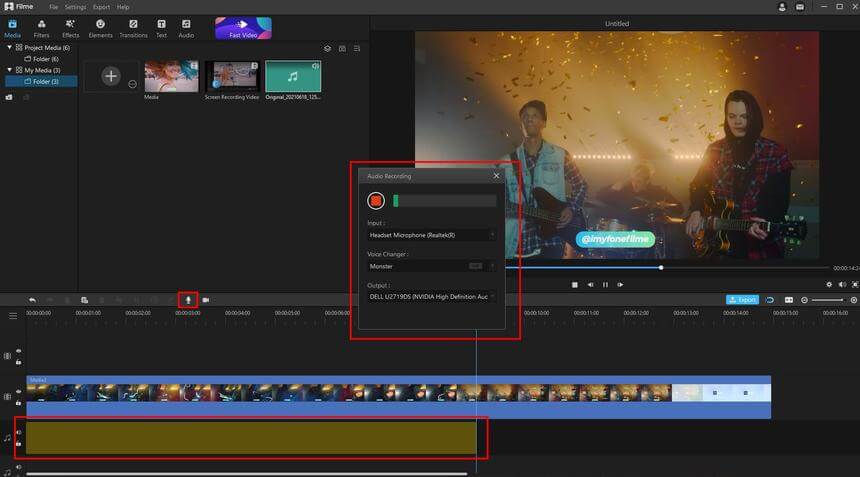 Step 7: Export the File
After editing, you can export the video. Click on the Export button above the timeline. Select the settings you like. You can select the resolution, codecs, file container, bitrate, frame, and a few other settings. Finally, click on the Export button.
Conclusion
Play Music and other media players read/fetch all audio files from the device, including the audio files you receive on WhatsApp. It is quite annoying to see WhatsApp audio files in the media player and listen to them when you are enjoying music. There is no need to play such audio files or display them in the media player; thus, we have shared three methods that can prevent it from happening. You can prevent music players from reading such files.
For editing videos before sending them on WhatsApp, Snapchat, Instagram, YouTube, and other social apps, you can use Filme. It is a commendable video editor that has every tool you need to create a stunning video. The best part is that you can edit your WhatsApp audio and other audio files in Filme and export the audio in any format you like. After all, Filme is a user-friendly and advanced video editor that can help your videos stand out from the crowd.