We all love to post videos on Instagram, right. However, many times we want things to be our way. We change and do customization with things like audio and editing in our videos. Often, we want to drop audio from videos we want to post. Well, here we will show how you can remove audio from Instagram videos. Let us start.
Removing Audio from Instagram Stories
We all can agree that Instagram stories are fun and a quick content creation medium. Daily, a whopping 500 million people use Instagram stories per day. Instagram stories allow you to post videos and pictures that disappear automatically after 24 hours. Moreover, Instagram stories allow you to post with exciting features such and recording options.
The best thing about posting on Instagram stories is the freedom to customize and make it more our way. Now, for instance, you want to post a video on Instagram Stories. However, you do not like its audio. On the other hand, you want your viewers to focus more on your video. In both cases, you want to remove the video's audio.
Let us see how you want to do this.
How to Remove Audio from Instagram Stories?
Below, was have an easy and systematic way for you:
Record or upload any video from your gallery on the phone. On the top right corner, you will see certain icons or options.
You will find the speaker icon. Click on it, and the speaker icon will turn off with a cross next to it. This indicates that the audio has been turned off.

Now, as you upload, your viewers will not be able to near the audio. The video will be posted without any audio.
Removing Audio in Instagram Posts
Posting short videos as posts on Instagram is so fun. They are quirky, exciting, and look amazing to your followers. Once again, Instagram provides you the ultimate freedom to make customizations. In fact, that is the thing with Instagram. It enables you to have fun online with your personality touch. After all, it is your own Instagram handle. It must reflect the way you are or what you like.
Often, we want to post a video on Instagram as a post. It can be your new fashion project or your spectacular drone shots. However, you want your followers to focus more on the visuals rather than the audio. In this scenario, the best thing to do is to remove the audio or video for posting. Let us show how you can do this.
How to Remove Audio in Instagram Posts?
The process is almost the same as the process for removing the audio on stories. However, there is a slight difference.
First, record or get any video from your gallery, to post on Instagram. As you do this through the Plus sign button at the bottom, that video will appear in the editing panel.

Now, in the upper middle of the screen, you will see the speaker icon. You will see three curves with it. These indicate that the audio is turned on.

You simply need to click on this icon. The three curves will disappear. This indicates that the audio has been turned off. Instagram will show the message saying "Video Sound Off." Now, as you upload, your followers will not be able to hear the audio.
How to Put Video Sound on Instagram?
Thinking of putting a video on Instagram, but you do not want to use the audio. However, you still want to add a bit of fun and excitement to add. You wish can could add a tune or a song that matches the vibe of your day or reflects the best of you. Moreover, it can be your favorite song or beat. Well, let us tell you that your favorite Instagram allows you to add custom sounds to your Instagram posts and stories. Now, you can add any music, tone, or even any sound to your posts and stories.
However, there is a slight twist. To add sounds to your posts, you need a third-party music app. One of the basic ones in iTunes. However, there are various third-party music apps as well.
The good thing is that you do not need any third-party app to add sounds to your Instagram stories if you have iTunes.
Now, let us learn how you add sound to your stories through the iTunes app.
How to add sound to your Instagram Stories?
First, record the video through your Instagram Camera. Now, simply tap the icon that is a smiley within a square. It will be at the top right of the screen.
Next, it will show you a multitude of features for stories. Choose the music feature. It will allow you to choose a sound from your iTunes app. The process is the same for any third-party app.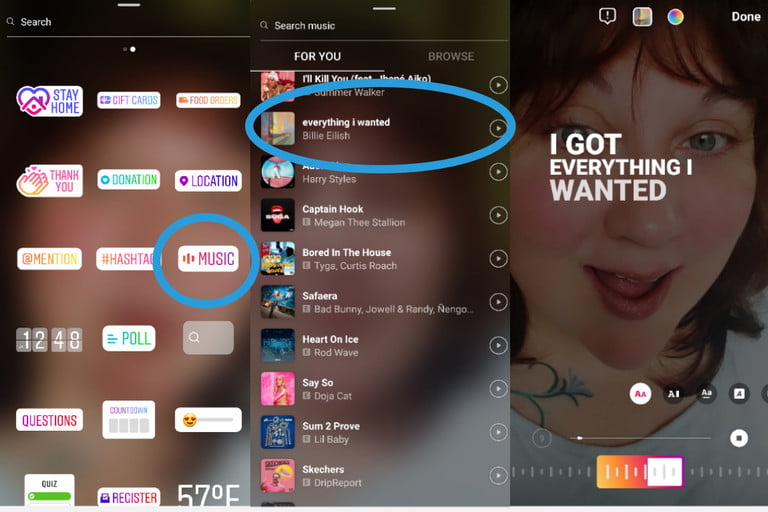 Simply choose the sound. It will be added to your story. How cool is that!
People Who Liked this Content Also Liked
How to Get Audio from Instagram Video >>
How to Extract Audio from Video on iPhone >>
How To Remove Background Noise From Video On PC/iPhone/Online >>
Removing Audio from Downloaded Instagram Posts with the Best Video Editor
We have the ultimate tool for all your Instagram needs and deeds. iMyFone's Filme is a platform for millennials and Gen Z for their modern social media requirements. The application is user-friendly and is compatible with both MAC and Windows. Moreover, it offers simple ways to experiment with Instagram posts.
iMyFone Filme offers the best features for video editing for Instagram. You get to choose from 110 plus transitions, above 170 video filters, 50+ sounds, and 20+ fast-mode videos.
Moreover, it also allows you to remove audio from downloaded Instagram Posts. Let us see how:
How to Remove Audio from Instagram Videos with iMyFone Filme?
First, download the desktop application for iMyFone Filme. It is compatible with both MAC and Windows.
Next, upload your downloaded Instagram video on the application.
It will be displayed on the video editing dashboard.

Now, through the audio option, make the adjustment. Simply turn off the video soundor click-right to detach the audio and then delete the audio in 1 minute.

After doing this, the iMyFone Filme will remove the audio from your video. Lastly, download your video.
The Bottom Line
If you are looking for a convenient and fast video editor, iMyfone Filme is best for you. It is reliable and easy to download. Moreover, it is compatible with both IOS and Windows. The best thing about iMyfone Filme is that the video quality remains untouched. In fact, it will be enhanced. Download free iMyFone Filme Now.

iMyFone Filme
Release Your Creativity with Best Video Editor iMyFone Filme!
Download Now