Over the years, WhatsApp has grown to be much more than a simple messaging app. It now has voice and video calling, voice messaging, WhatsApp Web, end-to-end encryption, and more. But do you know how to convert video into GIF in WhatsApp? Most people don't, so we'll show you how to make a GIF video on WhatsApp so your conversations can be more "animated" and alive. Of course, you can always rely on a third-party GIF to WhatsApp video converter as well, but we'll show you how to convert video to GIF in WhatsApp iPhone and video to GIF in WhatsApp Android as well.
Part 1: How to Make a GIF Video on WhatsApp - Detailed Steps
The process involves converting a supported video file into a GIF video by altering its size and then uploading it to an individual or group chat. Although this feature has been around for a while, not many WhatsApp users are aware that it even exists. Here's how to go about it:
Step 1: Launch WhatsApp on your iPhone/iPad or Android smartphone/tablet
Step 2: Tap on the individual or group chat you want to send the GIF video to
Step 3: Next, tap the + or the paperclip icon, depending on your device type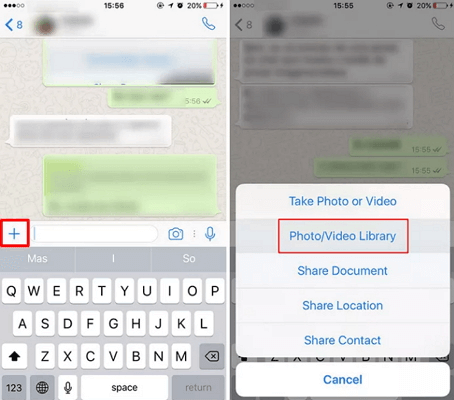 Step 4: Tap the Photo/Video Library option and choose the video file to import it
Step 5: At this point, you'll see a trimming or snipping tool right above where the video appears on your screen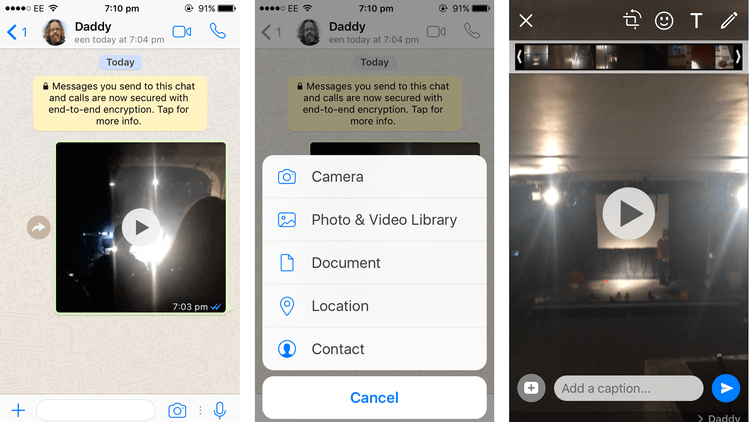 Step 6: Trim on either side but make sure you bring the video's duration down to 15 seconds or less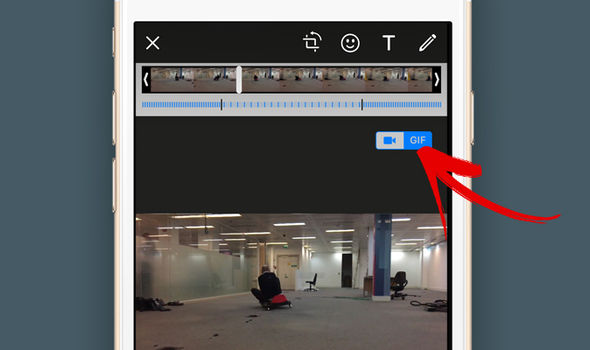 Step 7: At the top of your screen, on the right-hand corner, you'll see an option to use the file either as a video or a GIF file - tap the GIF option - you will only see the option when the video is 15 seconds or shorter, so trim it first
Step 8: Send the video as a GIF to the chat you've chosen
That's it! You can now convert any video into GIF right before sending it to a WhatsApp contact or group. This feature isn't yet available on WhatsApp Web, so make sure you do this only on Android or iOS devices. Moreover, the video file needs to be of a supported type, but that's fine if you're using a standard version like MP4 or MPEG.
Part 2: A Useful Tool to Make Custom GIFs from Videos for WhatsApp
The method above is very simple but it doesn't allow you any sort of customization. If you want to make and send custom GIFs with effects, transitions, etc., you'll need a robust video editor like Filme Lite from iMyFone.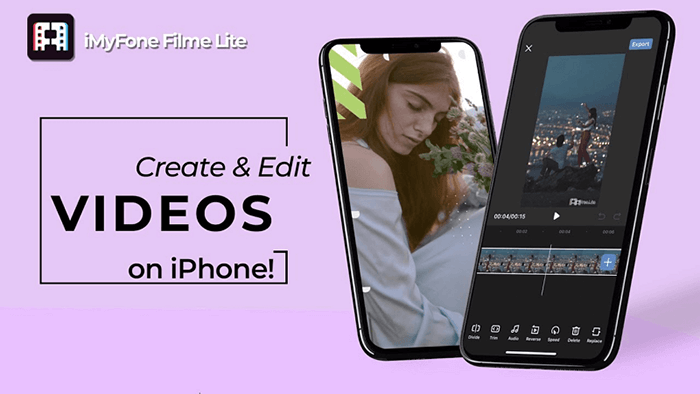 iMyFone is one of the leading developers of iOS applications for data recovery, location spoofing, device OS repair, data backups, and much more. Filme Lite is the iOS version of its hugely popular desktop editor, iMyFone Filme, which is available for both Mac and Windows.
Using an app like Filme Lite, you can easily convert your videos into stunning GIFs with special effects and other edits before uploading them to a WhatsApp chat. You can also use a video download from WhatsApp to do the same thing before re-uploading it. Here's how to use the app:
Here are some of the best features of Filme Lite:
You can create videos fast and easy with templates.

It offers royalty-free music for you to make your videos more enjoyable.

Easily edit your video with the tool to divide, trim, adjust the speed of your videos.

You can reverse videos for better effects.

Compressing videos to different resolution and frame rate is available.
Step 1: First, download Filme Lite from the App Store and install the icon on your home screen
Step 2: Next, go to WhatsApp and download the video you want to convert into GIF - alternatively, you can simply launch Filme Lite if you're processing a video from your local memory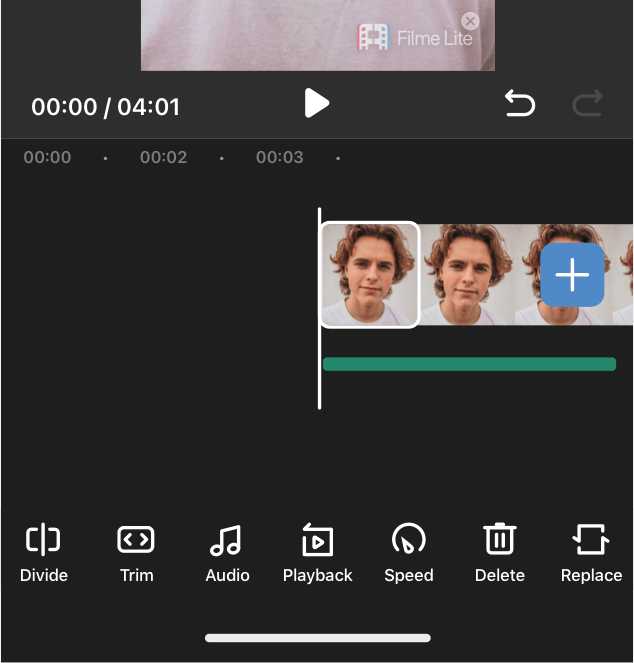 Step 3: In Filme, import the video to be modified and use the Trim option to bring the video down to 15 seconds or shorter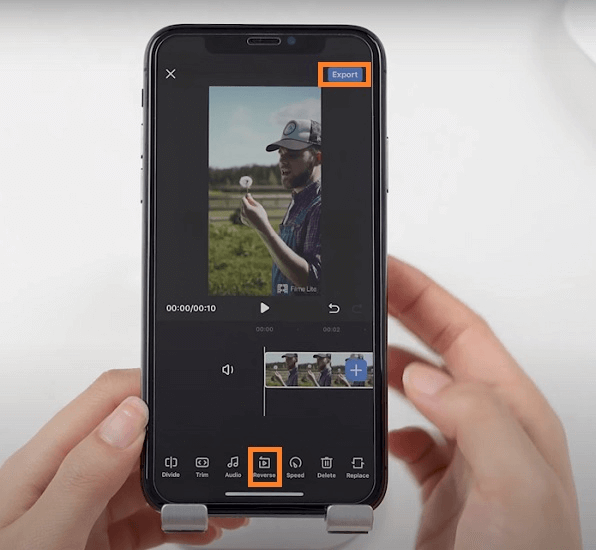 Step 4: Use the Reverse tool to get your video to play backward, or use the Speed tool to either slow down or speed up the video playback speed
Step 5: Other features include the ability to use music and compressing the file size, but you won't need those for GIFs since you can't add music to a GIF file; moreover, they're quite short and they're stored as image files rather than video so the file size won't be so large that you need to compress them
Step 6: Finally, when saving the edited video, use the GIF option to export it
Step 7: You can now share the modified GIF with anyone on WhatsApp or any other app as well as email
Filme Lite makes it easy to convert video into GIF for WhatsApp and other social media platforms. In addition, it offers a Fast Video Mode where you can take a bunch of your photos and videos, choose an appropriate theme, add music, and export it as a full video slideshow with audio. Try that and all your WhatsApp friends will definitely ask you how you create it. When they do, you can share your secret recipe with them - Filme Lite!
Part 3: Other Ways to Create Custom GIFs from Videos on Android and iPhone
Of course, you can also use a different Android or iPhone app like Google Photos to create animations (GIFs), but Photos will only allow you to convert a set of image files into an animated GIF, not videos. Moreover, WhatsApp only has the trim feature so you can get the video file as a GIF upload, but there are no special effects like Reverse or Speed that you can apply to the video before converting it into GIF.
The only way to create a GIF is to use a third-party GIF to WhatsApp video converter tool such as Video to GIF or GIF Maker. The drawback here is very similar in that you won't have access to other effects like the ones we've mentioned.
That leaves only one option available to you - a video editor app like Filme. In iOS, Filme is one of the most convenient video editors for this purpose because it is designed for iPhone, iPad, and iPhone Touch; in Android, you can use something like Videoshop to add effects or filters and then export the file as a GIF.
Part 4: Final Thoughts: Things to Consider
Once you start creating GIFs from videos, it's hard to go back to uploading photos because they will seem so dull and lifeless. Now that you're hooked on GIFs, why not make it easy with an app like Filme Lite? It gives you a lot of freedom in terms of being able to select the exact segment of the video that you want in your GIF. As an alternative to trimming the file, you can also use the Divide feature to split the file. This lets you cut your video at the frame level so your GIF looks like it was made professionally. Moreover, the quality of conversion from video to GIF or even video to video is extremely high in Filme Lite. The Reverse and Speed features will let you make videos that are engaging and will capture the hearts of your WhatsApp contacts. Last, but not least, you'll be able to upload your videos and GIFs to multiple platforms, not just WhatsApp.
In short, it's quick, it's fancy, and it's very professional - and all of this absolutely free! Put your iPhone to good use by leveraging the power of the fantastic camera and creating life-like GIFs using Filme Lite, and you'll soon be known as the GIF-Master in your social circles!
Part 5: Frequently Asked Questions - FAQs
1. What should I do if can't convert videos to GIF on WhatsApp?
At times, you may face errors when trying to convert a video file to GIF using the WhatsApp feature. This could be because the video is too long or the video file format you're using is not supported by this function. Try trimming the video down to well below 15 seconds and see if that works. Alternatively, try converting the video into a more commonly used format.
If that doesn't work, don't worry, Filme Lite has your back and it's absolutely free, as you saw. Just download the app to your iOS device and start converting any video to GIF with special effects. All it takes is a few taps to go from a long video to a stunning GIF, so take advantage of the ease-of-use that Filme Lite offers.
2. Can I download a GIF video and send it via WhatsApp?
WhatsApp supports GIFs, so all you need to do is download the GIF from an online location and save it in your iPhone's Camera Roll. Now, go to a particular chat to which you want to send the GIF and tap the + icon, and tap on Photo and Video Library. On the corner of the screen (bottom left), you'll see GIF - tap that to filter the display to only show GIF files. Choose the one you want and tap the Send icon.
3. How can I share a video as GIF on WhatsApp?
As explained in this article, you can convert a video to GIF using WhatsApp. The only two criteria to be met are that the video should be trimmed to under 15 seconds and that the video file type should be supported by WhatsApp in order for the conversion to GIF to work. As long as these conditions are met, you're good to go!
4. How do I download a GIF from WhatsApp status?
WhatsApp introduced the concept of status GIFs a while ago. This is basically a way to use a GIF as your status image instead of a regular image file. While you can certainly get someone's status image by opening it in a new tab and taking a screenshot, the same action is obviously not possible with a status GIF. As a workaround, you can download a video screen capture app for your device and record the status GIF that way. Once you do that, you can edit the file using FIlme Lite and convert it back to a GIF. Of course, it's not ideal but there's definitely a way to do it.
5. Can I send Live Photos as GIFs in WhatsApp?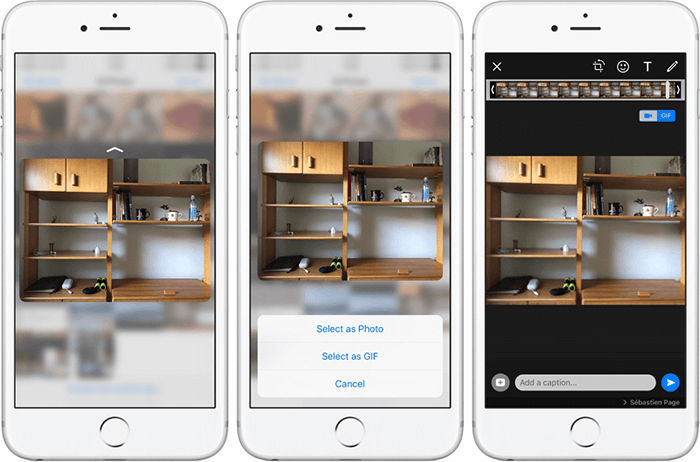 Yes, you can. The only difference here is that the photo is natively converted from the Live format into the GIF format before uploading to WhatsApp. The process involves selecting the Live photo and choosing the option Select as GIF. Once you do that, you can use the Share option to send it to a contact or group in WhatsApp. From inside WhatsApp, you can tap the + icon inside an individual chat or group chat, choose the Photo and Video Library option, select the Live image as GIF as explained, and import it to WhatsApp for sending. Both methods will work for sending Live Photos as GIFs in WhatsApp.