Watermark is considered an effective source of claiming copyright in photography. But this occurs equally annoying as well. Although it's the safest way for professionals, at the same time, it affects the charm of a picture as well.
As in result, many users face inconvenience, and they look for ways for the solution. Are you among one of them? Don't worry because we've brought an easy solution for you. You can remove the watermark with pixlr. Pixlr is a watermark removing software that gets you rid of annoying signs effectively. So without any further delay, let's get straight into it.
However, before that, let us take a look at the content that the article has to offer.
Part 1: What Is Watermark and How to Remove Watermark Quickly
Nowadays, every image/video published on Google, Facebook, Twitter, Instagram, Pinterest, etc., contains a watermark.
The watermark could be a sign, word, logo, or name that shows the creator's ownership. It's a transparent attachment located anywhere in a picture. It's a great way of guarding copyrights and helps in an efficient brand advertisement.
Moreover, it's a great deal of transparency that does not reduce the aesthetics as well. Therefore, many people use watermarks in their images/videos to secure their own and maintain the charm.
Therefore, a watermark is considered an influential source in accommodating both the above aspects. It's an easy and quick way to deal might problems.
How to Remove Watermark from Photos?
Where watermark has some merits, it has some demerits as well. Although it's an excellent solution for the creators, sometimes it becomes the cause of inconvenience for the consumers. There is no doubt that the watermark effectively secures the copyright of the image. But it also reduces the aesthetics of the image. And sometimes, users do not want them.
For instance, suppose you hired a photographer to click memories on your child's first birthday. And upon seeing the shots, you find his watermark lurking around in every picture. This will indeed appear annoying. And you would want o to remove them immediately.
Therefore, we have brought some solutions for you. Let's find out.
Part 2: How to Use Pixlr to Remove Watermark
Pixlr is a photo-editing tool that is equally suitable for both beginners and professionals. It's a handy application that even a kid can use to remove watermarks from images. It's a cloud-based set of utilities and editing tools that removes the watermark smoothly.
It has all the premium features that users look for in paid applications. It does not solely remove watermark but is used for professional editing as well. Above all, you don't have to install it. Pixlr removes watermark from image online, which is a great feature. It supports all image formats like PNG, JPEG, GIF, PSD, WEBP, and PXZ, and you can use it anywhere like desktop, laptop, android, or iPhone.
Features of Pixlr
Watermark Eraser

Object Transform

Texts & Fonts

Photo Collage

Magic Wand

Digital Painting

Lasso

Digital Inking
Tutorial to Remove Watermark in Pixlr?
Pixlr removes watermarks efficiently more than anyone. If you are wondering how to remove a watermark with pixlr, then your wait is over. In this section, we'll show you step by step procedure to remove the watermark. So let's find out.
Step#1: Launch the Software.
Open Pixlr in your browser online
Step#2: Upload the Photo to Edit it.
There you'll see a pop-up sign of "Upload Image." Click on it and choose the desired image. Or you can also insert the image from the URL
Step#3: Click on Retouch to Remove the Watermark.
Click on "Retouch" then "Clone Stamp," and drag the mouse of the watermark area and start erasing.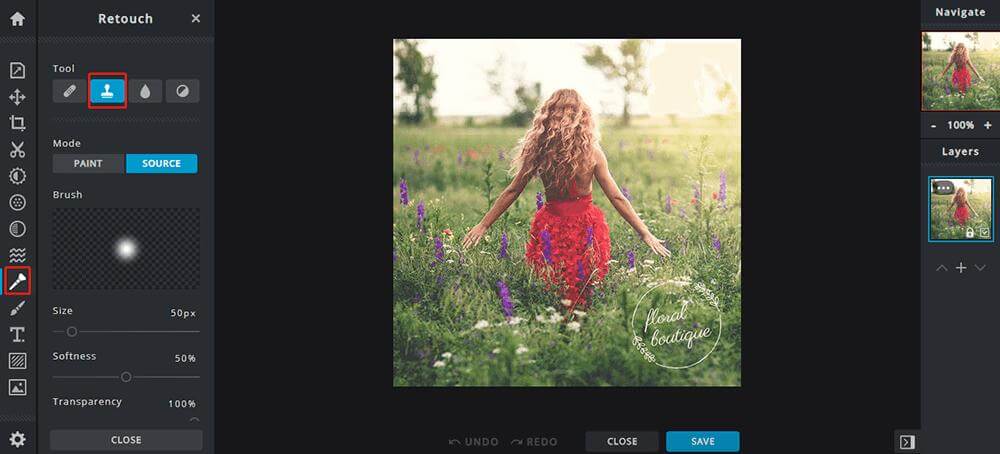 Step#4: Save the Edited Image.
Watermark is removed, click on "Save" and download it in the desired location.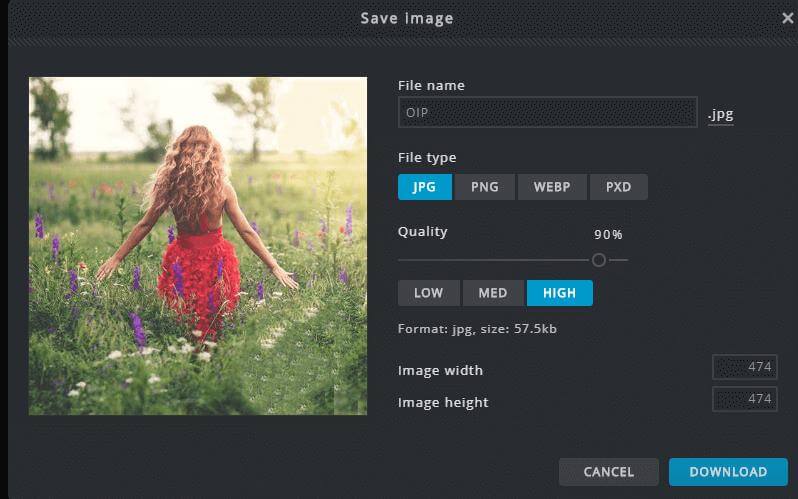 Why Should You Use Pixlr?
One of the biggest reasons to use Pixlr over others is because it is the easiest and quickest way to remove to watermark. You don't have to install it necessarily on your device. Just visit the website and remove the watermark in few minutes. Moreover,
There are no hidden charges present on the site. It is a free and legitimate site to use.

It comes with handy features that even a kid can operate it.

It has all the premium features that are required for professional editing.

Compatible with all types of image formats like JPEG, PNG, PSD, GIF, etc.

It does not require any technical experience. Moreover, it provides a quick fix if you are always on the go.
Part 3: Best Pixlr Alternative to Get Rid of Watermark [Editor's Choice]
If you do not wish to remove the watermark from Pixlr and look for alternative options, then try iMyFone Mark Go.
iMyFone MarkGo is professional editing software that helps you to remove or add watermark on images and videos smoothly. Trusted by millions of users globally makes it a reliable alternative for Pixlr. Let's find out how to use it.
How to Use iMyFone MarkGo to Remove Watermark?
Wondering how to use iMyFone? Settle down and follow the given steps
Step#1: Install iMyFone MarkGo.
To remove the watermark from your video, download iMyFone MarkGo on your Windows/Mac device and open it.
Step#2: Upload the Image/Video.
Click on "Remove Video Watermark" and upload the video from your storage.
Step#4: Adjust the Ratio.
Step#3: Click on "Remove Watermark" tab.
On your left panel, you'll see a "Remove Watermark" sign. Click on it and drag the mouse pointers on the particular watermark area.
Adjust the ratio of the watermark you want to remove, erase the sign, and then save it in the desired location path.
Why Do We Like It?
iMyfone MarGo is indeed one of the most professional applications to remove watermark from your videos efficiently. It comes with a variety of handy features that you need in professional editing.
Besides being efficient in removing the watermark, this application helps you with the following features as well.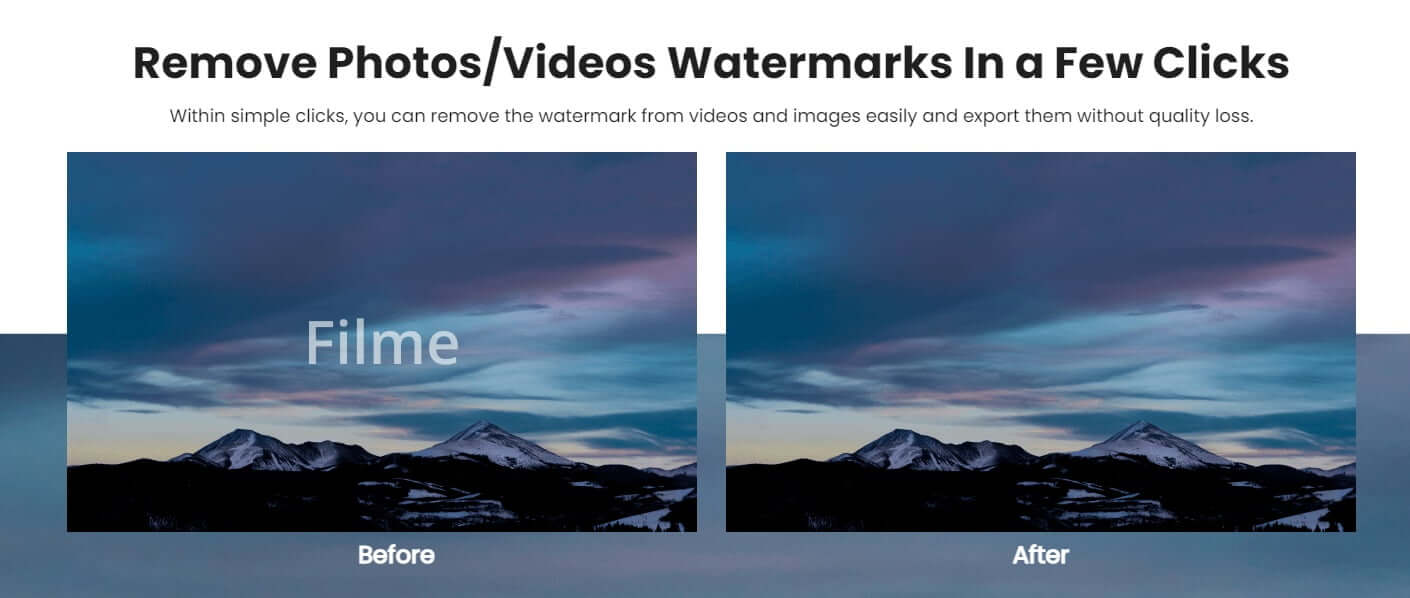 It is compatible with both Mac/Windows devices, which makes it diverse

Both beginners and professionals can use it.

It helps you to recover lost data from iCloud backup

Remove watermark from your videos easily

It transfers your data quickly

Keeps your existing data safe

Due to all these additional features, millions of users across the globe trust iMyFone MarkGo.
People Who Liked this Content Also Liked
Best Watermark Remover Online for Photo / Video >>
Useful and Handy 123rf Watermark Removers >>
How to Remove the TikTok Watermark: On Desktop, iPhone, and Android >>
Part 4: Frequently Asked Questions about Pixlr Watermark Remover
1. Is Pixlr A Free Tool?
Yes, it is available online and helps you to remove watermark with pixlr for free. It is the reason why millions of users across the globe trust Pixlr as their trust tool. Moreover, you don't need to have technical experience before using it. This makes it both affordable and convenient.
2. How To Remove A Picture From Phone?
Go to Google Play Store/App Store for both android/IOS devices, respectively.

Search the top-rated app and install

Open it and insert the picture

Click on watermark removal and save
3. Where Can I Remove Watermark From Videos?
Even videos contain a watermark, and its removal is equally important. Use the iMyFone MarkGo tool for editing videos. It contains all the professional features you need for advanced editing.
4. Is Pixlr A Legal Tool?
Yes, Pixlr is an entirely legitimate tool. All the products and features are entirely authorized and allowed to use. That's why millions of users globally use Pixlr for editing their images. Hence, feel free to use it.
5. Is It Easy To Use Pixlr?
Yes, Pixlr is the easiest and quickest way to remove the watermark. Pixlr remove watermark in three easy steps,
Hence, it's hand and does not require any technical experience
6. Can I Remove Watermark Online?
Yes, you can remove watermark from image online pixlr without installing it-open Pixlr from your browser and upload a picture there. You can also upload the image by pasting the URL.
7. Can I Recover Lost Data With iMyFone Marko?
Yes, definitely! You can quickly recover your lost data as iMyFone is a diverse application. It recovers your lost data quickly and keeps your existing data safe as well.
Part 5: Final Words
Watermark has great importance in preventing copyright infringement. That's why e-commerce business professionals use it to prevent theft. However, sometimes watermark appears annoying as it disturbs the aesthetics of the image.
Therefore, its removal is equally important as well. It might seem like an easy task to do; however, it requires effort and trustable sources. Apparently, hundreds of software are available online, but they are not as efficient as they claim to be.
Therefore, after commencing hectic research, analyzing testimonials, taking expert suggestions, we've brought Pixlr for you. It is the most trustable and handy tool used globally for removing the watermark.
Use it now and see the result yourself. I hope this article would've proved helpful for you.
iMyFone MarkGo
Easiest Watermark Remover for Video and Image!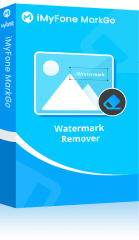 1,000+ People are Downloading iMyFone MarkGo Every Second!