Pixlr is a free online photo editor, Pixlr is a watermark removing software that gets you rid of annoying signs effectively. You can remove the watermark with Pixlr. In this article, you will know how to use Pixlr to remove watermark. If you want an easier solution, you can free download MarkGo to remove watermarks from video and image in a few clicks.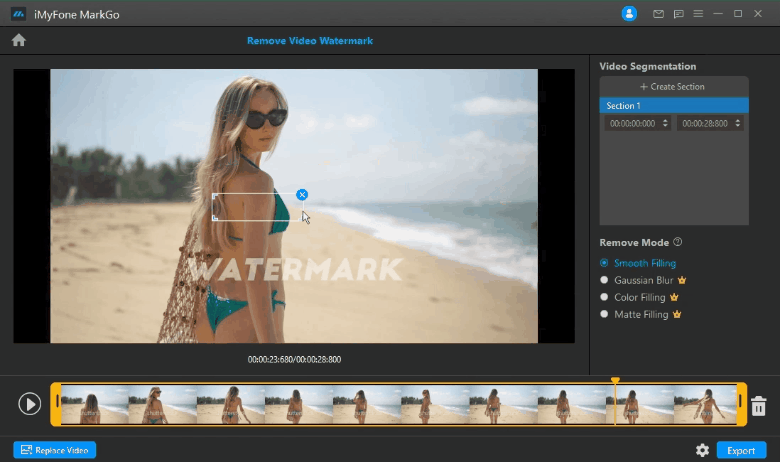 Part 1: How to Use Pixlr to Remove Watermark
Pixlr has all the premium features that users look for in paid applications. It does not solely remove watermark but is used for professional editing as well. Above all, you don't have to install it. Pixlr removes watermark from image online, which is a great feature. It supports all image formats like PNG, JPEG, GIF, PSD, WEBP, and PXZ, and you can use it anywhere like desktop, laptop, android, or iPhone.
Tutorial to Remove Watermark in Pixlr?
Step#1: Launch the Software.
Open Pixlr in your browser online
Step#2: Upload the Photo to Edit it.
There you'll see a pop-up sign of "Upload Image." Click on it and choose the desired image. Or you can also insert the image from the URL
Step#3: Click on Retouch to Remove the Watermark.
Click on "Retouch" then "Clone Stamp," and drag the mouse of the watermark area and start erasing.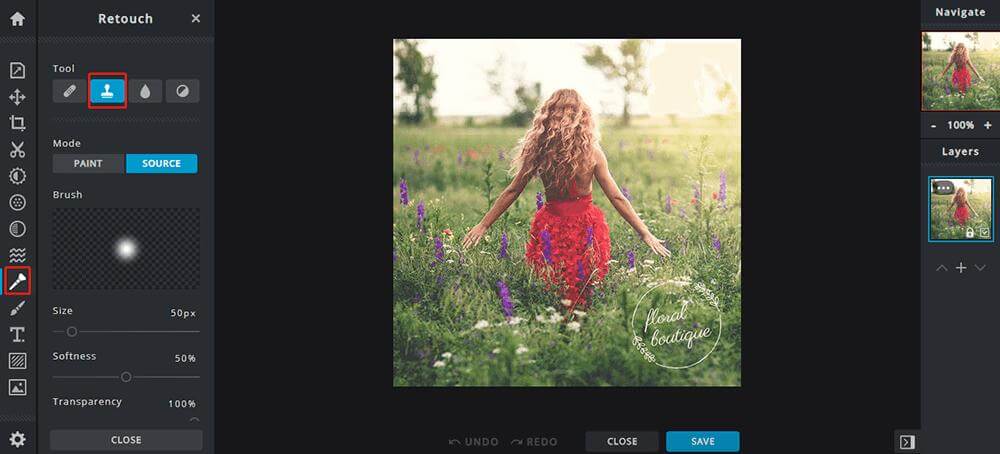 Step#4: Save the Edited Image.
Watermark is removed, click on "Save" and download it in the desired location.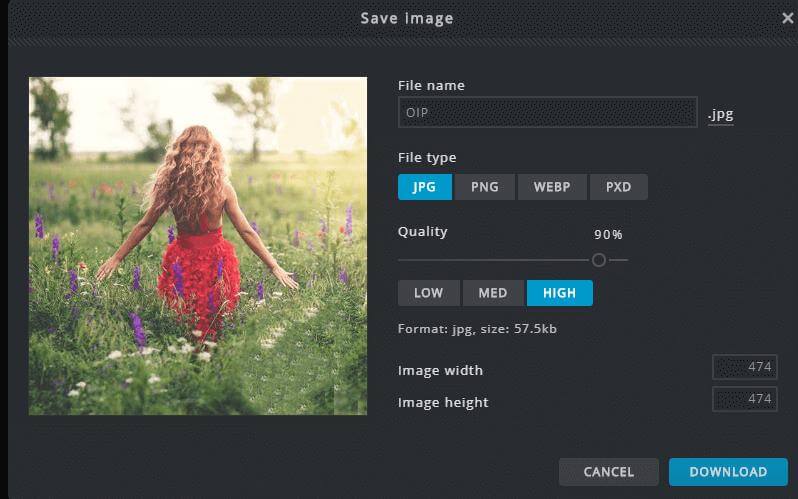 Why Should You Use Pixlr?
One of the biggest reasons to use Pixlr over others is because it is the easiest and quickest way to remove to watermark. You don't have to install it necessarily on your device. Just visit the website and remove the watermark in few minutes. Moreover,
There are no hidden charges present on the site. It is a free and legitimate site to use.

It comes with handy features that even a kid can operate it.

It has all the premium features that are required for professional editing.

Compatible with all types of image formats like JPEG, PNG, PSD, GIF, etc.

It does not require any technical experience. Moreover, it provides a quick fix if you are always on the go.
Part 2: Best Pixlr Alternative to Get Rid of Watermark [Editor's Choice]
If you do not wish to remove the watermark from Pixlr and look for alternative options, then try iMyFone MarkGo.
iMyFone MarkGo is professional editing software that helps you to remove or add watermark on videos and images smoothly. Trusted by millions of users globally makes it a reliable alternative for Pixlr. Let's find out how to use it.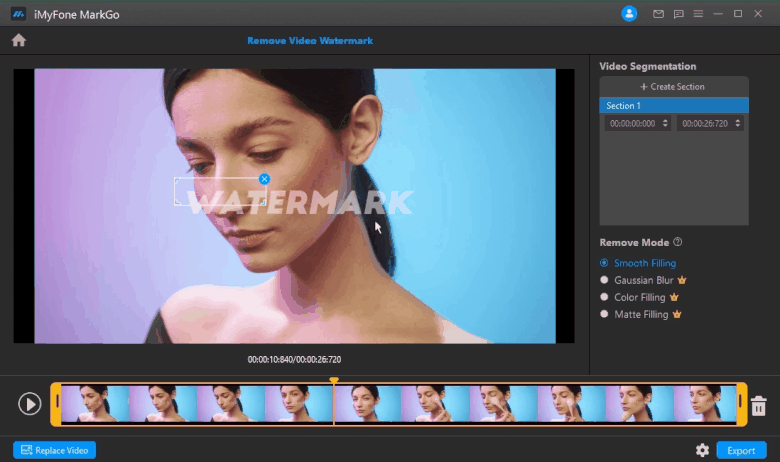 Wonderful Features of iMyFone MarkGo
User-friendly, without any technical knowledge required to remove watermark in just one single click.

Easy to remove and add watermark for videos and pics, with no traces at all.

Free to try the remover, during which you can check the compatibility.

Able to add watermark for up tp 100 pics in batch for copyright considerations.
Watch the video tutorial to learn more about MarkGo
Step#1: Install iMyFone MarkGo.
To remove the watermark from your video, download iMyFone MarkGo on your computer. Then launch it.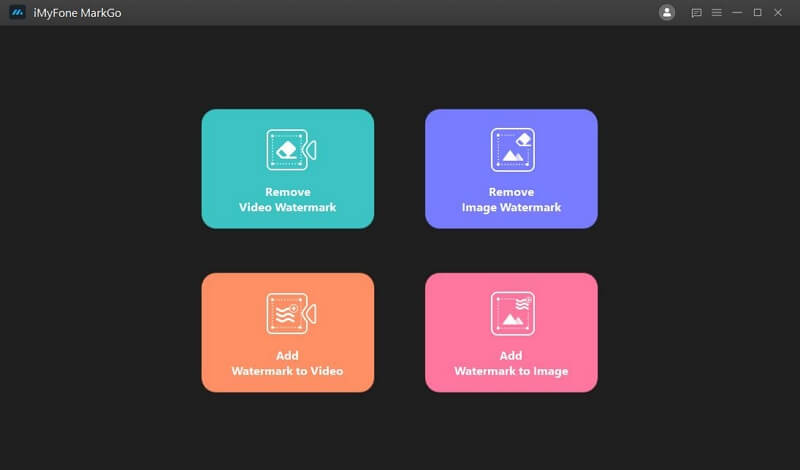 Step#2: Upload the Image/Video.
Click on "Remove Video Watermark" and upload the video from your storage.
Step#3: Locate the watermark to remove.
Click on the selection tool and a box for removing watermark will pop up. Move the box to the watermark.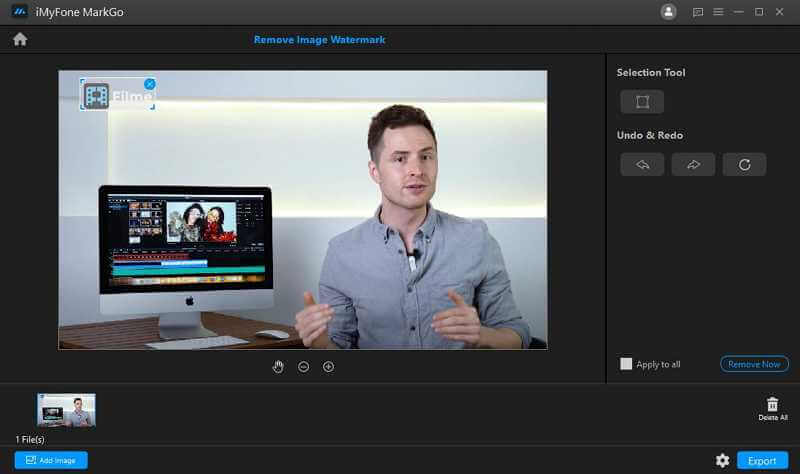 Step#4: Click on "Remove Watermark" tab.
Click on the Export button to export the image without watermark. And you can get the exported images without watermark. You can also use it to remove bandicam watermark.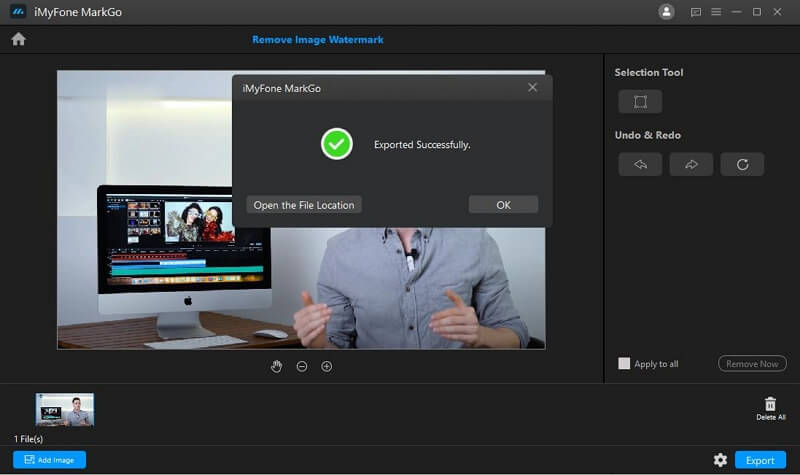 Why Do We Like It?
MarGo is indeed one of the most professional applications to remove watermark from your videos efficiently. It comes with a variety of handy features that you need in professional editing.
Besides being efficient in removing the watermark, this application helps you with the following features as well.
It is compatible with both Mac/Windows devices, which makes it diverse

Both beginners and professionals can use it.

It helps you to recover lost data from iCloud backup

Remove watermark from your videos easily

It transfers your data quickly

Keeps your existing data safe

Due to all these additional features, millions of users across the globe trust iMyFone MarkGo.
People Who Liked this Content Also Liked:

Remove the TikTok Watermark: On Desktop, iPhone, and Android >>
Part 3: Frequently Asked Questions about Pixlr Watermark Remover
1. Is Pixlr A Free Tool?
Yes, it is available online and helps you to remove watermark with pixlr for free. It is the reason why millions of users across the globe trust Pixlr as their trust tool. Moreover, you don't need to have technical experience before using it. This makes it both affordable and convenient.
2. Is Pixlr A Legal Tool?
Yes, Pixlr is an entirely legitimate tool. All the products and features are entirely authorized and allowed to use. That's why millions of users globally use Pixlr for editing their images. Hence, feel free to use it.
3. Is It Easy To Use Pixlr?
Yes, Pixlr is the easiest and quickest way to remove the watermark. Pixlr remove watermark in three easy steps,
Hence, it's hand and does not require any technical experience
iMyFone MarkGo
Easiest Watermark Remover for Video and Image!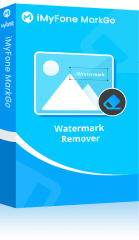 1,000+ People are Downloading iMyFone MarkGo Every Second!