Most of the time, people find it difficult to remove the date stamp from the photos, but with this version of Adobe Photoshop, you can easily remove the date stamp. Mentioned below is the process you can follow to remove a date stamp.
Tips
Hunting for a tool to get rid of date stamp efficiently? Why not try a professional watermark remover called
iMyFone MarkGo
? MarkGo helps you remove watermark 100% clearly with AI-powered Technology within 5 secs in 1 click.
Juts try it out free to check the amazing removing effect of MarkGo shown as below!
Watch this video to see how to use MarkGo to remove date stamp
Part 1. Remove Date Stamps from Photos with Photoshop Elements?
Time and date stamp on a photo seems like a good idea to remember old moments, but sometimes these stamps ruin the beauty of a picture. There are various causes for it, maybe the date is wrong, or it is big enough to hide something special. But you don't have to worry because there are various techniques you can use to erase timestamps from your pictures in a few minutes. Here are some of the Photoshop element techniques you can utilize to get beautiful and amazing pictures.
Tips
Although you can use this method to remove watermark, it's still risky because it crashes from time to time and terribly complicated. If you don't want to deal with watermark removal without any technical process, you may turn to iMyFone MarkGo, which offers a surprisingly easy solution to remove watermark 100% clearly with AI-powered Technology within 5 secs in 1 click. .
Method # 1 – Using Healing Brush Tool
Step by Step Guide
This tool is perfect for removing minor imperfections of the skin like blemishes and uneven skin tone. The healing brush tool uses the background pixels of the picture and acts as a camouflage to heal the blemishes or spots. This brush creates a perfect blend, unlike the patch option. Here is a step by step guide to removing the date stamp from the photos with Photoshop elements:
Step # 1 Select the spot healing brush tool in the toolbox.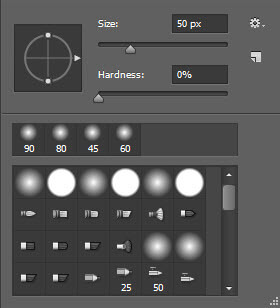 Step # 2 Choose a brush size of your choice.
It is advised to choose a brush bigger than the spot you want to heal so that you can fix it in a few clicks.
Step # 3 Click on the type option and choose accordingly.

You have the following three options:
Proximity match It uses the pixels which are present near the edges of the selected spot and cover the unwanted object.

Create texture It creates a texture out of the selected pixels and covers the stamp.

Content-Aware this feature uses the data from the neighboring objects to fill in the selection.
Step # 4 Click on the spot or select and drag the cursor to stamp the date.
Through these options, you will be able to get rid of the date stamp without deteriorating the quality of the pictures. These options allow you easy access to remove the date and time stamp, and you can easily process and manage your pictures on a professional level.
Method # 2 – Content-Aware Fill Option
This method perfectly fills the selected portion of the image with similar content from the surroundings of the image. It is advised to create a selection that extends into the area that you want to replicate for better results. Mentioned below is a step-by-step guide to edit your pictures and delete the date stamp.
Step by Step guide
Step # 1 Select the portion of the image you want to edit.
Choose the Lasoo or Marquee selection tools for that purpose.

Step # 2 Click on Edit and select the option of fill selection.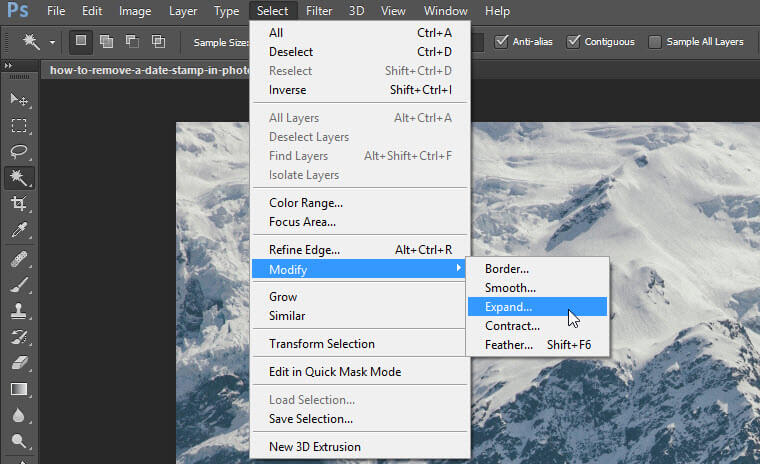 Step # 3 Select the content-aware option from the fill layer dialogue.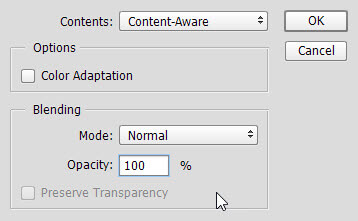 Step # 4 If the results are not desirable, click on Edit and select undo.
You can apply another content-aware fill.

Part 2. Beginners' Best Alternative of Photoshop for Date Stamp Removal
There are various alternatives to remove the date stamps or watermarks by retaining the quality of the pictures and are easy to use. You can easily edit your pictures with a few clicks without any effort. If you go through the list of the best alternative to Photoshop for date stamp removal, you will see iMyFone MarkGo at the top of the list.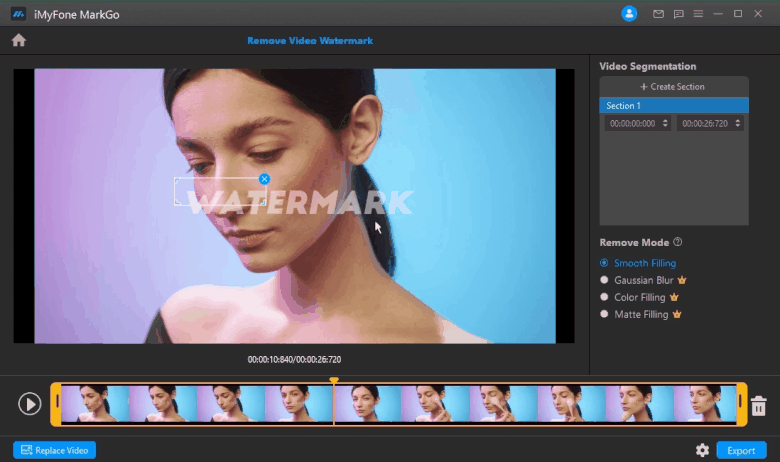 It is the best watermark remover for both videos and images, and in few steps, you can easily erase multiple watermarks in a moment at once. You can also add watermarks to your images via this photo editor. It keeps the quality of the images maintained and is a faster and easier way to get rid of watermarks. You can select various pictures at once, and with one click, you can remove the watermark of all the pictures. Also, this editor offers a 30-day money-back guarantee and is 100% secure. Your transactions are well protected and safe.
Step # 1 Download this software on your computer and install it.
iMyFone MarkGo is one of the best ways to delete unnecessary watermarks and date stamps from pictures or even videos. It is free software and allows you to edit pictures without any cost. You can easily download this software. It has a feature to remove watermarks from different parts of the picture. Moreover, this software has a very simple interface, and you can easily understand that interface. It works well with both canvas and pixlr, and you can remove the watermark by using any of these. Here is a step by step guide to erase the Canva watermark with this software:
Step # 2 Open this software and select the option of the remove watermark.
After choosing that option, select the picture that has a cava watermark on it.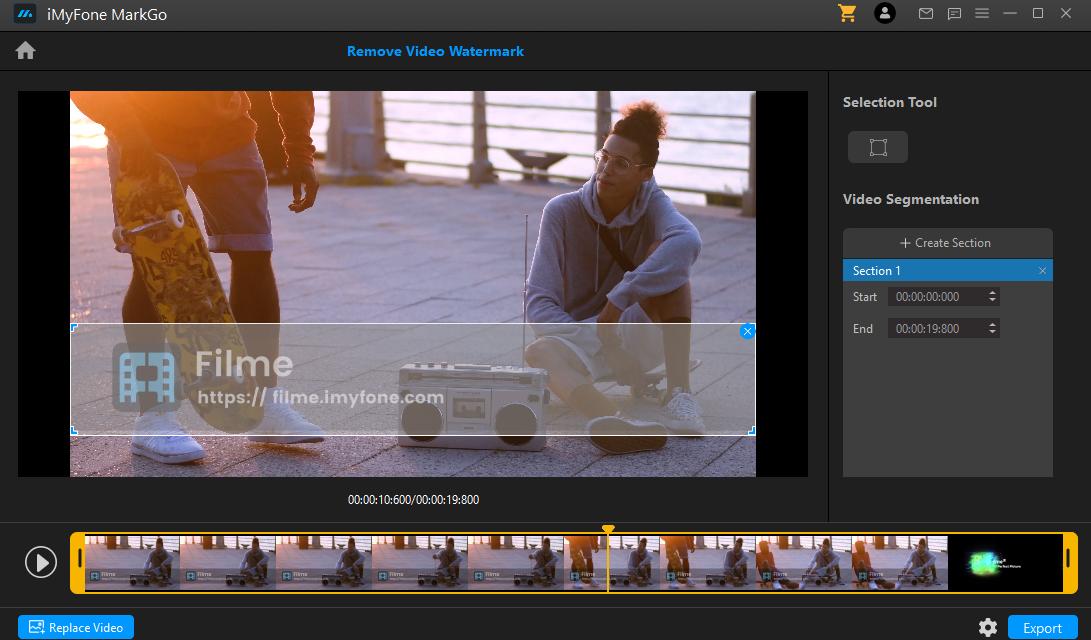 Step # 3 Then the image will appear in the preview window.
Drag the cursor to the selection tool on the right, and a box will appear to remove the watermark. Move the box to the part from where you want to remove the watermark. Click on the remove now button, and you will see the results.
Step # 4 Click on the Export option and export the image.
You can open the file location to check the image with the watermark being removed.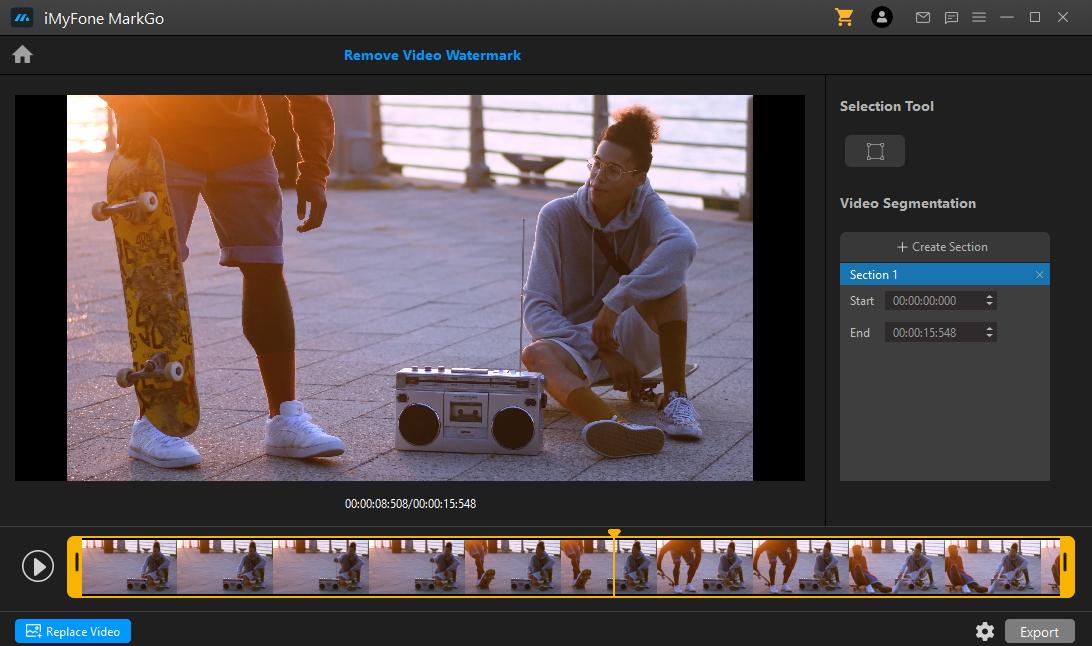 If you are looking for the easiest way to remove watermarks, you must consider this as your first choice.
Why do we like it?
We like IMyFone MarkGo because of its fast and easy features. This software makes the task easy and doesn't affect the picture quality. Also, it has amazing effects, and you can easily edit your pictures by using this software. Moreover, the multiple pictures and video selection allow you to remove all the watermarks in one click.
People Who Liked this Content Also Liked
Best Watermark Remover Online for Photo / Video >>
Apps to Remove Unwanted Objects from Your Photos >>
Remove TikTok Watermark: On Desktop, iPhone, and Android >>
Watch the video tutorial to remove watermark using MarkGo
Part 3. FAQs about Getting Rid of Date Stamps from Photos with Photoshop Elements
1. How do I erase the date stamp from photos?
There are various tools available in the Photoshop elements that help us in getting rid of a date stamp present on our beautiful pictures. We can easily remove the stamps by ourselves without any difficulty. Some of the best date stamp removal software includes Photoshop elements, adobe Photoshop, iMyFone MarkGo, remove and add watermark (android), and Webin paint. If you are considering using Photoshop elements, you can use the healing brush tool method, clone stamp removes or content aware fill option.
2. Which tool should you use to delete the date stamp?
To remove the date stamp, you can use the healing brush tool or the content-aware fill option on the Photoshop elements. Moreover, the healing brush tool has more options like proximity match and create texture. These tools are the best tools to remove watermarks or date stamps from your pictures. Then there is iMyFone MarkGo, an amazing software that is compatible with windows 7, 8, and 10 and is very simple to use. Not only can you remove watermarks, but you can also add watermarks through this software.
3. What are the top free stamp date removal tools available?
Some of the top free stamp date removal tools include Photoshop, Inpaint, photo stamp remover, polar iMyfone MarkGo, and PhotoDirector.
Conclusion
No need to worry about your beautiful sunset pictures and your old memories in the form of pictures ruined by the date stamp or the ugly watermark because you can easily manage those watermarks using Adobe Photoshop elements.
This software allows you to get rid of those date stamps easily and provides you with various tools. You can easily blend the date stamps in your pictures, and the pixels won't be affected at all. In addition to it, iMyFone MarkGo is also an amazing software to remove or add watermarks. It also removes the watermarks from the videos and has a simple interface. There are various beneficial features of this software that works well with canvas and pixlr.
iMyFone MarkGo
Easiest Watermark Remover for Video and Image!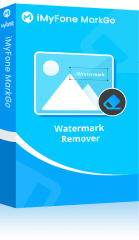 1,000+ People are Downloading iMyFone MarkGo Every Second!