Would you like to know how to remove the Manycam logo from your video? How about removing the Manycam watermark? If this is what interests you, then feel free to read through to the end.
Manycam is an open-source application that helps you improve your video chat and streaming experience. It is compatible with third-party software such as Skype, AOL instant messenger, Yahoo messenger, Youtube, and Livestream. The Manycam logo is displayed on your video screen to advertise its service. By default, the logo appears on the screen, but you can hide or remove it by following the steps below:
Part 1: How to Hide or Remove Manycam Logo?
Hiding or removing the Manycam logo is straightforward. You do not have to be a professional to know how to remove the Manycam watermark/logo, and the good news is Manycam does not charge you to remove the logo, neither is it an illegal offense. To learn how to remove the logo from our Manycam screen. If you prefer watching the video guide, you can access it here.
Step #1 Download, Install and Launch Manycam
Use the link below to download, install, and launch Manycam on your computer if you do not have it. But if you have installed it already, then open it and continue with me.
Step #2 Search For The Text Over Video Button On the Menu bar
At the left navigation menu under effect inside the open timeline, you see the "text over video" menu. Click on it, and a screen will show up at the bottom of the Manycam timeline. Inside the screen, you will find a checkbox that reads "show Manycam logo. See the image below.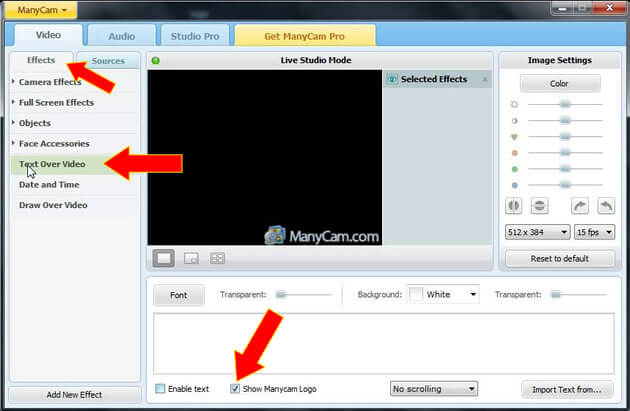 Step #3 Uncheck The Box Labeled Show Manycam Logo
The last step is to uncheck the "Show Manycam Logo" box. Hover your mouse over the box to uncheck the mark from the box labeled Show Manycam Logo. And the logo will be removed automatically. Take a look at the image below to understand: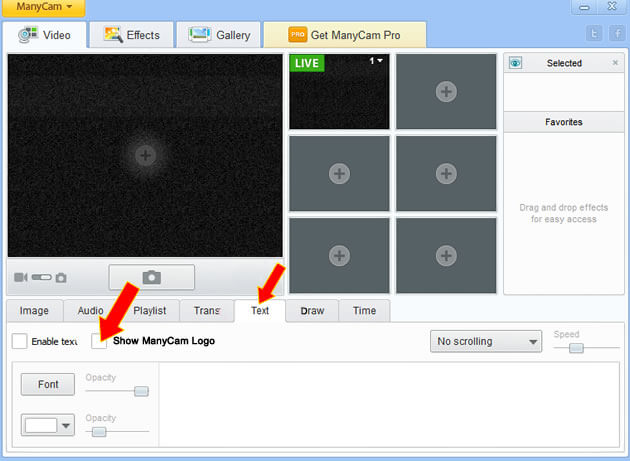 There you have, our Manycam screen is free from the default watermark. See why you should use Manycam?
Why Do We Like Manycam?
Its user-friendly interface(You do not have to be an expert to use it.)

You can download it to your computer and use it at anytime

Free to use, also can remove the Manycam logo for free

Compatible with a third-party application (Can use Manycam to enhance your Skype video chatting, AOL instant messenger, Yahoo messenger, Livestream, even Youtube video streaming, etc.)
Part 2:How to Get Rid of Manycam Watermarks from Video?
Do you have photos or videos you like to use for your project, but it has watermarks on them. And you are wondering how to remove them? Here let me show you how to get rid of those Manycam watermarks easily using the best tool called iMyFone MarkGo.
Removing Manycam logo using iMyFone MarkGo software is very straightforward and fast, especially if you have multiple photos and videos that contain watermarks. Can you download Manycam without watermark? You can not!