Do you like to know how to get rid of the Manycam logo from your video? Or how to remove Manycam watermark? If this is what you are interested in, then you are welcome to read to the end.
Manycam is an open-source application that helps enhance your video chatting and streaming experience. It is compatible with third-party software like; Skype, AOL instant messenger, Yahoo messenger, Youtube, Livestream, etc. Unfortunately, Manycam does advertise its service by placing its logo on your video screen. The logo by default appears on the screen, but you can hide or remove it by following the step-by-step guide below:
How To Hide Or Remove Manycam Logo?
Hiding or removing the Manycam logo is straightforward. You do not have to be a professional to know how to remove the Manycam watermark/logo, and the good news is Manycam does not charge you to remove the logo, neither is it an illegal offense. To learn how to remove the logo from our Manycam screen. If you prefer watching the video guide, you can access it here.
Step #1 Download, Install and Launch Manycam
Use the link below to download, install, and launch Manycam on your computer if you do not have it. But if you have installed it already, then open it and continue with me.
Step #2 Search For The Text Over Video Button On the Menu bar
At the left navigation menu under effect inside the open timeline, you see the "text over video" menu. Click on it, and a screen will show up at the bottom of the Manycam timeline. Inside the screen, you will find a checkbox that reads "show Manycam logo. See the image below.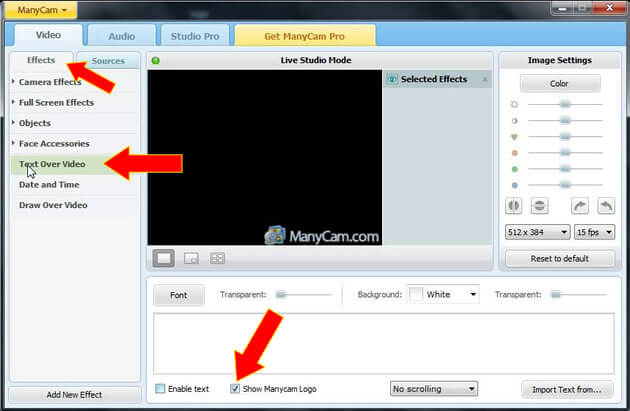 Step #3 Uncheck The Box Labeled Show Manycam Logo
The last step is to uncheck the "Show Manycam Logo" box. Hover your mouse over the box to uncheck the mark from the box labeled Show Manycam Logo. And the logo will be removed automatically. Take a look at the image below to understand: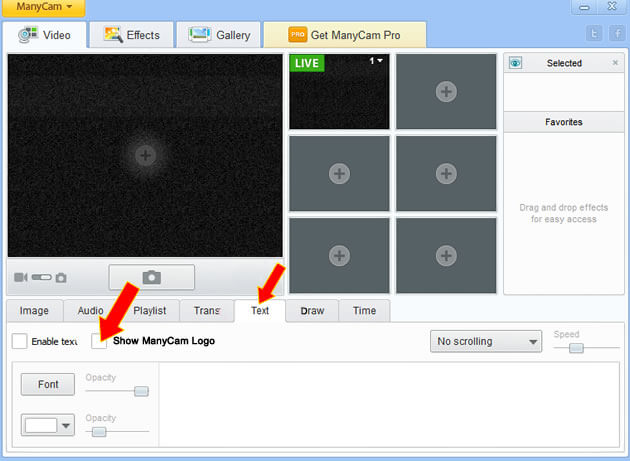 There you have, our Manycam screen is free from the default watermark. See why you should use Manycam?
Why Do We Like Manycam?
Its user-friendly interface(You do not have to be an expert to use it.)

You can download it to your computer and use it at anytime

Free to use, also can remove the Manycam logo for free

Compatible with a third-party application (Can use Manycam to enhance your Skype video chatting, AOL instant messenger, Yahoo messenger, Livestream, even Youtube video streaming, etc.)
How to Remove Watermarks from Photos and Video?
Do you have photos or videos you like to use for your project, but it has watermarks on them. And you are wondering how to remove them? Here let me show you how to get rid of those watermarks easily using the best tool called iMyFone MarkGo. Removing watermarks using iMyFone MarkGo software is very straightforward and fast, especially if you have multiple photos and videos that contain watermarks.
How to Use iMyFone MarkGo to Remove Watermarks from Photos and Videos?
MarkGo is the best PC watermarks remover that comes with a user-friendly interface. It is an excellent watermark remover software that comes with powerful features. MarkGo is a well-designed app consisting of an intuitive dashboard good for beginners. With MarkGo, you can add or remove watermarks from photos and videos without sacrificing the media quality. MarkGo also offers you the option to import multiple media files at once, up to 100 pieces. To make your work fast and easy. Learn how to use iMyFone MarkGo to remove watermarks;
Step #1: Download iMyFone MarkGo
To remove watermarks from a media file with MarkGo, we have to download it to our PC. So head over to the iMyFone website to download MarkGo. After downloading, run the exe file to finish your installation, then launch it to continue with me.
Step #2: Add your Media File( Photos and Video)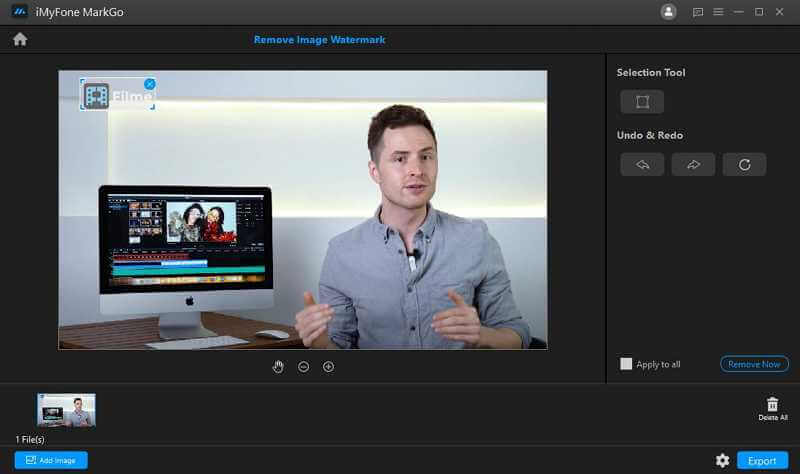 After launching MarkGo, you will see an option on the dashboard that reads remove video watermark, and below it, you will see another icon that reads remove image watermark. Click on the option you want ( If you are eliminating watermarks on videos, hit the remove video watermark icon, but if it is on photos, choose the remove image watermark). So pick your option icon to continue. See the image below;
Note
you can import multiple media files to MarkGo at once up to 100 pieces. To have lifetime access to MarkGo premium, you have to pay a tiny fee of $29.99, or $9.99 monthly and $14.99 yearly.
Step #3: Remove Watermarks From your Media files.
After adding your photos or videos, it is time to get rid of those watermarks. At the right-side navigation menu of the MarkGo dashboard, you will see a "Remove Now Button" hit on the button, and your photos and videos will be clear from watermarks.
Note
You can follow the same process to add watermarks to your media files if you want. Also, you can use the application to all button if you are removing watermarks on multiple files.
Step #4: Downloading your media files to the computer
When MarkGo has finished removing the watermarks, you now have the option to export your files. To do that, search for the export button at the bottom of the MarkGo dashboard. Hit the export button, and your photos or videos will be downloaded to your computer.
Simple right? It is how to remove watermarks and logos from any photos and videos using this powerful software called iMyFone MarkGo. Like to watch the step-by-step video tutorial? Access it here.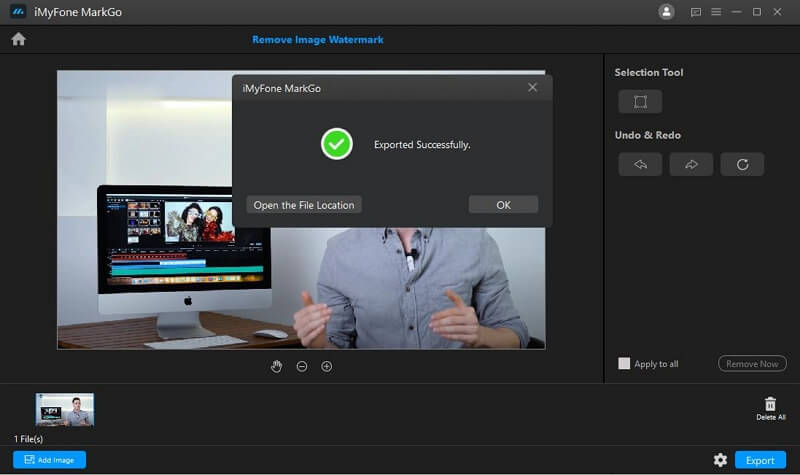 Why Do We Like iMyFone MarkGo?
Why should you like MarkGo for watermarks remover? It's flexible. MarkGo is the easiest watermark remover for your photos and videos. Here is why you should always work with iMyFone MarkGo;
Simple to remove watermarks

Can import multiple media files up to 100 pieces

Newest watermark remover in the market

Can add watermarks to videos and images

Beginner-friendly user interface

Can download to a PC

Lifetime access payment option of ($29.99)
People Who Liked this Content Also Liked
Best Watermark Remover Online for Photo / Video >>
Apowersoft Watermark Remover - Free Download and Detailed Guide in 2021 >>
How to Remove the TikTok Watermark: On Desktop, iPhone, and Android >>
Frequently Asked Questions.
Q.1: How to test webcam and microphone online?
To test for your webcam and microphone online, use pixect.com. With pixect.com, you can test webcam, mobile camera, microphones, headphones, earphones, and PC speakers online.
Q.2: How to take a good photo with a webcam?
To take a good photo with a webcam, you need a light reflection. Light plays a vital role in photography. And the best source of light is from open windows or room light. Light from the screen will make your photo look blue. To get a good result, make sure you are facing the light direction. Because putting it behind will mess up your picture quality.
Q.3: How to take pictures of documents or homework?
To take a picture of your documents or homework, you have to rotate the notebook to match the orientation of your camera and capture. Then click the Rotate Left or Right button from the top-left corner to restore the correct frontage of your notebook and save or download it to your device. Webcam can not take a picture in portrait mode. It only has to be in landscape mode.
Q.4: How to record video with a webcam?
To start your video recording, the first thing you do is;
Set your video quality(480p or 720p etc)

Press the video button, and it will start.

When you are through, press the stop recording button. And it will show you the video preview. You can choose to discard or save it.
Q.5: Webcam is not working. What should I do?
Is your webcam internal or external? If you are using external, it could be a plugging issue. So unplug and plug back through another USB port. If internal, have it check for any breakage or damage.

If your chrome browser asks your permission to use a camera, allow it.

Click the camera icon at the top address bar on your browser to access your camera and microphone settings. If you have multiple devices connected to your computer, you can use the camera icon to change cameras or select a different microphone, if needed.

Check your antivirus settings. It could interfere with web webcam settings.
Q.6: How to remove spots and blemishes from the skin?
To remove spots and blemishes from your skin in photos, you have to use pixect.com. After your photo shoot, take the picture and upload it to Pixect. Then select the spot remover tool from the right side of the menu bar to remove spots and blemishes.
Q.7: How to hide or remove Manycam.com Logos?
It is easy to remove Manycam.com logos. To get started
Download, Install and Launch Manycam

Search For The Text Over Video Button On the Menu bar

Uncheck The Box Labeled Show Manycam Logo
iMyFone MarkGo
Easiest Watermark Remover for Video and Image!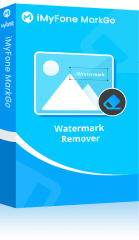 1,000+ People are Downloading iMyFone MarkGo Every Second!