Looking for methods and tools to remove watermark? Great! We can help you with that as here are the methods and steps you can take to erase watermark using GIMP, and there is also a great alternative given to help you with watermark removal.
Best GIMP Alternative to Remove Watermarks from Photos and Videos
Watch the video tutorial to learn more about MarkGo
After knowing everything about GIMP, you can also look up an alternative! An alternative for this is iMyFone MarkGo. You can use this software to remove watermarks without any hustle.
iMyFone MarkGo is free software to be used on Windows 8, Windows 9, and Windows 10. This is editing software that lets you edit not only images but also videos. You can remove watermarks with the help of its amazing tools.
iMyFone MarkGo Step-by-step Guide:
To remove the watermark from an image with iMyFone MarkGo, you can follow the following steps.
Step1: Import Media File/Files
This is the first step before any type of editing. You have to import the file that you want to remove the watermark from.
Step2: Cropping/Cloning/Stamping
There are many methods and tools to remove a watermark with iMyFone MarkGo. You can crop the image or you can go for cloning of the image. You can even use the stamping method to remove the watermark. It all depends on what you use for editing.
You can crop the video to remove the area where the watermark is present.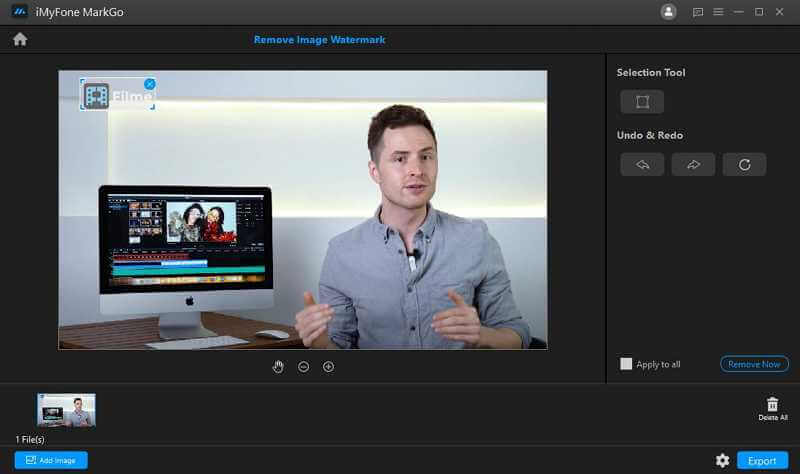 Step3: Saving
Lastly, you have to save the resultant image. You can even share it on your drive or social media.
With these three simple steps, you can get your desired result.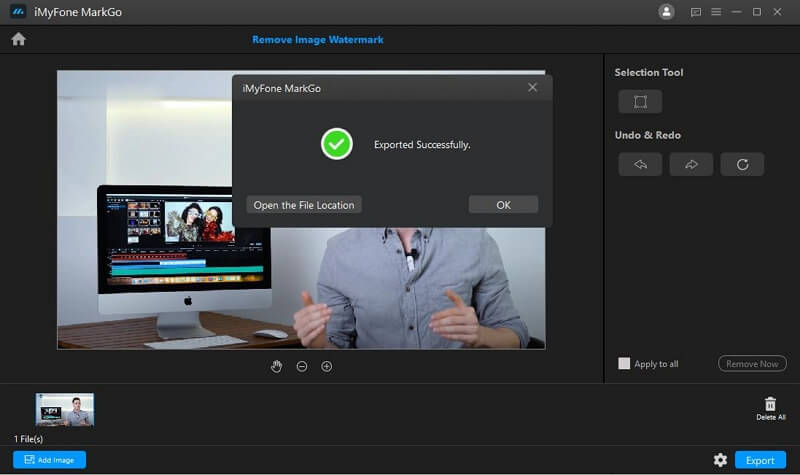 Why do we like it?
It is such an easy software to use and is effective for any type of editing. You can edit not only an image but also a video! You can make stickers or GIFs using this software. Every type of editing with just this single software, why would you even look at other software!
People Who Liked this Content Also Liked
Best Watermark Remover Online for Photo / Video >>
Apowersoft Watermark Remover - Free Download and Detailed Guide in 2021 >>
How to Remove the TikTok Watermark: On Desktop, iPhone, and Android >>
Erase Watermark from the Images Having Layers
What we see isn't what it always is. Sometimes we see one image, but we don't see the number of layers to create the look. For example, a picture can have more than 10 layers; one contains the background, one contains the eyes of a character, one contains its face, and so on.
How to Remove Watermark
The watermark we see on them is on all the images, and hence we have to select every layer and remove the specific part of the watermark from them. So here are the steps to help you remove watermarks from an image having multiple layers.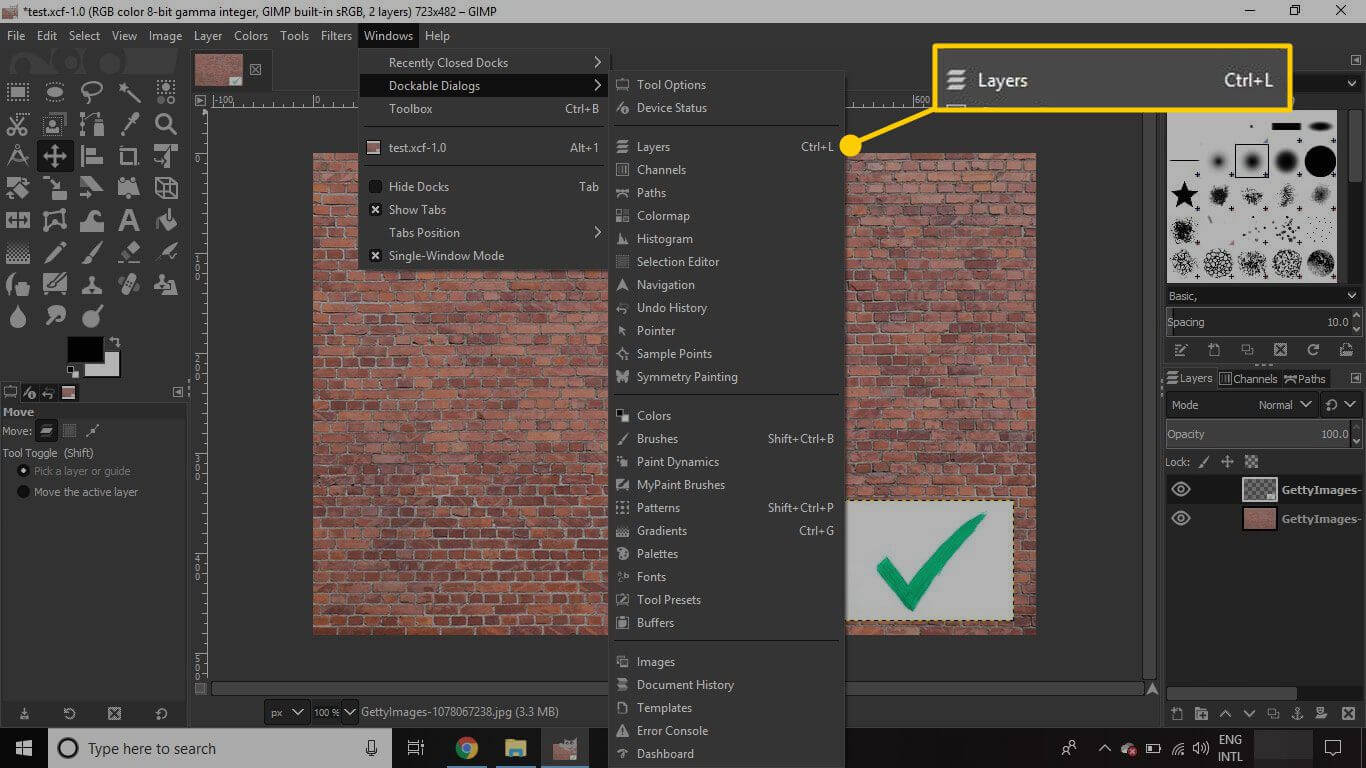 Use water mask
This is the only thing you need to use. For example, you have a part of the watermark on every layer, go to every layer individually, use the layer mask and then start editing it. After that, drag the mask to the part you want to cover or to the area where the watermark is. By doing so, the watermark will be hidden behind the layer mask, and that particular layer's watermark will be removed. Repeat the process on every layer, and then your work is done.
How to Remove Watermark Using Clone Tool in Gimp
Gimp is the best photo editing software, as it allows editing, adding effects, and many more. You can use it even if you don't have much knowledge of editing stuff, as it is both user-friendly and easy to gain access to. All you need to do is have basic knowledge of editing so that you can use its tools without much difficulty.
How to delete Watermark:
If you have a watermark picture and want to remove it, I can help you with it. Gimp is simply the best online tool to be used for this purpose. Here is what you need to do:
There are two ways you can clone, by pattern and by image. If you are using the clone tool on the image, then you need to do the following steps:
Import image in gimp
The first thing you need to do is import the image you want to remove the watermark from into gimp.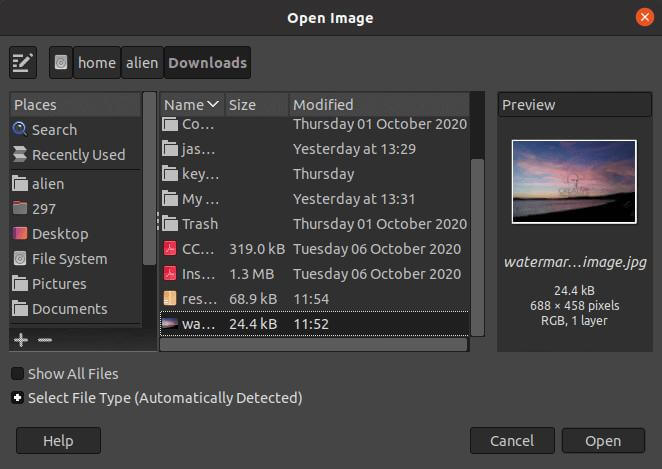 Erase watermark
For that, you need to press the ctrl button, and while holding down on it, click on the part of the image or area you want to clone.
If you are using the pattern for cloning, then here are the steps you need to follow:
Use one of the cloning tools
If you are cloning by pattern, you can use one of the two tools, the cloning tool or the perspective cloning tool. It's entirely up to you. You can access them from the tools, where the option comes "paint," click on that, and after that, choose the clone menu.
Use cloning
After you have selected the tool, start using it by pressing on the ctrl button and dragging it to the area you want to copy.
Paint
After you have copied the area, you can start painting it on your desired parts. This will remove the watermark.
Delete Watermark using Resynthesizer Plug-in
It is the best tool to be used for photo editing or watermarks remover. It makes editing easy and on another level. The best thing about this plug-in is that it modifies your background easily and can be used to extract the image perfectly.
How to Remove Watermark
To remove the watermarks from pictures, a resynthesizer plug-in can be used. Here are the steps you need to follow to use this tool.
Download the resynthesizer plug-in
If you want to use this, make sure that it is downloaded in gimp so that its tools can be used properly and easily. After that, you can select the tools you like. The best ones are given below:
Heal selection tool
This is the best tool for the removal of watermarks from a picture using gimp. It can help you remove unnecessary watermarks or doodles easily. To activate this, you need to go to the filters option and go to enhance. Once there, you can select this tool present there.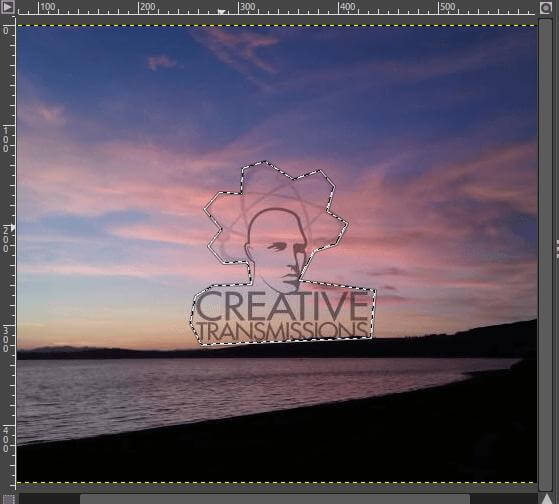 Heal transparency tool
This is the second-best tool of this plug-in. It helps you remove or fix any glitches in your editing, like a broken pitch in your photo or any defect in the area you want to edit. To use this tool, you need to go to the filters option and go to the enhance option. Once you go to the enhance option, select the heal transparency tool, and you are good to use it.
Enlarge and sharpen tool
As the name states, you can enlarge or sharpen your image or the selected part. This is a helpful tool because it easily reads the pixels of the area the part has been selected from and merges it into perfect shape and contrast. This tool helps to zoom the image, and after that, helps you to correct its edges or sharpen them for a better and clearer view. There is a scale given for the enlargement of your picture, which is from 1-32. This will help to easily remove the watermark from existence.
Frequently Asked Questions about Removing Watermark Using GIMP
Most people have some common questions regarding this. Some of the frequently asked questions are:
1. Does gimp leave a watermark?
If this question is about making a watermark with GIMP, then yes! It is possible to leave a watermark with the help of GIMP, but we would recommend not using GIMP if you want to leave a watermark using graphics other than text. This is because you can leave a watermark using text but not anything else. So, if you want your brand to become recognized by the public, it is better to use some other tool. Like; iMyFone MarkGo.
2. How do I erase a transparent watermark?
There are a lot of tools and a lot of methods to remove a transparent watermark. You can choose any of the methods mentioned above to remove the transparent watermark.
3. Is it illegal to use a photo with a watermark?
It is not always illegal to use an image or photo with a watermark. This is because it depends on the purpose of your use! If you are using it for marketing purposes, it is illegal because you can even get sued because of it. And if you give the reason you didn't know about it being illegal in the court, then that will also not be of any help as you will still be getting the penalty. So, it is better not to use it for marketing! But, if you are using it for family or friends, then it is fine to use it.
4. Does a watermark count as copyright?
The purpose of a watermark is so that the owner can show his/her ownership of the picture. The watermark lets everyone know that the image belongs to someone else, and you can't use it for marketing purposes. However, putting a watermark on pictures does not make it yours if you have just downloaded it from the internet. So, a watermark can be counted as copyright, but only if it really is your picture and not just a random downloaded one!
5. How do you do watermark removal from pictures on your phone?
If you want to remove a watermark from some picture or image in your phone, you will have to get help from a third-party app. There are many apps out there that will help you with removing watermarks.
iMyFone MarkGo
Easiest Watermark Remover for Video and Image!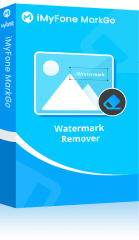 1,000+ People are Downloading iMyFone MarkGo Every Second!