Many people download the images and videos from Adobe Stock for personal and commercial purposes. If you want to download the content from Adobe Stock without paying anything, you'll have to deal with the watermark.
Meanwhile, if you acquire the license, your image or video will not contain any watermark. However, people complain that the watermark hasn't been removed, even getting a license in some cases. It happens due to technical glitches and unforeseen reasons
In this article, you'll learn how to wipe away the Adobe Stock watermark with and without a license.
Part 1. How to Remove Adobe Stock Watermark after Buying the License
Adobe Stock is a massive source to download fascinating and attractive photos and videos for your project or commercial purposes. However, you need to buy the license to legally obtain the particular image's rights.
If you don't purchase a license, then the images you download will carry a watermark on them, which is pretty disgusting.
Surprisingly, it has been seen even when you purchase the license of an image, and the image still carries a watermark.
What could you do in this scenario?
Luckily, you can get rid of the watermark pretty easily if you've acquired the license.
Here's the quick to eliminate Adobe Stock watermark after buying its license.
Step 1: Navigate to License History
First of all, you'll need to move to the "License History" icon from your Adobe Stock account.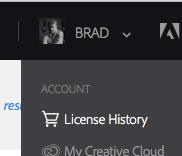 Step 2: Click the image.
Now, you need to navigate to the detail page after hitting the image you'd want to download.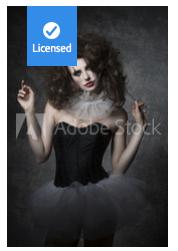 Step 3: Select Download to Desktop
In this phase, you'll only need to press on '' Download to Desktop. Now, you'll see the image you downloaded will be watermark-free.
Part 2. How to Remove Adobe Stock Watermark from Photos/ Videos Free without Buying the License -MarkGo
If you don't want to purchase the license of Adobe Stock due to its high price, you can useiMyFone MarkGo for removing the watermark from a video or image without a license.
MarkGo is a pretty fascinating watermark removal that has made the job easier for those who wonder how to erase the watermark from their content.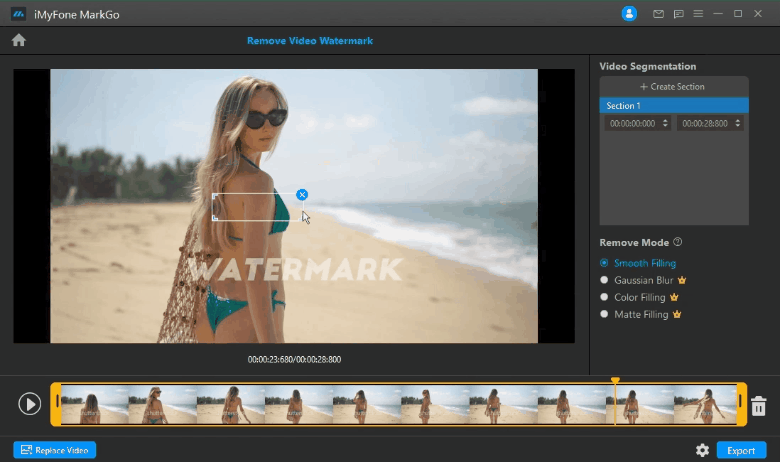 Wonderful Features of iMyFone MarkGo
User-friendly, without any technical knowledge required to erase watermark in just one single click.

Easy to get rid of and add watermark for videos and pics, with no traces at all.

Free to try the remover, during which you can check the compatibility.

Able to add watermark for up tp 100 pics in batch for copyright considerations.
Apart from Adobe Stock content, you can remove the watermark from any other website's content using iMyFone MarkGo.
How to delete Adobe Stock Watermark using iMyFone MarkGo?
Step 1: Install iMyFone MarkGo
After finding the latest version of MarkGo, all you need to do is install it on your desktop. Later, you'll need to launch it to begin the operation you're looking for.
Step 2: Select the option Remove Video Watermark
After launching iMyFone MarkGo, you'll see four options on your screen: Remove Video Watermark, Remove Image Watermark, Add Watermark to Video, and add watermark to the image. Let's select Remove Video Watermark.
Step 3: Upload Adobe Stock video
In this phase, you'll see Add Video option at the center of your screen. You need to upload the Adobe Stock video you'd want to get rid of the watermark from.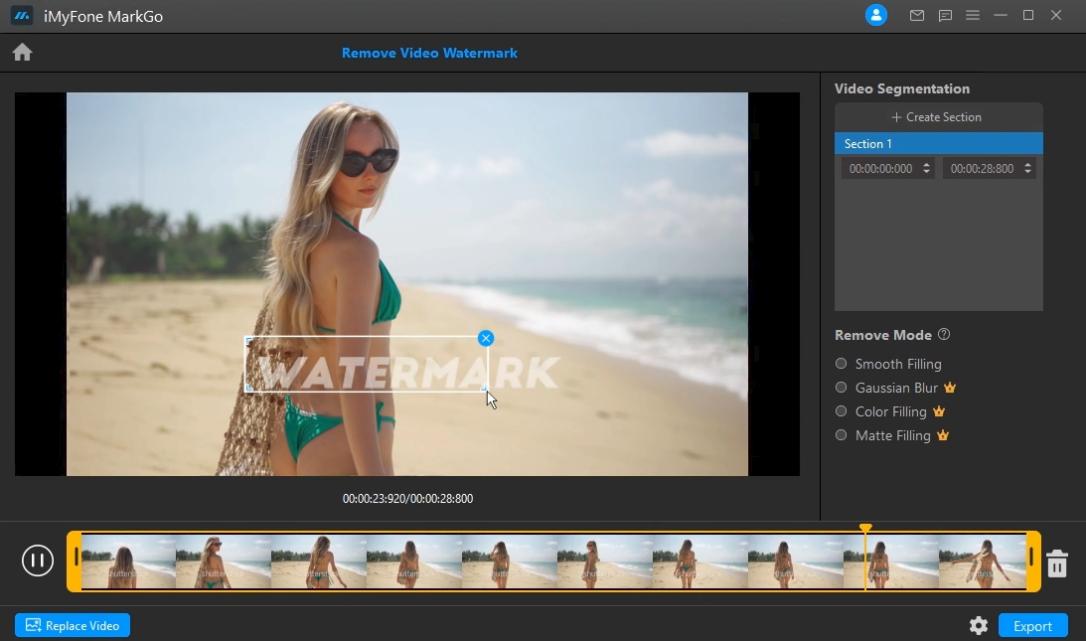 Step 4: Select a part of the video
Now, you'll need to move your video to a point to select the video's certain part. You can also create a new Section to mark the area for MarkGo to recognize as a Watermark.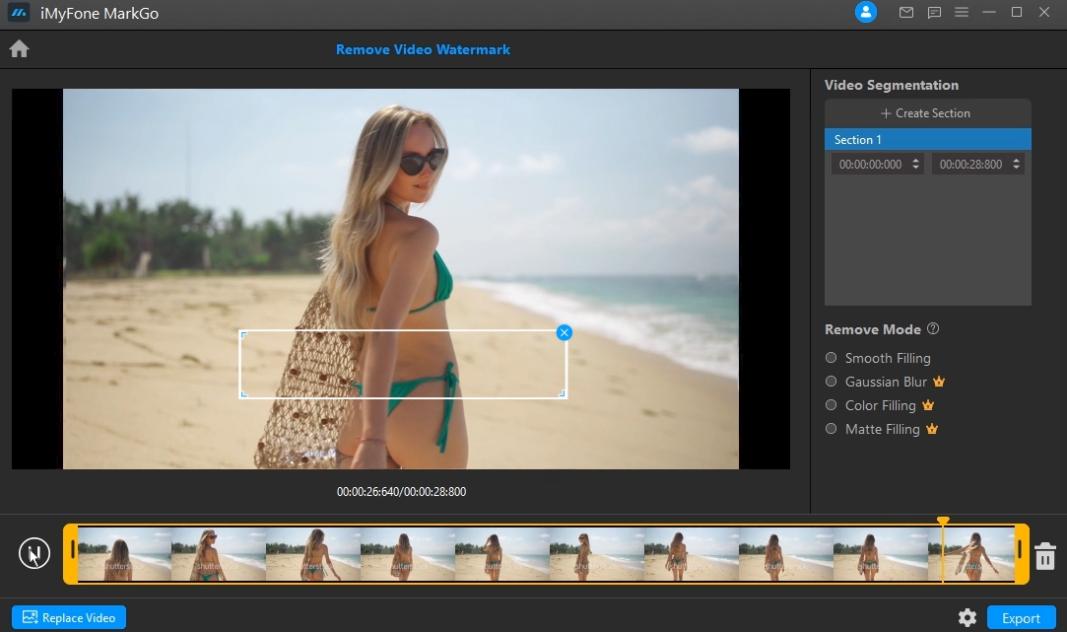 Step 5: Cover the Watermark
Now, you'll need to hit the Selection Tool button. Now, the watermark area you've selected earlier will appear.
Let suppose the watermark your Adobe Stock video contains is '' Filme'' on your video. You need to drag the small box towards the watermark area to erase it.
Step 6: Click on Play to preview the effect
After removing the watermark, you'll need to press the Play option to check how the video looks now.
Step 7: Export video
If the watermark you were looking to delete has been removed, you can download the file. For this purpose, you'll need to click on the'' Export'' button.
FAQs - How to Erase Adobe Stock Watermark from Photos/ Videos
1. How do I get rid of the Adobe stock watermark in Spark?
Yes, you can erase the Adobe Stock watermark using Adobe Spark. However, you'll need to acquire the subscription of Spark to get it done.
Unfortunately, Spark's subscription is not cheap. Instead, they offer their premium version at a pretty expensive price. It is why you are better off using the iMyFone MarkGo to wipe away the Adobe Stock watermark. Apart from being affordable, it also offers quality services.
2. Why does Adobe stock have a watermark?
Adobe Stock asks for a license for each image you download from there. If you're downloading images with acquiring the license, you can't avoid the watermark.
Adobe Stock is a popular platform to download attractive and elegant content. The reason behind Adobe Stock having watermarked content is that they want to give value to their content.
3. Can Adobe Pro remove a watermark?
Unfortunately, you can't eliminate watermark using Adobe Pro. It is only for editing the content and making it flawless. Instead, you can erase the watermark using Adobe Acrobat, but it isn't a user-friendly gig.
Instead, it offers to delete the watermark at a pretty high cost. Luckily, you can take the services of iMyFone MarkGo to get rid of any watermark on your video or audio at reasonable rates.
Conclusion
You can effortlessly get rid of the watermark from a licensed Adobe Stock Photo video or image. We've mentioned the ways to serve your purpose.
However, using iMyFone MarkGo, you'll be able to get rid of the watermark of content without buying its license. Many people find the price of Adobe Stock pretty expensive, and they opt to erase the watermark on iMyFone MarkGo.
It is a reliable and unbelievable tool that enables you to delete background or watermarks from your video or image with minimal effort.