Making a presentation or a video with Google Slides and then adding your voice to it is the new trend. People usually do it to make lectures and informational content on different platforms. This trend gained pace during the pandemic, and today, more and more people want to add voice recordings to Google Slides so that people can easily understand them. But the problem starts when they don't know how to do it and which software to use. Don't worry; we are here for help. So, How to add a voice recording to Google Slides? You will find out in this step-by-step guide.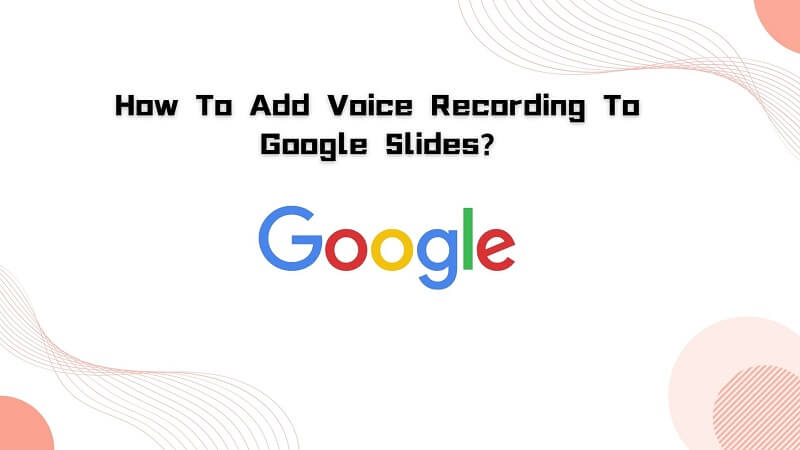 Part 1: How To Make Google Slides?
Google Slides is a program where you can make slides for presentations and assignments. It was made public in 2006, and since then, it has been an important part of businesses and educational institutes. You can state important facts, plans, and any important data using the slides.
Now, people are using it to make recorded lectures or informational videos. They add audio to the slides, make a proper video, and upload it on YouTube or anywhere they want.
But before you know how to add a voice recording to Google Slides, it is crucial for you to know how to make Google Slides first.
Here's how to make Google Slides:
1. Open the Browser and Open the Google Slides.
2. On the left side, you will see a Plus (+) icon. Click on it.
3. A new window will open, and you can then create slides.
In addition to this, if you add a slide and then decide it is not worth it, then you can just skip it. On the left section where you will see slides, right-click on the one you don't want people to see. Out of different options, click on "Skip slide," and that's it.
When you finish making slides, then you can add audio. For this, you must have a recorded audio file saved on your PC. But how to do it? It's easy!
Part 2: Recording Your Voice Via VoxBox
Voxbox is one of the best voice recording and editing apps you can use today. Whether you want to record meetings, songs, speeches, lectures, or anything, this app will work like a charm. Thousands of people have it on their phones because you never know when you get an idea about a musical verse or a sudden meeting that you have to record.
How to Step
Step 1. First, download VoxBox from the imyfone official website and then launch it.
Step 2. When the screen pops up, you will see the "Start Recorder" option. Click on it, and the voice recording will start. If you want to pause the recording, then click on the same voice button again. Click on it again to resume the recording.
Step 3. When you are done, click on the "Stop Recording" or "Red button." You can also listen to the recording from the record list under the operation to make sure you did not miss any point. You can also delete the recording from there. If you are satisfied, then save the recording.
Step 4.(optional) If you want, you can edit the recording by clicking on the "Audio Edit" on the left side. You can cut, add effects, or add other files using VoxBox and then easily save the edited file.
Features:
VoxBox is developed using high-quality output technology, which means the recording will be clear and of top-quality.

This app allows you to record other platforms' audio (YouTube, SoundCloud, Facebook, TikTok, and so on).

You can also import audio files and edit them as you want.

You can also share the edited version with any app you want.

The security of VoxBox is matchless too. It does not save the recordings in their database.
Pros:

Easy to use.

Have Simple interface.

The recording is super clear due to advanced technology.

You can edit both recorded and imported audios easily.

You can also use the free version before you pay for the App.
Cons:

It is not free.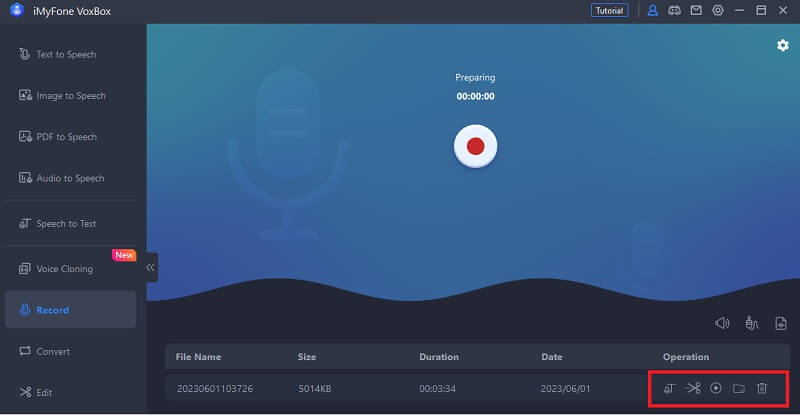 Part 3: How To Add Voice Recording To Google Slides?
When you record audio, the next step is to add it to the Google Slides. It is easy to do.
Step 1. Begin by opening the slide in which you want to add the audio.
Step 2. Next, click on the "Insert" option.
Step 3. Go to the "Audio" option and then choose the recorded VoxBox audio file.
Step 4. After that, you will see the speaker icon on your Pc screen. You can drag it anywhere on the screen. There will also be a mini player, which you can use to preview the audio file attached to the slide.
Step 5. There will also be a format tab pop-up on the screen. With this, you can change the settings. Make sure you click on "Stop on Slide Change." If you don't change the setting to this, the audio will keep on playing when the next slide appears.
Step 6. Keep repeating these steps until you add audio to every slide you want. After you are done, use Present mode to preview whether the video and audio match or not. That's it!
Conclusion
You can use different apps to add the recording, but most of them have complicated interfaces. But the best one you can download and use for this purpose is VoxBox. You can easily record, edit, and save audio using this software with only a few clicks. Yep, it's true!
When you save the voice recording using Voxbox, open the Google Slide, go to insert, and then upload the audio. That's it.