No one has time to sit and type long content files. What people have created now is automatic transcription software. This transcription software helps people to convert audio or video files into written content files automatically.
Nowadays, different transcription software and tools with different features are available. We have chosen the 6 best automatic transcription software for 2023. We have considered them as best based on their features, user reviews, and pricing plans. All of these things are going to be discussed in detail in the below-mentioned parts of this article. So, stay with us, and let's start!
Part 1: Top 6 Automatic Transcription Software
iMyFone VoxBox is an audio editing software that can perform multiple functions, including voice generation, conversion, editing, recording and >voice clone. This software is specially designed for Windows platforms which require a proper download and installation process.
iMyFone VoxBoxis at the top of our list because it performs various functions with easy and fast methods. It is all AI-based technology, so there is no need to be very expert in high-end technological skills. It just needs input files, and then it performs the rest of the tasks on its own. VoxBox supports 22+ different languages that can be used to efficiently convert different audio files into text.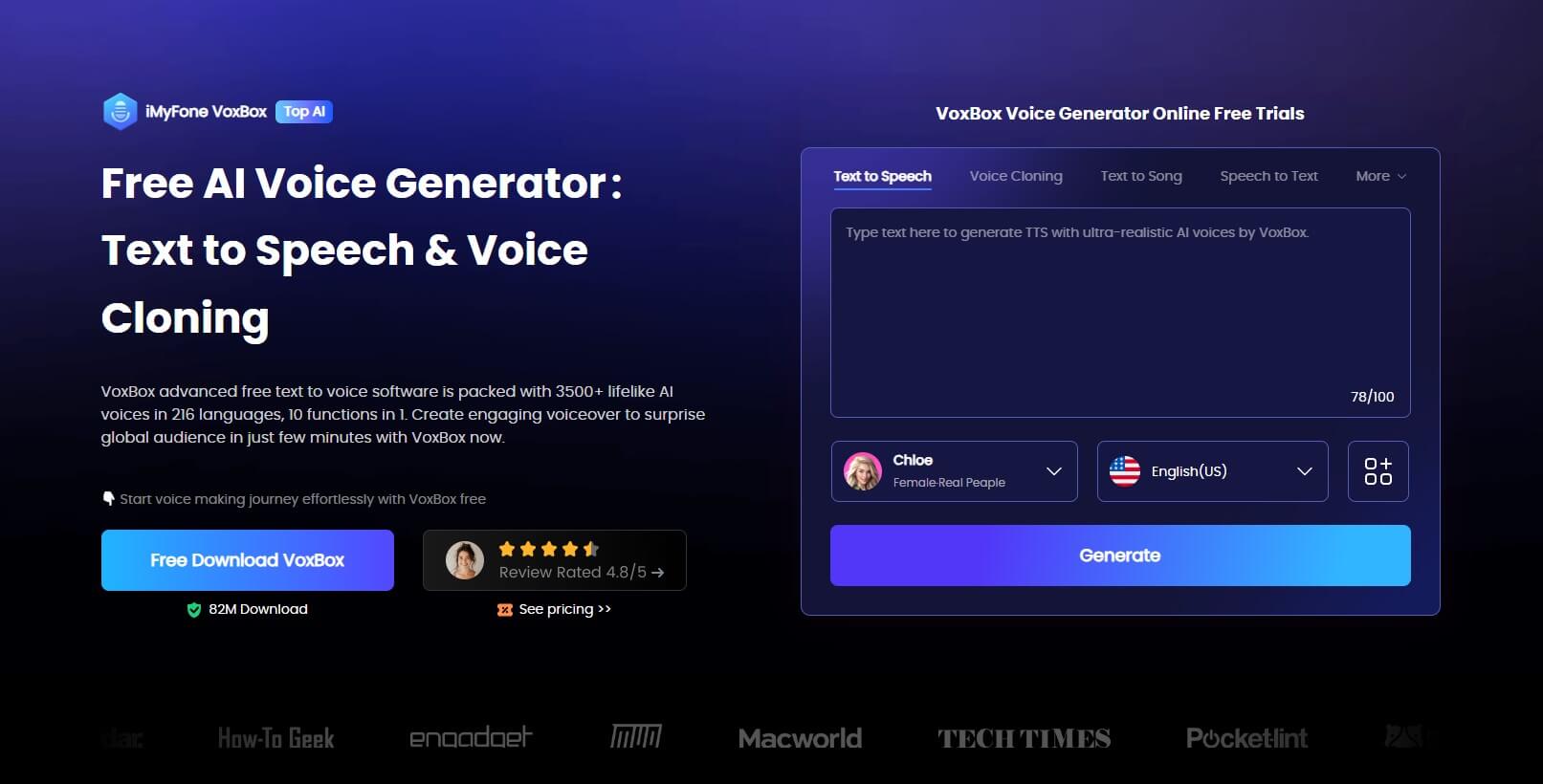 Key Features:
Supports multiple input and output file formats including WAV

22+ different languages are supported

Very easy-to-use and secure software

Available for the Windows platform

Offers a free option to generate meme voice

Provides accurate and precise content
Review:
iMyFone VoxBox is a well-known and famous audio editing software and is used by many people all around the world. This software has won a 4.9 out of 5 stars user rating with almost 206 positive and trusted user reviews on its official website.
Price:
| Plan | Price |
| --- | --- |
| 1-month Plan | $19.95 |
| 1-year Plan | $24.95 |
| Lifetime Plan | $59.95 |
2. Otter
Otter is another amazing tool on our list that transcribes audio effectively and is considered the best for Real-time transcription. It is suitable specifically for real-time transcription because it can record audio in real-time and then can immediately convert that audio into accurate and error-free text.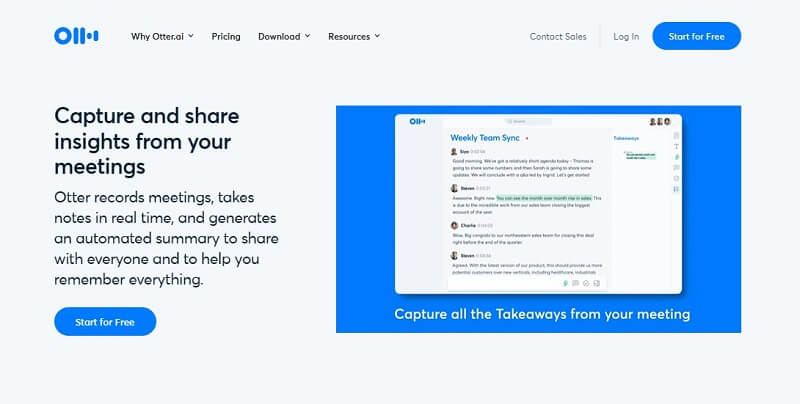 Other than this, Otter also supports the transcription of pre-recorded audio and video files but in the premium or paid version. Along with computer screens, you can use this tool on your mobiles as well because it is compatible with both iOS and Android devices.
Key Features:
Compatible with iOS, Android, and Windows platforms

Simple, easy, and secure to use

Supports speaker identification feature

Allows real-time audio recording and transcription

Can work with other platforms like Zoom, DropBox, IBM, etc.

Supports collaborative transcriptions.

AI-based technology.

Supports built-in dictation feature.

Provide searchable transcripts.

A free version is available.
Review:
Otter has 3.5 / 5 stars and 4.5 / 5 stars user ratings with different reviews on different platforms and websites.
Price:
| Plan | Price |
| --- | --- |
| Pro Plan | $8.33 |
| Business Plan | $20 |
| Enterprise Plan | Contact the company for pricing details |
3. Trint
Trint is an online transcription tool that allows its Windows and Mac users to stay away from trouble with the full download and installation process. It supports web-based and browser-based audio transcription with its amazing additional functions and features.
Due to the advanced machine learning-based algorithm, it provides accurate and trusted audio to context-converted files. Apart from this, Trint supports multiple languages with all English dialects.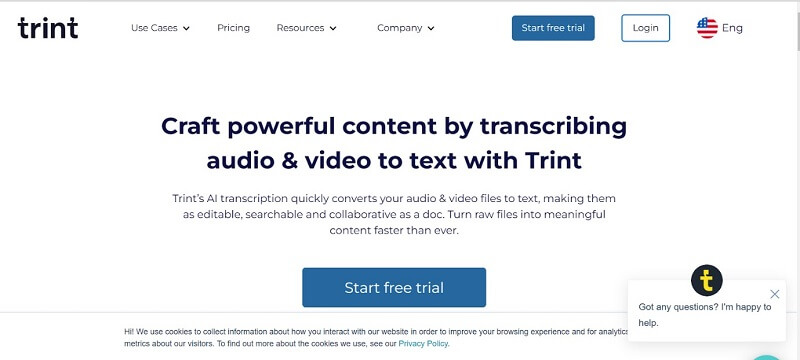 Overall, it offers a trusted, secure, fast, error-less service for Windows and Mac users that allows audio editing and conversion to collaborate with different members using different platforms and tools.
Key Features:
Can edit text.

Allows adding captions.

Supports embedding of transcripts with your website.

AI-based safe, valid, and fault-less technology.

The App version is available for iPhone users.

Multiple file formats for a transcript are supported.

Can simply distribute content and transcript.

Compatible with both Mac and Windows platforms.
Review:
Till now, Trint has won 3.5, 4, and 4.1 out of 5 stars users rating on different platforms.
Price:
| Plan | Price |
| --- | --- |
| Starter Plan: | $48 |
| Advanced Plan Plan | $60 |
| Enterprise Plan | Contact the company for pricing details |
4. Vocalmatic
Vocalmatic is another online tool for creating trusted and accurately transcribed files in a very simple and effortless way. This tool saves users from sitting and typing the long context for hours because it just demands an audio file to provide mistakes-free written content that can be used anywhere for different purposes. Like all the other tools, this one also offers a very intuitive, modern, and easy-to-understand user interface. Before using Vocalmatic, it requires a registration process, or you can also go with your Google account for a quick and easy start.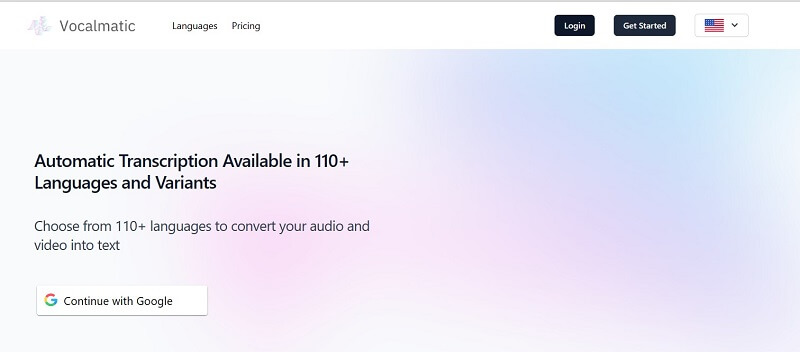 Key Features:
It supports multiple input audio and video file formats.

Convert both video and audio into text.

Supports automatic transcription technology through a strong AI algorithm.

Supports 110+ different languages for audio/video-to-text conversion.

A free version is available.

Provide audio and editable text on the same page.
Review:
Vocalmatic has received 1-3/ 5 star user ratings with different reviews on different platforms.
Price:
| Plan | Price |
| --- | --- |
| Free version | $19.95 |
| Starter Plan | $24.95 |
| ProPlan | $59.95 |
| BusinessPlan | $149 |
5. Temi
Temi is an impressive and simple online transcribing tool that lets its users convert audio files into written context within a few minutes. This tool's most bewildering feature is its unique, understandable, and self-explanatory user interface, which makes this tool the best choice for beginners.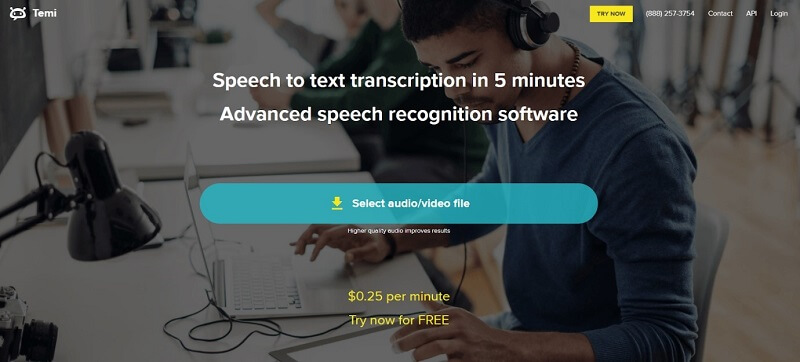 Apart from this, it has various built-in features that assist users in creating clear, mistakes-free, and accurate pieces of content at a very low cost. Some of the worth-appreciating features of this tool are listed below.
Key Features:
Allows to preview demos.

Supports speaker identification and custom timestamps.

Supports file downloading in multiple file formats.

A simple editing tool cleans up content on its own.

Proprietary Algorithm.

The App version is available at the Play Store and Apple Store.

The free trial allows one transcript under 45 minutes.
Review:
Temi has an overall user rating of 3-3.5/ 5 stars, along with different trusted user reviews on different websites or platforms.
Price:
| Plan | Price |
| --- | --- |
| Free version | $0 |
| After the free time | $0.25/Min |
6.Sonix
Sonix is a highly designed transcription software that provides accurate, painless, secure, and fast transcripted files in a very easy and quick manner. It is designed in such a way that no complicated procedures and learning curves are required to use this tool. It has a well-developed internal AI technology that performs all the functions on its own within some minutes.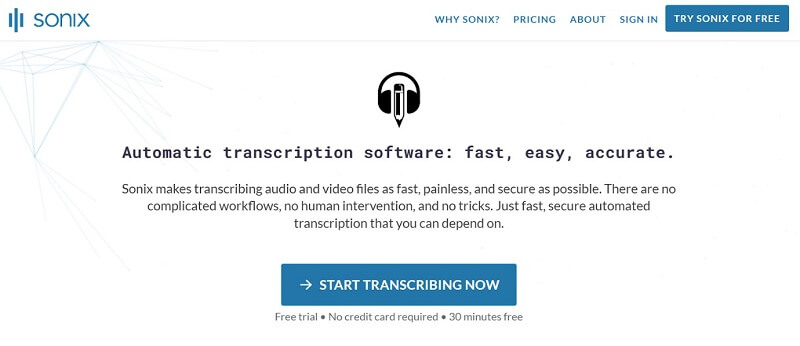 Sonix supports 39 different languages into which it provides automated transcription files that can be used in the international market without any fear or complications. It is suitable for beginners as well as for professionals as it offers extraordinary results in easy steps. It would not be wrong to say that Sonix contains all the essential features and functions that a person looks for in the best-automated transcription software.
Key Features:
It can transcribe audio and video files sharply.

Offers automated subtitles for your content.

Various text formats are supported.

Automatic translation and custom dictionary.

Browser-based transcribing software.

Offers content in 39 different languages.
Review:
Sonix is a well-trusted software with a total 4.9/ 5 stars user rating and 109 votes. Overall, it has 98% positive user reviews.
Price:
| Plan | Price |
| --- | --- |
| Free Trial Version | $0 |
| Standard Plan | $10/hour |
| Premium Plan | $5/hour + $22 per user/ month |
| Enterprise Plan | Contact the company for pricing details |
Part 2:How to Choose an Automatic Transcription Software?
When choosing the best automatic transcription software, some points are very important and crucial to consider consciously. Some of them are
Accuracy
The software which you are going to select should provide 100% accurate and fault-free content. It should have automatic grammar, spelling, and dictionary detection features to create a realistic and natural file without mistakes. If you choose software that provides 100% accuracy, you will be able to use its resultant files confidently in different places.
Optimization
If the software has good optimizing power, it will generate captivating and impressive text files using attractive phrases and vocabulary. So, it is suggested to check the optimizing power as well.
Usability
This is one of the most important things that is needed to be considered when selecting good automatic transcription software. If the software is easy-to-use and understandable, then you can do your tasks comfortably. Otherwise, you will get irritated while using the software, which will ultimately cause negative fluctuations in the quality of the resultant file/content.
Part 3:Hot FAQs about Automatic Transcription Software?
1: What is Automatic Transcription?
Automatic transcription is a feature or ability of software/tool to accurately convert speech into text. Different tools and software are now available that offer automatic transcription services to convert audio and video files into clear and faultless text-based files.
2: What can we do if we have Automatic Transcription software?
If you have automatic transcription software, you can save a lot of time by avoiding lengthy content typing. You can simply get a well-trusted and tested piece of context just by providing an audio or video file to the software. Automatic Transcription software will give you the resultant file within some minutes. Through this software, you can make your life easy and fast.
Conclusion
Automatic transcription software is very famous and widely used throughout the world because of its ability to convert and create trusted written files from audio and video clips. This software saves time, provides accuracy, and designs content with more attractive power. Out of many tools, we have listed the 6 best automatic transcription software that offers 100% accuracy, simplicity, and optimization qualities. iMyFone VoxBox is one of them that can be installed on the device for offline use as well.iMyFone VoxBox is highly packed with worth-appreciating features and can be downloaded and installed very easily and free of cost. We hope this article will help you to get informed and choose the best software for your tasks.
Watch this video to learn more about the Best TTS Tool iMyFone VoxBox: