Hey, ROTTMNT (Rise of the Teenage Mutant Ninja Turtles) fans, content creators or streamers, you've landed in the right place! Since in this article, you will scan through the basic and latest info about the Teenage Mutant Ninja Turtles, as well as the ROTTMNT AI voice generator & changer.
Whether you want Rottmnt characters AI voice for text to speech generation for digital content, or opt to change voice into its characters voice, you will get covered!
Read on, you won't regret!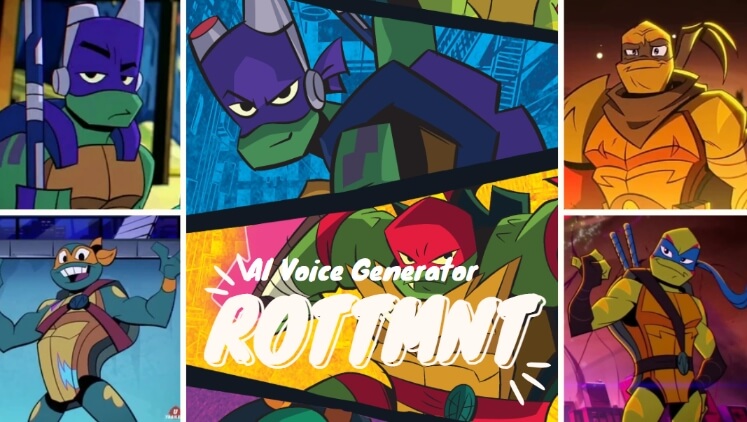 Part 1: Do You Know ROTTMNT?
"Rise of the Teenage Mutant Ninja Turtles" (ROTTMNT) is the fourth animated series in the Teenage Mutant Ninja Turtles franchise. Developed and executive produced by Andy Suriano and Ant Ward, the show premiered on Nickelodeon in July 2018, later moving to Nicktoons.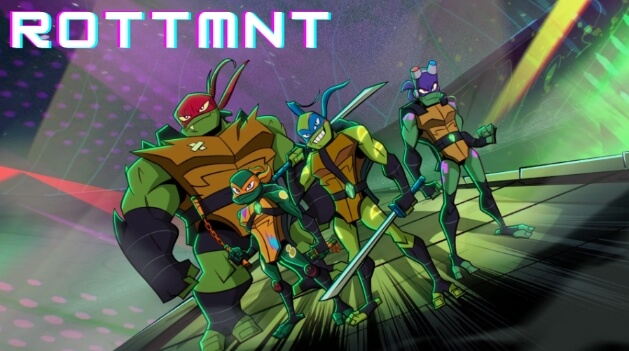 The series follows the Turtles as they embark on new adventures in New York City, striving to unlock mystical secrets and harness their own powers to combat evil forces.
Initially announced for at least 26 episodes, it was renewed for a second season of 26 episodes but was later shortened to 13 episodes during production. The final episode aired in August 2020, and a feature film sequel was released on Netflix in August 2022.
Part 2: How to Generate ROTTMNT AI Voice?
1. VoxBox - Best AI Voice Generator
If you are looking for ROTTMNT AI voice generator that enables to generate ROTTMNT characters AI voiceovers from text, VoxBox is definitely the best choice, since its high-quality voice quality has impressed tons of users, as well as the large number of the voices provided, consisting of almost every kind in the market, so that all your dubbing needs can be met effortlessly.
No matter what you are opting to do using ROTTMNT AI voice, such as making digital content, making audiobooks or podcasts, making presentation audios, etc., VoxBox should be the perfect choice.
Moreover, if you are making videos/audios using AI voices it offers, you don't need to download other audio management tools, in that VoxBox also supports to edit/convert audio files, and even reduce noise, etc.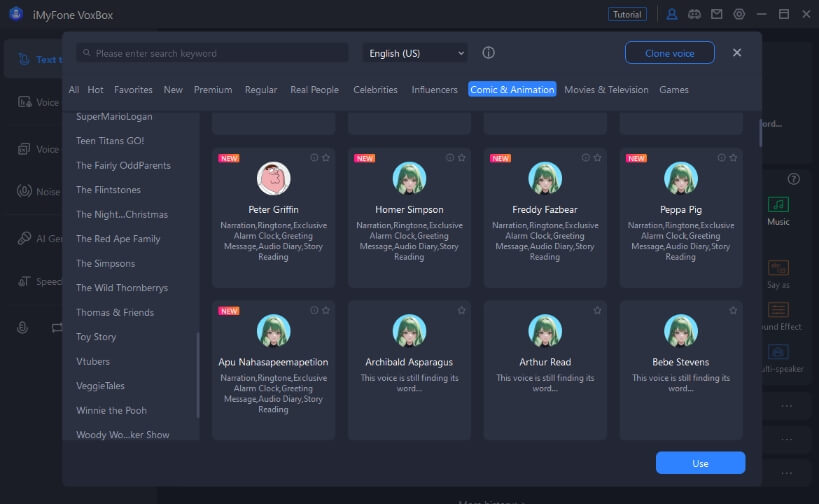 How to generate ROTTMNT AI voice in VoxBox
Step 1: Download & launch VoxBox
Step 2: Head to "Voice Cloning", and upload video or audio files of the ROTTMNT character voice you want to clone.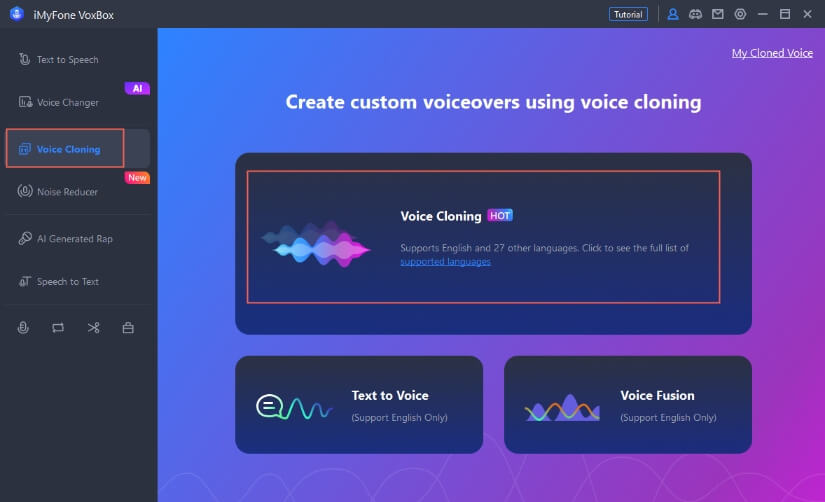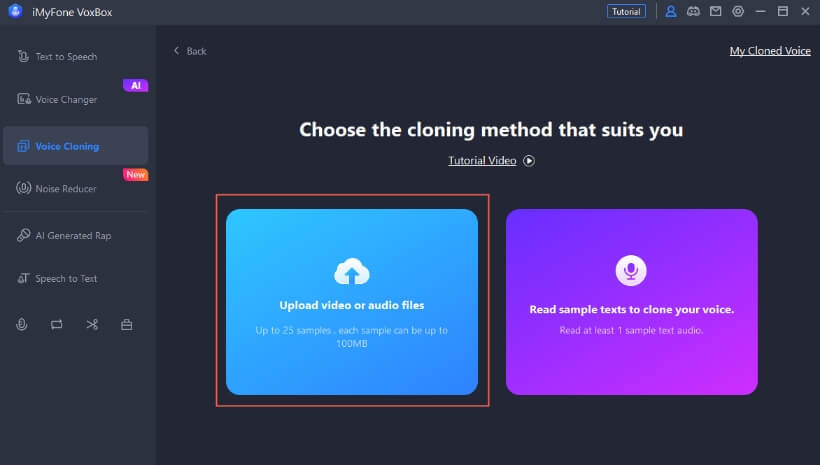 Step 3: Click "Use" to adopt the AI voice you just cloned.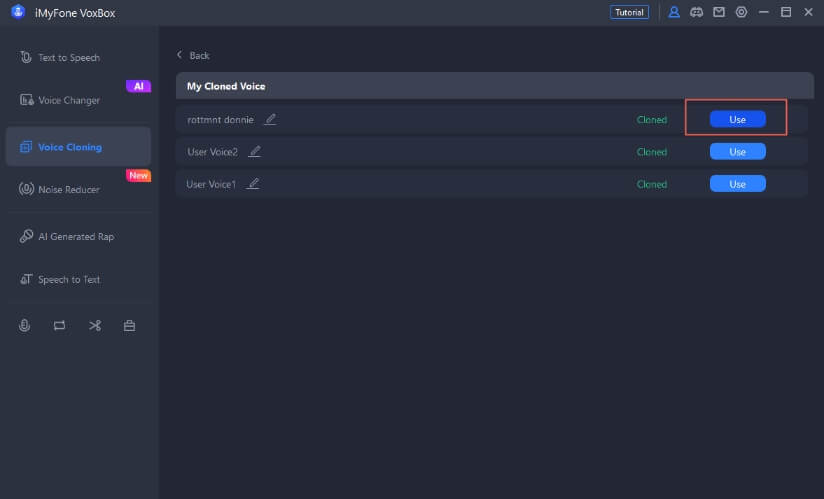 Step 4: Enter text, and click "Convert" to get the ROTTMNT AI voiceovers.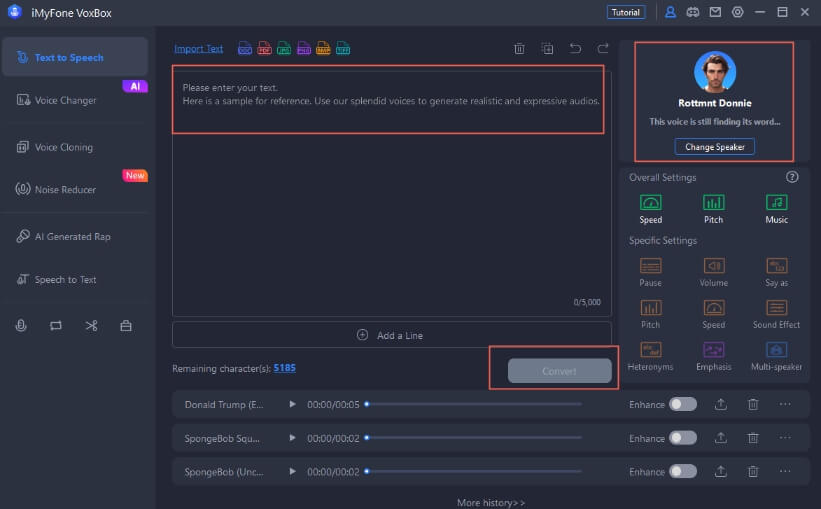 Key Features:
You can gain access to any ROTTMNT characters voices for text to speech using voice cloning.

You are given 2000+ free character counts as a new user for text to voiceovers.

Apart from cloning ROTTMNT characters voices, you have more 3200+ voices to choose from, dubbing in 77+ languages.

You can also use VoxBox to convert speech to text, reduce audio noise, edit audio, and more.

It supports to export voiceovers in various formats, like MP3, WAV, and Ogg.
Part 3: Extra Tip: Change into ROTTMNT Characters AI Voice in Real-Time
1. MagicMic - Best Voice Changer
We have learned how to convert text into TMNT AI voice using voice generator, but if you desire to sound like TMNT characters voices in real time, ROTTMNT voice changer is the one you should head to. It is best for changing your voice into any ROTTMNT characters AI voices while online chatting, streaming or gaming.
With only one click, you can change into any characters voices in ROTTMNT, best for pranking your friends on platforms like Discord, Zoom, or Twitch, etc., captivating more audience while streaming or gaming. In addition, MagicMic also offers other 300+ other AI voice filters for voice change, 600+ sound effects and 200+ voice memes.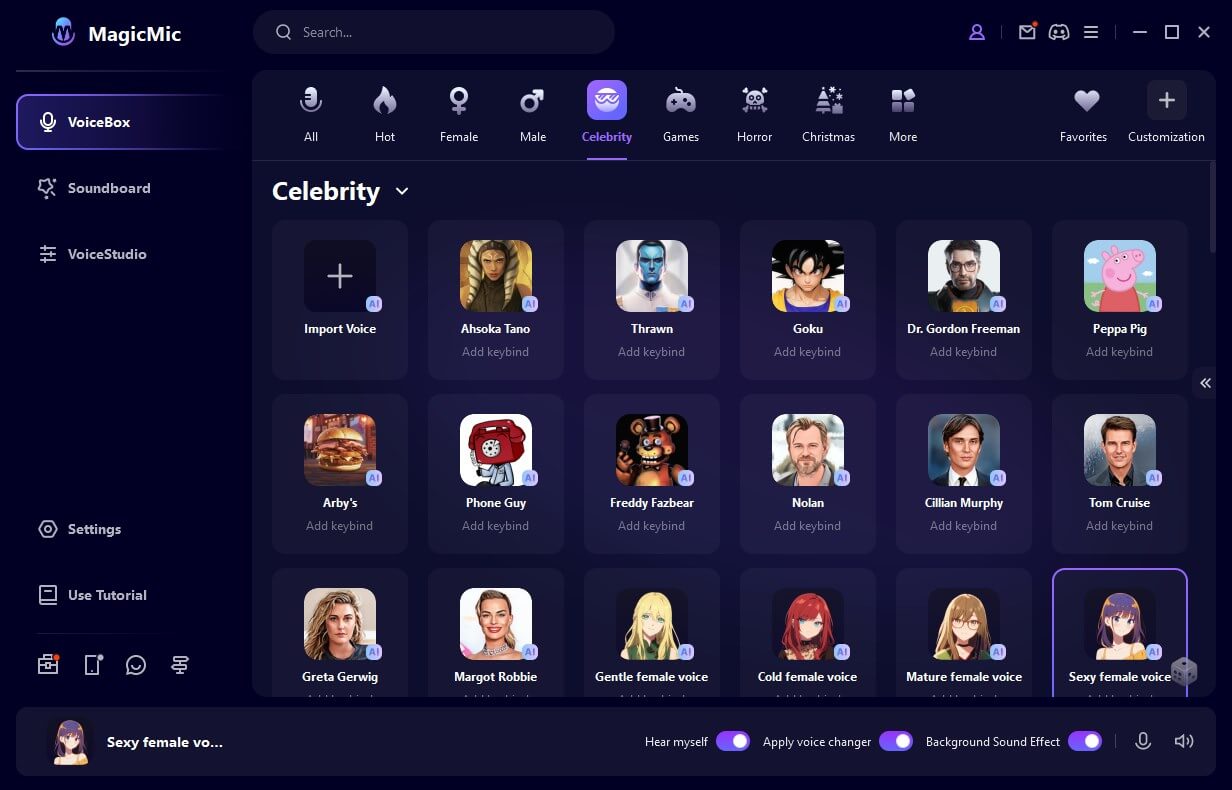 Key Features:
One-click to sound like ROTTMNT characters voice in real time while gaming, online chatting, streaming and more.

It supports to import/clone any voices you like to change into.

It comes with 300+ other AI voice filters, 600+ sound effects and 200+ voice memes.

It serves as a good choice to record in any voice you want, prank others, or change voice in real time on various platforms.

It enables to reduce the audio noise, making it more crystal clear.

You are able to adjust the voice you choose through several parameters.

It integrates with Discord, Fortnite, Valorant, Zoom, Twitch, and more.
Free Change into ROTTMNT AI Voice in MagicMic:
Step 1: Download and Launch this Application
Step 2: Select your microphone and headphone to make sure you can hear your own voice clearly.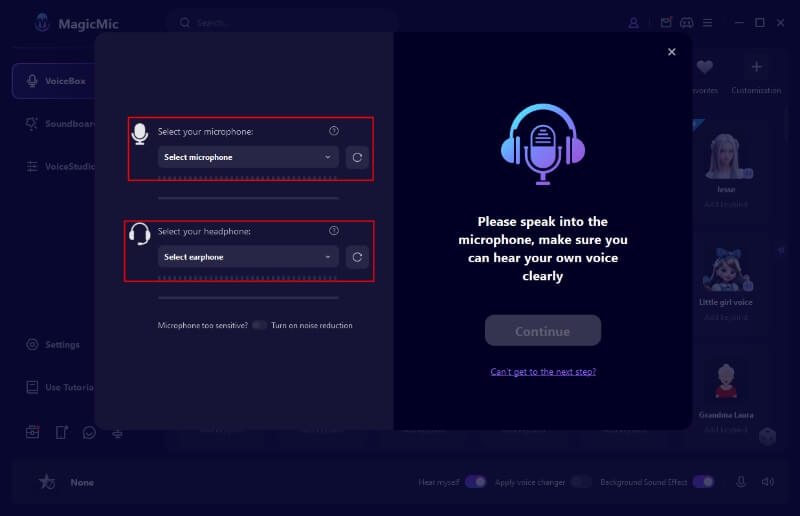 Step 3: Select MagicMic Virtual Audio Device as input for seamless voice modification.
Step 4: Click "Customization" - "Import Sounds" to upload an audio file featuring ROTTMNT character voice.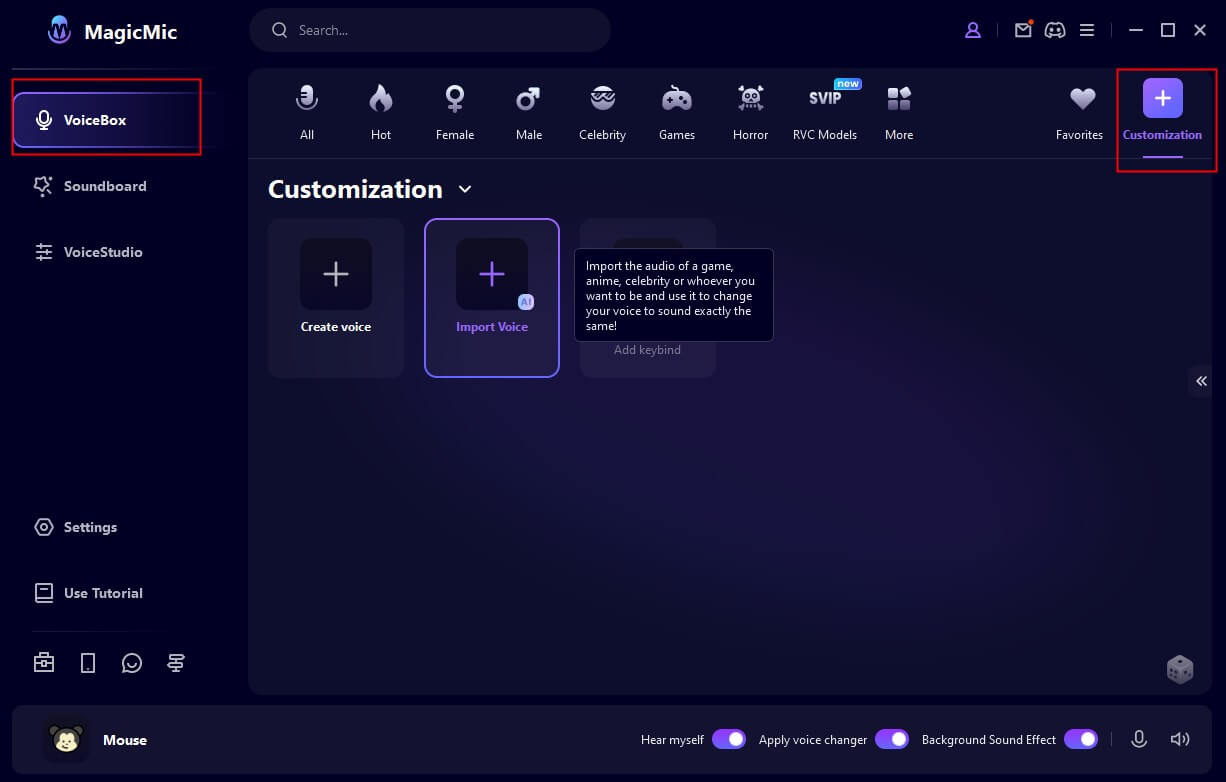 Step 5: Click the ROTTMNT Donnie AI voice you have created to sound like him in real time, and you are also allowed to add keybind to facilitate your usage.
Special Offer: Get Official MagicMic with A Discount
35% off Coupon Code: MAGICMICYT
Part 4: ROTTMNT Voice Actors: Who Brought ROTTMNT Characters into Life?
You may find characters in ROTTMNT voices are attractive or captivating, and desire to change into their voice or use them for dubbing videos or making audio materails, but will you wonder their voice actors? If yes, read through to get more info!
Donatello/Donnie Voice Actor - Josh Brener:
Donatello, or Donnie, is the tech-savvy and inventive turtle of the group. Josh Brener brings his voice to life, giving Donnie a mix of intelligence and quirkiness that defines the character's personality.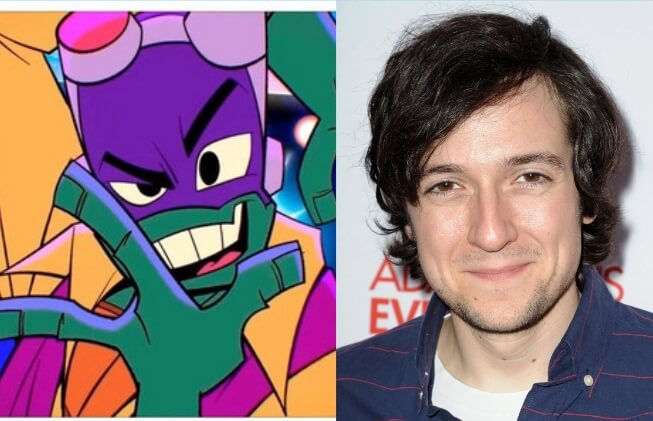 Leonardo/Leo Voice Actor - Ben Schwartz:
Leonardo, the fearless leader and strategist, is voiced by Ben Schwartz. Known for his wit and humor, Schwartz infuses Leo with a charismatic and determined tone, capturing the essence of the character's leadership qualities.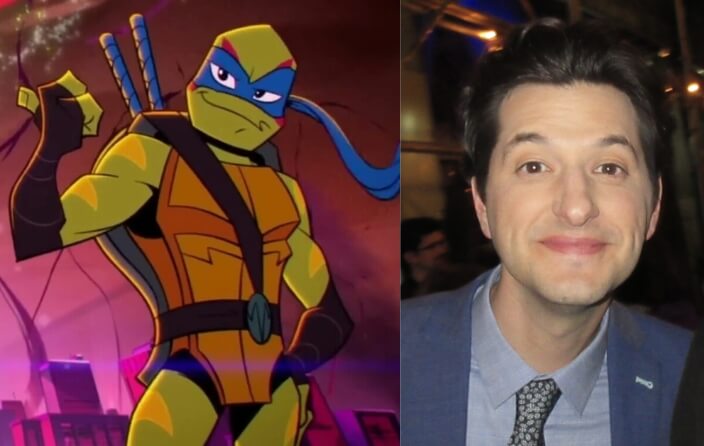 Michelangelo/Mikey Voice Actor - Brandon Mychal Smith:
The fun-loving and carefree Michelangelo, or Mikey, is portrayed by Brandon Mychal Smith. Smith's energetic and lively voice perfectly suits Mikey's playful nature, making the character an entertaining and endearing member of the team.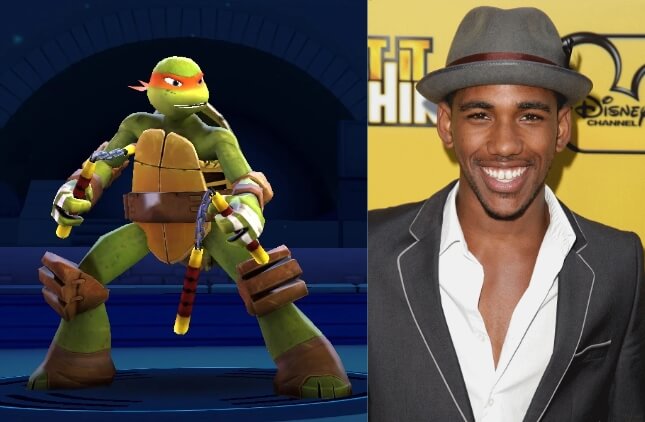 Splinter Voice Actor - Eric Bauza:
Master Splinter, the wise and mentor-like figure to the Turtles, is voiced by Eric Bauza. Bauza provides Splinter with a blend of wisdom and authority, guiding the Turtles with his calming yet authoritative presence.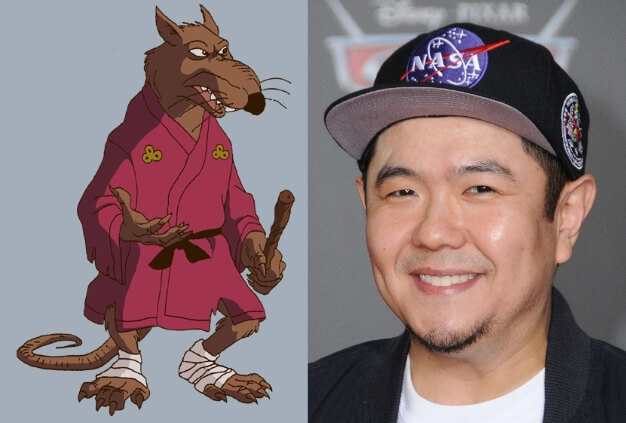 Part 5: What's the Latest News about ROTTMNT?
The recent film, titled Teenage Mutant Ninja Turtles: Mutant Mayhem, hit theaters on August 2, 2023, raised questions about the fate of the animated series.
Initially designed for three seasons, Rise of the TMNT faced setbacks, with low toy sales and subpar marketing leading to the cancellation of the third season and a shortened second season.
Despite the challenges, the series was never officially canceled but was put on hold. With the movie's shift to Netflix, it acted as a conclusion for the TV series. However, fans are still holding out hope for a revival, especially considering the positive reception of the Netflix movie.
Part 6: FAQs about ROTTMNT AI Voice Generator
1. Is there a free AI voice generator for ROTTMNT?
Yes, VoxBox is such a free AI voice generator to make ROTTMNT characters voices, best for content creation, podcasts, audiobooks, or just for fun.
2. How old are Leo and Donnie in Rottmnt?
Leonardo & Donatello are 14 years old.
3. Can I change into ROTTMNT characters voices in real time?
Yes, you can use voice changer to achieve that, and all you need to do is to click the voice you want ans speak to the microphone.
Conclusion
We have detailedly explicate the excellent tools to generate ROTTMNT AI voice, whether you want to generate character voices for your videos or audio materials, or adopting these voices to sound like them in real-time talking or streaming, the best ROTTMNT AI voice generator & changer, MagicMic and VoxBox are great tools to fulfill all your requirements.
Download MagicMic and improve your digital content or streaming right away!