Are you captivated by the mesmerizing vocals of NewJeans? Imagine being able to have their iconic tones in your own audio projects or online content – it would be truly stunning! Luckily, you can now make this dream a reality with an innovative voice changer software!
In this article, we will lead you into the magical world of NewJeans AI voice. You don't need to be a music professional; whether you're a NewJeans fan or simply enjoy audio creations, you can easily master this voice changer software. We'll delve into its functionalities and operations, allowing you to become your favorite NewJeans member in just a few simple steps. With this software, you can freely interact with your audience, infusing your content with new allure.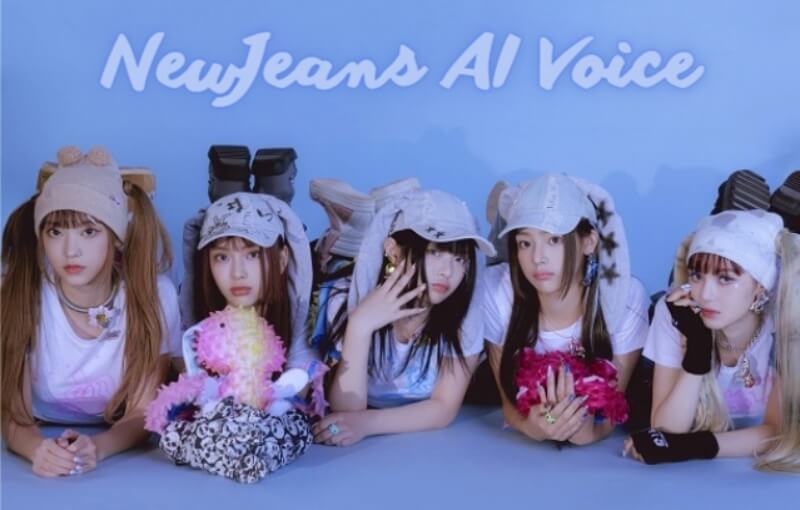 Part 1: Info about NewJeans
NewJeans, formed by ADOR, is a South Korean girl group with five members: Minji, Hanni, Danielle, Haerin, and Hyein. They debuted in July 2022, gaining fame with their girl-next-door image and "easy listening" pop and R&B songs inspired by the 1990s. "Attention" topped South Korea's Circle Digital Chart, followed by hits like "Hype Boy" and "Cookie."
In January 2023, their first single album, "OMG," achieved commercial success, with the hit "Ditto" as their longest-running number-one song on the Circle Digital Chart and their debut on Billboard Hot 100 and UK Singles Chart. NewJeans has won rookie awards and featured in esteemed lists like Time's Next Generation Leaders and Forbes's Korea Power Celebrity 40. Their brand collaborations highlight their influence beyond music.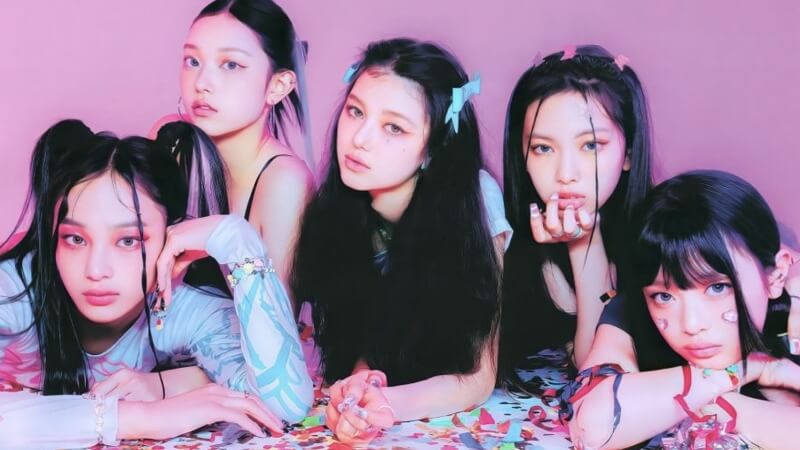 Part 2: How to Get NewJeans AI Voice with AI Tools?
MagicMic is a cutting-edge AI voice changer and soundboard with 225+ filters, 600+ sound effects, and 200+ memes. Seamlessly integrated with various programs, it offers customizable options for fun or professional use. Record voices, change audio files, and enjoy a personalized audio journey for any occasion.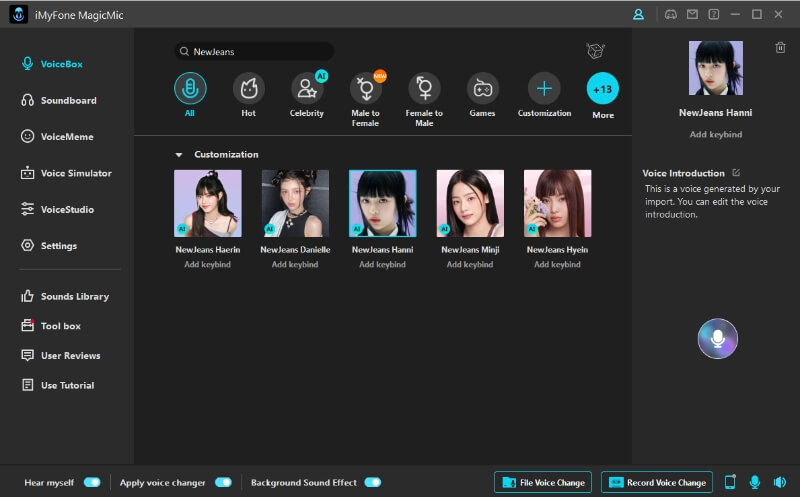 How to get NewJeans AI voice?
Step 1: Download and Launch
Install MagicMic software, log in to your account.
Step 2: Configure Input and Program Settings
Choose your main microphone as input, enable "Apply Voice Changer," activate "Hear Myself."
Step 3: Select the MagicMic Virtual Audio Device
Select Virtual Audio Device as input in your preferred app for seamless voice modification.
Step 4: Choose Voice or Create AI Voice
Explore effects , assign keybinds, create personalized AI voices, such as NewJeans AI voice: Minji, Hanni, Danielle, Haerin and Hyein.

Key features of MagicMic
NewJeans Voice Changer
It provides 225+ voice effects,600+ voice effects and 200+ voice memes.

Instant real-time AI effects for enhancing voices.

Built-in soundboard for entertaining audio clip interactions.

Customizable hotkeys for easy access to favorite voice effects.

Enhanced audio quality with background noise suppression.

Smooth compatibility with Discord, Twitch, and other popular platforms.

Virtual audio driver feature to capture and modify audio from any application or device.
VoxBox is an innovative AI voice tool for fictional game characters. With 3200+ AI voices in 77+ languages and 100+ accents, it offers text-to-speech, voice cloning, and text transcription. Customize pitch, speed, and volume for gaming voiceovers and entertainment projects with unmatched versatility.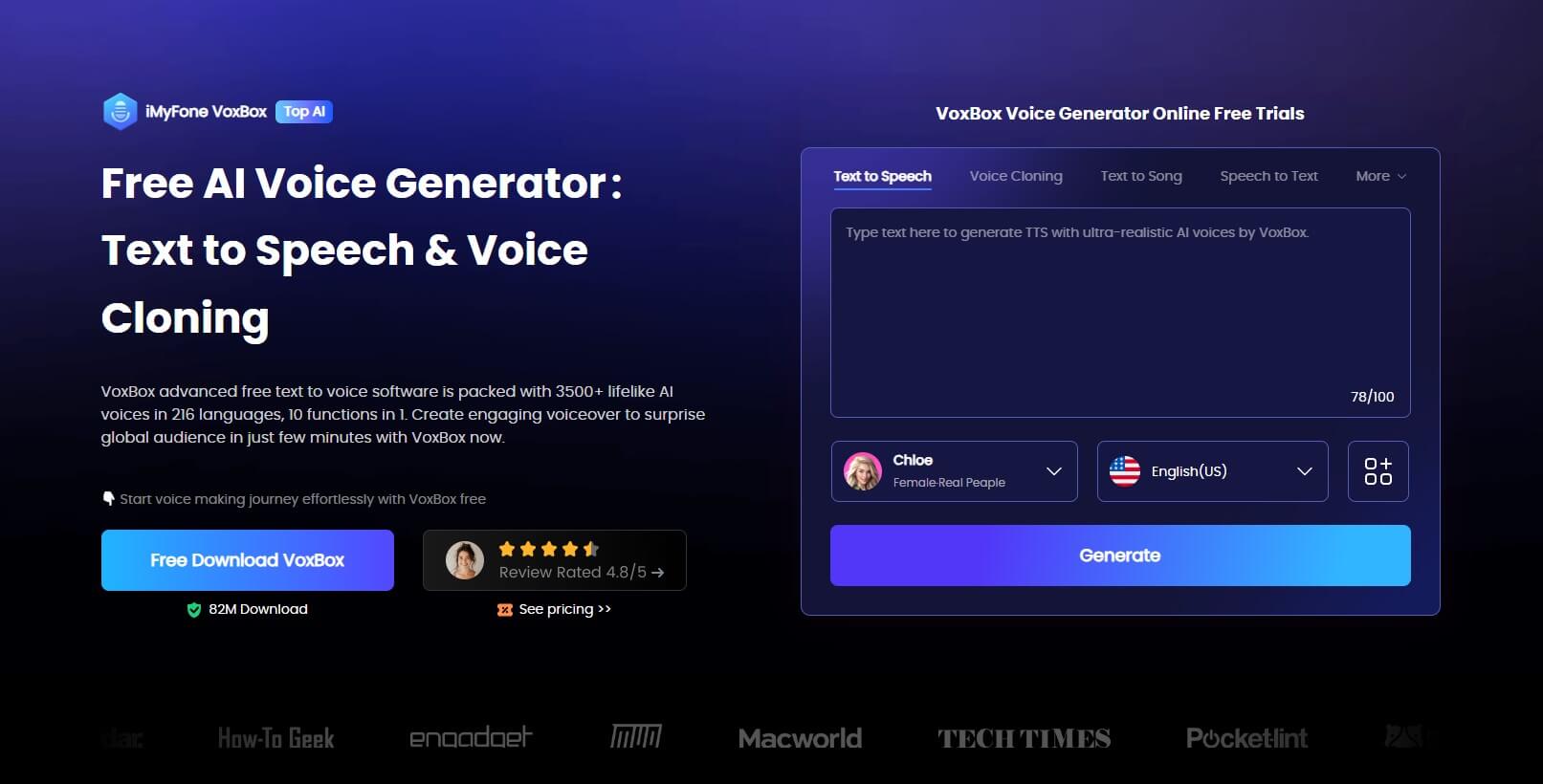 Key features of VoxBox NewJeans Voice Generator
3200+ AI voices: Diverse experiences from YouTubers, rappers, Animes, and celebrities.

Global accessibility: Supports 46+ languages, including Japanese and German.

Versatility: 100+ accents like British, Indian, and Hindi for voice generation.

Multi-in-1 functionality: TTS, STT, voice recording, video conversion, and audio editing.
How to use VoxBox NewJeans Voice Text to Speech ?
Step 1: Download and Install VoxBox: Install the software on your device to get started.
Step 2: Find the Desired Voice: Access the "Text to Speech" lab and search for voices, like "NewJeans."
Step 3: Input Text and Generate Dubbing: Enter your text, click "Convert," and VoxBox creates the voiceover.
Step 4: Export the Voiceover: Save high-quality audio in formats like OGG, WAV, or MP3 for gaming, business, or social media projects.
Part 3: FAQs about NewJeans AI Voice
What is NewJeans AI Voice?
NewJeans AI Voice is an innovative technology that allows users to modify and transform their voices using artificial intelligence. It enables users to emulate the voices of the members of the South Korean girl group NewJeans, creating a fun and interactive experience.
What features does NewJeans AI Voice offer?
NewJeans AI Voice provides a wide range of features, including voice modulation, real-time voice changing, voice recording, and access to various NewJeans-inspired voice filters, effects, and memes.
What is the concept of NewJeans?
The concept of NewJeans revolves around a double entendre in their name. Firstly, it symbolizes the timeless fashion item "jeans," reflecting their intention to create a lasting and timeless image. Secondly, the name plays on "new genes," signifying their role in ushering a fresh generation of pop music. This concept embodies their desire to blend classic appeal with innovative music, positioning themselves as trendsetters in the industry.
Final words
In conclusion, NewJeans has captured hearts with their girl-next-door image and "easy listening" pop and R&B tunes, inspired by the music of the 1990s.
Experience the latest AI voice technology, fans and users can now explore the world of NewJeans' voices with the innovative AI voice changer. Whether for fun interactions, creative projects, or professional voiceovers, NewJeans AI Voice offers a unique and personalized audio experience. Join the journey with NewJeans and discover the magic of their voices through this cutting-edge technology.