Are you a basketball enthusiast who admires the powerful voice of LeBron James, and dream of incorporating his iconic tone into your own audio projects or online content? Your search for the ultimate LeBron James AI voice changer ends here!
In this article, we'll take you on a thrilling journey through the realm of LeBron James AI voice, voice changer, and voice generator technologies that can revolutionize the way you interact with your audience. Whether you're a sports content creator, a gaming guru, or simply a fan looking to have some fun, these cutting-edge tools will undoubtedly elevate your audio game and leave your audience amazed.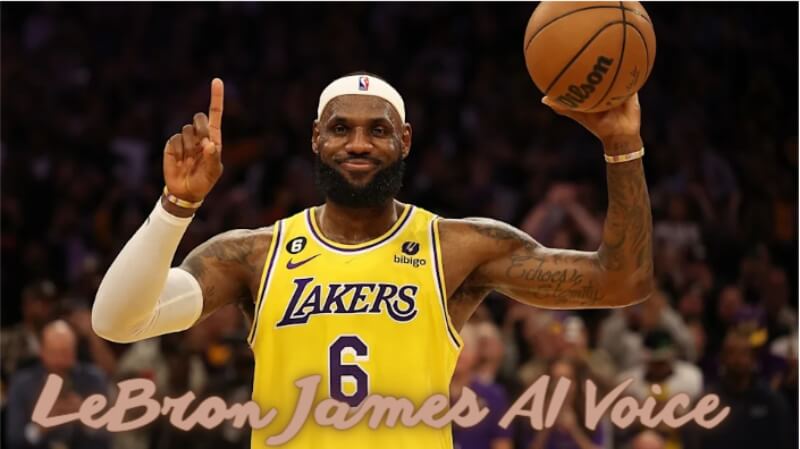 Part 1: Info about LeBron James
LeBron James, also known as LBJ and "King James," is a legendary American basketball player for the Los Angeles Lakers in the NBA. Regarded as one of the sport's greatest, he holds the record for all-time leading scorer in NBA history and has won four NBA championships.
James, a 19-time All-Star and four-time MVP awardee, is celebrated for his versatile skills. Starting his career with the Cleveland Cavaliers, he later joined the Miami Heat, securing two championships before returning to Cleveland to bring them their first NBA title. In 2018, he joined the Lakers and led them to victory in 2020. Off the court, James has achieved great success, earning over $1 billion in earnings and contributing significantly to philanthropy and entertainment ventures. He continues to be an inspiration both on and off the basketball court.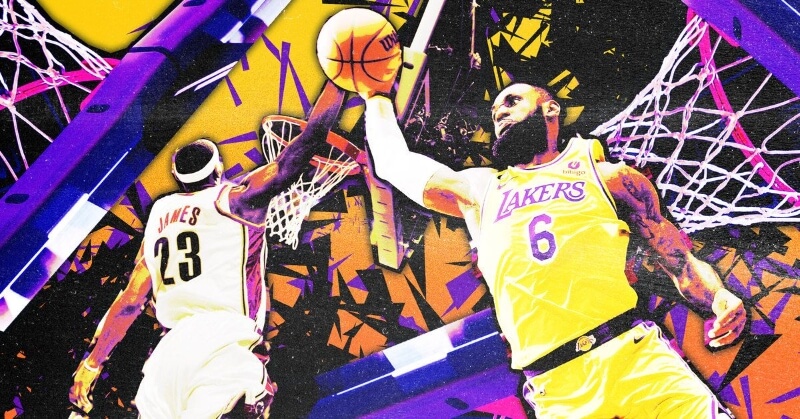 Part 2: How to Get LeBron James AI Voice with AI Tools?
MagicMic is an innovative real-time AI voice changer and soundboard. It empowers users to transform their voices instantly with 225+ AI voice filters and access a vast collection of 600+ voice effects and 200+ voice memes. The software seamlessly integrates with programs and applications, offering a diverse range of customizable options. Whether for fun or professional use, MagicMic also supports voice recording and audio file voice changes, ensuring a dynamic and personalized audio experience for any occasion.
How to get LeBron James AI voice?
Step 1: Download and Launch
Install MagicMic software, log in to your account.
Step 2: Configure Input and Program Settings
Choose your main microphone as input, enable "Apply Voice Changer," activate "Hear Myself."
Step 3: Select the MagicMic Virtual Audio Device
Select Virtual Audio Device as input in your preferred app for seamless voice modification.
Step 4: Choose Voice or Create AI Voice
Explore effects , assign keybinds, create personalized AI voices, such as LeBron James AI voice.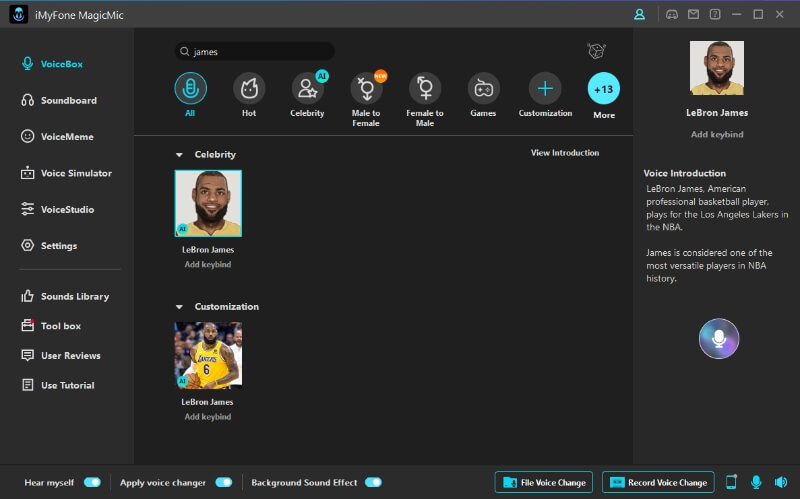 Key features of MagicMic
LeBron James Voice Changer
It provides 225+ voice effects,600+ voice effects and 200+ voice memes.

Instant Real-time AI effects for voice enhancement.

Humorous audio clip interactions via the built-in soundboard.

Customizable hotkeys for quick access to preferred voice effects.

Improved audio quality with background noise suppression.

Seamless compatibility with Discord, Twitch, and other popular platforms.

Virtual audio driver feature to capture and modify audio from any application or device.
VoxBox is an innovative AI voice tool catering to fictional video game characters. Boasting a library of 3200+ AI voices across 77+ languages and 100+ accents, VoxBox offers text-to-speech, voice cloning, and text transcription features. Easily customize voice settings such as pitch, speed, and volume to craft ideal voiceovers for gaming adventures and entertainment projects with unparalleled versatility.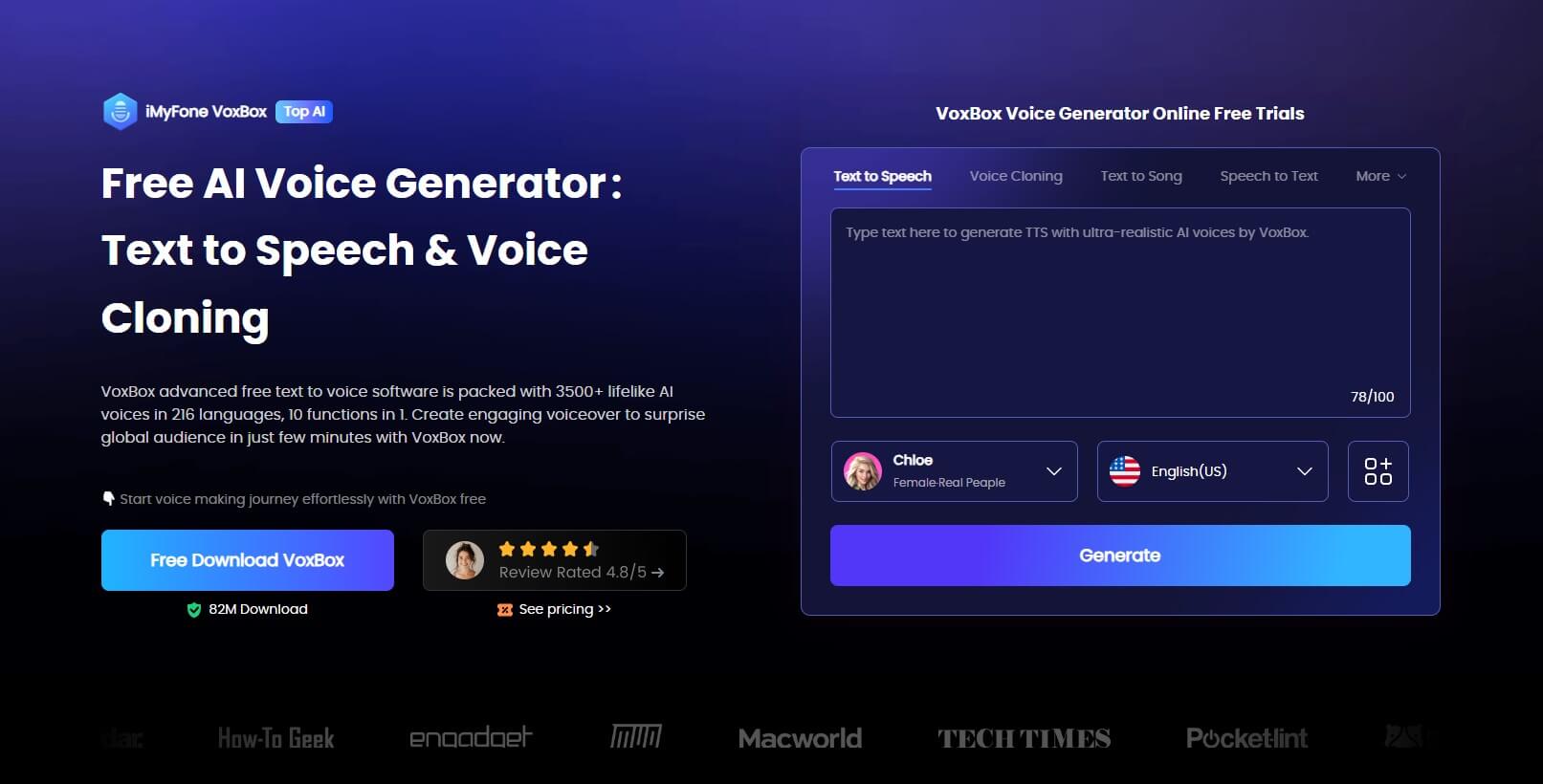 Key features of VoxBox LeBron James Voice Generator
3200+ AI voices: YouTubers, rappers, and celebrities offer diverse audio experiences.

Global accessibility: Supports 46+ languages, including Japanese and German.

Versatility: 100+ accents, including British, Indian, and Hindi, for voice generation.

Multi-in-1 functionality: TTS, STT, voice recording, video conversion, and audio editing capabilities.
How to use VoxBox LeBron James Voice Text to Speech ?
Step 1: Download and Install VoxBox: Install the VoxBox software on your device to begin.
Step 2: Find the Desired Voice: Access the "Text to Speech" lab and search for your preferred voice, like "LeBron James."
Step 3: Input Text and Generate Dubbing: Enter your text, click "Convert," and VoxBox will create the voiceover for you.
Step 4: Export the Voiceover: Save the high-quality audio in formats like OGG, WAV, or MP3 for use in gaming, business, or social media projects.
Part 3: Who Voices LeBron James in Multiversus?
"Multiversus" refers to an upcoming fighting video game that features characters from various franchises and universes. The concept of "Multiversus" centers around creating a diverse roster of characters from different universes, allowing players to battle with their favorite heroes and villains in unique and exciting matchups.
John Bentley, known for his work as the voice of Barrett Wallace in the Final Fantasy VII Remake, will be voicing LeBron James in MultiVersus. Despite LeBron James being a prominent basketball player, it appears that Bentley has been selected to lend his voice to the character in the game.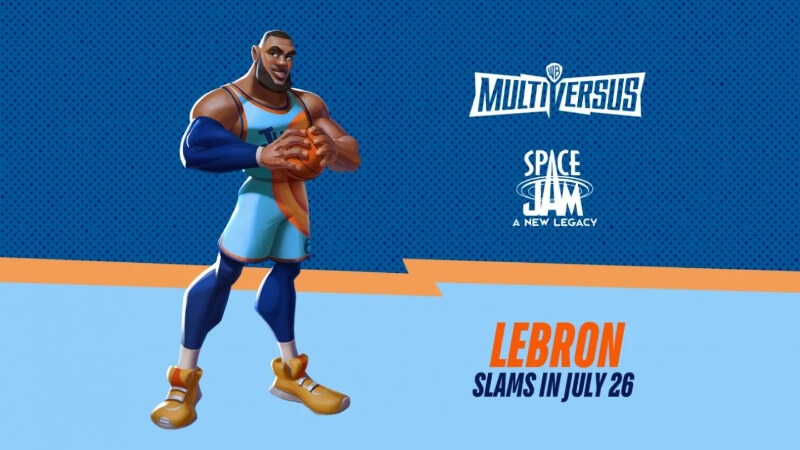 Part 4: LeBron James Voice Meme & Soundboard: Memes Made Easy!
MagicMic is a cutting-edge AI voice tool with a vast library of 600+ soundboard effects and 200+ voice memes. It allows seamless customization with the option to upload your own content. With MagicMic, you can bring endless fun to gaming, live streaming, or chats. And guess what? It even includes a unique voice inspired by LeBron James! Elevate your audio experience with MagicMic and unleash a world of entertainment like never before.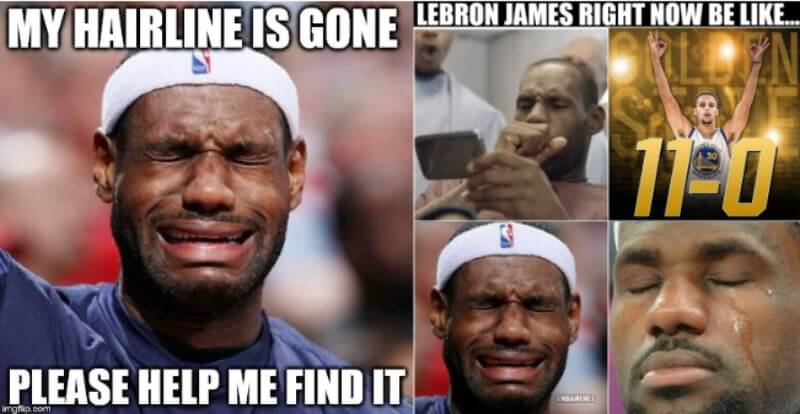 Part 5: FAQs about LeBron James AI Voice
What is LeBron James AI Voice?
LeBron James AI Voice is an advanced voice technology that allows users to replicate and modify their voices to sound like LeBron James, the iconic basketball player.
Can I use LeBron James AI Voice in real-time?
Yes, the AI voice changer offers real-time voice modification, allowing users to instantly sound like LeBron James during live streams, gaming, or any other real-time interactions.
Is LeBron James AI Voice compatible with various applications and platforms?
Yes, LeBron James AI Voice is designed to seamlessly integrate with popular applications, gaming platforms, and live streaming services.
Final words
In conclusion, the world of LeBron James AI voice, voice changer, and voice generator technology is an exciting frontier for audio enthusiasts and content creators alike. Whether you wish to infuse your projects with LeBron James' authoritative tone, create entertaining memes, or simply enjoy the thrill of having a legendary voice at your disposal, these tools offer an unparalleled audio experience.
So, why wait? Dive into the magic of LeBron James AI voice technology and unlock a new realm of creative possibilities. Whether you want to add a dash of sports royalty to your content or simply have fun with friends, the LeBron James AI voice changer is your gateway to a world of captivating audio wonders. Get ready to unleash your imagination and take your audio game to extraordinary heights!