Are you a fan of Fluttershy's soothing and charming voice from My Little Pony and interested in infusing a bit of her endearing allure into your own audio projects? Well, look no further! In this article, we'll dive into the fascinating realm of Fluttershy AI voice, voice changers, and voice generators that let you emulate the sweet and gentle tones of everyone's favorite timid pegasus.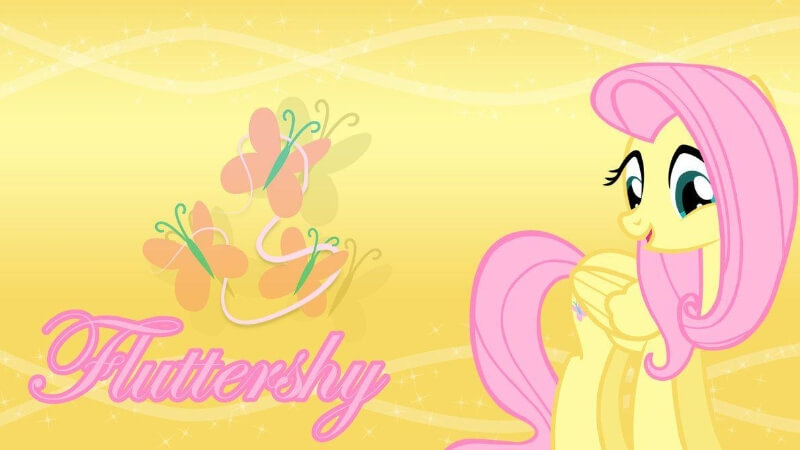 Part 1: Info about Fluttershy
Fluttershy, one of the beloved characters from the enchanting world of My Little Pony, has captured the hearts of fans worldwide with her gentle nature and endearing voice. As a timid and compassionate pegasus, she stands out for her ability to communicate with animals and her nurturing personality. Her unique voice, characterized by a soft and soothing tone, has made her a favorite among fans of all ages.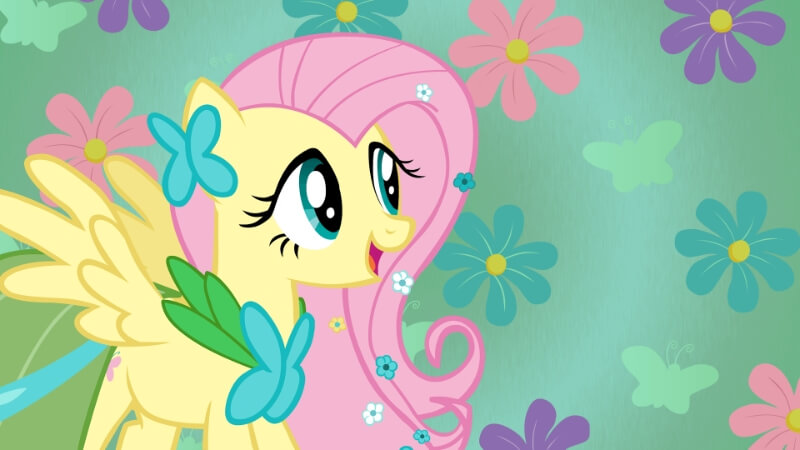 Part 2: How to Get Fluttershy AI Voice with AI Tools?
MagicMic is an advanced real-time AI voice changer with 225+ filters, 600+ voice effects, and 200+ voice memes. It seamlessly integrates with various applications, offering customizable options for fun or professional use. It also supports voice recording and audio file voice changes, providing a dynamic audio experience for any occasion.
How to get Fluttershy AI voice?
Step 1: Download and Launch
Install MagicMic software, log in to your account.
Step 2: Configure Input and Program Settings
Choose your main microphone as input, enable "Apply Voice Changer," activate "Hear Myself."
Step 3: Select the MagicMic Virtual Audio Device
Select Virtual Audio Device as input in your preferred app for seamless voice modification.
Step 4: Choose Voice or Create AI Voice
Explore effects , assign keybinds, create personalized AI voices, such as Fluttershy AI voice, Twilight Sparkle, Pinkie Pie.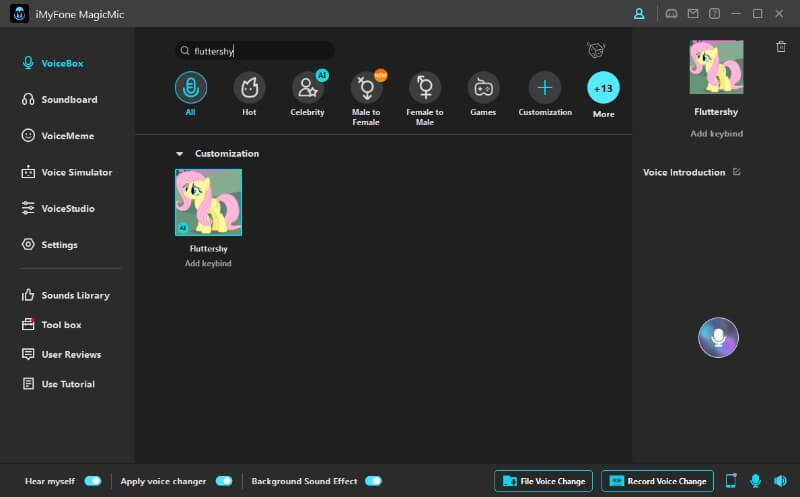 Key features of MagicMic
Fluttershy Voice Changer
It provides 225+ voice effects,600+ voice effects and 200+ voice memes.

Real-time AI Voice Enhancement: Enjoy instant voice transformation with real-time AI effects for an enhanced audio experience.

Built-in Soundboard: Engage in humorous audio clip interactions using the built-in soundboard for added fun and entertainment.

Customizable Hotkeys: Personalize your experience with customizable hotkeys, allowing quick access to your favorite voice effects.

Enhanced Audio Quality: Benefit from improved audio quality with background noise suppression for clear and crisp voice output.

Platform Compatibility: Seamlessly integrate with popular platforms like Discord, Twitch, and others, enhancing communication and entertainment.

Virtual Audio Driver: Capture and modify audio from any application or device using the virtual audio driver feature, providing versatility in voice modifications.
VoxBox is a cutting-edge AI voice tool designed for fictional video game characters. With an extensive library of 3200+ AI voices in 77+ languages and 100+ accents, it provides text-to-speech, voice cloning, and text transcription capabilities. Tailor voice settings like pitch, speed, and volume for seamless voiceovers in gaming adventures and entertainment projects, offering unmatched versatility.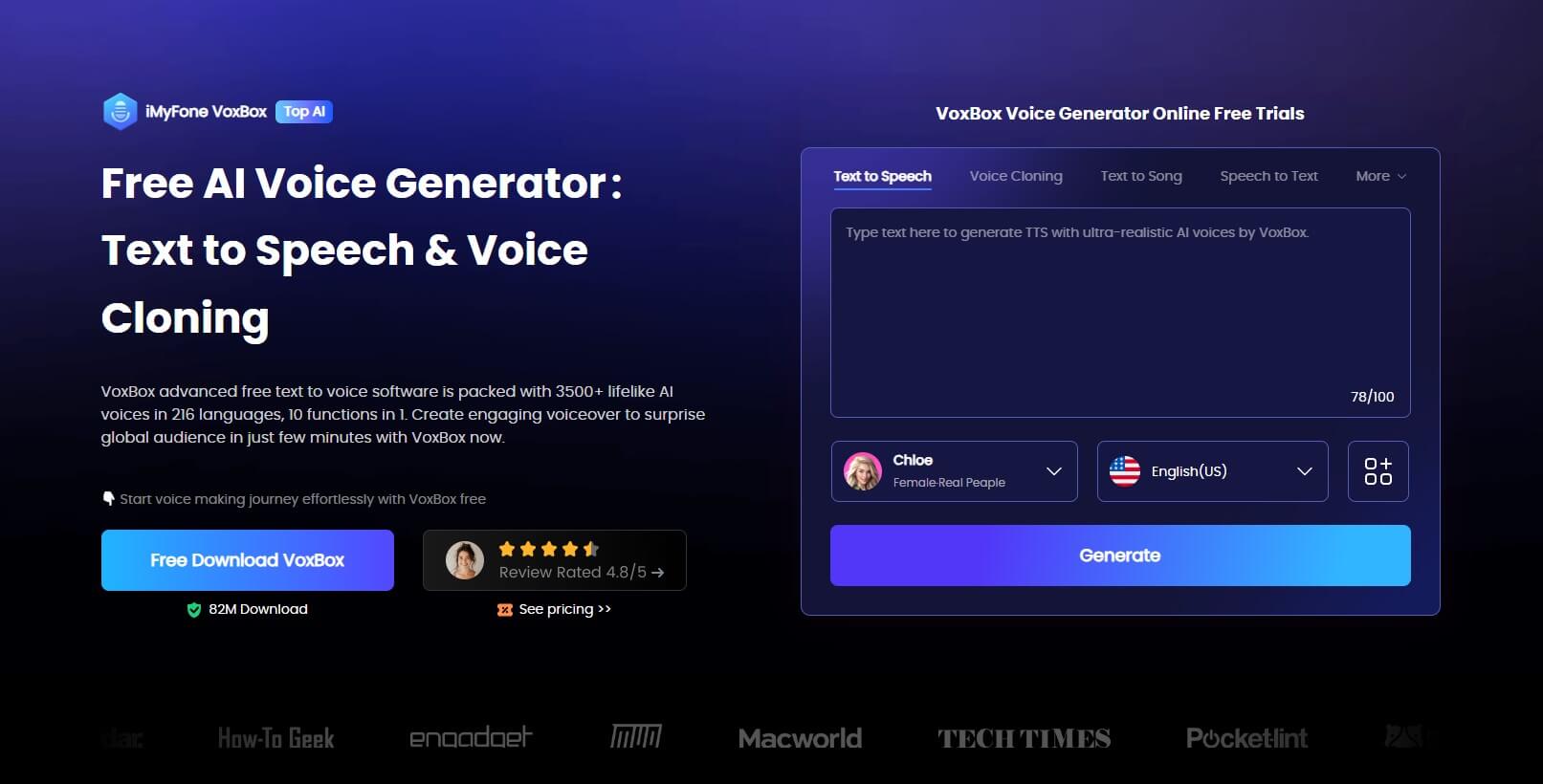 Key features of VoxBox Fluttershy AI Voice Generator
3200+ AI voices provide diverse audio experiences, featuring YouTubers, rappers, Vtubers and celebrities.

Global accessibility with support for 46+ languages, including Japanese and German.

Enjoy versatility with 100+ accents available, including British, Indian, and Hindi, for voice generation.

Experience multi-in-1 functionality, encompassing TTS, STT, voice recording, video conversion, and audio editing capabilities.
How to use VoxBox Fluttershy Voice Text to Speech ?
Step 1: Install VoxBox: Begin by downloading and installing the VoxBox software on your device.
Step 2: Choose Your Voice: Navigate to the "Text to Speech" lab and select your desired voice, such as "Fluttershy."
Step 3: Generate Voiceover: Enter your text, click "Convert," and let VoxBox create the voiceover for you.
Step 4: Export and Save: Save the high-quality audio in formats like OGG, WAV, or MP3, making it ready for use in gaming, business, or social media projects.
Part 3: Who is Fluttershy Voice Actor?
Fluttershy's endearing voice is brought to life by the talented voice actress, Andrea Libman. With her exceptional vocal skills, Andrea perfectly embodies Fluttershy's sweet and gentle personality, making the character even more lovable and memorable to fans. Her portrayal of Fluttershy has garnered praise and adoration, making her an integral part of the My Little Pony franchise.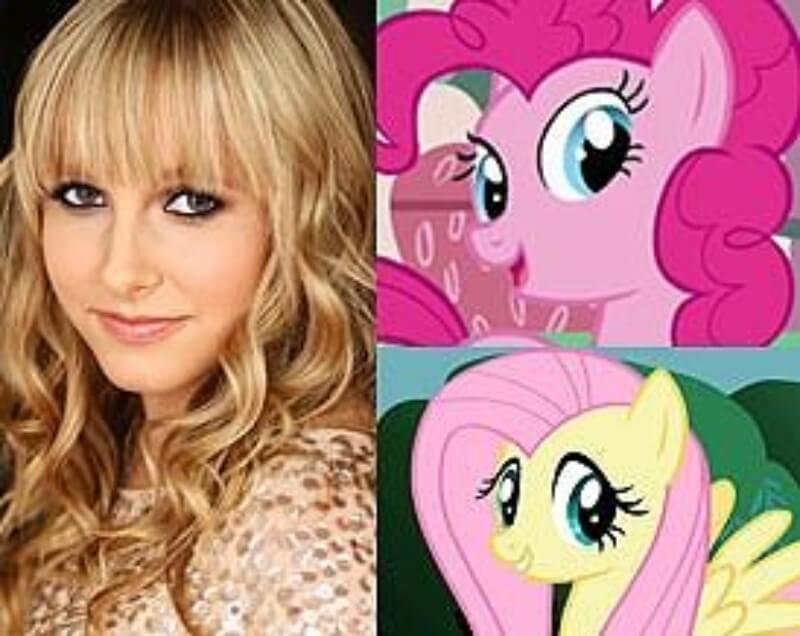 Part 4: FAQs about Fluttershy AI Voice
What is Fluttershy AI voice?
Fluttershy AI voice refers to the use of artificial intelligence (AI) technology to replicate the unique vocal characteristics of the character Fluttershy from My Little Pony. It allows users to transform their own voices into that of Fluttershy, capturing her soft and soothing tone.
Can I use Fluttershy AI voice for personal projects?
Yes, you can use Fluttershy AI voice for personal projects, such as creating voice recordings, storytelling, or fun voiceovers for your own amusement.
Are Fluttershy AI voice tools accessible to everyone?
Yes, Fluttershy AI voice tools are designed to be user-friendly and accessible to individuals of various skill levels. They typically come with easy-to-understand instructions and intuitive interfaces, making them suitable for both beginners and experienced users.
Final words
In conclusion, Fluttershy AI voice and voice-changing tools offer an exciting way to add a touch of magic to your audio projects. With options like the MagicMic Fluttershy voice changer and VoxBox Fluttershy AI voice generator, fans can now immerse themselves in the delightful world of Equestria and recreate the charming voice of their favorite character. Whether you're a content creator, gamer, or just a fan seeking to have some fun, these innovative AI tools will undoubtedly elevate your audio experience and leave a lasting impression on your audience.