Bob's Burgers, an animated sitcom that has captured the hearts of audiences worldwide, is renowned for its quirky humor, endearing characters, and captivating storytelling. Central to the show's success is the remarkable voice acting that brings each character to life.
In this article, we delve into the fascinating world of Bob's Burgers, shedding light on the talented voice actors who lend their voices to the beloved characters and exploring how to get their voice by using Bobs Burgers voice changer.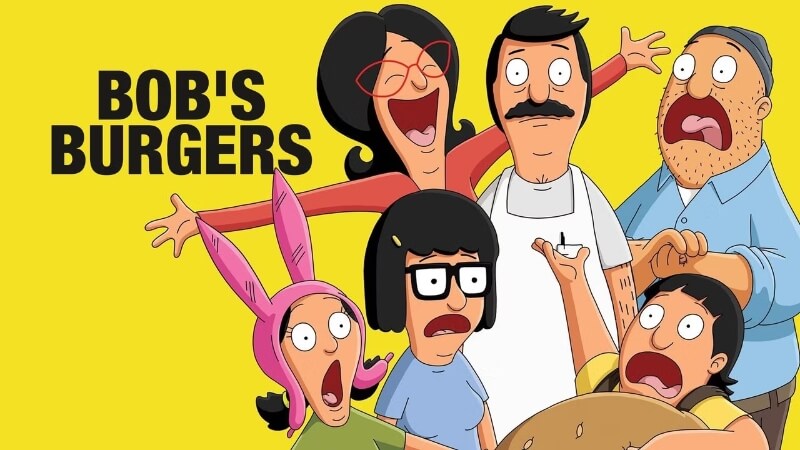 Part 1: Main Characters and Voice Actors Bob's Burgers
At the core of Bob's Burgers is the voice cast, an ensemble of immensely talented performers who infuse their unique styles and personalities into the characters they portray. Led by creator Loren Bouchard, the show boasts an exceptional voice acting lineup, each artist contributing to the distinct charm and comedic brilliance of the series.
1) Louise Belcher
Louise Belcher, the mischievous and witty youngest daughter of the Belcher family, is brought to life by the talented Kristen Schaal. Schaal's voice perfectly captures Louise's charm and feisty personality, making her an unforgettable character in Bob's Burgers.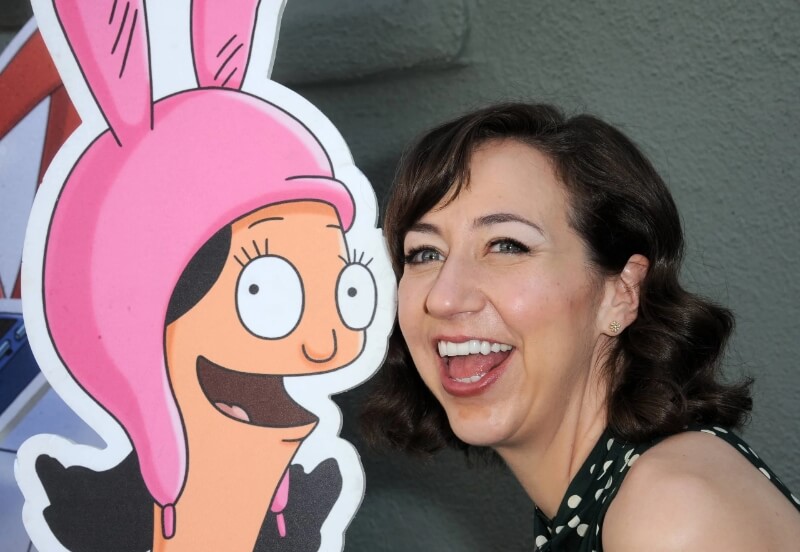 2) Bob Belcher
Bob Belcher, the lovable and dedicated patriarch of the Belcher family, is voiced by the incredibly versatile H. Jon Benjamin. With his distinct voice and deadpan delivery, Benjamin brings Bob to life, infusing the character with a blend of humor, warmth, and relatability. His portrayal of Bob has become iconic, earning him a special place in the hearts of Bob's Burgers fans worldwide.
Joining Benjamin is the talented John Roberts, who lends his voice to Bob's vivacious and enthusiastic wife, Linda Belcher. Roberts brilliantly captures Linda's boundless energy and infectious optimism, breathing life into the character and creating a perfect complement to Benjamin's portrayal of Bob. Together, Benjamin and Roberts form a dynamic voice acting duo that brings the endearing and hilarious dynamic of the Belcher family to the forefront of the show.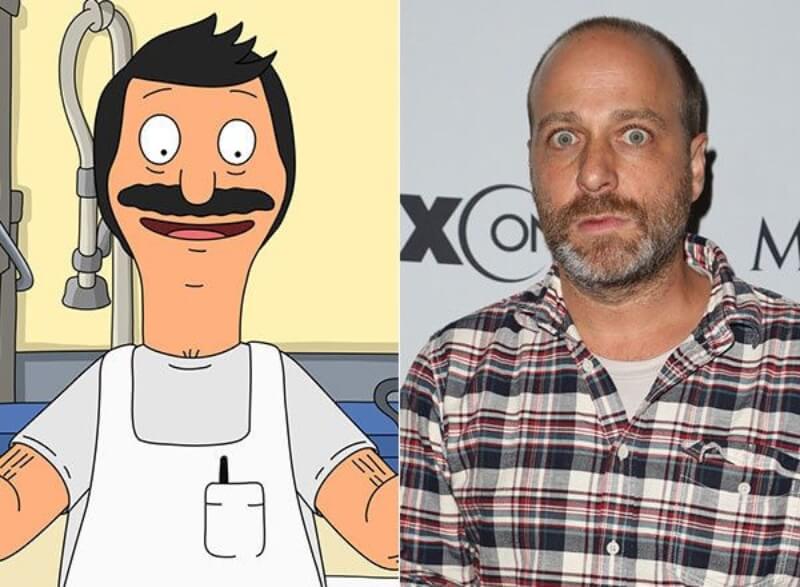 3) Tina Belcher
Tina Belcher, the awkward and eccentric eldest daughter of the Belcher family, is skillfully voiced by Dan Mintz. Mintz's deadpan delivery and distinctive voice perfectly capture Tina's unique personality, making her a fan-favorite character in Bob's Burgers. With his nuanced performance, Mintz brings Tina's endearing quirks, love for all things "butts," and memorable one-liners to life, adding a layer of humor and relatability to the show.
As the voice behind Tina, Dan Mintz contributes to the show's comedic brilliance by infusing her character with a blend of awkwardness, self-discovery, and unexpected confidence. Mintz's portrayal showcases Tina's evolving adolescence and her journey of self-acceptance, making her a relatable and beloved character among fans.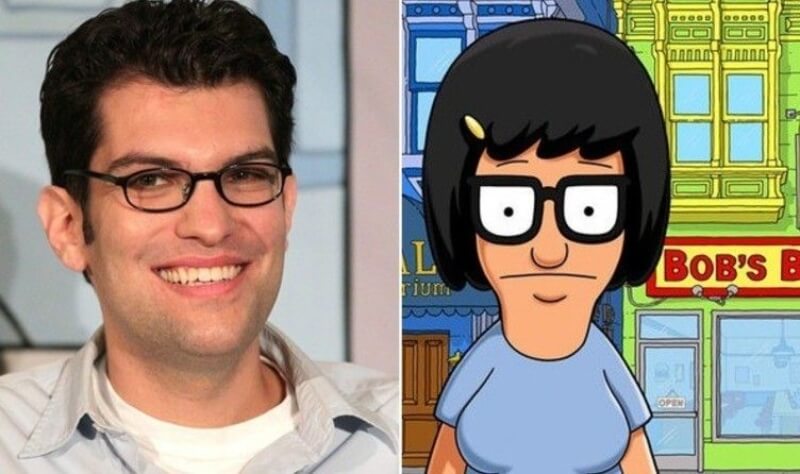 4) Linda Belcher
Linda Belcher, the vivacious and supportive wife of Bob Belcher, is brought to life by the voice actor John Roberts. Roberts' dynamic portrayal of Linda showcases her infectious enthusiasm, boundless energy, and unwavering love for her family.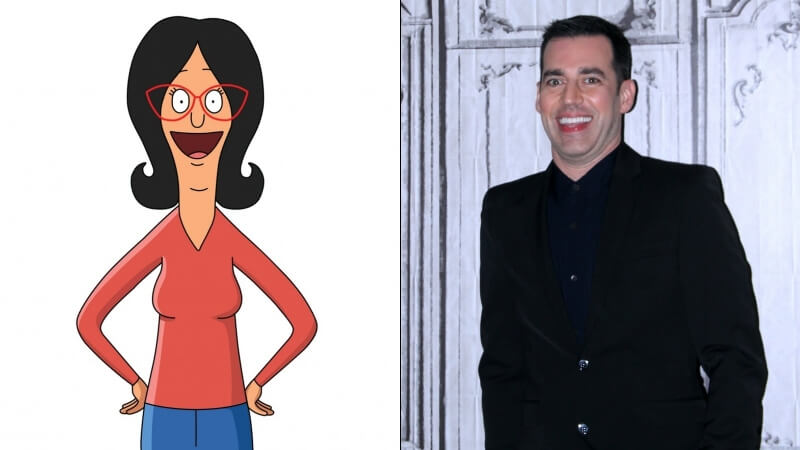 5) Teddy
Teddy, the endearing and slightly eccentric friend of the Belcher family in Bob's Burgers, is brought to life by the voice actor Larry Murphy. With his distinct vocal delivery, Murphy perfectly captures Teddy's lovable and quirky personality, making him a beloved character among fans. Murphy's portrayal adds depth and authenticity to Teddy's character, infusing him with a genuine warmth and charm that resonates with viewers.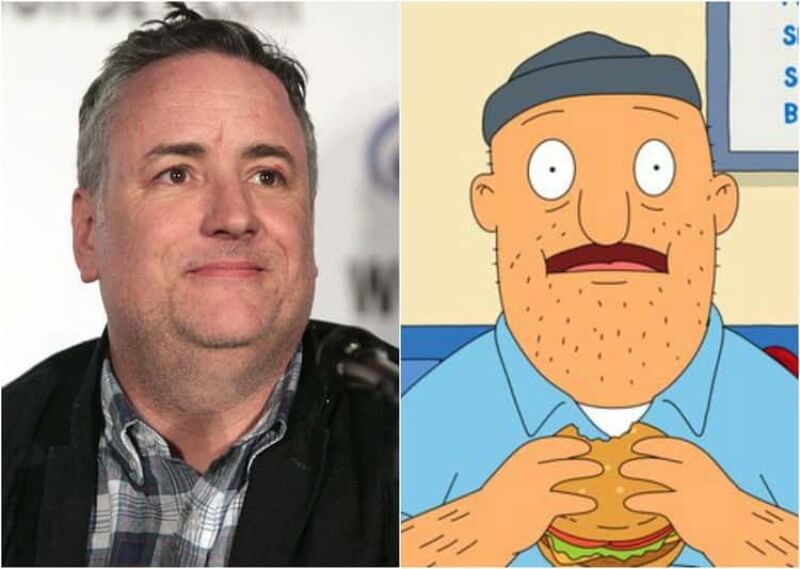 6) Gene Belcher
Gene Belcher, the fun-loving and eccentric middle child of the Belcher family, is brought to life by the voice actor Eugene Mirman. Mirman's portrayal of Gene is characterized by his energetic delivery and comedic timing, perfectly capturing the character's enthusiasm and penchant for musical expression.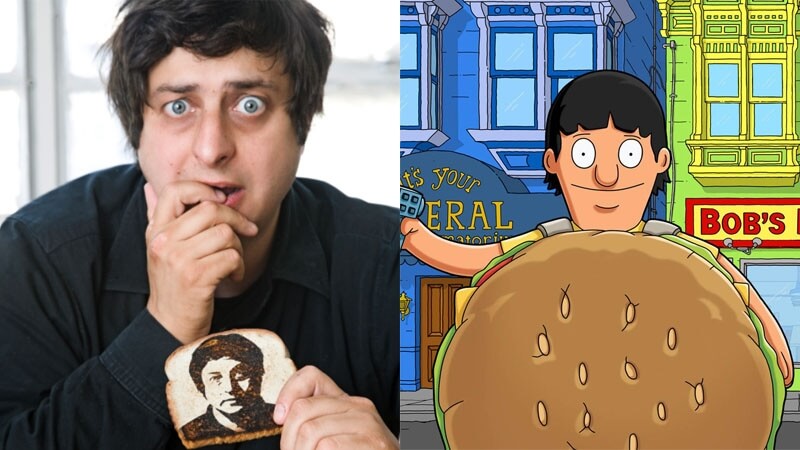 Part 2: How To Get Bob's Burgers AI Voice with AI Tools?
MagicMic is an ultimate real-time AI voice changer and soundboard. Transform your voice with a wide range of effects, from robotic to funny and beyond. Perfect for gaming, streaming, and online chats, MagicMic adds a new level of fun and creativity to your audio experience. Compatible with popular platforms like Discord, Twitch, and more.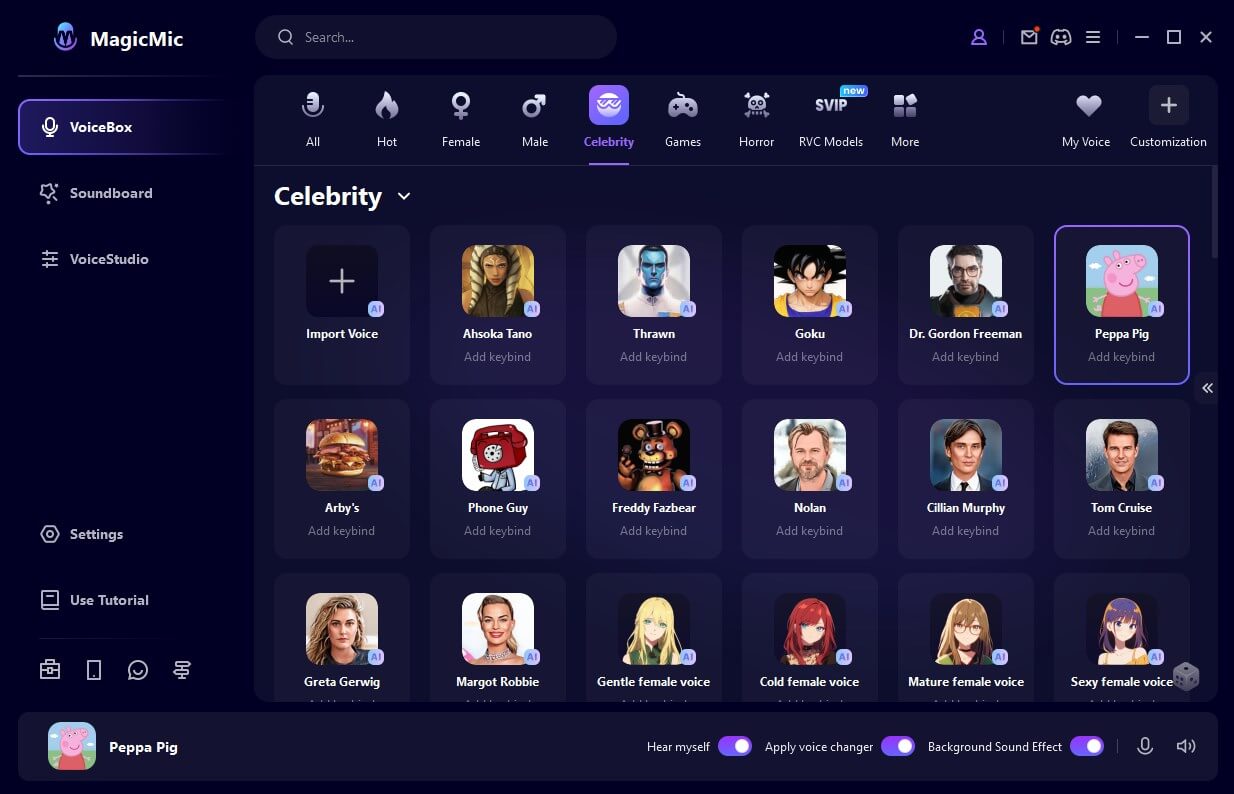 Key features of MagicMic
Bob's Burgers AI Voice Changer
It provides 225+ voice effects,600+ soundboard and 200+ voice memes.

Real-time Voice Changer: Instantly modify your voice with a diverse range of effects: Bob's Burgers, Peppa Pig, Bugs Bunny, The Simpsons and more.

Soundboard: Play hilarious sound effects and audio clips during live chats or streaming sessions.

Compatibility: Seamlessly integrate with popular platforms like Discord, Twitch, and more.

Customizable Hotkeys: Assign shortcuts for quick and easy access to different voice effects.

Background Noise Suppression: Enhance audio quality by reducing unwanted background noise.

Virtual Audio Driver: Capture and modify audio from any application or device on your computer.
How to get Bob's Burgers AI voice?
Step 1: Download and Launch
Install MagicMic software, log in to your account.
Step 2: Configure Input and Program Settings
Choose your main microphone as input, enable "Apply Voice Changer," activate "Hear Myself."
Step 3: Select the MagicMic Virtual Audio Device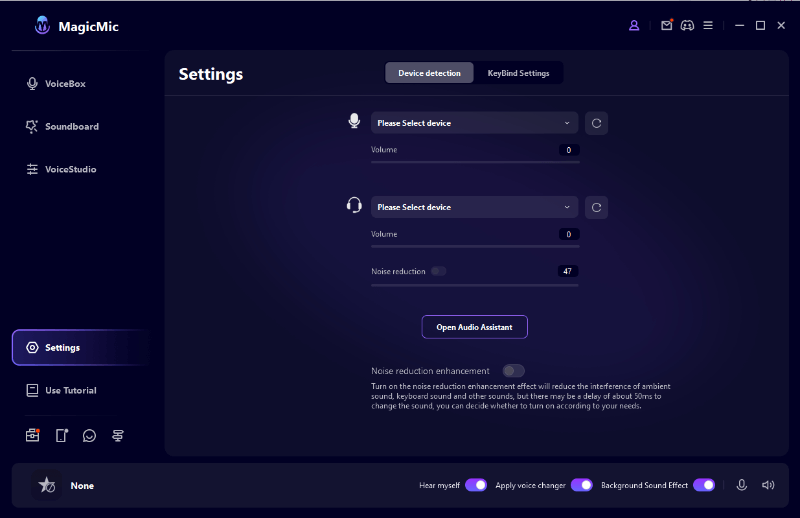 Select Virtual Audio Device as input in your preferred app for seamless voice modification.
Step 4: Choose Voice or Create AI Voice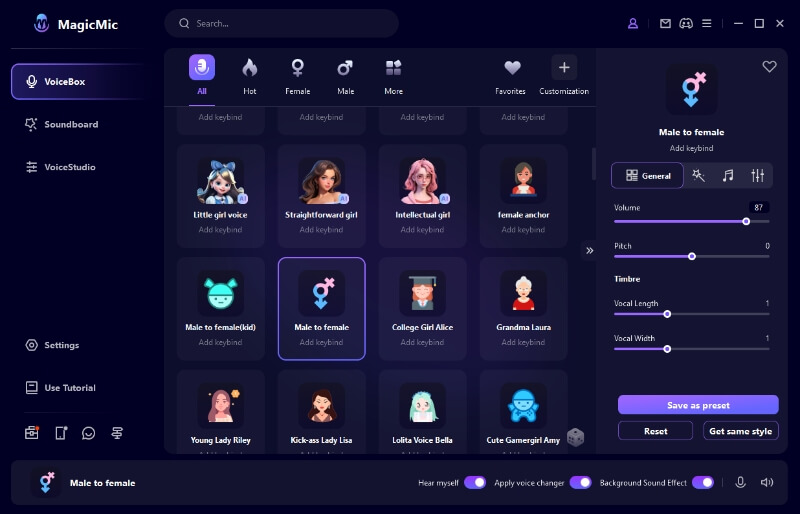 Explore effects , assign keybinds, create personalized AI voices, such as Bob's Burgers voice.
VoxBox, the AI voice generator, lets you breathe life into Bobs Burger's voice. With multilingual text-to-speech, voice cloning, and character AI voices, including beloved anime characters like Bobs Burger, VoxBox empowers you to create your very own Bobs Burger AI voice.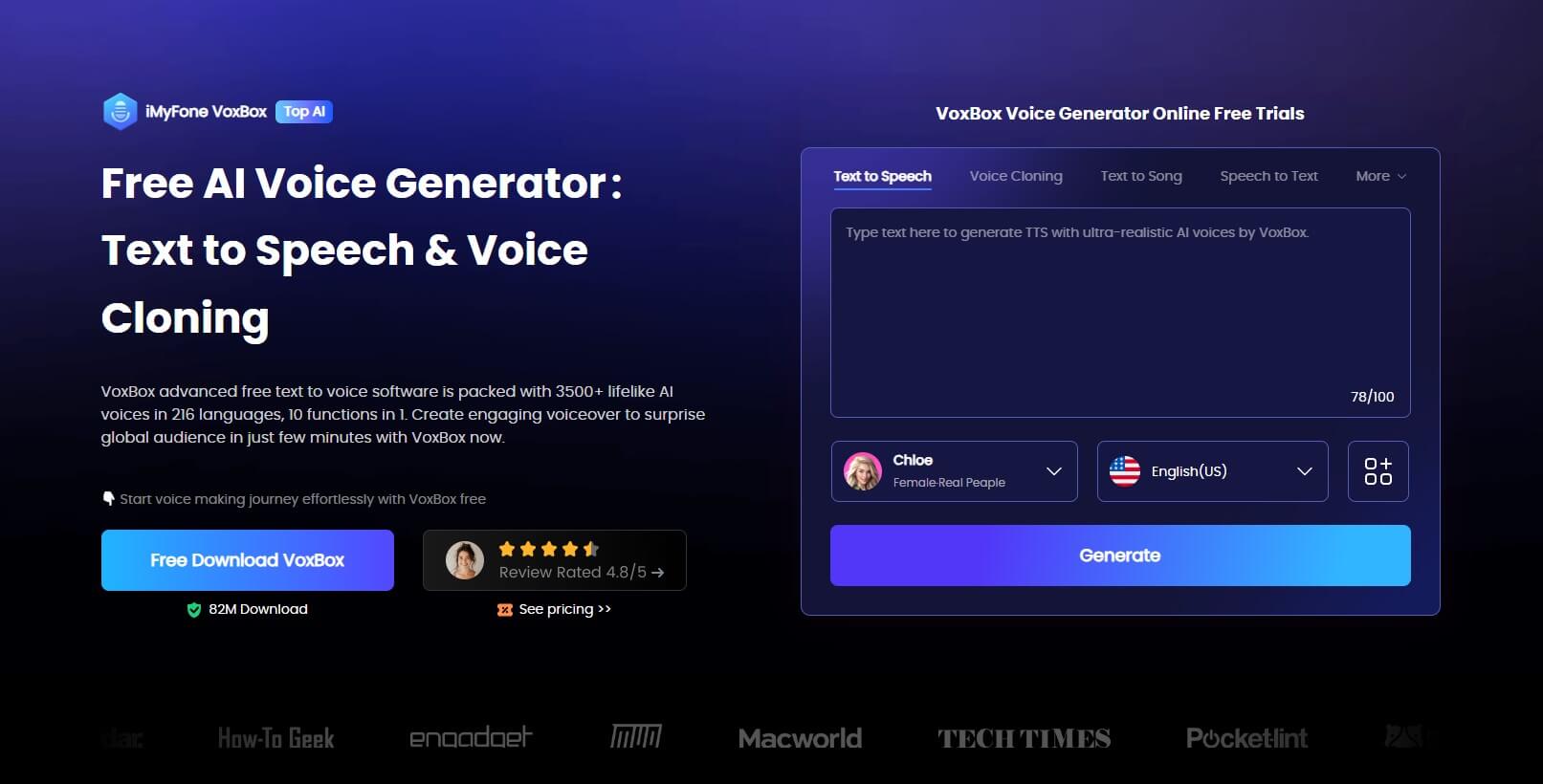 Key features of VoxBox Bob's Burgers AI voice generator
3200+ AI voices: 77+ languages, 100+ accents.

Text-to-speech, voice cloning, and text transcription support.

Customizable voice settings: pitch, speed, volume.

High-quality audio formats: OGG, WAV, MP3.

Versatile for business, entertainment, and social media.
How to use VoxBox Bob's Burgers voice generator?
Step 1: First, you need to download and install VoxBox.
Step 2: Enter the "Text to Speech" lab and search for Bob's Burgers' name, then input text.
Step 3: Click on "Convert", listen to the voiceover and edit it.
Part 3: Hot Topics about Bob's Burgers AI Voice
Is there season 14 of Bob's Burgers?
Yes, there is a Season 14 of Bob's Burgers scheduled for release. It will premiere on Sunday, October 1st at 9:00 PM EST as part of FOX's Animation Domination block. The announcement came earlier this year, and fans are eagerly anticipating the return of the beloved animated series.
Is Bob's Burgers suitable for all ages?
Bob's Burgers is generally considered family-friendly and appropriate for a wide range of audiences. However, it does contain some humor and themes that may be more suitable for older children and adults. Parental guidance is advised.
What is Bob's Burgers AI Voice?
Bob's Burgers AI Voice is an AI-generated voice that mimics the distinctive vocal style of the characters from the animated sitcom Bob's Burgers.
Can I create my own Bob's Burgers AI Voice?
Yes, platforms like MagicMic or VoxBox allow you to create your own Bob's Burgers AI Voice by using text-to-speech conversion and customizable voice settings.
Final words
In conclusion, the world of Bob's Burgers has been enhanced by the incredible capabilities of voice changers and voice generators like MagicMic. These innovative tools have revolutionized the way the show's iconic voices are brought to life. From customizing soundboards to transforming voices into celebrities, genders, or even anime-inspired tones, the Bob's Burgers voice changer and voice generator technology have added a new level of creativity and fun to the series.