One of the keys to be a YouTube celebrity is to achieve a nice vlog lighting set up. If you need vlog lighting there are different alternatives you can use depending on the atmosphere you want to strike. This is a reasonable investment since natural lighting is not always available on your filming location.
If you need to contemplate the best lighting for vlogging, then on this article you will find a detailed list of the best alternatives. Learn about the best different types of artificial lights and how to use them properly.
3 Best Ring Lights for Vlogging
The ring light is a versatile option for a wide variety of shooting sceneries. The uniform and vibrant light is ideal to cast away shadows. It works best if kept close to the element or person's face. That is why they are used with the camera placed in the middle of the right light.
One of the main characteristics of this lighting is the "halo" reflection that creates on the eyes. It is considered an eye-catching feature that is valuable for vloggers and YouTubers. It also offers a flattering appearance of the face.
The best ring lights for blogging are those that can be placed on any surface with a tripod. The light intensity is also important, and it can be estimated with the amount of LEDs lights included on the ring light. Another important feature to consider is the control of the light intensity with a control. Ring lights for vlogging can offer at least three intensities of lights that work for different settings.
Key Features
Ring light of 12 inches.

Superb tripod included

192 LEDs free from any white diffusor

Control to adapt the intensity of the light from warm white (3000K), medium white (4500K) or cold white (6500K).

Light sensor that can be adapted

It includes a camera capable of recording full HD 1080p with 60fps without compressing the video files. This offers a smooth video that is enjoyable to the public.

It only works with USB power connected.
Price
It cost $279.98 on Amazon.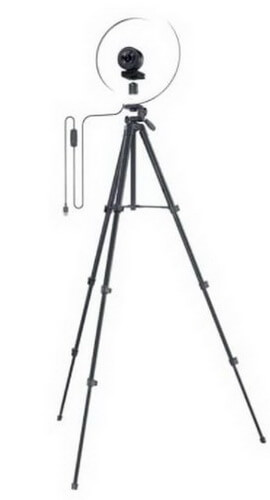 Key Features
Ring light of 10 inches.

It includes a tripod

It is a compact and portable model with a travel bag

Control to adapt the intensity of the light from a rage of 3200K to 5600K.

It is powered by two NP-F750 lithium batteries that last up to 1.5 hours.

It is easy to use, a great feature for vlogging beginners.
Price
It cost $27.49 on Amazon.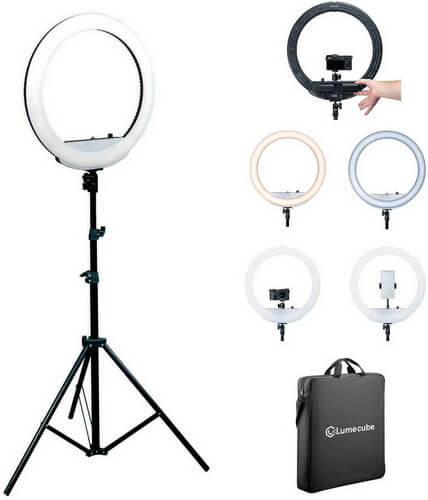 Key Features
Bicolor lighting LEDs

Control to adapt the intensity and temperature of the light

It can show an HSS flash mode

It does not have the classic ring light design

It is a compact light for traveling

It achieves a light intensity of 2000k

It includes an small tripod that holds your phone and light
Price
It cost $249.95 on Amazon.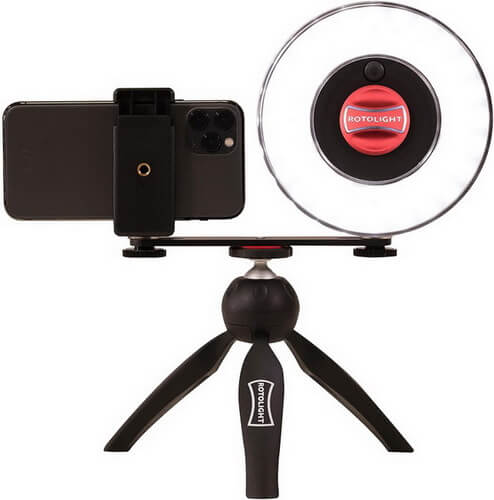 3 Best LED Lights for Vlogging
One of the best vlogging light alternatives is the LED on-camera lights. These are a square or rectangular flat panel of LEDs lights. You can use them over your camera or place them as on individual tripods to be mounted on strategic positions.
The LED lights are used as vlog lighting due to their affordable price. Also, these are compact lighting sources that can be portable. This feature makes it the best vlog lighting
Key Features
The panel has 480 LED bulbs that ensures a strong light intensity

Both Neewer lights include their travel kit

Compact and easy to install

Both lights include an aluminum tripod

Includes two white differ to avoid giving a harsh light.

White balance that can go from 3200k to 5600K
Price
It cost $99.99 on Amazon.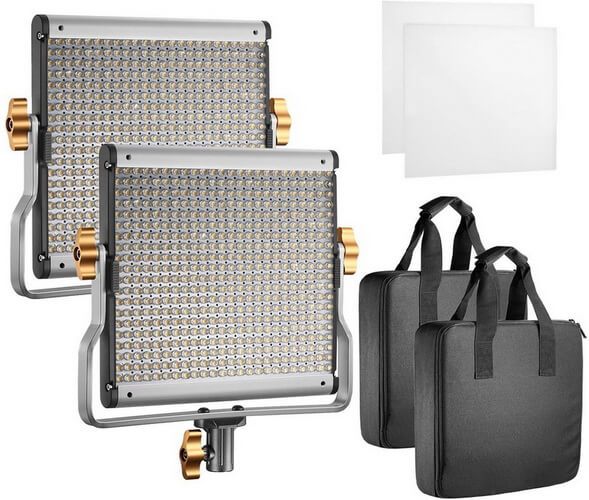 Key Features
It includes a wireless control to adjust the intensity of the light

It supports a control app model

The range of color temperature can vary from 2300K to 6800K.

Professional bicolor LEDs arrangement

You can use AC adapter for power supply as well as it can be incorporated a F970/750 battery.

Light weight and durable materials

Brightness can be adjusted from 10% to 100%
Price
It cost $176.55 on Amazon.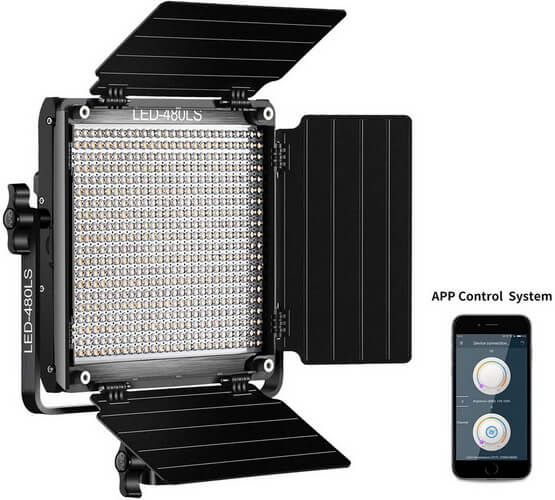 Key Features
It includes 6 feet tall aluminum tripod that can stand safely

The intensity of the light can be adjusted using the two filters included for each LED light

It can be set on 3200K and 5500K using the light filters.

Adjustable brightness from 10% to 100%

It includes a battery and a replace battery pack

Compatible with other light and photography equipment

It includes a travel bag for all the light equipment
Price
It cost $83.59 on Amazon.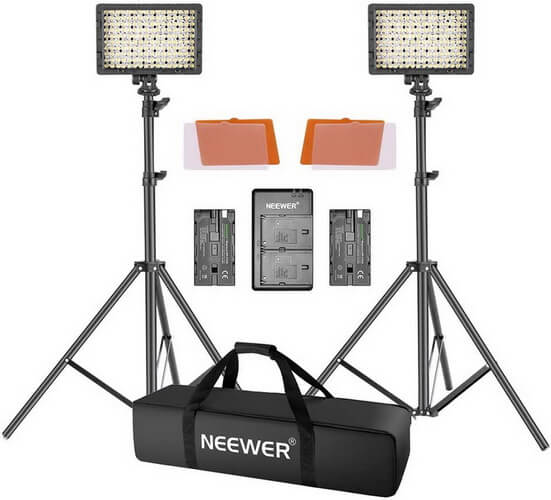 3 Best Softbox Lights for Vlogging
The softbox is ideal to achieve a soft and even light. It is great for vlog lighting since it cast away all shadows while creating a pleasant contrast on your video. Softboxes are very versatile and even though they are big equipment, these lights are able to create high quality illumination.
Key Features
It includes a Flashpoint 320 Monolight

It includes the whole lighting kit for the softbox, including the aluminum stand

It offers a professional outcome with a 24x24 glow softbox

Replaceable flash tube

Better for a fixed location
Price
It cost $169.95 on Amazon.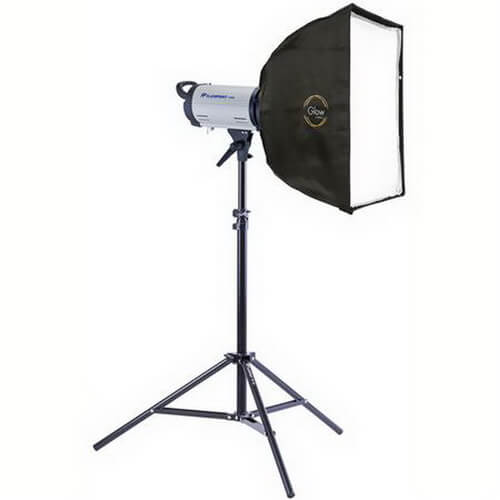 Key Features
You get two socket heads, each one with their respective 20´´x20´´ softboxes

Reliable aluminum stand for the lights

Simple to use and install

105W fluorescence light

It includes traveling bag
Price
It cost $99.95 on Amazon.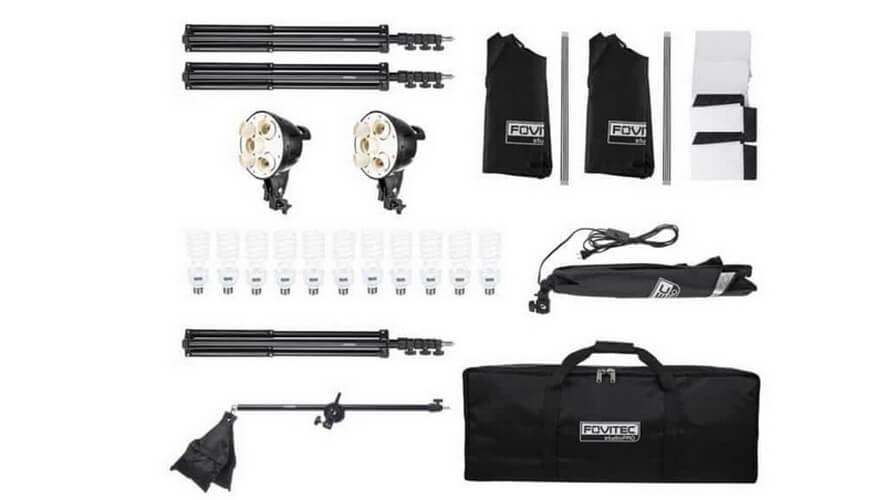 Key Features
The kit comes with two 24´´x24´´ sofbox headlights

It comes with a carrying bag ideal for traveling or change of set

5500K light bulbs that will not raise the temperature

Light stands constructed from aluminum

It includes the lightbulbs for each light stand.
Price
It cost $86.49 on Amazon.
3 Best Umbrella Lights for vlogging
If you want to achieve a dramatic and mysterious look, then an Umbrella light is the right choice for your vlog lighting setup. The diffusion of the light achieved by the reflection of the umbrella gives of a light that is capable of replicating a natural light source.
It is one of the best vlog lighting due to theprofessional and even lighting that casts soft shadows. It is ideal to create metal reflections and is an affordable and portable light source.
Key Features
The kit comes with two reflector umbrellas

An independent light stand

It comes with three 45W CFL light bulbs

Carrying case to facilitate transport

It is best for a fixed location due to the size of the kit

33 inches reflector umbrellas
Price
It cost $55.90 on Amazon.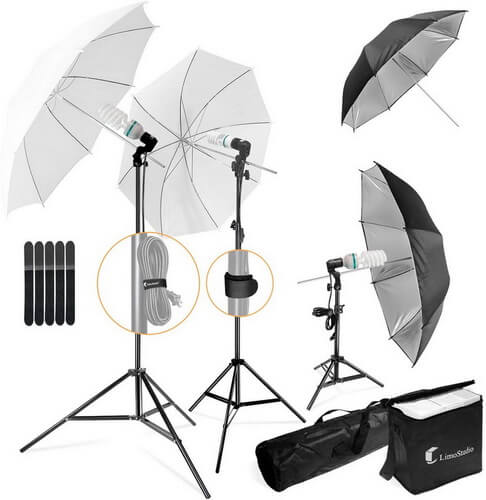 Key Features
This kit includes two 33´´ white translucent umbrellas that help to create a soft diffusion

Two black 33´´ reflector umbrellas that help spread intense light

For the light source it comes with two continuous CFL light bulbs

It can achieve 5500K of light intensity
Price
It cost $47.99 on Amazon.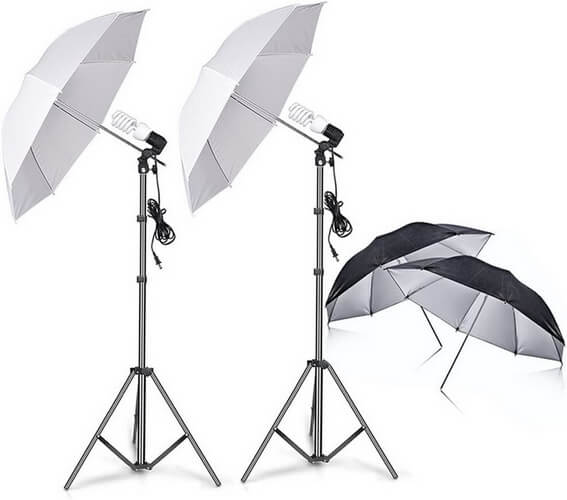 Key Features
This continuous lighting kit includes three tall aluminum light stands

It includes two 33´´ translucent white umbrellas for soft lighting

One table top light for another light source

It is a complete kit that will illuminate your vlog set up

It includes a carrying bag ideal for transport.
Price
It cost $44.39 on Amazon.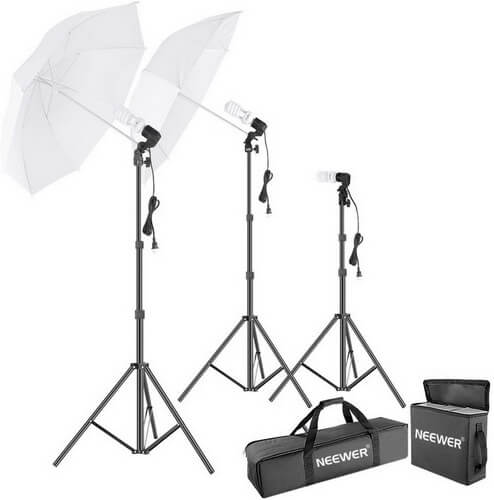 Also Read:
Bonus: 3 Vlog Lighting Tips
1. Locate your focus key light
Your focus key light is the one that will illuminate you or the main subject while recording. One of the best vlog lighting needs to be a strong light placed close to you. Make sure any other light source does not cast shadows on the focus key point.
2. Use reflectors if possible
Reflectors are an affordable accessory that can be included on your vlog lighting set up. You can even make your own reflectors with different materials. These films can help you soft your lighting and diffuse it.
3. Reliable lighting vlog kits
It is best to buy a complete lighting kit for your vlog set up. Generally, these kits are affordable and include everything you need. Also, that way you only need one type of lighting bulbs and can control the entire lighting sources with the same control.
Best Video Editor for Vlogging -iMyFone Filme
We already introduced all the best lighting for vlogging. Yet, using a nice vlog lighting set up will not guarantee a professional video. You still need to edit and adjust your video content. There are multiple alternatives to do so, from payed to free tool you can download. However, if you still are searching for a reliable editor, we want to introduce you to iMyFone Filme.
This video editor has a robust variety of tools that will help you create engaging content within minutes. Here are some of the main features you will gain access to while using this tool:
Main features:
Easy to use with a friendly-user interface, ideal for vloggers beginners

A complete set of editing functions such as trim, cut, rotate, speed adjustment, and paste.

You can add text and subtitles to your vlogs, increasing the audience reach your content may have

It includes functions like video transitions, video and audio filters, stickers, and cinematic effects.

You can use audio editor options to filter noise and sound. It can be useful of you are traveling on busy places.

It offers and asset library with pictures, video, and music you can use for free on your videos.

It is compatible with Windows and Mac, as well as mobile devices such as Android and iOS. That way you can edit your videos with any device you have by the moment.
Final Words
Vlog lighting is a basic set up you need to create and adapt for your content. It will require investment and you can choose among different tools to improve you vlog lighting setup. There is no a strict guide on which accessories you need, since all the vlogs are different and require specific scenarios.
Before you start arranging the best lighting for your vlogging, keep in mind your necessities. For example, if you have a fixed indoors set then you can choose for bigger lighting options that need a permanent power source.
If you are a vlog traveler, then it is best to use portable vlog lighting that is easy to set up and works with battery. We tried to offer a wide range of options for both scenarios. We hope that this guide helped you. Remember to use your lighting together with a good video editor like iMyFone Filme to improve your content.