Are you looking to find out how to upload video to Snapchat story from camera roll? If yes, then you're on the right platform. Luckily there're various ways to do this. Have a look!
Snapchat is one of the most popular and exciting social media platforms which allows users to share their fun moments with Snapchat friends. Being a leading fun app, Snapchat has a lot of features that many users are unaware of including how to upload videos from camera roll to Snapchat story directly.
So, if you have memorable and entertaining videos in your phone's gallery and want to upload them on Snapchat, stick to reading to find out. Additionally, we will also walk you through a top software to edit the Snapchat videos and make them much more exciting and enjoyable.
Know about Snapchat Memories and How to Access Snapchat Memories
Before we proceed with learning how to upload videos to Snapchat from camera roll, let us briefly discuss the most prominent feature of Snapchat – Memories. This key feature allows you to save the photos and videos for later instead of allowing them to disappear after 24 hours.
Since its introduction in 2016, the Memories feature has been the most prominent update of Snapchat. It saves the snaps inside the main app under the Memories tab that you can access, edit, re-share anytime you want.
Features of Memories
Below are some of the most exciting features of Snapchat memories that have made this app a long-lasting social media powerhouse.
With Snapchat Memories, users can share the photos and videos, captured outside of the main Snapchat app, to their stories. This flexibility to let you upload any photo or video to Snapchat, not just the ones within the app, has opened a whole new avenue to create exciting content.

Using the Memories feature, you can create New Stories by combing old clips and applying amazing filters.

What's more, you can save any and all snaps to the Camera Roll and post them on any other platform too – if you want.
How to Access Memories
Accessing Snapchat Memories is a straightforward task. Here's how you do it:
Step 1
On your Smartphone, launch the Snapchat app. and open the Snapchat camera.
Step 2
Now, swipe up from the Camera section of the app to open up all your memories. All the photos and videos have a timestamp to make it easy for users to recognize the ones they're looking for.
Step 3
Scroll through or use the Search feature to find specific snaps in Memories.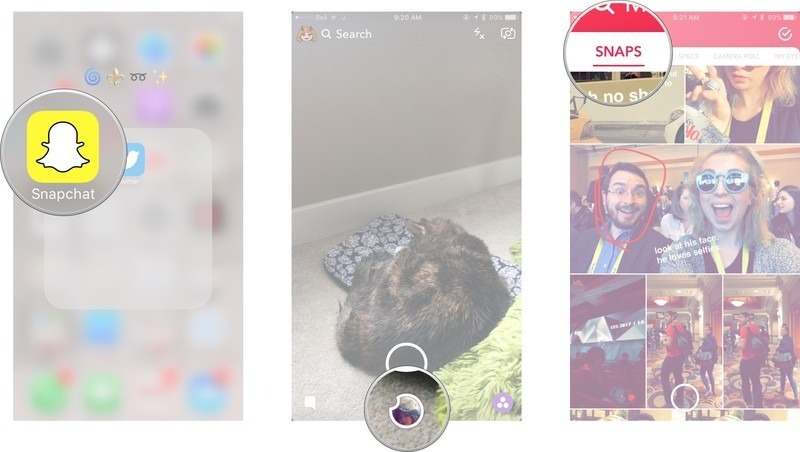 For instance, if you want to find the snaps of your birthday or your friend's, typing a simple keyword like "Birthday" helps you find the snaps you want. You can simply view it or share it with your friends.
Upload Videos to Snapchat Story from Camera Roll using Memories
This is the question that made you brought you to this platform. As mentioned earlier, the Memories feature has made it ridiculously easy to share anything from Camera Roll to Snapchat stories.
No matter if you're an Android user or an iOS user, you can share the memorable videos on your phone's gallery to Snapchat with just a few clicks. Check out yourself how to upload video on Snapchat from gallery:
Step 1
Launch Snapchat on your phone and swipe up from anywhere on Snapchat's Home screen.
Step 2
Now, you'll see three options at the top tab named: Snaps, Camera Roll, and My Eyes Only. Tap on Camera Roll to access the saved videos in your phone's gallery.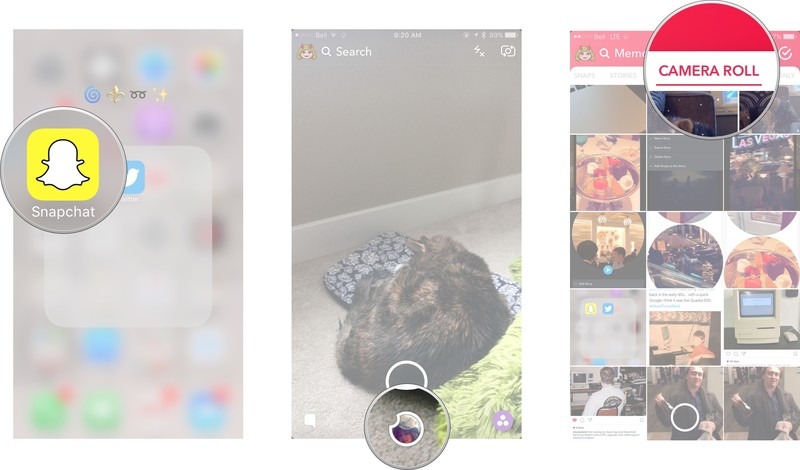 Step 3
Next, tap and hold the video in the Camera Roll that you want to post as a Snapchat story and hit the "Blue arrow" at the lower-right corner.
Step 4
Snapchat will take a few seconds to load your video into one or more stories and share it with your friends. It will be visible for the next 24 hours.
And that's it. As straightforward and easy as it can get. Hopefully, you will never face any difficulty in how to upload a video on Snapchat from gallery.
Best Snapchat Video Editor - iMyFone Filme
What makes Snapchat so distinct and enjoyable platform is the various exciting filters and editing tools it provides to let you edit your videos. But these features are limited and also complicated to use. So, if you want to add better effects to your videos, you need a professional Snapchat video editor like iMyFone Filme.
Ranked as the #1 Snapchat video editor, Filme offers a wide array of powerful editing features to help you enhance the videos prior to publishing them. Using it, you can easily make a more personalized and professional video with just a few clicks.
Key Features
Some of the stellar features of iMyFone Filme that set it apart from other players in the market include:
Perform basic editing tasks such as trim, crop, slow, fast, rotate, and resize the videos as easily as it can get.

Offers a plethora of transition effects to help you transition from one video to another smoothly.

Apart from adding text with all colors and fonts, you can easily add video overlays, stickers, pan-zoom effects, and so on.

Filme's Fast Mode automatically makes an appealing slideshow of your photos and video clips.

Easily add music to the videos.
Pros of Filme:

Intuitive and easy to use.

Allows real-time editing.

It's got a huge stock of exciting animations and advanced filters to help you polish and add better effects to the videos.

Doesn't reduce the video's quality.
Here's how you edit a video using iMyFone Filme:
Step 1
After installing iMyFone Filme, launch it on your computer.
Step 2
On its Home interface, hit on Import Media and apply it to multiple projects. Then, browse and select the video you want to edit and double-click it to load it into the software.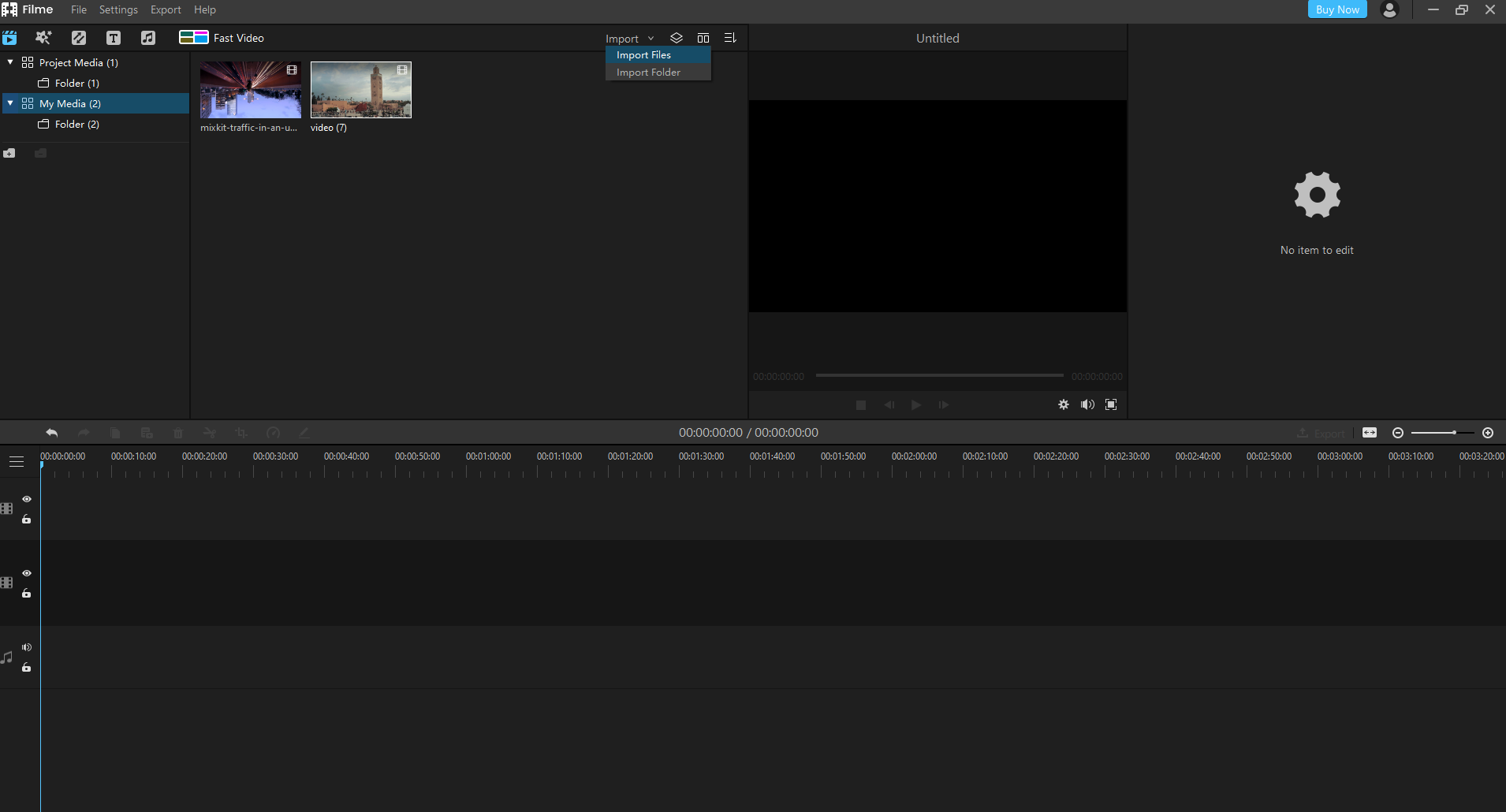 Step 3
Bring your cursor over the video and hit on the "+" sign to add it to Filme's timeline.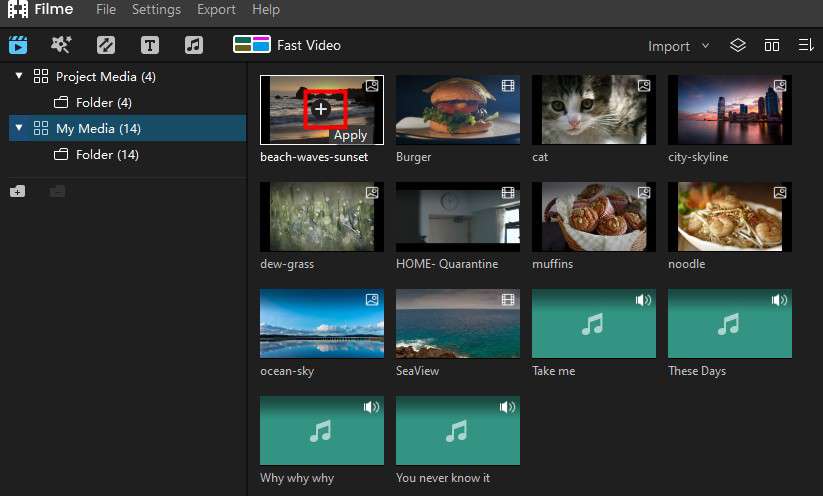 Step 4
Now, edit the video using the thousands of video editing effects the software offers. With just a few minutes, you can make a completely new video without compromising its quality.
Now, save the video to your computer and give a surprise to your Snapchat friends. That wouldn't be a problem as you already know how to upload video to Snapchat from gallery.
Also Read:
[2021 Guide] How to Fake Live Video On Snapchat>>
How to Make Boomerang Video on Snapchat [2021 Ultimate Guide]>>
Why Are My Snapchat Videos Blurry? [2021 Solutions]>>
FAQs About Uploading Video to Snapchat
This section will answer some of the common queries of Snapchat users pertaining to how to upload videos from your camera roll to Snapchat. Let's read them up.
1. Why can't I upload videos on Snapchat?
If you're unable to share videos on Snapchat, then any of the below reasons could be the culprit:
Internet connection is poor as Snapchat requires you to have a healthy Wi-Fi connection or mobile data.

Your Snapchat app is outdated. That's why check if its update is available in App Store or Play Store.

A minor glitch in the Snapchat app can restrict its normal functioning. It can be fixed by either Force Stopping the app or uninstalling it and then, installing it again.
2. Can I send a saved video as a direct snap on Snapchat?
The answer is Yes. Thanks to the Snapchat Memories update in 16, you can easily send a saved video as a direct snap on Snapchat.
All you need to do is open the main app, swipe up the Home screen, select the snap - picture or video – that you want to share, and tap on the Blue arrow. And that's it. It'll show up on your Snapchat as a direct snap.
Conclusion
To sum up, this article has provided a detailed guideline on how to upload a video to Snapchat from gallery. Many users didn't know until now that Snapchat allows users to share the past videos saved on Camera Roll to their Snapchat stories – and how to do that.
We recommend users to install iMyFone Filme to edit and spice up the videos you share on Snapchat – and make them much more enjoyable.