Snapchat is one of the ideal social media platforms that allow users to easily connect with friends. Many people are not aware of the Snapchat video call facilities. Even our acquaintances approached us to know how to video call on Snapchat. Well, keep in mind that Snapchat is not restricted to sharing stories, videos, and photos. It also makes you able to see and talk with your family and friends at any time. Moreover, Snapchat has introduced a video calling feature to make your life easier. In this blog, we are going to explain the detailed steps to make a video call along with the best video editor.
Let's get started!
Part 1. Steps on How to Video Call on Snapchat
Only a few people know that Snapchat provides an exclusive video calling feature as well. We are going to mention some simple and easy steps about how do you use Snapchat video call without any difficulty. These guidelines will help you to enjoy face-to-face communication from your respective place.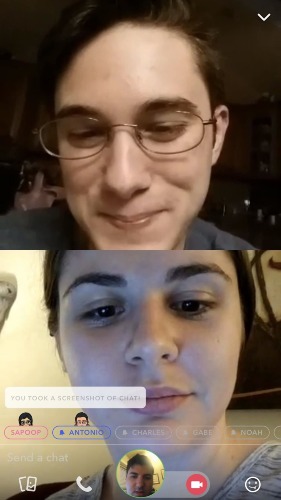 Step 1. Swipe Right to Start the Video
First of all, install the latest version of Snapchat on your device and have a look at the Snapchat video call tutorial. Now swipe right on camera to get the friend list, or you can also click on the friend tab at the bottom left corner of the screen. Find the contact you want to make a Snapchat video call and right swipe it.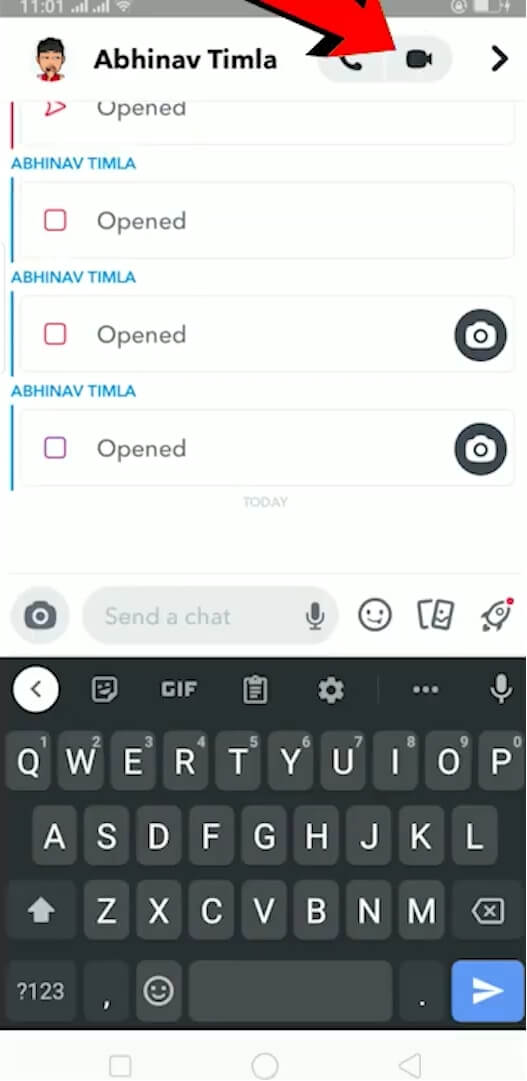 Step 2. Click on the Video Camera Icon
In this Step, Snapchat will permit you to call your friends. Now you can select the video recorder icon and click on it to place the call. It should start ringing after sending them a chat request.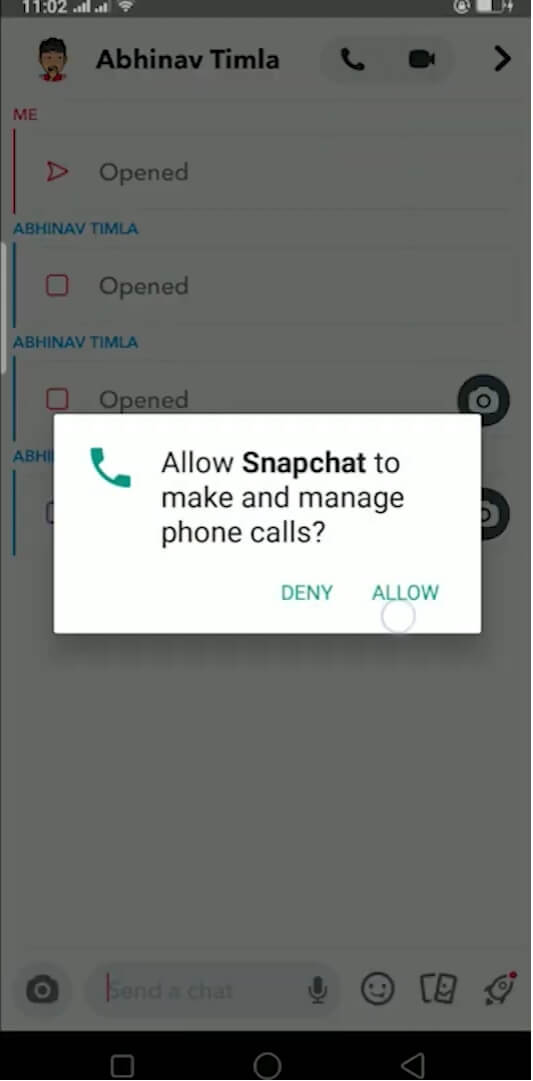 Step 3. Wait for Answering
When you place a call, your friend's phone will start ringing if they have enabled Snapchat notifications. The best thing about enabling notifications is your friends will know that you are calling even if they are not using Snapchat at the time.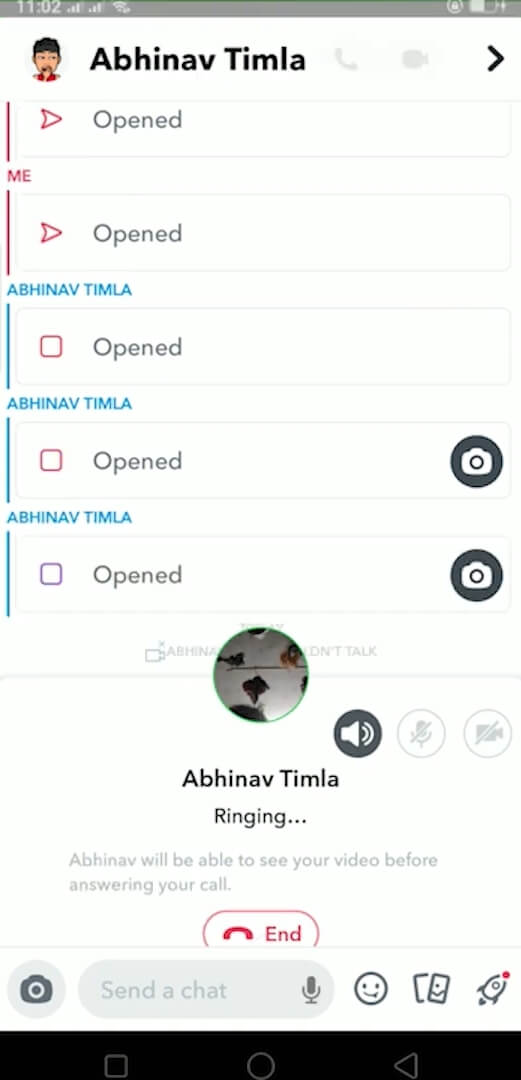 These are simple tricks and steps that will be helpful for you if you are searching for a way for a Snapchat video call.
Options To Respond to a Call:

There are different options to respond to a Snapchat video call.

If you tap on the watch option, you can see others.
When others tap on the join option, you both can see and talk to each other.
When your friends choose to ignore the option, you will immediately get a busy message.
When you click on the green camera icon, only you can see others because video becomes one way.
Part 2. Tips to Improve Video Calling on Snapchat
Whether you are taking online classes, working remotely, or keeping in touch with your friends and family, knowing how to do video calls on Snapchat from your laptop, smartphone, or desktop is the best thing. Here are some tips to improve your video call experience using Snapchat.
1. Check your Internet Speed
The internet connection speed has an impact on the quality of your Snapchat video call. So for best results, try to choose Wi-Fi rather than cellular data. You may even ask your housemates to hold off on watching Netflix until you finish your urgent meeting video calls. You can also take an online speed test to check if a Snapchat video call works for your software.
2. Upgrade your Snapchat
You have to check the latest version for Snapchat video call privacy because some software programs are designed for casual chats. However, Snapchat is the best app that provides its user video calling feature which is perfect for professional meetings. Therefore, if you are experiencing Snapchat video calling lags, updating to the latest version can improve the performance.
3. Set a Virtual Background
Snapchat provides users to set a virtual background if they don't want to show their messy background to friends and coworkers. Therefore, if you want to change the location, a virtual background will help conceal your movements. You can also turn off your camera temporarily, so the other doesn't get distracted during the call.
4. Select a Right Camera Angle
Getting the right camera angle for the best Snapchat video call privacy can be tricky if you want to maintain eye contact with the participant. Therefore, it is recommended to keep a built-in camera at eye level if you are using a laptop. Always avoid tilting the camera too low or high, and getting too close to the camera. Otherwise, you will end up filling the screen with your forehead and chin. So if you want to know how to video call on Snapchat, try setting your laptop or smartphone in the best position.
5. Use Headphones for Better Sound Quality
One of the best ways to enhance video call sound quality is to wear earphones or headphones with a built-in microphone. Wearing a headphone set during a Snapchat video call flashlight also reduces the background noise and keeps your voice echoing. You can also mute your microphone when you are not speaking to avoid distractions.
Part 3. Best Snapchat Video Editor for You - iMyFone Filme
Many people want to know how to do video call on Snapchat by using some beneficial tools. The iMyFone Filme is one of the ideal and the best video editing software that gives users editing features to make an outstanding video. The software has advanced options for professionals and beginners. You can use this tool to change voices and edit videos. So you can say that iMyFone Filme is an all in one voice changer with video editing. This exceptional tool is available for macOS and windows, and the chrome version will be available soon.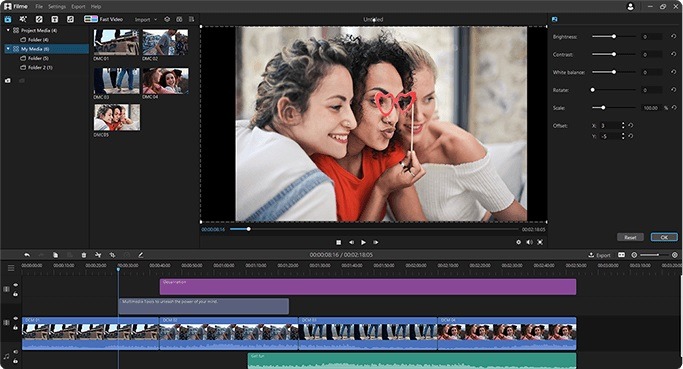 Features:

The tool permits users to create video slideshows without complex video editing.
The software is useful to produce competent slideshows and video calls.
You can add text, transitions, music, and effects to your videos.
The tool provides you a pathway of how to end Snapchat video call along with screen recording.
You can change your audio into desired voices like a professional.
Pros:

iMyFone Filme is easy-to-use software, and everyone can use it without any difficulty.

You can edit your videos quickly with the help of this amazing tool.

You can add sound effects, music, voiceovers, and any other desired sound.

It supports various famous formats. You can import any audio, video, GIF, or image.

IMyFone files also work as a video converter tool. Therefore, you can convert the video format with the help of this tool.
Guide on How to Apply Voice Changer Using Filme:
Many people want to know how to do video call on Snapchat with voice-changing effects. So here is the complete step-by-step guide to use voice changer on Filme.
Step 1: Open IMyFone Filme on your computer. You can create a new project by selecting the aspect ratio.
Step 2: Go to the media menu and import a video or audio file for editing. If you want to record audio with Filme, you don't need to import external audio. Now drag the media to the timeline.
Step 3: You have to move the player to an empty area in the timeline for recording audio. Tap on the microphone option in the toolbar, choose the input device, and select the voice to transform audio. Double-tap on the audio file if you want to change the recorded audio. You have an editing menu on the right, and choose any voice you like as a voice changer.
Step 4: Go to export video and select the desired format to export the file.

iMyFone Filme
Release Your Creativity with Best Video Editor iMyFone Filme!
Download Now
Also Read:
How to Group Video Call on Snapchat [2021 Guide] >>
Snapchat Video Call Not Working >>
Guide for Upload Videos from Camera Roll to Snapchat Story >>
Frequently Asked Questions about How to Video Call on Snapchat
1. Does a video call show your face while ringing?
The answer is probably a No. Instead, the other person will see their face through the front camera that they can mute or hide. They will only see and hear you after accepting the call, but you could hide the display and mute the call.
2. Is it possible to add filters while I am on a video call?
Tap on center of the screen during the video call. The effects and filter buttons will appear. Click on the filter button at the bottom and change the contrast, styles, and color of your video feed. You can also view these changes in the top right corner.
3. Does Snapchat alert someone if you screen record?
Snapchat will notify the person when you record the screen during the call.
4. How do you do a video conference call on Snapchat?
It's really simple to set up a Snapchat group chat:
Step 1. Open Snapchat

Step 2. Tap the Chat icon at the bottom left

Step 3. Tap the New Chat icon at the top right

Step 4. Pick some friends from your list, and press Chat with Group
Read More: How to Group Video Call on Snapchat [2021 Guide] >>
Conclusion
Snapchat is the ideal social platform that offers a unique way of interacting with others through Snapchat video call. So you can say Snapchat use is increasing among the young generation. It is a video and image editing app that provides a way to connect with loved ones by using the video call option. Therefore, when it comes to communication, this application offers a way of face-to-face connection. The use of Snapchat will help you better understand how profitable it could be for you and where it currently stands.