The question of how to post a video on Facebook with copyrighted music is a tricky and legally fraught one. If the copyright owner notifies Facebook, your post may be taken down; worse, your page or account may be blocked if you do it repeatedly. Instead of going through these headaches, here are some ideas you can try to legally use copyrighted music in Facebook videos.
Is it Legal to Post a Video on Facebook with Copyrighted Music?
Yes and no. Yes, if you're the copyright owner or if you have an appropriate license; no, if you don't. The copyright issue itself is a confusing one. For instance, if you bought a CD or purchased a track on iTunes, that doesn't mean you have a license to do anything you want with it. The terms and conditions state that these songs and tracks are only intended for your personal use. In fact, you're not even supposed to play it at parties where other people are present.
The problem with uploading videos with copyrighted music to Facebook or any publicly viewable portal is that it's often very hard to get in touch with the original copyright owner. They might be a big record company or a major artist. How do you even contact them, let alone get a response? And the worst part is that you may be violating copyright laws even if you don't know it. Thankfully, Facebook clarified last year that there are no limits for Instagram Stories or live concerts, which makes it a little easier for us.
In any case, it's better to be prepared, and this is what this article is all about.
What To Do if You Want to Post a Video on Facebook with Copyrighted Music
If you're keen on using copyrighted music, there are a couple of things you can do.
Method 1: Use Stock Audio Files (Royalty-free Tracks)
Stock audio files and tracks are pre-licensed by a particular platform on which they are hosted. For instance, all the audio tracks available in the iMyFone Filme video editor are royalty-free and can be used anywhere. That helps you avoid any legal issues. There's more information about how to do this in a subsequent section of this article.
You can also get music from sites like Lickd, which curate tracks that have been cleared for public posting and sharing. On certain platforms, there will be a subscription fee similar to Spotify or Apple Music. The difference here is that you can use these tracks on publicly viewable posts on Facebook, which is not the case with music that you buy for personal entertainment. It's worth the extra money, especially if you put out a lot of videos and you don't want to run out of audio content to go with it.
Method 2: Create Your Own Background Music
If background music is all you need, you can easily create that in apps like Garage Band. Such apps come with a whole range of instruments, rhythms, melodies, and other musical elements that you can use to put together really cool and funky tunes for your videos. Not only will this method help you avoid any copyright violations - intended or otherwise - but it makes your videos that much more unique.
It's not hard to learn to create your own music. Just choose your base instruments - percussion, string, woodwind - and use pre-created rhythms and melodies back to back to make your own unique tune. Once you download this, it's yours to use in any way you want.
But if you don't want the hassle of creating your own background music collection, you can use one of the paid options or an editor like Filme, which includes free music and other audio tracks that you can use as you like.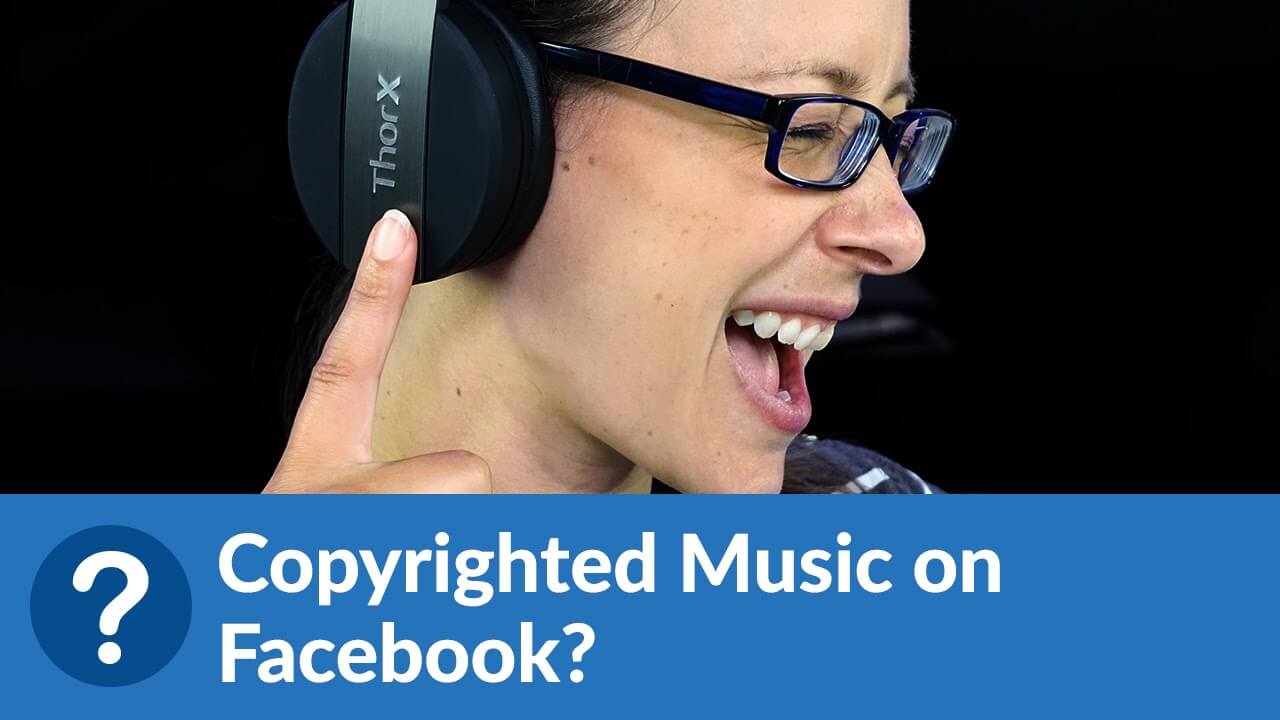 What to Do if You Receive a Warning from Facebook?
If you are in potential violation of copyright for the audio in your Facebook post, you will receive a notification from Facebook and the post will be taken down. If you're confident that you have the right to use the music in a public channel, you can challenge the warning notification from Facebook with a counter-notification claiming your right to use the audio, with proof thereof. Assuming the reporting person accepts your counter-notification, Facebook will restore your post.
If you know that you're clearly in violation, there's really nothing you can do if the copyright owner chooses to file a lawsuit. That's why it's important that you only use properly licensed audio tracks for all your Facebook and other social media videos.
A More Reliable Solution: Using a Video Editor with Built-in Royalty-Free Music
As mentioned, iMyFone Filme comes with a full library of royalty-free music that you can use without worrying about copyright infringement. In addition, there's an audio editing section to control various aspects of the audio track once you add it to the video. When you're happy with the results, you can simply export the video along with the audio background and upload it to Facebook.
How to Add Free Music to a Video in iMyFone Filme and Share It on Facebook
Step 1: Launch Filme and import your video by dragging and dropping it into the media library section of the software interface.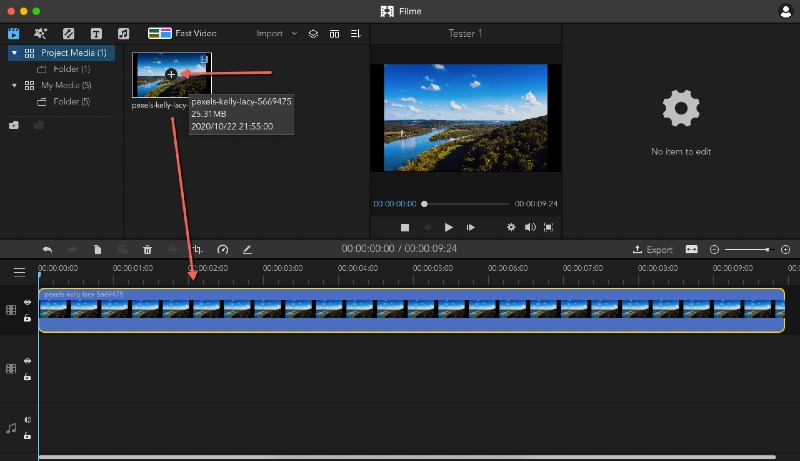 Step 2: From there, either click the + symbol on the video thumbnail or right-click and choose Add to bring it to the timeline section at the bottom.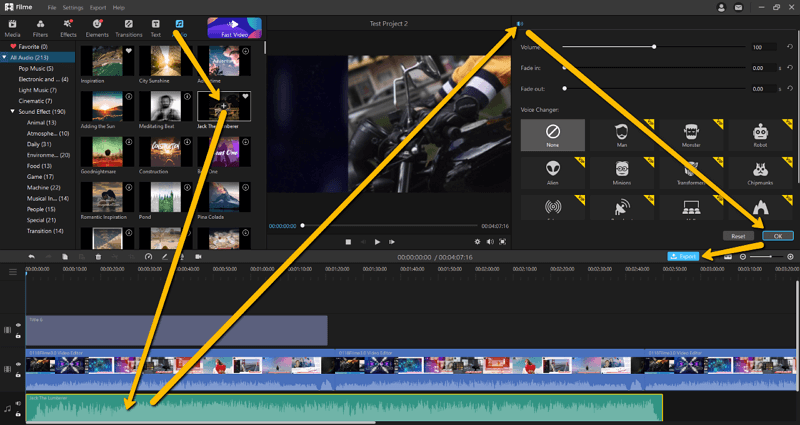 Step 3: You can now click the musical note symbol at the top to bring up the royalty-free music options. Pick an option and do the same action to bring it to the timeline. It will be added to a new audio track below your video track.
Step 4: Double-click the audio track to bring up the editing tools in the top-right panel, where you can control the volume, fade-in, and fade-out. You can also drag the side handles on the audio track to match the length of the video.
Step 5: When you're done, export the video in any of the available formats. You can choose the right aspect ratio for Facebook when you export the file, which is usually square (1:1) or vertical (4:5, 2:3, or 9:16) so it's good for mobile and desktop viewing.
Filme supports a vast range of video, audio, and image formats, so even if you have a properly licensed MP3 track, you can import it just by dragging the file and dropping it into the media library area as you did with the video file.
Last But Not Least…
Finally, if you're intent on using original audio and you're not comfortable creating your own music, why not consider doing a voiceover for the video? iMyFone Filme for Windows has a screen recording function as well as a voice recording tool that you can use to create explainer videos, tutorials, and other showcase videos for Facebook.