You've seen a Facebook video that you want to be able to view offline or just download to your collection but Facebook doesn't support such a feature. What do you do? How do you save videos from Facebook to your Android smartphone? We've outlined two 100% working ways that will answer your 'how to save videos from Facebook to my Android phone' question.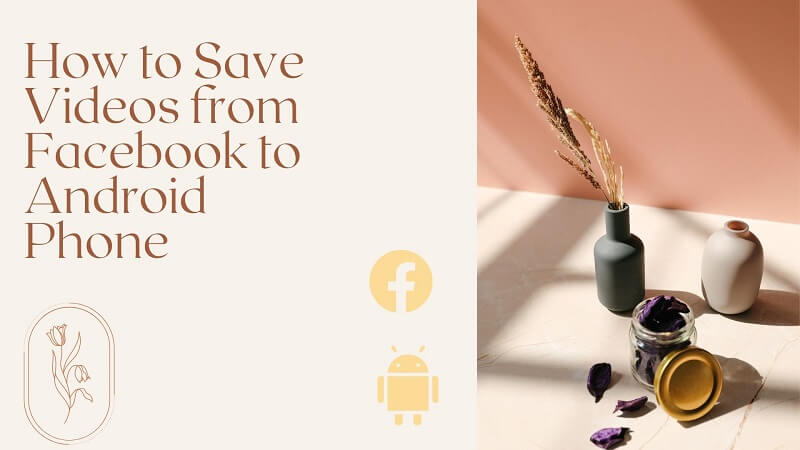 2 Best Ways to Save Facebook Videos to Android Phone
Method 1: Use Online Tools
There are literally dozens of websites that offer online video download services for Facebook and other social platforms, but you'll need to test them out to see what works and what doesn't. A lot of them are just clickbait URLs that force you to visit the site but don't work as promised. Among the working ones are QDownloader.com and FBDown.net. Both work in a very similar manner so we'll show you how to save videos from Facebook to Android using FBDown.net.
Step 1: To save the URL of the Facebook video, you can use the Share button. When the contextual menu or share options pop up, select Copy Link.
Step 2: With the URL in your clipboard, open a browser app like Chrome or Firefox -- you should be able to see a field to paste the URL. Do that now and tap Download next to it.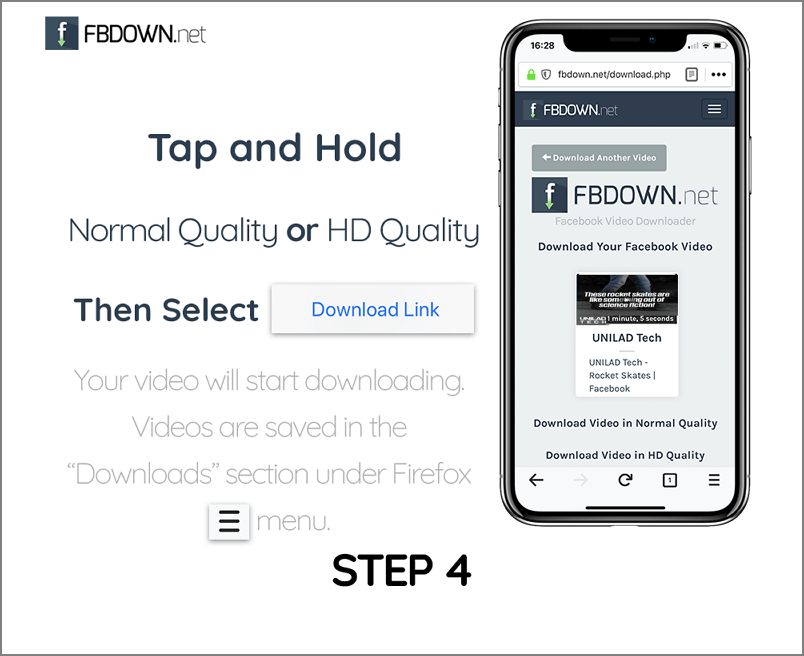 Step 3: As a final step, choose the quality of the download (HD is preferred if you have adequate memory on your device or have extended the memory with a microSD card. Finally, tap the button that says 'Download Link'.
The Facebook video will be downloaded and saved in the default folder, from where you can move it to your Gallery or anywhere else. To use the other online tool, the URL you should go to on your browser is https://qdownloader.com.
Method 2: Use an App Like FastVid
If you'd rather not do it online, you can consider using an Android app such as FastVid, a well-known video downloader specifically designed for Facebook users. You can get it from the Google Play Store at this link. Once you've installed it, follow one of these processes to download videos from Facebook. There are two ways to download a video from Facebook using this app.
First Way: Paste the URL
Step 1: Copy the URL of the Facebook video using Share → Copy Link as in the previous method.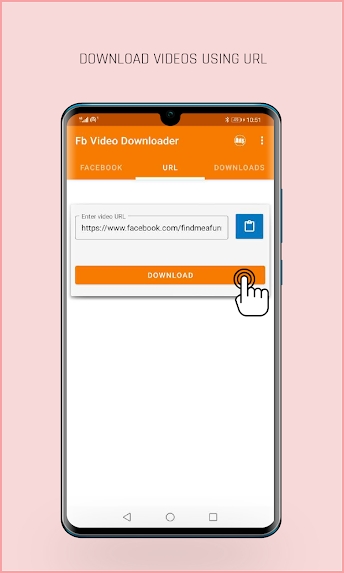 Step 2: In the FastVid app, go to the URL tab and paste the link there. Tap the Download button.
Second Way: Use the Facebook Tab
Step 1: Instead of the URL tab, go to the Facebook tab, where you'll see your Facebook feed. Here, tab and hold the video you want to download.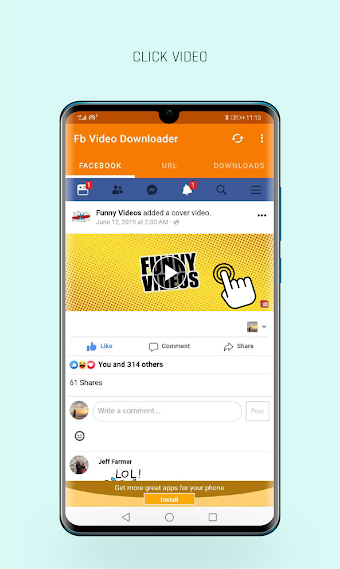 Step 2: When you see the pop-up, choose the SD or HD option. There's also an option to simply watch the video but you can ignore that for the purpose of this task.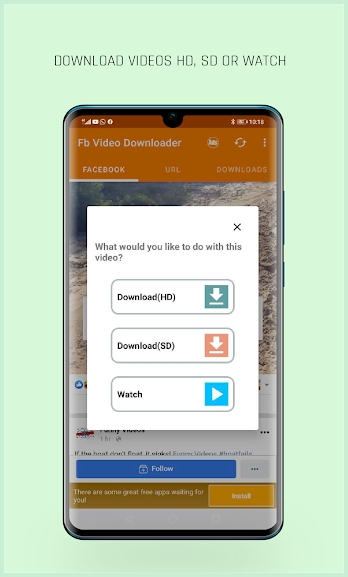 Step 3: You will now see the video in the Download tab, from where you can move it to your Gallery or further share it with someone.
Also Read:
Save Video from Facebook to iPhone >>
Practical Tips for Downloading Facebook Videos to Android
Always download in HD- Unless you're just saving it for offline viewing, it's always a better idea to download videos in the highest format that your device will allow.
Watch your Memory- At the same time, invest in a memory card so your device's internal memory doesn't ultimately get overwhelmed with video content.
Be Aware of Copyright Infringements- Not all videos can be downloaded just because they're available to the public. Check for any copyright issues, especially on video ads and other proprietary material.
Download from FB Messenger- Saving videos from Messenger is the easiest method because it doesn't require any third-party tools. Just tap and hold the video in question until you see the various options. Tap Save Video and save it to your location of choice. It's as simple as that!
How to Edit your Video with a Handy Video Editor
iMyFone Filme for Windows and Mac offers a compelling platform that is robust and user-friendly. It will help you enhance the look and quality of your downloaded videos so they'll be completely transformed before you upload them on another platform. after you downloaded those facebook video, if you want to remove background noise from those videos,you can choose filme.Here are some of the useful features you'll find in iMyFone Filme: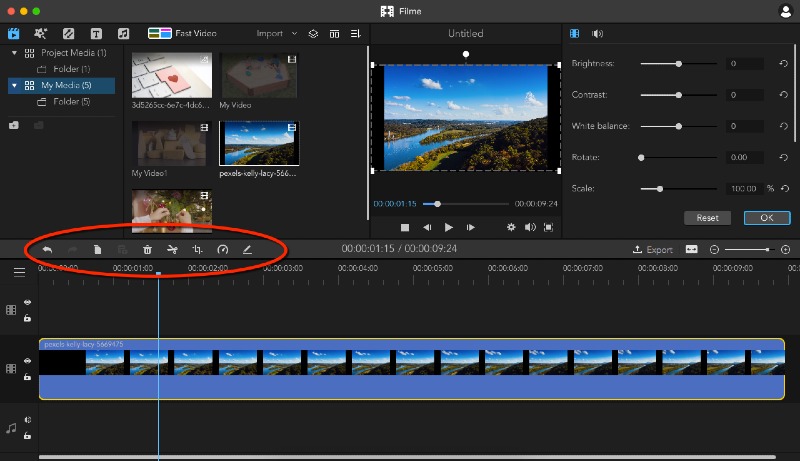 Video Editing
Trim the edges to cut out unwanted parts

Crop the video to match a specific aspect ratio for the target site (where you want to post it)

Pan and zoom to focus on specific objects/subjects in the video

Split a long video into smaller clips

Color, Contrast, and Brightness can be controlled in the editing pane

Audio level can be controlled and effects like fade-in and fade-out can be added

Orientation and rotation can be changed to give a different angle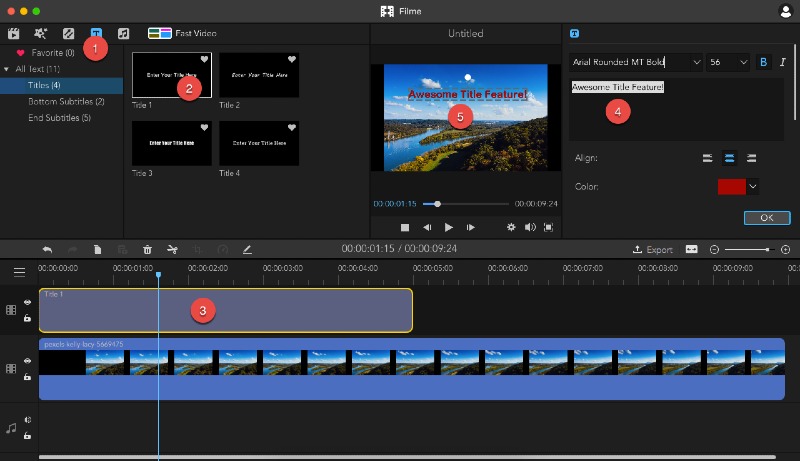 Video Enhancement
Text captions and subtitles can be used to help narrate the visuals

Filters can be used to up the style quotient of the video

Effects are great to make your videos really pop

Transitions between clips make it look professionally edited

Audio and music tracks are available to use for free
Fast Video Mode
Use multiple clips and images to 'stitch together' a video slideshow

Audio can be added to the slideshow

Custom voice-over can be recorded in Filme

Screen recording can be done to add to your video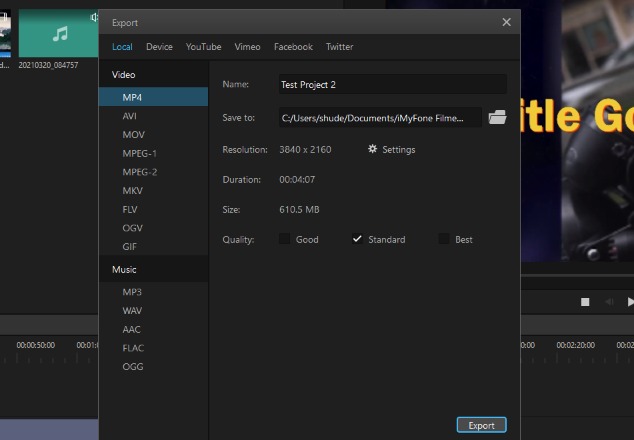 Format Support
Wide range of Export formats for video, audio, and image content

All the latest codecs are supported

You can also convert shorter clips into GIFs and animated looping GIFs
In Closing…
A few last words before we go our separate ways…
Don't forget to credit the video maker if needed. You don't want to steal anyone's thunder.

Use a desktop video editor like Filme so your audience knows how much effort you put into making polished and sophisticated videos for them.

Adding voiceovers and music to your videos using iMyFone Filme will make them stand out in a sea of mediocre videos on Facebook.

Finally, keep posting on a consistent basis if you're serious about growing your audience. Consistency is the biggest factor in expanding your reach on social media.
Good luck!