Of lately, CyberLink PowerDirector full has been one of the most talked about video editing software for Windows users. But at the same time, many users have doubts about if this tool is really as efficient and useful as portrayed or not.
Given this, we have come up with this detailed and authentic review of PowerDirector. We'll talk you through its pros and cons, basic and advanced features, performance, and pricing details to help you make an informed decision about if this tool is worth paying for.
Part 1: What is CyberLink PowerDirector?
Developed by the CyberLink, PowerDirector is a powerful editing tool used for professional video editing and creating photo slideshows. It offers three editing modes to users, namely: Full Feature Editor, Easy Editor, and Slideshow Creator
Equipped with basic to advanced editing tools, CyberLink PowerDirector download is easy to use and fast at rendering for users of all skill levels. It is widely tagged as one of the best value and most flexible home video editors for Windows that helps you create a compelling, premium-quality video with full transition effects.
Part 2. Pros and cons of CyberLink PowerDirector
Pros of PowerDirector
Let us go through the main benefits of CyberLink PowerDirector ultra:

1. The biggest advantage of PowerDirector is its over 100 stellar audio and video editing features. Even novice users can create pro-level themes, subtitles, 3D animated titles, and amazing slideshows.

2. Supports end-to-end 3D and 4k. Users can easily import, edit, and export 4k videos.

3. Fastest at rendering even when a user has multiple layers to be rendered. You don't need to sit in front of your computer screen for hours to see the final results. It does the job for you in just a few minutes.

4. Clear and intuitive interface.

5. It has the most advanced 360-degree video editing capability.

6. Supports almost all audio & video formats allowing users to target many platforms and audiences.

7. Tons of preloaded effects, filters, themes, and transitions to let users create presentable and attractive content.

8. Allow Multi-cam editing, screen recording, and motion tracking.

9. 24/7 prompt customer service support to answer your queries.
Cons of PowerDirector
Below are some of the biggest downsides of CyberLink PowerDirector 16 ultra:

1. Too many advertisements asking users to upgrade are very frustrating.

2. Many users have reported unexpected bugs. At times, it crashes and you have to start editing all over again.

3. Its interface may appear overwhelming

4. Offers weak color matching

5. Very expensive software.

6. Watermark appears at the start of the videos (first five seconds).
Part 3. Review of CyberLink PowerDirector
CyberLink PowerDirector 19 has been the to-go video editor for many users for quite some time now. Thus, we are going to look at PowerDirector in detail in this section.
1. Interface
At the first glance, its workspace interface may seem quite complicated but that's due to the vast number of editing options it can be. On the Edit screen, it bombards you with 4 distinct modules:
A: Preview Window - allows you to preview videos during editing
B: Library Window – includes all the imported media
C: Rooms – Present on the left tab and provides various editing options
D: Timeline – Area where you can edit the videos
Overall, its UI is simple and intuitive but can get a bit overwhelming when you go for high-end audio or video effects. Compared to other premium video editing tools like Adobe Premiere or Ashampoo Movie Editor, CyberLink PowerDirector 17 download isn't as user-friendly but again, it offers more features.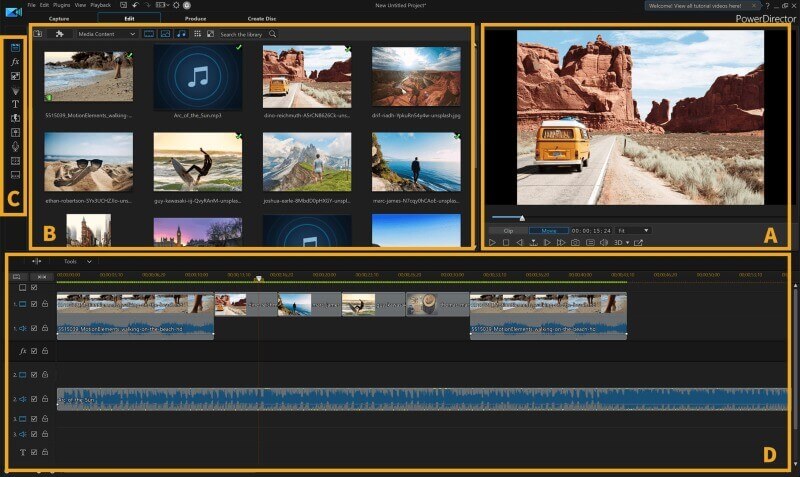 2. Basic Features
If you want to use basic video editing tools, then CyberLink PowerDirector 14 download is your ideal choice:
• It is equipped with all the basic features necessary to produce high-quality videos. It has over 5 video effects, title themes, animations, transitions, and particle effects.
• Offers advanced Picture-in-Picture effect
• Split toning and HDR effects
• Captures videos directly from different sources
• Automatic audio ducking
• It has an amazing Express project feature that has a huge collection of preprogrammed video templates. It also helps novice users sort their footage and select the best shots.
• Can add texts or captions to your video. Plus, you can also create 3D texts.
• Users can adjust the background and environment through transitions ranging from blurs to brighter ones to fireworks and waterfalls.
• More than 20 pre-set video overlays options like bulbs and rotating stars.
3. Plus Features
What makes CyberLink PowerDirector 16 download so popular is the range of advanced editing features it offers to the users. Check it out:
• Displays large videos as thumbnails on the "storyboard." It helps to organize the large videos and preview the effects while editing.
• It has superior AI-style plug-ins that give your videos a painted. While they greatly enhance your videos but can slow down your system.

• It brings access to royalty-free stock video and images from Shutterstock and Photoshop-like selection tools to video.
• No other software to date offers such efficient 360-degree footage tools including stabilization and motion tracking. It helps to apply cool effects like panning, zooming, and setting anchor points.
• Its True Theatre color feature automatically improves the hue, saturation, and brightness of the video.
4. Performance
PowerDirector is a kind of video editor that is never going to disappoint you – regardless of your editing skills. It suits the needs of both beginners and novice users and has proven to be very efficient in creating high-quality videos and slideshows.
Take note that CyberLink PowerDirector download for PC consumers a lot of space. Only installing the program takes up almost a GB. To run it on Windows, users need a minimum of 4GB RAM and 128 MB VGA VRAM graphics card. At times, it may slow down your whole system especially while using its advanced features.
Overall, PowerDirector is a powerful, high-performance tool that allows users to edit videos like a pro
Price: CyberLink PowerDirector comes in two editions: $99.99 Ultra and the $129.99 Ultimate.
Part 4. Alternatives to CyberLink PowerDirector
Surely, PowerDirector is not the only video editor and there're plenty of its alternatives that you can use. Below are the two best competitors to PowerDirector.
When it comes to the best video editor for Windows, iMyFone Filme leads the pack. Ranked as the best smart video editor, Filme provides you with a wide range of editing tools to customize and you're your videos.
It offers unlimited filters, stickers, themes, graphics, or templates that you can easily apply to create super cool videos. Thanks to its simple and intuitive interface and blazing-fast speed, iMyFone is a perfect choice for both beginners and professionals.
Key features of iMyFone Filme

Here are the most exciting built-in features of this powerful product:

Split, trim, crop, and rotate videos
Picture in picture mode
Adjust the speed of video and audio
Fast video mode
Create cinematic titles
Quick slideshow option
Multitrack audio feature
Add multilayer of audio, videos, and animations
Pros of iMyFone Filme

Intuitive and friendly interface

Cheaper and efficient

Multiple editing modes

Add a variety of text to videos easily
Kdenlive is an open-source, free video editor that offers one of the best multi-track editings with a timeline and while in batch mode. Since its release in 2002, Kdenlive has witnessed widespread popularity for its ability to answer users' most needs - from basic video editing to professional work.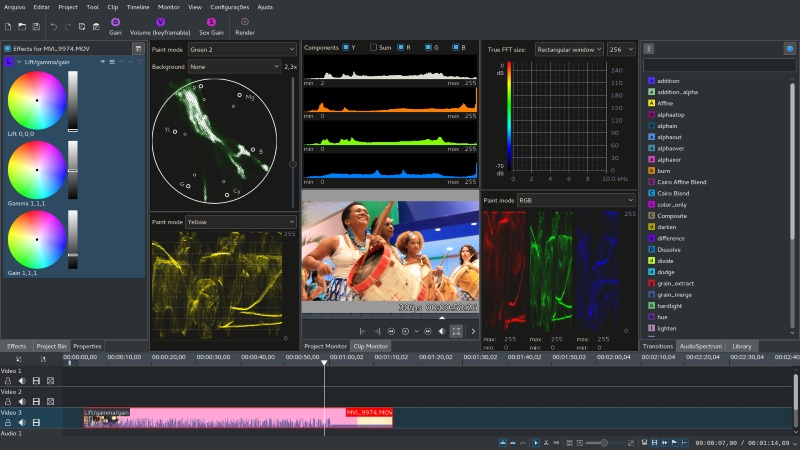 Key Features

Configurable interface and shortcuts
Supports multi-track editing
Creates 2D tiles
Offers dozens of exciting effects
Pros

Offers creative and funny video effects like Cartoon, Flippo

100% free

Use any audio and video format
Cons:

Slow updates

No advanced video features like PIP and faceoff
Also Read:
Top 9 Free Special Effects Video Editor for 2021 >>
5 Best Free Video Editor for Twitter >>
Part 5. CyberLink PowerDirector Vs. iMyFone Filme Vs. Kdenlive
Having analyzed the key features and pros and cons of the three most sought-after video editors, it's time to choose which tool is best for you.
Which tool you should choose depends on your requirements and individual preferences, but there're certain variables you can rely on to shortlist the best video editor amongst these three. The below table will clear it up for you.
| Tool | Features | Intuitiveness | Size | Complexity | Price | Review Stars (Out of 5) |
| --- | --- | --- | --- | --- | --- | --- |
| CyberLink PowerDirector 17 | Full-featured tool | Not so intuitive | Very big (in GBs) | A steep learning curve for beginners | Very expensive | 4.2 |
| iMyFone Filme | Full-featured tool | Very user-friendly | Small | Very Easy | Cheap | 5 |
| Kdenlive | Very limited basic features | Intuitive | Small | easy | Free | 3.5 |
The table shows that CyberLink PowerDirector is a great editor, but is quite expensive for amateurs or students. That's why we recommend users installing iMyFone Filme to edit videos to their satisfaction. With the stellar features it provides at this price, Filme is your best bargain.

iMyFone Filme
Release Your Creativity with Best Video Editor iMyFone Filme!
Download Now