There are hundreds of applications for making videos, and Biugo is one of them. It is a popular video maker app that you can use on your mobile for making quick videos. In this article, we will have a look at the application. We will discuss it pros, cons, features, and everything you need to know. We will also share some alternatives that you can use. Let's begin.
Part 1. What is Biugo?
Biugo is an Android application for creating short videos, status videos, animated images, and electronic photos with music. This is one of the simplest applications in the market that will help you create stunning images and videos within a few taps.
It is a simple video and status maker perfect for beginners. It only requires a few taps, and you are ready with an eye-catching and awe-inspiring video/image. You can create wallpapers, magic images, photo art, joker face pics, glitch art, and dozens of other stunning graphics in no time.
The best thing about Biugo is that it has tons of templates available. You can find templates of different categories, including love, cartoon, funny, wallpaper, VIP, Hello, and Happy Birthday. You can easily find the required template in the categories, and you can use the search bar to find templates. After selecting a template, you only need to add images to it. You can also crop images after placing them in the template.
The application is suitable for creating status videos for different social media platforms, including WhatsApp, TikTok, Likee, ShareChat, and Vfly.
Part 2. Main Features and Pricing of Biugo
1) Magic Effect Videos
The magic effect videos are amazing. It gives an animated look to your videos and images. There are many templates available on Biugo to give your images a magical effect. Biugo has some templates to change the color of your clothes and create a magical closet.
2) Cut Cut
Cut Cut is an exceptional feature of Biugo. It takes your image and remove its background. Then, the image is placed over a stunning background of your choice. All this is just a matter of one tap. You only need to select the template and add images. Your images will be cut and a new background will be applied.
3) Photo Art
You might like to create an art photo from your image. This is quite simple in Biugo. You can create cartoon impressions, painting, drawing, sea art, pen sketch, broke image, ripped phot, and many other types of art using the application. There are dozens of photo art applications available.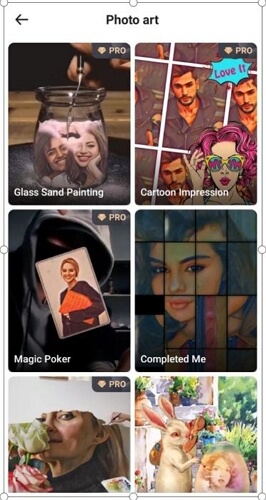 4) Glitch Art
Glitch art is trending nowadays. You can create eye-catching glitch art to attract your social media audience. There are awesome glitch art templates available.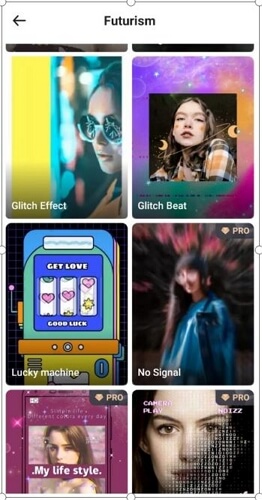 5) Music
You can also add music to your videos and image. By default, there is a suitable soundtrack in every template; however, you can select any other track you like. Biugo also has its own library of music, and you can also upload from your device.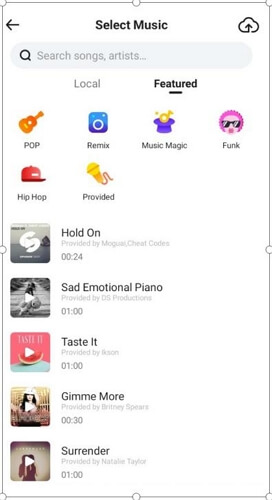 Pricing:
Biugo is a paid tool, and its free version is also available. It is free to download the app, and you can use its limited features. The free application is suitable for daily used, but if you want to explore more templates, you need to pay for the pro version. The in-app products are available from $0.99-$114.99 per item.
Part 3. Pros and Cons of Biugo
Pros of Biugo:
Biugo is a simple application that can help you create stunning electronic photos and videos with visual effects.

It has tons of templates available, and you only need to select the best one. Your video or image will be ready in a few seconds.

There are many templates for different purposes. You will see different categories. The templates are more than enough, and you will access to more if your go with the pro version.

Biugo has its own library of soundtracks. You can select the desired music easily.
Cons of Biugo:
Biugo is a very basic tools, and you are limited to the templates it has.

There is a limitation of number of images in every template.

The image limit is not mentioned over the template, you need to open it.

It has only a crop tool to crop the images. There is no other editing tool.
People Who Liked this Content Also Liked
Top 10 Best Vlog Editing Apps 2021 >>
Top 10 Video Editing Apps for iPhone >>
Part 4. Alternatives to Biugo-video Maker
Alternative 1. Roposo
Roposo is a video sharing application where you can share short videos with your friends and followers. You can create content by using the application and share it with others. You can edit your videos and apply exciting filters to them.
You can create different types of videos around various niches, including fun, jokes, comedy, fashion, dance, music, travel, vlog, and sports. It is perfect for entertainment.
Roposo has excellent video editing tools. You can change speed, adjust beauty, set brightness level, and apply trending effects and filters. It also has a music library to add music to the videos you have created using the app.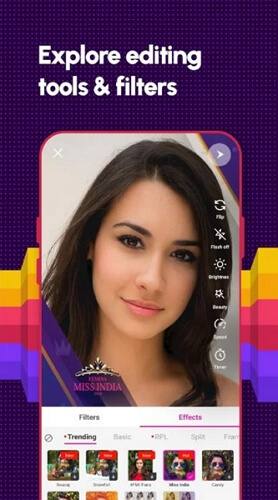 VivaVideo is a splendid video editor for Android and iOS. It is a complete video editing application, so it has every tool you need for video editing. It also has various templates available to create different types of videos. There are templates for TikTok, memes, stories, anime, special events (Father's Day, Mother's Day, etc.), and VIP.
The templates and tools of VivaVideo are quite advanced compared to Biugo. You can edit your videos like a professional. You can trim, cut, crop, rotate, and make other changes. You can add music, text, effects, transitions, images, and other things to make your video more appealing.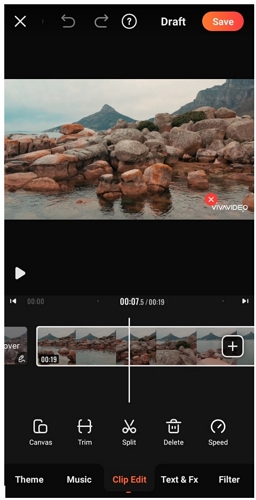 Alternative 3. Filme
Filme is a professional video editor for Windows and macOS. Mobile applications have very limited tools and features; therefore, if you want to take video editing to the next level, you need to use a desktop tool like Filme.
Filme has everything you could expect. It has a voice changer, screen recorder, video converter, audio editor, video resizer, and everything you need to create a video that can stand out from the crowd. You can trim, split, cut, crop, adjust color, change speed, and make other changes. It also has a wide range of text, effect, filters, stickers, and transitions. You can add anything to your video within a few clicks.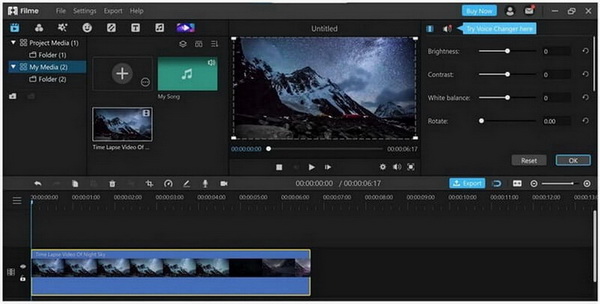 iMyFone Filme
Release Your Creativity with Best Video Editor iMyFone Filme!
Download Now
Moreover, there is an excellent slideshow maker, Fast Video. It has many templates for different occasions, such birthdays, anniversaries, graduation, love, Mother's Day, Children's Day, and events. You can add your images to stunning templates and create awesome videos without any hassle.
Watch this video to see how to use Filme to create a stunning video:
Final Words:
We have looked the features, pros, and cons of Biugo. It is an amazing application for creating videos quickly, but it lacks many editing features and tools. We have also shared some alternatives that you can try. If you want to do something exceptional, then you should use a desktop video editor, such as Filme. Filme is an amazing professional video editor, and it offers all tools and features for video editing. It is an all-in-one tool for creating eye-catching videos.