Editing is vital to retain your viewers' attention whether it is for educational or promotional purposes. One of the key aspects of editing is cropping the video. You may need to crop unwanted part so as to make the video . Here is the walkthrough of how to crop the video on Windows 10 in various ways:
Part 1. How to Crop Video on Windows 10 via Desktop Software
1

Crop video with best free video editor - iMyFone Filme
iMyFone Filme is very user-friendly software to make slideshow video for school projects or businesses. You can crop, cut, fade, add music, and many more effects that you may need while editing the video. These edits may not seem necessary but can make the presentation very catchy and retain people's attention. So let's have a look at how to use the most important feature-cropping the video.
Step 1: Once you have successfully imported your media, you will see it in the media library and the grid below.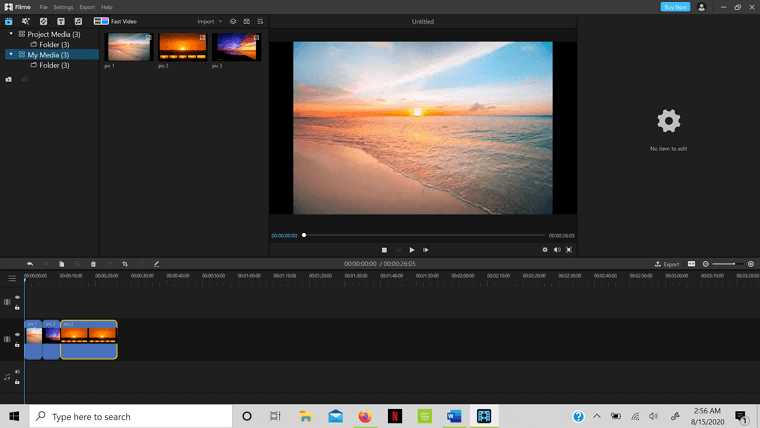 Step 2: Go ahead and select the part you wish to crop and click the crop icon on the toolbar above.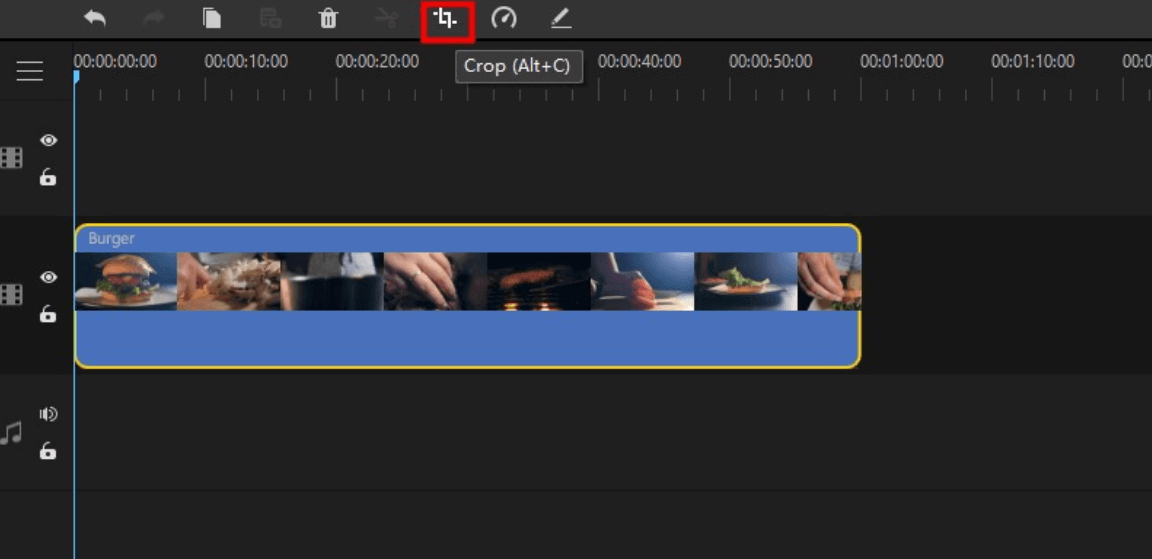 Step 3: After selecting the part you wish to crop simply click 'Ok' to confirm cropping the video. This is how easy and simple can be Filme for your everyday editing.
iMyFone Filme gives you multiple options about how you want to make your video. You can make slideshow video with custom music, create 1 click slideshow video with music also known as fast video. Other than that, you can add text to your video to make it more attractive for the audience. All of this in one software, iMyFone Filme.
Features:
Ease to Use
Highly friendly to beginners on video editing, with a clean and easy-to-use interface. Anybody can use it without technical knowledge and it can edit videos simply and smoothly.

Full Basic Editing Features


Filme can not only enable you to crop videos easily and smoothly, with any angles you want , but also help you cut/trim, split, rotate, adjust video speed, make picture-in-picture effects, etc.

Fast Video Mode

The Fast Video Mode really helps a lot. It allows you to create stunning video with satisfying music in just 1 click!

Advanced editing functions

This is one of the best video editing tools not just for beginners but also for professionals. It is equipped with powerful features including various transitions, cinematic titles and text, multi-layer, all kinds of effects, etc.
Limitations:

It is only available for Windows currently, but Mac and mobile versions will come out soon.

It has been released just recently, thus it is not wildly known yet.
2

How to Crop Video with VideoProc
On the other hand, VideoProc is yet another video editing software. It is also a conversion software so the user can also reduce the size of the file if they wish to do so, regardless of the device it was shot on. To crop the video on VideoProc follow these simple steps:
Step 1: Import the original media
Run the software and select 'video' and select the media you wish to crop.
Step 2: Edit the video
Once the video is imported, it will give you three options in the toolbar. Select 'Edit Video'.
Step 3: Selecting the area you wish to crop.
After selecting the edit menu option. Navigate the 'crop' button and make your selection.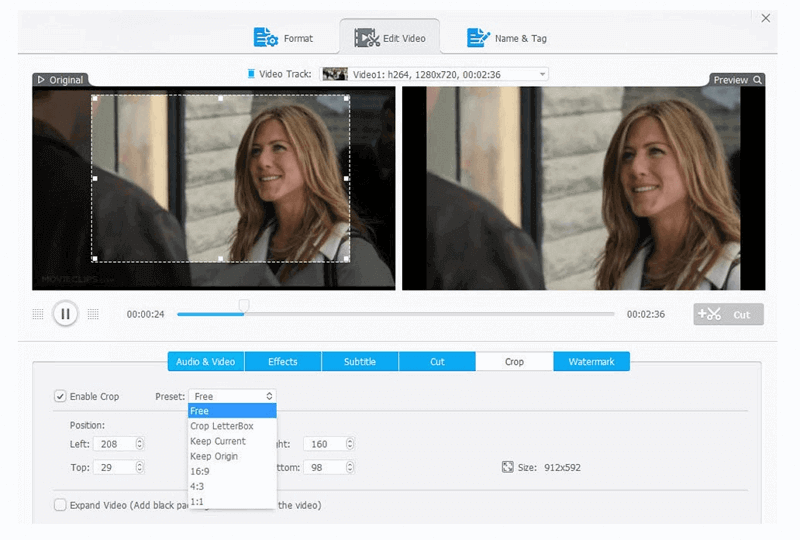 Step 4: Finalizing
Once your selection is finalized, click on 'Done' and the video will be cropped. You can choose to save it as it is or use it further in making a slideshow etc.
Pros:

Comprehensive video editing software for high-resolution videos.

Small in size and easy to use.
Cons:

Expensive compared to other available tools with no free version.

The editing features are quite limited.
3

How to Crop Video with Free Crop Video
Free Crop Video is yet another video editing software. This one is more suitable for small clips and the most basic editing. It is a small software by size and can be downloaded easily. To crop your videos in Free Crop Video software follow these simple steps:
Step 1: Importing the media
Like always, import the media you wish to crop by clicking on the red plus sign in the top left corner and selecting the file from your system.
Step 2: Cropping
Once you have imported the video, the crop sign will be visible in the top bar which you should select to start cropping.

Step 3: Making the selection
When selecting the area or the part you wish to remove you can either drag and mark a selection or put a percentage of how much you wish to crop if it's a picture. The aspect ratio is by default maintained but you can also alter the dimensions if you wish to do so.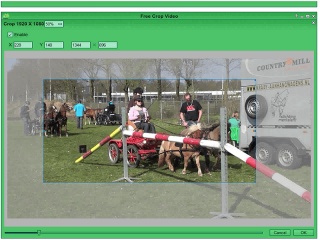 Step 4: Choose an output format and Render
After you are done with your selection, you can choose an output format by opening 'Settings' and once you have chosen your desired file format, go ahead and press 'render'. Your cropped video will be ready in seconds or minutes depending on your system specifications.
Pros:

It is free to use As the name states.

It is friendly for video cropping.
Cons:

Limited graphic options.

Can only manage small clips or videos.
Part 2. How to Crop Video on Windows 10 via Online Tools
Other than using software that needs to be downloaded, you can use online tools to crop videos on Windows 10.
1

How to Crop Video with Ezgif.com
Ezgif.com is a very basic online tool to edit your videos. It has a lot of options such as resizing, cropping, cutting the video.
The process for cropping the video via the online tool is similar to that of pre-downloaded software but this is a walkthrough of how you can crop your videos online.
Step 1: Open the website ezgif.com on your browser.
Step 2: Import the media by pressing browse and selecting your file. After its done press the blue 'upload video' button.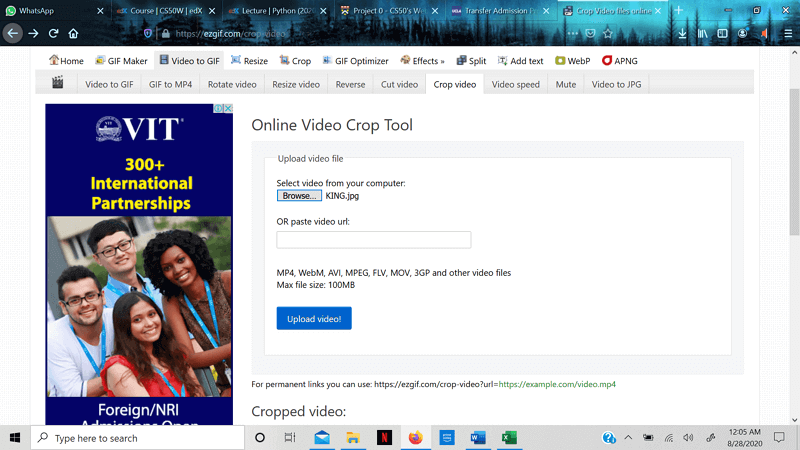 Step 3: Make the selection. The following menu will appear so go ahead and choose how you want to crop it.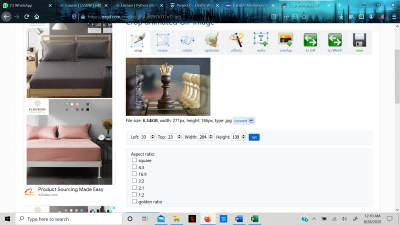 Step 4: After making a selection, press crop video and your video will be ready at the end of the page. You can save it or use it however you like.
Pros:

Free, and it can be accessed from any system.

It is quite easy to use for video editing.
Cons:

The file size limit thus only supports small files.

Active internet connection required.
2

How to Crop Video with Placeit
Placeit is another online video editing tool with more advanced features. To crop video with Placeit follow these simple steps.
Step 1: Upload
Upload your media. Keep in mind the limit and the format of the file.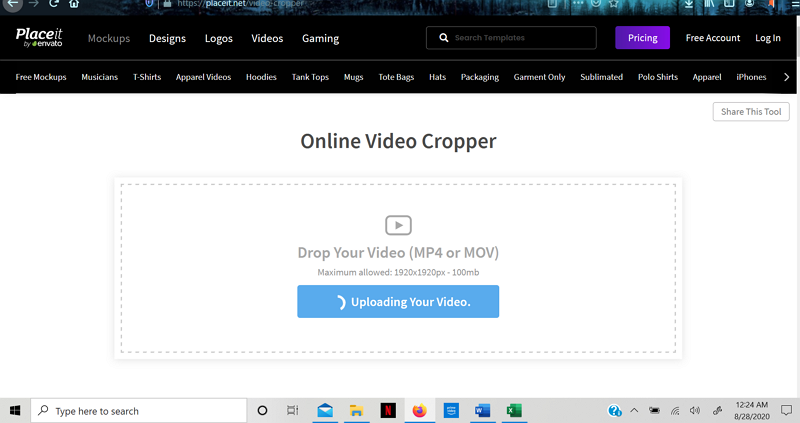 Step 2: Resize
Choose a pre-set size or crop it however you wish to.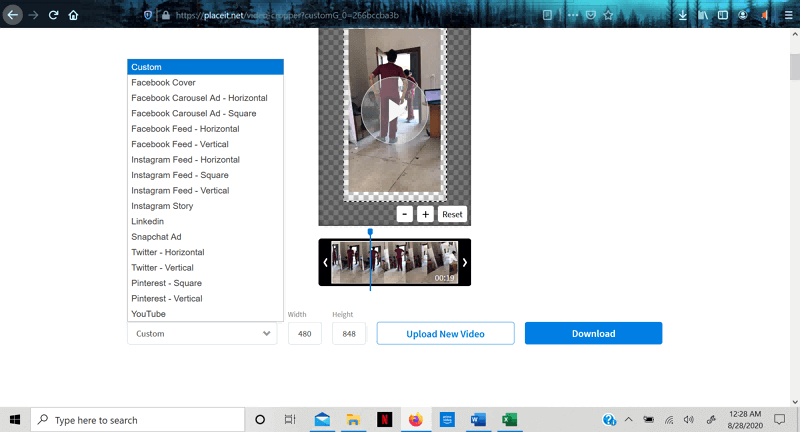 Step 3: Save
After you are done editing, click on download and your edited video will be saved.
Pros:

Pre-set sizes make your editing easier if you plan to upload it on social media.

No drop in the quality of the video.
Cons:

It only edits selective file formats.

It cannot add effects or text.
3

How to Crop Video with Video Cropper
Video Cropper is yet another online video editing tool. It is free and works on almost every browser. To crop video with Video Cropper follow these steps.
Step 1: Import Media
As always, import your desired media.
Step 2: Edit
After you upload your media, this menu will appear next to your video. Here you can make the selection and choose however you wish to crop your video.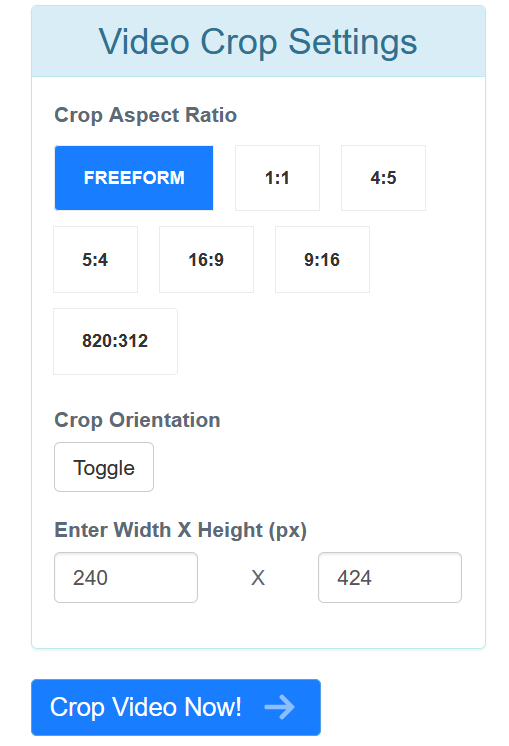 Step 3: Save
After you are done, press 'crop video now' and you will be directed to another page. It will take a while until your cropped video is ready for download. Click on 'download' and the video will be saved to your computer.
Pros:

Supports about 30 file formats. Much more than other online tools.

No file size limit.
Cons:

The editing features are quite limited.
Part 3. Tips for Cropping Video on Windows 10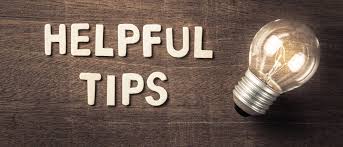 Here are a few tips for cropping your video:
1. Always keep your original file safe: This is useful in 2 cases: if the software permanently edits your file, or the output quality of the media decreases you will have a way to revert.
2. Maintain aspect ratio: Your media shouldn't be distorted as it can put off the audience.
3. Make sure your subject fills the screen: Very small crop can make it difficult for the audience to see or read if there is any text.
4. Do not crop too much or the audience might don't know what your video trying to express.
5. You can crop for different versions so as to see which kind of cropping is best for your specific videos.