Duets are quite popular on TikTok, and you can see many challenges and funny duet videos on the platform. It can also help you improve your views and go viral with less effort. Today, we will have a look at the importance of duets and how you can see others' duets. We will also share an awesome video tool that can help you create awesome duet videos. Let's start the discussion.
Part 1. How to See Duets of Other People's Videos?
Duets can get more views on your TikTok account. When you create a duet around a trending topic, you also use the trending tags. Such tags have high traffic on the search engine; therefore, they can give you more reach and visibility. Your content can also go viral on the basis of those tags.
Do you want to see duets of your favorite TikTokers?
Unfortunately, TikTok provides no easy way to see duets. However, you can manually search for duets of TikTok celebs and influencers. It's also very simple.
Just follow the steps below-
Step 1: Open Your TikTok
The first step, of course, is to open your TikTok on your phone or tablet.
Step 2: Search for Duets
You need to know the username of the person for watching their duets. Type the following in the search bar of TikTok-
"duet @username"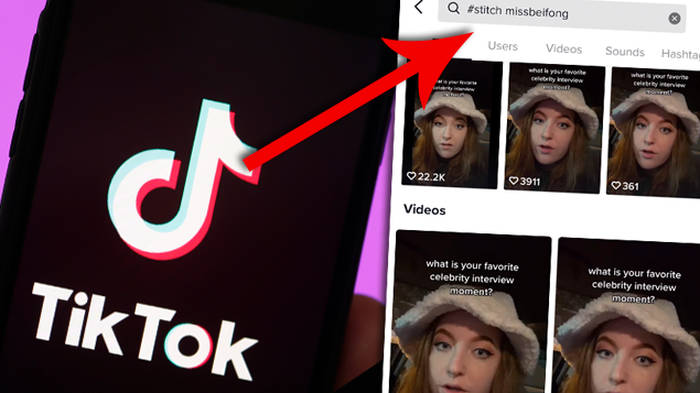 You can also copy the username from anyone's profile and paste it in the search bar instead of typing. Just write "duets @" before the username.

Want to get more likes, comments, or even views on your TikTok videos? I have come up with the best editing software iMyFone Filme that allows you to create a masterpiece in minutes and get more TikTok video views. Download iMyFone Filme on PC now.
Step 3: Enjoy the Duets
The search results will show you the most popular duets for the username. Some users keep duets disabled on their accounts. So, you may not be able to see duets for all accounts on TikTok.
You can now browse the results and pick the duet you want to watch. TikTok also lets you create your own duets using videos of any friend or influencer. However, the user has to keep duets on for your videos for you to use them.
Part 2. How to See Who Dueted You on TikTok?
TikTok duet is a really popular thing among the creators who wants to create videos or complete any challenge thrown by their favourite influencer or brand. Duet is a really useful function brought by TikTok for its users that allows them to create content by using the main video, where both videos appear side by side on the screen.
This is a way that helps the users effectively reply to a video content with their own videos, and then it can be shared publicly. If you can do it well, then it can provide great results, such as Duet Chains and viral trends that take over the whole platform. So it's obvious that after throwing a challenge or starting a trend, you would want to see who dueted you on TikTok. Here is how to do it –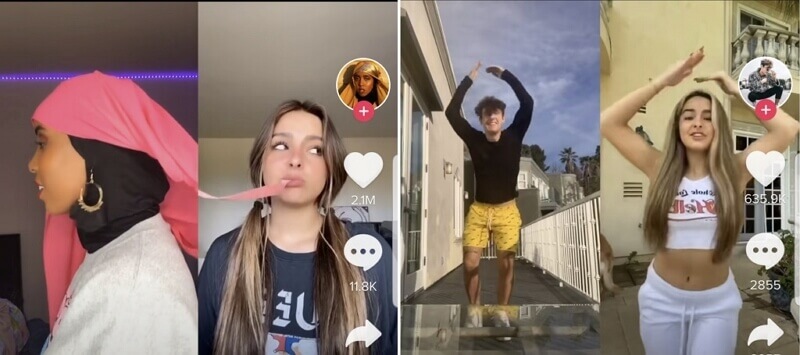 Step 1: Launch TikTok app and go to the search bar.
Step 2: Search typing "duet @[username of the video]" into the search bar. Here, you need to put your username after the "@" sign.
Step 3: Finally you'll find all the popular duets from people who dueted you. If you have more than one viral video, the search results may show you a mix of videos.
Also Read:
How to Make a TikTok with Music and Go Viral >>
Part 3. Will Duets Get More Views on TikTok for Me? Why
Yes, duets can get more views on your TikTok account. There are various reasons behind it. Let's have a look at them.
Following the Trend
The first and most important reason for getting more views on TikTok is that people usually create duets of trending videos. For instance, there is a trending video, and you create a lip-synching video as a duet. It means you are actually following a trend, which can give you a boost in your views. Your video could also go viral. People also create lists of the best duets, so you might get a chance to be on that list.
Using Trending Tags
When you create a duet around a trending topic, you also use the trending tags. Such tags have high traffic on the search engine; therefore, they can give you more reach and visibility. Your content can also go viral on the basis of those tags.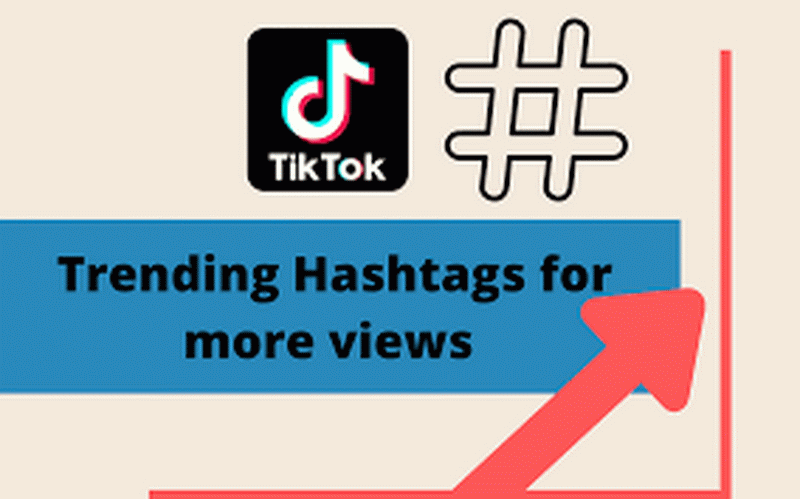 Also Read:
Comparison with the Original Video
When you create a duet, you try to act like the person in the video. Viewers can compare both videos and see how you are acting and performing. People judge your video on the basis of the original one. If you are copying the video with perfection, your video might get viral on TikTok. People will comment on the video and share it with others.
Challenges
Challenges are quite popular on TikTok. People also create duet videos and add tags of the challenges. The videos that are in the challenge can be seen in the search results. It gives you more views because those people who will search for the challenge could have a look at your video.
Also Read:
10 Best TikTok Songs 2020- 2021 to Go Viral >>
Part 4. What You Should Also Know About TikTok Duets
Not All Videos are for Duets
There can be privacy restrictions on the videos, and the uploader can decide whether he wants his video to appear in duets and reactions or not. TikTok allows users to have privacy on one video or on all videos of the account. Therefore, not all videos are available for duets and reactions. If the user has deactivated duets and reactions on the video, you cannot use it for the duets. TikTok will not show the duet option. However, some people still create duets using third-part video editors. But it is better to avoid it as it is unethical to invade someone's privacy.
You Can Restrict Your Videos for Duets
You can also impose restrictions on duets and reactions on your TikTok videos. You can disable it on all videos or only on one video. The best part is that you can allow duets to the whole TikTok community, your friends, or no one. You can pick the desired privacy settings.
Challenges are More Popular
While creating a duet on TikTok, you must go for challenges instead of simple videos. Challenges are more popular, and they go viral in less time. They can appear in the search results and even in trending videos. The tags of such videos are also popular. Thus, there are more chances of views if your try duet challenges.
Duets are Excellent for Marketing
Duets can also help you grow your brand. You can ask influencers to create a video about the brand in a duet video, and this will improve the brand awareness on the platform. Brands can create their own funny video and start creating duets with the help of influencers.
Part 5. Best Tool to Create Duet Effect for TikTok on Computer - Filme
iMyFone Filme is a user-friendly video editor that can help beginners to create awesome videos for TikTok or any other social media. It has dozens of tools that can make your video stunning and more engaging. You can create awesome duets for TikTok videos like a professional.
Features:

Filme can help you add stunning effects, transitions, texts, stickers, images, or anything to your videos.

You can easily crop, trim, adjust speed, split videos, change color, and make dozens of changes using this video editor.
Filme offers you multiple video and audio tracks that can help you add videos and audio in one instant. Thus, you can have multiple images, videos, and audio at the same time.
You can easily export the required format. It helps you adjust aspect ratio, resolution, file format, bitrate, frame rate, codec, and other advanced settings.
How to Create Duets Using Filme
Step 1: Open Filme and go to the Filemenu. Hover over to New Project and click on 9:16 (Portrait)for TikTok videos. 9:16 is the recommended and most used aspect ratio, but you can also select any other ratio.
Step 2: In Media, click to export the file or folder from your computer or mobile phone. Import all the files.
Step 3: Drag one video to the timeline. Before dragging the second video, you need to add a video track. On the left of the timeline, click on the hamburger icon and click on Add Video Track. This will add a new track to the timeline. Drag the video to this track.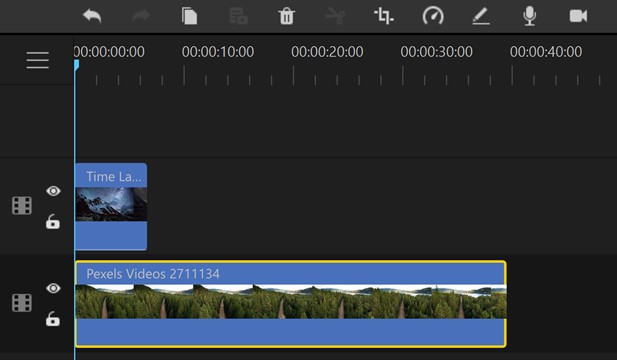 Step 4: You can adjust the duration of both videos by dragging the ends in the timeline. Click on any video and click on the crop icon on the toolbar above the timeline. You will have a rectangle over the video. You can adjust its size to split the screen. You must select the Customoption in the ratio to adjust the size as you like. After adjusting the size, click on OK. Similarly, you can crop other videos as well.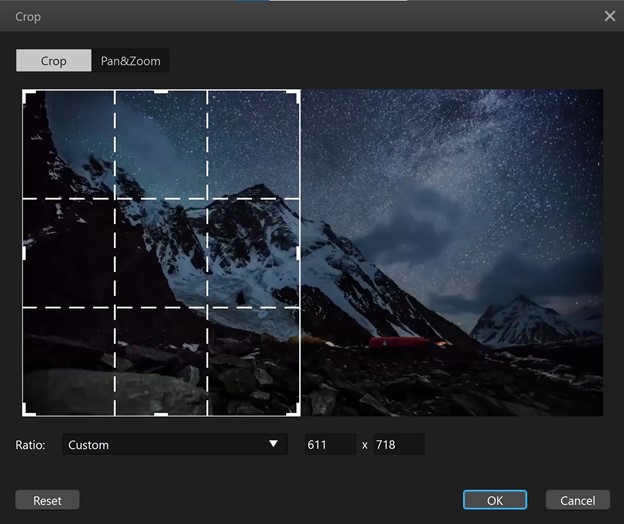 Step 5: Now, you need to adjust the position of both videos on the canvas. Click on any video in the timeline, and you will see a rectangle in the canvas. Move the video to the position you like. When you are done, click on OK.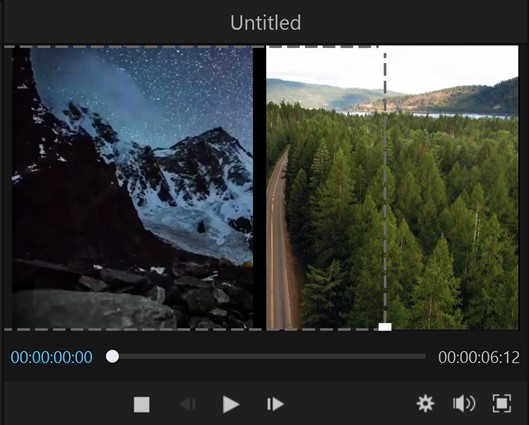 Step 6: You can add effects, transitions, or anything you want in the video. When you are done, click on the Exportbutton and export the video in the format you want.
Final Words
TikTok duets can help you get more views and likes. You can have a duet with other TikTok users and share your content. You can use CapCat - an all-in-one video editing app for TikTok to make your videos more eye-catching. We have explained why duets are important. You can use TikTok's video editor to create it, but we recommend Filme. Filme is a video editor, which gives you more options and features to create an awesome video. You can create stunning duets like a professional.