"How to trim a video on Android? I wish to make the videos that I record on my Android phone to look more professional, and I do not know how to do it. Are there any specific platforms or apps for Android that can offer to trim video quickly?"
Video editing is the postproduction part of film management which includes putting together various shots of a motion picture to create an attractive sequence. The postproduction process includes sound recording editing, special effects implementation, and clips arrangement. We can edit a video in several ways.
Video editing with the help of editing apps for Android or PC software is an integral part of postproduction. The apps are capable of removing all the flaws of your video clip and allowing you to reach your actual goal.
In this post, we will lead you towards our primary goal, the process of trimming a video on an android.
Part 1: How to Trim Video on Android
Android platform is the most popular among users. The OS is accessible and friendly to use. The apps available on the platform are capable of performing several tasks. However, the platform has some limitations, as it does not allow to crop any video via its default app to change the resolution of a video. Besides, it offers to snip or trim the clip from head or tail.
1

How to Trim Video on Android Built-in App?
If you are using an Android device, you can easily trim your videos using the platform's built-in gallery app. To cut a video on Android, you must follow the steps listed below:
Step 1: Open the Gallery app and look for trimming feature.
For the very first turn on your Android device, open the Gallery app and select the desired video for trimming.
Step 2: Look for trimming feature.
Tap an icon that looks like Scissors on the bottom of the screen. Tap on the same icon again and proceed to the trimming section;
Step 3: Start trmming.
The best way to cut a video is to select the start and end markers to trim the length of the video.
Step 4: Preview the trmming result.
After that, click on the play button on-screen. It will allow you to take a preview of how the trimmed video looks like to you; If it is not as required, adjust the clip again.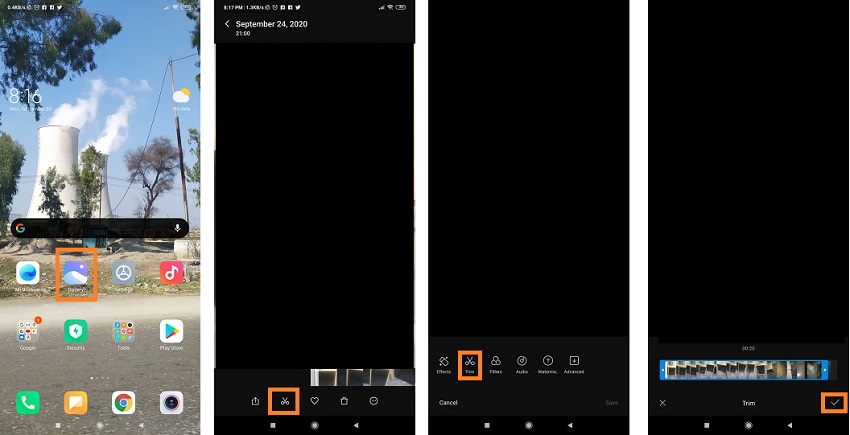 Step 5: Save the trimmed video.
Tap on the save button to store the trimmed video on your phone.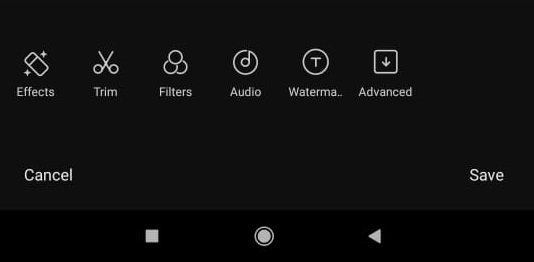 Watch this video to learn how to trim video on Android Built-in App
2

How to Trim Video on Samsung Gallery App?
With a built-in feature of video editing, editing your clips is easy on Samsung. No matter you have shot a film on your phone or your friend send it to you, you can easily trim the file. If you wish to know how to trim video on Samsung, then check the list of steps stated below to learn the technique quickly:
Step 1: Enter Gallery App on Samsung.
Click on the gallery app and select the video you want to edit. The Gallery App of Samsung also allows to trim multiple clips;
Step 2: Enter editing feature.
Tap on the edit button, which will look like the pencil icon.
Step 3: Start the trimming.
Drag the sliders to select the starting and ending points of the video.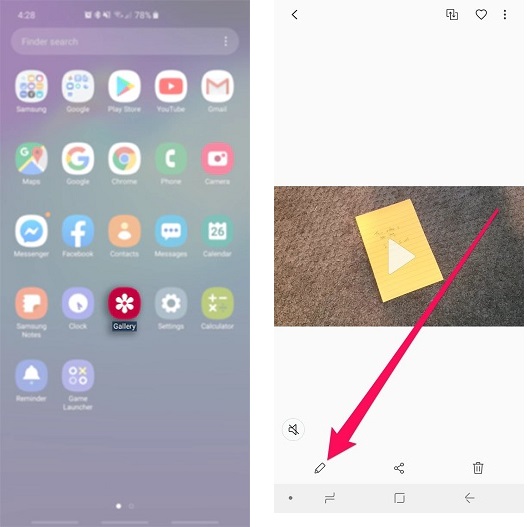 Step 4: Preview and save.
Check out the preview by playing a trimmed video and select a save button to save a file.
Watch this video to learn how to trim video on Samsung Gallery App
3

How to Trim Video on a Third-Party App?
Kinemaster is among the most familiar apps for editing your videos on Android. The app comes with multiple features to give your video a personal and attractive look for free. Here are the steps to learn how to trim video in Kinemaster:
Step 1: Download, Install and run Kinemaster.
Head to the Google Play Store from your phone and install Kinemaster-Video Editor. Run the app after successfully installing it;
Step 2: Upload the video.
Upload your video to a Kinemaster by tapping on the "+" sign precisely in the middle of the screen;
Step 3: Edit and trim video
Select the Aspect Ratio of your video. To trim, tap on the video and click on the scissors icon;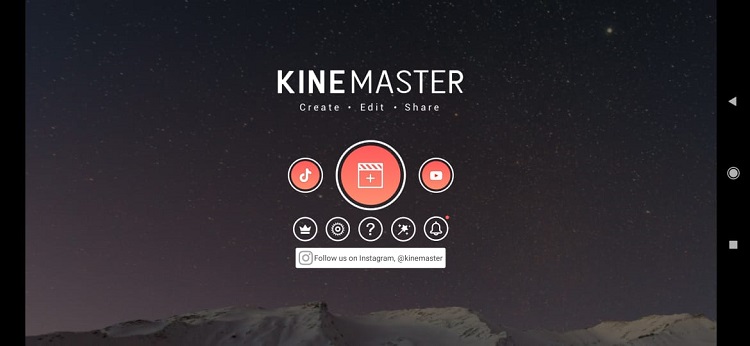 Step 4: Export and save trimmed video.
Select your desired option out of four options. Export the trimmed video to any platform from the app. Tap on the save button to store the trimmed video on your phone.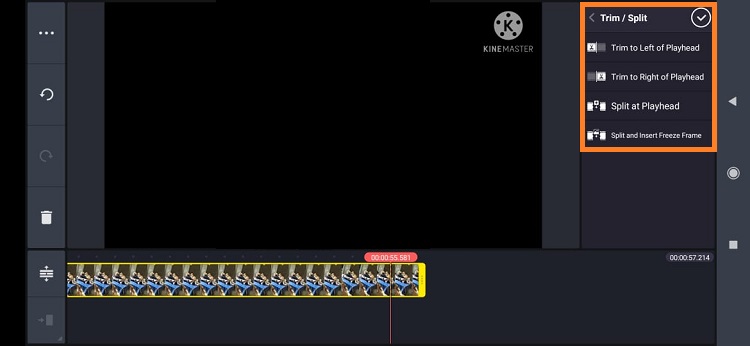 Also Read:
How to Trim/Cut Video on TikTok >>
Part 2: Alternative Way to Trim Android Video
If you wish to edit your videos in a much more professional manner, then it is wise to perform the action on a PC. There are convenient and advanced video editing tools available on the market that can give you more options for editing than as compared to a cell phone. The features are much broader, and you will enjoy the luxury of a larger screen as compared to the one available with an Android device.
In this section of the post, we will discuss the alternative way to trim Android video:
1

iMyFone Filme
iMyFone Filme is a straightforward video editing tool to create a professional-looking video. This app provides you with various features, filters, and animation to present a powerful and compelling story to viewers. You can use it to trim video for Facebook, YouTube, Instagram, etc.
You can trim, split, cut, and edit videos. You can also add different effects, transitions, and text to a video.  It provides a feature of changing the speed of the video and much more. The features of the tool are as follows: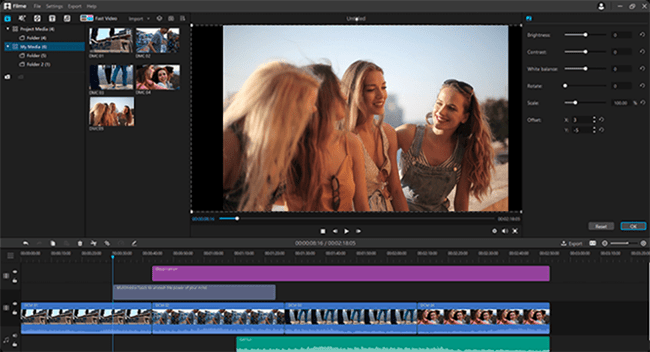 2

Key Features of iMyFone Filme
Allows to delete media files from the media library;

Provides facility of copy and paste to timeline;

Allow trimming;

Enable splitting up a clip;

Alter video clip speed;

Add and edit a transition;

Able to change the quality of video playback;

Provide an image editing feature;

User can add or edit an audio file.
3

How to Trim Android Video on iMyFone Filme?
If you wish to edit the video recorded from your phone more professionally, then using iMyFone Filme program is the way to go. You just need to import the video to your PC from the Android device. Once the video is available on your phone, follow the steps listed below to know how to trim a video:
Step 1: Add the video to a timeline;
Step 2: Pull the clip shorter till the desired time from start or end;
Step 3: Check the change in time duration in the timeline;
Step 4: Click on the trim option, at the top of the interface;
Step 5: It will save the video on your computer.
Watch this video to see how to use Filme to edit video easily:
Final Thoughts
It is necessary to save happy moments on your phone. Trimming a video helps you to save a specific part of a clip. It also makes the video more attractive and reduces its file size.
In the above article, we discussed different methods to trim a video on Android devices. Samsung also provides an in-built feature to edit and trim a video. At the same time, we can also trim a video easily using third-party applications on PC. Besides, you can use online tools to trim videos.

iMyFone Filme
Make Digital Storytelling Easy with iMyFone Filme!
Download Now