Movavi video editor is the perfect and creative tool to make classy videos with keyframe animation, special effects, and ready-made intros. The Movavi editor has a refined user interface, and you have nothing to learn. Unlike complex video editing software, Movavi video editor plus doesn't hide its capabilities under multiple layers of menus and tabs. So it's an ideal tool for beginners who want to create commercial as well as personal videos. The Movavi video editor 15 comes with different tools that you need to edit your video streaming and social media pages.
iMyFone Filme
Part 1: Main Features of Movavi Video Editor:
Starting a video editing project is easy if you have software like Movavi pro. You can add different video clips by dropping and dragging them to the workstation. One of the best things about the Movavi video editor plus is its support for screen recording because it allows users to capture all screen activities. Therefore, you can say that Movavi pro offers users a bundle of basic features to make amazing videos. You can crop, rotate and cut videos by applying slow motion and more. The app also provides a noise cancellation feature for audio editing to make creative slideshows. Therefore, Movavi editor consists of several features, and some of them are: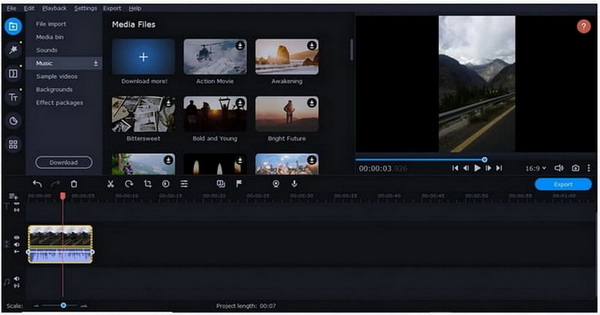 Applying Effects and Filters:
The Movavi movie maker enhances video quality with professional filters like Gamma, Deblock, Denoise, contrast, and more.
Video Editing:
Users can rotate video with Movavi rotate video feature by adding music and subtitles.
Creating Slideshows:
You can create a beautiful slideshow in Movavi from your images with fades to the end or beginning of the video.
Saving Video in Several Formats:
There are hundreds of video formats available in Movavi pro, and users can use any of them to create classy videos.
High Definition Videos:
You can set videos to 4k and HD with the help of Movavi to speed up the video to produce cinematic videos with this platform.
Easily Insert Transitions:
Movavi photo video maker allows users to add different transitions to personalize the video according to audience preferences.
Picture in Picture Effects:
The Movavi pro is an exclusive video editing tool that provides its user picture in picture mode.
Fast Video Processing:
Processing high-definition videos can take a long time, but it is possible with Movavi video editor plus at faster rates. One of the best features of the Movavi video editor full is its fast processing speed because it contains multi-core processors.
Build-In Music and Sound Effects:
The use of Movavi effects is very beneficial if you want to add necessary sound effects to your editing. Movavi video maker has different exclusive sound effects that make editing easy and smooth.
Built-In Intro Video:
Inside the Movavi editor plus, you will find different intro video templates, and you can personalize them according to your requirements.
Callouts:
There are different pointers, arrows, and squares available while editing, so all callouts have built-in animations to add quality to the video.
Keyframe:
Movavi video editor contains keyframe features for object positioning.
Part 2: Pricing of Movavi Video Editor:
When we talk about the availability and pricing of Movavi, we need to know several aspects of this program. Movavi video editor offers a seven-day free trial to beginners. So if you want to have Movavi pro with full functionality, you need to download its professional version. The price of any video editing software makes a big difference between all tools. When you upgrade to the paid version of the tool, you can select from the following:
Personal lifetime version for $59.95

Business lifetime service for $159.85
Both packages include VAT and come with an activation code to support its use. Moreover, the best thing to purchase the Movavi video editor full version is that the company provides everything to users with a complete guide.
Part 3: Pros and Cons:
Movavi editor plus is a basic and easy-to-use video editing tool. This software is an ideal selection of creative effects to make any video exclusive. However, this tool has both pros and cons, so let's discuss it in detail.
Pros:
Premium Dashboard:
The Movavi video editor offers its users the most premium type of design.
Fast Editor:
If your computer has less than 4GB RAM, then Movavi pro is the best editor so far because all other editors need 8GB RAM.
Easy to Use:
The Movavi photo video maker is straightforward as all menus are available in the left sidebar. Therefore, you can say that it is an easy to use video editing tool.
Color Management:
The Movavi video converter is the best way to get basic color settings. It offers users plenty of controls to make classy videos.
Some of its other pros are:
Multiple recording features

Wide range of tools

Comprehensive import function
Cons:
Tuning:
The software lacks tuning control, unlike other alternative video editing software.
Not Available for Mac:
Movavi movie maker is still not available for Mac users even in 2021. Movavi pro has only a seven-day free trial, and exported video will also contain the watermark.
Few Templates:
The Movavi video editor review of the template reveals that its text transitions and templates still need some improvements.
Part 4: User Experience:
When we see Movavi video editor plus from the users prospective, it is clear that the tool is refreshingly uncomplicated. The software includes different features like stabilization, slow motion, transitions, Chroma-keying, and many more. The import mode of Movavi pro contains sections not only for video importing but also traditional media bin. Its basic section resembles different famous video editing tools and timeline tracks. Users can preview their editing before saving it to the device. Therefore, you can say that Movavi video editor 14 has an ideal interface for all kinds of users.
Part 5: System Requirements:
Movavi is an affordable video editor with a ton of transitions and effects. Its recommended systems requirements are mentioned below for users who want to know more about this creative tool:
| Microsoft windows | 2000/XP/Vista/7/8 with up to date service/patches |
| --- | --- |
| Processor | AMD/Intel/compatible processor, 2.8GHz |
| Display resolution | 1280 × 1024, 32-bit color |
| Hard disk space | 5GB |
| RAM | 256 MB |
Part 6: Movavi Video Editor Alternatives:
IMyFone Filme is the best alternative to Movavi video editor as it is an amateur video editor with different exclusive features. The software is like a run-of-the-mill application for Windows and Mac. Moreover, the Movavi video editor 15 is a faster editor than a bulky desktop video editor.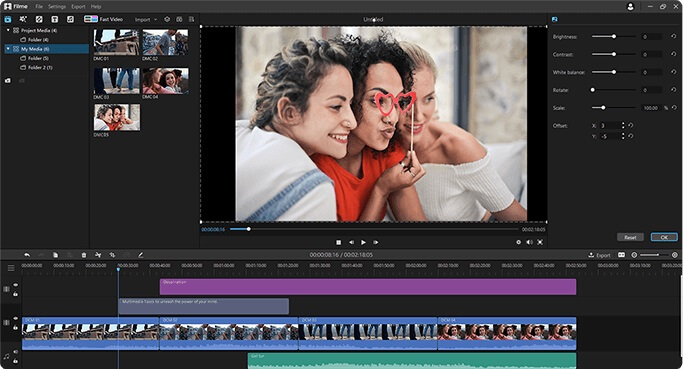 Features:
Trim and Split Videos:

You can easily split and trim your videos with the Movavi video editor reverse feature.

Rotate and Crop Videos:

The Movavi video editor is ideal for rotating specific parts of the video by following simple steps.

Speed Adjustment:

You can create slow-motion or fast videos with this amazing tool.

Picture in Picture Mode:

Within this unique feature of Movavi video editor 15, you can place a clip of one video inside another video with a small size.
Cons:
Budget-friendly
Easy to use
Diversity and richness of features
Exceptional user experience
Slow-motion effects
Easy slideshow creation
Lightworks is the best alternative to Movavi editor plus that is equipped with powerful tools and unique functionalities. You can create 4k film projects, Vimeo, YouTube, and social media videos from this tool. The tool lets video editor keyframing execution to make smooth transitions between video clips.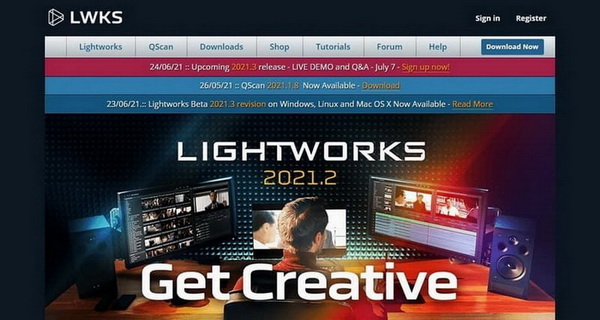 Features:
Content management

Drag and drop interface

Blend modes and color correction

Graffiti pro bundle and Boris FX

Keyboard shortcuts

Applying Chroma keys
Pros:
Keyframing

Video routing

Direct exportation

Applying color LUTs
The final cut pro is one of the best tools for those editors who want to work on Macs. It is a professional video editing tool that includes motion graphics, filters, special effects, and more. Moreover, if you are using final cut pro as an alternative to Movavi photo video maker, it also supports 360-degree video editing for VR. Users can expect speedy and smooth video editing with a final cut pro, as it leverages the graphic processors that run on Macs.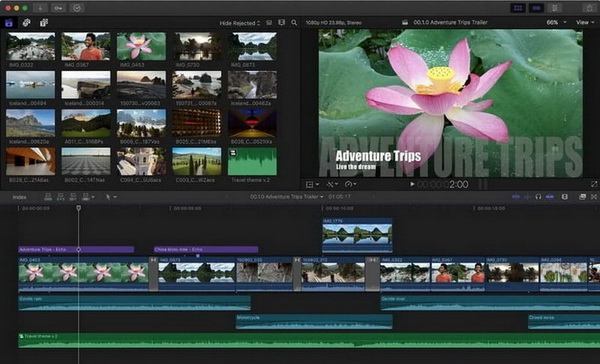 Features:
Advanced color grading

Multicam editing

VR headset playback

Trimming and moving clips

HDR video support

Presets

Asset management

Plug-ins

360 degree VR editing
Pros:
2D and 3D titles

Impeccable sound

VR handling

Seamless video editing

Organized assets

Fast delivery
Conclusion:
Movavi video editor is an easy-to-learn and easy-to-use video editing tool for those users who want to create videos for the web or want to share it with family and friends. One of Movavi video converter reviews is that it's not ideal for professional work. However, it still provides exclusive features to create great video projects. The company is working to increase its features, and it is expected that different content creation facilities will be available with Movavi effects. So always try to purchase a lifetime license if you want to enjoy the Movavi pro to its fullest.