IGTV has gained massive attention from Instagram users. It offers an alternative to YouTube through its long videos. If you are a content creator, you must be looking for some tips and ideas for IGTV videos. In this article, we will tell you how to create excellent IGTV videos that can engage people. We will also share how you can optimize your titles and descriptions. As a bonus, we will also introduce a tool that can make video editing simple and quick. Let's start the discussion.
Part 1. 5 Best Ideas for Good IGTV Titles and Description
1) Title Must Strike the Viewer
This is the first and the most important thing for the title of any video you create. Imagine you have only one bullet, and you have to hit the target; the title is the same bullet, which should strike the head of the viewer. The first glance of the title should convince the viewer to click and view the content. Once the person clicks the video, the work of the title is over, and the work of the video starts from here. The title must engage the viewer, so you need to select the words carefully. This does not mean you should use irrelevant or clickbaity titles.
2) Try to Explain the Gist in the Title
The title should explain the Gist of the video. It should give an idea of the video to the viewer. Many times, we search for something, and then we see the title of the video to know which one will be better. Therefore, the title should give some idea of the content.
3) Short Description with Keywords
The description should be short because no one would like to read a long paragraph instead of watching the video. You don't need to write a blog post in the description; you can explain everything precisely in a few words. Moreover, you must include the keywords to ensure your presence in the search results.
4) Link to Your Blog Post and Use CTA
You cannot write a detailed explanation of the video in the description; however, you can link to your blog post. If someone is interested in getting more in-depth information, he/she can follow the link.
CTA is also helpful because it brings more followers. When you ask to follow, people take it seriously and might start following you.
5) Add Hashtags
No one can deny the importance of hashtags. You should also include some relevant hashtags so that your videos can be shown in the search results. Trending hashtags can boost your views.
Also Read:
How to Share IGTV Video on Instagram Story >>
How to Add Filter to Instagram Story Video >>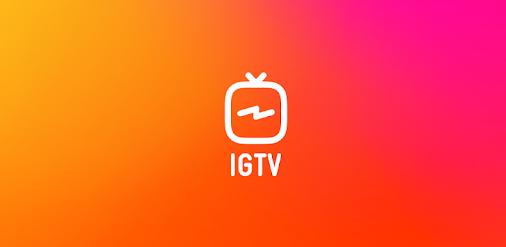 Part 2. 10 Pro Tips for Creating Eye-catching IGTV Content
1) Use High-quality Camera
The first thing for creating eye-catching content is your camera. You can never compromise on the video quality, which is why it is recommended to have a professional camera or mobile phone that can record high-quality videos. There is no way you can improve the video quality later, so you need to be careful while recording.
2) Adjust Camera Settings
The camera setting also plays an important role. You need to set the video format, video quality (resolution), frame rate, color, contrast, white balance, and other things. It is important to set the camera with optimum settings so that you can get the most out of it.
3) Aspect Ratio
The aspect ratio of the video matters a lot, especially when you are recording an IGTV video. The recommended aspect ratio for the IGTV video is 9:16. You can also edit your videos and set the aspect ratio in a video editing tool, but it will badly affect the quality of the video. Thus, it is good to adjust the aspect ratio while recording. The recommended resolution is 1080 x 1920 (9:16), but you will have 1920 x 1080 (16:9) in most cameras. Therefore, you need to put your camera in the vertical position to get the required aspect ratio.
4) Brainstorm Ideas
You need excellent ideas for your audience, so before you create anything, you must brainstorm some ideas. You need to think out of the box and get out of your comfort zone. People are more attracted to new content, so you need to focus on that. Moreover, you can also ask your audience about new topics or something they would like to see. Following the trends can also be helpful, but make sure to add a taste of your own creativity.
5) Create a Strategy
After choosing an idea, you need to create a strategy and plan the creation of the video. For instance, you will be placing text, titles, and images in the video, so you need to leave some space in the frame so that you can include these things later. Planning is very important as it will help you create a perfect video.
6) Select the Perfect Location
The location also plays an important part in the video. Your background must be attractive. If you are shooting a video outdoors, you need a perfect location, such as beautiful scenery or anything related to your video content. If you are recording in your studio, you can have a cool background; otherwise, you can also change the background while editing the video.
7) Use Professional Video Editing Tool
Once your video is ready, you need a professional video editing tool to take the video to the next level. You might need to add text, images, videos, GIFs, stickers, sound effects, music, and other things. All could be done in a video editor. You can use Filme as it is a beginner-friendly tool for creating stunning videos.
8) Go Live
You can also go live on IGTV. You can have your own live show. Everything can be done in live videos, including interviews, podcasts, and training. You can cover what your audience likes to see.
9) Take Care of the Length
IGTV supports videos up to 60 minutes long, but it does not mean you have to create a long video. The length of the video depends on the content. You can also create short videos of up to 5 minutes. Typically, 5-15 minutes is suitable for IGTV. You can trim the videos even when the video is long.
10) Make a Catchy Cover Image
The first thing that people see is the cover image of the video. The cover image should give a gist of the video so that viewers can click on it. You can create a catchy cover image using an online tool. Make sure to add some text and catchy images to tell about the content of the video.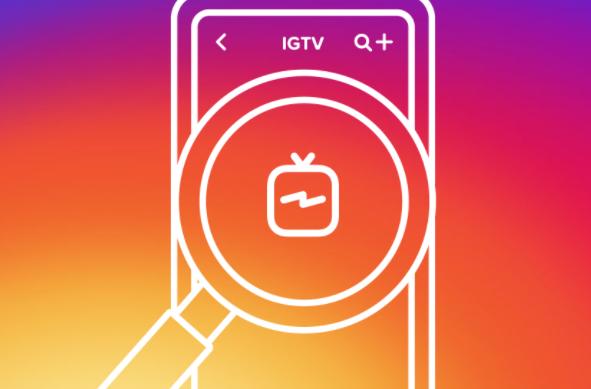 Part 3. Best Video Editing Software You Should Know – Filme
You need to edit your IGTV videos before posting. The editing can make the video more interesting and engaging. You can create a video of your liking. It is necessary to do before posting because you cannot edit the video later.
Filme is the best video editing software for beginners, intermediates, and even experts. The reason behind it is its simple user interface and advanced editing options. You can easily create an eye-catching video quickly.
Features
a) Fast Video Mode:
Filme has a fast video mode that can create a slideshow in one click. It has dozens of cool templates for different purposes, and you only need to import images to create a stunning slideshow.
b) Basic Video Editing Features:
You can do basic edits, such as trimming, splitting, cropping, speed adjustment, color adjustment, and rotation. All tools are available for quick editing.
c) Adding Cool Effects:
Filme has hundreds of cool effects that you can use in your videos to make them more interesting. Adding cool effects is just a matter of one click.
d) Advanced Editing Features:
Filme is an advanced tool that allows you to have multiple audio and video tracks on the timeline. So, you can add images over a video or video over another video. You can also mix different soundtracks. Most importantly, you can export your file in any format you like and set the desired resolution, codec, frame rate, and other advanced settings.
How to Edit IGTV Content Ideas Using Filme
Step 1: Launch Filme on your computer. Go to File>New Project and click on 9:16 (Portrait). You can also select any other aspect ratio, but 9:16 is recommended for IGTV.
Step 2: In the Media menu, you will have options to import media. Click on it to import files from your computer. You can also import from your mobile via USB cable or QR code.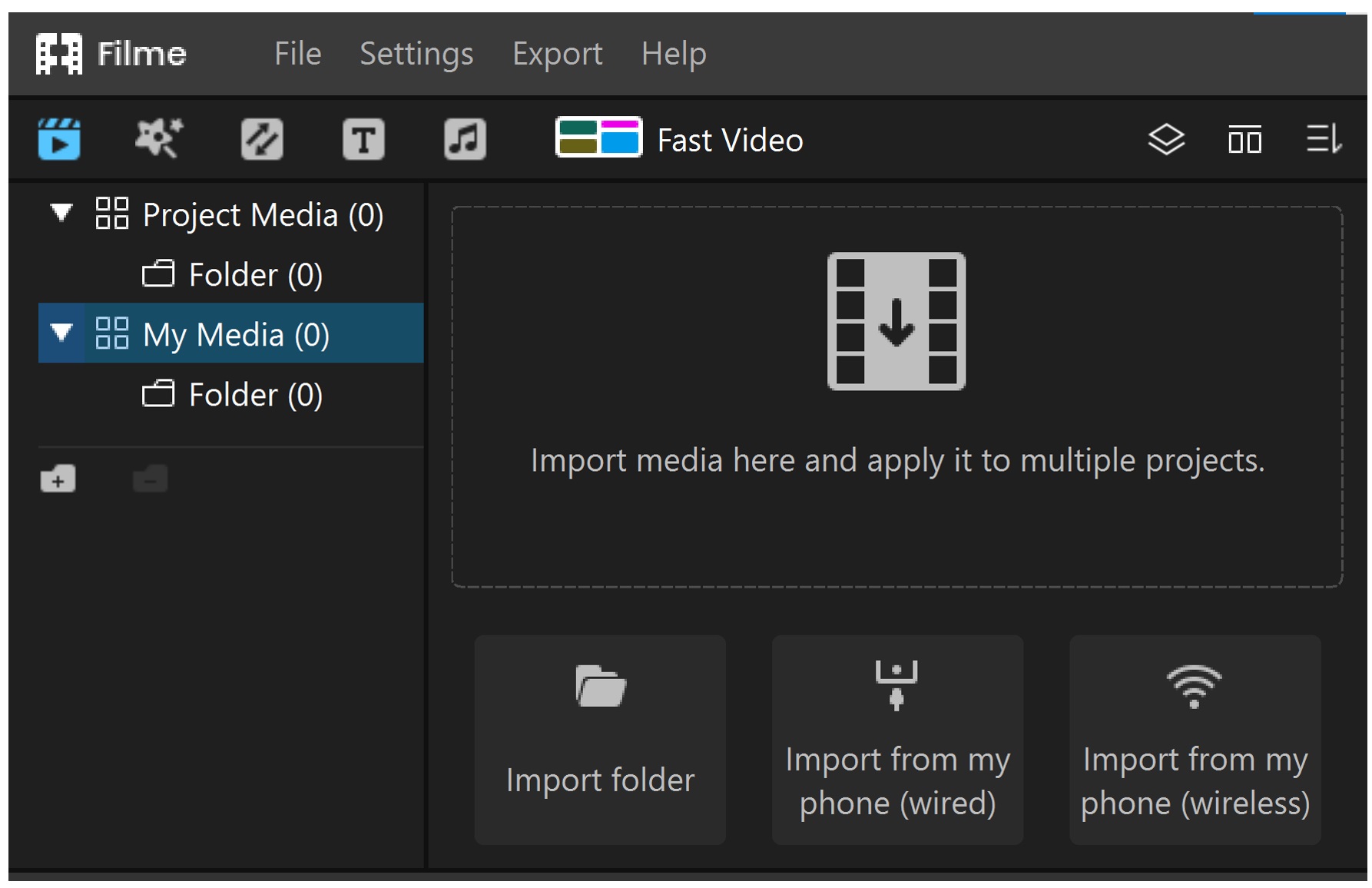 Step 3: The imported files will be in the Project Media. Drag them to the timeline and arrange them as you like. You can also trim videos, images, and audio by dragging their ends in the timeline.
Step 4: For basic editing, you have a toolbar over the timeline. You can split, crop, adjust speed, adjust color, record voice, record video, rotate, and do basic changes using it. Select the video and use any tool you like.
Step 5: Filme has cool effects, transitions, text styles, and stickers. You can see the menus at the top. For adding effects, go to the Effects menu and select any effect you like. Click on it to add to the video. You can also add text, transitions, and stickers in the same manner.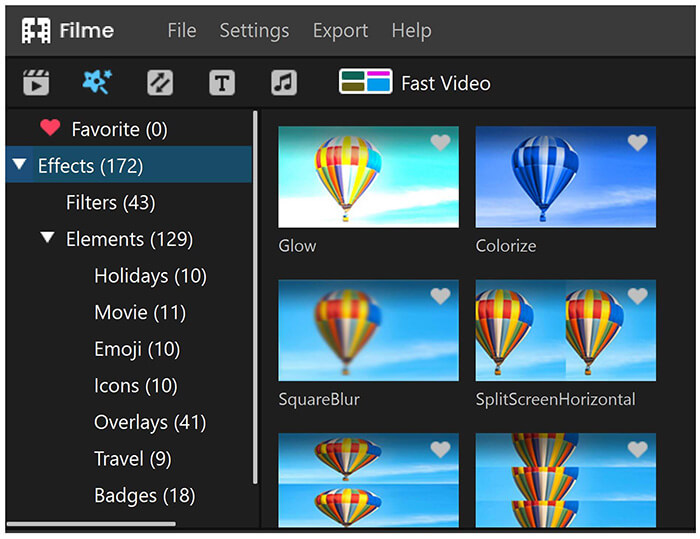 Step 6: Click on the Export button over the timeline. Select MP4 for IGTV and click on Settings. Select the resolution, codec, FPS, and anything else you like. Finally, click on the Export button.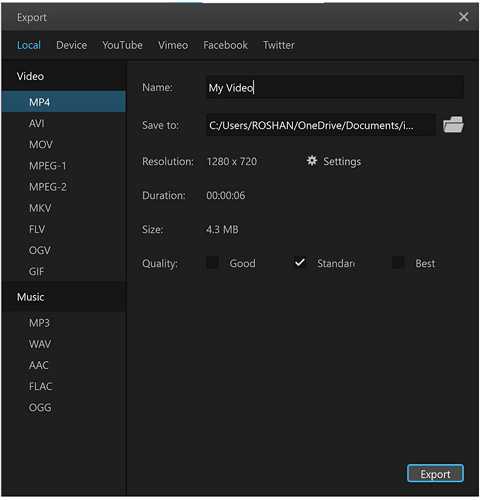 Final Words
You can also be popular on IGTV if you know how to create excellent content. We have shared some tips and ideas that you can keep in your mind. The most important thing after video creation is video editing. You need to edit your videos professionally so that they can offer more engagement. We recommend Filme, which is a video editing tool. You will find basic to advanced tools in Filme to make your video more interesting and engaging. The best part is that it is simple and user-friendly, so you can create catchy videos in no time.