If you are someone who likes using IGTV and has always wanted to download those videos, then this 'how to download igtv videos' guide is the best thing to help you download your favorite IGTV videos. Softwares like Cara download video IGTV are also helpful with this task.
Part 1. 4 IGTV Downloaders to Download IGTV to MP4 [PC& Mac]
If you are wondering how to download igtv videos on mac and windows, this part will be really helpful for you. Keep reading to know more.
IGTV has its own save tool, which Instagram provides to save your favorite videos to your collection so that you can watch them later and is placed at the bottom right of the video in the shape of an icon with the appearance of a bookmark. But those videos cannot be accessed offline, so SaveIGTV is an online website that allows you to download your favorite streams, compilations, or vlogs for yourself to watch offline and share with your friends on other social media platforms.
It is a very convenient tool for windows and android users to save videos without any hassle of download a separate application for this purpose. The SaveIGTV downloader allows you to save any video from any public account. You can make any length video you like, from one second to a time of 15 minutes.
The only thing to hold in mind is that you must have enough memory on your computer to play long videos. It makes no difference which gadget you use to download IGTV clips. Any browser-enabled computer would run. On this social media website, all devices have the same rights to get videos for free from their creators.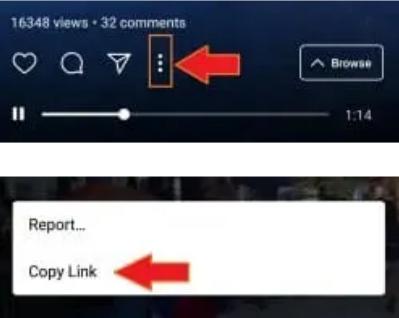 How to use SaveIGTV to download IGTV video?

1. Navigate to the IGTV video you want to save.
2. Take note of the video's URL.
3. Copy the URL and paste it into our search bar.
4. Select "Download IGTV Video" from the drop-down menu.
5. The video will play, and you will be able to download it.

Ingramer is a tool that you download for your Instagram to save your IGTV live stream, funny videos, and tutorials that one can watch later offline. Ingramer is an Instagram paid service that offers real followers and likes by using Pro targeting filters, including the hashtag, spot, and username targeting, as well as gender and language filters.
You build a new account by entering your e-mail address or linking your existing account to a social network. After that, you'll connect your Instagram accounts to the service. Adjust your events, reach your audience, set your daily limits, and use filters to create a new campaign. The AI-powered Ingrammer bot comes with four separate modules that contain all of the most common features.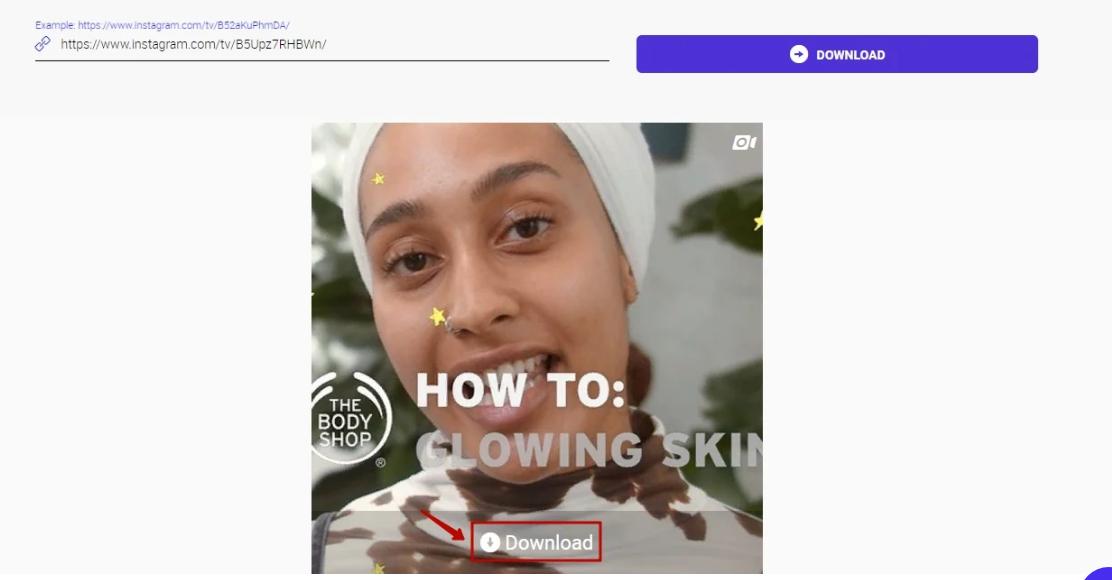 How to use this tool:
Step 1: Open Instagram in any browser, including Chrome, Firefox, and Safari.
Step 2: Select the IGTV tab on the desired account.
Step 3: Tap the video that you want to save.
Step 4: Take note of the URL in the browser's address bar.
Step 5: Copy this address and paste it into the Ingramer search bar.
Step 6: Copy and paste this address into Ingramer's form.
Step 7: Click the Download button.
Step 8: Scroll down and click on the white circle with an arrow.
IGTV loader is a tool available on google play store and can be downloaded for Windows to save your favorite videos online for free. IGTVloader is most definitely not a hoax but rather a legitimate and trustworthy website.
The analysis of igtvloader.com received a reasonably good score from our algorithm. This ranking is based on information we find on the Internet about the domain, such as the country in which it is hosted, whether an SSL certificate is used, and ratings found on other websites.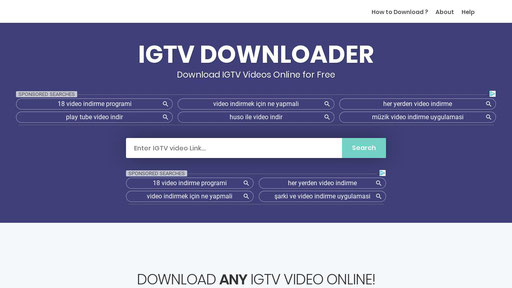 How to use this tool:
Step 1: Search for a video to download on IGTV on your mobile device or computer.
Step 2: Tab on the three dots in the image and select the copy link option.
Step 3: Finally, simply paste the link above the search bar.
Step 4: Select the 'Download Now' option.
Step 5: The video will begin to download.
ForHub.IO is a dedicated website used to download live streams, funny videos, and tutorials. ForHub.IO is a social media downloader's hub. For all social websites, a basic Social Media Downloader is available. Facebook, Soundcloud, Vimeo, Instagram, DailyMotion, Tumblr, and Flicker are also supported.
It is an easy-to-use website with a very user-friendly interface that one can avail and download IGTV videos. Consumers can use forhub.io without fear of being scammed.
The analysis of forhub.io was based on an examination of various facts obtained from public sources online. We use various sources to determine whether a website is classified on phishing and spam pages, whether it serves ransomware, the country in which the organization is headquartered, ratings found on other websites, and various other factors.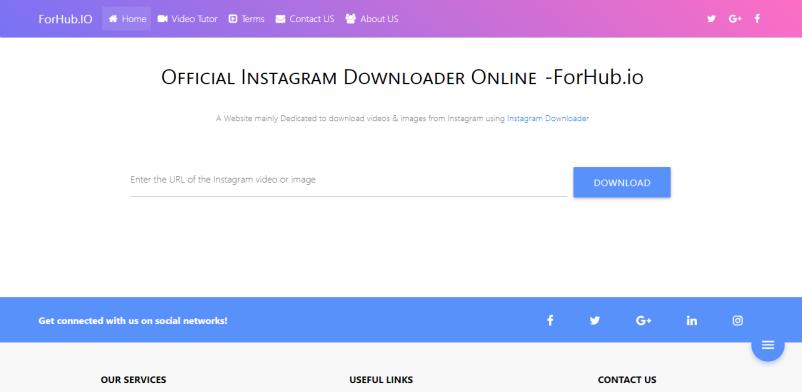 How to use this tool:
Step 1: Look for the Instagram image or video that you want to save.
Step 2: Take the link from that image or video and paste it into your browser.
Step 3: Copy and paste the image or video link into the converter box.
Step 4: Select the Download option.
Step 5: The conversion will be finished in a few seconds, and then click the download link to begin downloading.
Part 2. 3 IGTV Ddownloaders to Download IGTV to MP4 [iPhone & Android]
You can also easily download IGTV videos on your iPhone and Android. To download IGTV video iPhone and Android, these tools are helpful.
If you want to download any IGTV or Instagram video without paying any money, then you should have this app on your phone right now. Most of the videos on social media are easily downloadable, but IGTV videos have a different video experience.
IGTV videos vary from one minute to 10 to 15 minutes, and they are full screen and vertical. You can download any IGTV video with super fast speed and high-quality download service by having video downloaders. Let's just discuss how to download it and the process.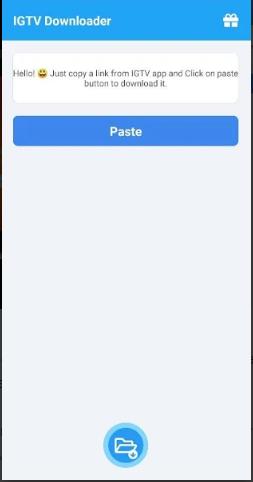 How to use this tool:
Step 1: To initiate the process, you have to go to the Google Play store and search for a video downloader for IGTV.
Step 2: You have to download the correct one to proceed.
Step 3: By opening the app after the installation, you will be shown a box where you are demanded to paste the link of the IGTV you want to be downloaded.
Step 4: After you paste the link, you have to wait for a little to get it installed in your gallery. Now when it's done, it will be shown as the video in your files.
Now you can download any type of IGTV video on your Apple device too. By installing regrammer, you can repost photos, videos, stories IGTV videos. You can copy the caption without any coins or tokens. The most amazing thing is you will not have any kind of watermark on your pictures.
You can select many photos to post on your feet and mark them your favorite too. Not only that, you can schedule your post to repost it later with high quality. Let's discuss how you can download Regrammer on your Apple devices.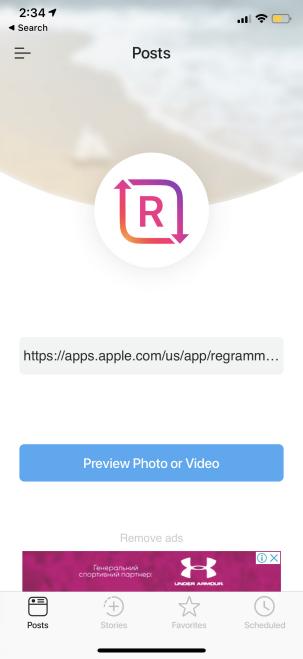 How to use this tool:
Step 1: Download the regrammer app from your apple store right now because it's free without any hidden conditions as well.
Step 2: Now when you are done with the installation process, open the app and paste the link of the video, photo, or IGTV.
Step 3: Once you put the link to the preview, you will have four options. You can repost this on Instagram right now, or you can schedule to repost it; not only that, you can add it to your favorites and view it in the safari.
You can download IGTV videos, Instagram videos, and photos by clicking only one time. No need to go back and forth between App and Instagram IGTV. There is no requirement for login details, no special credits, and no URL pasting. You can download any sort of Instagram photos or videos instantly. Let's have a look at how to download it and use it.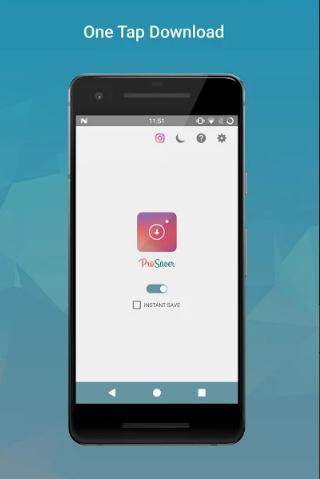 How to use this tool:
Step 1: To proceed with this process, you have to head over to your play store. Search for the Prosaver app here.
Step 2: On the main screen, you will be shown a switch and turn on the process by tapping on the main switch below the Prosaver logo.
Step 3: Now you have many options to select between copy and share. Paste the URL on any photo or video or copy the link on any IGTV video. A notification will pop up on your phone, which will make you choose between download and share.
Step 4: New will be downloading Instagram videos photos on IGTV videos by pulling down the Prosaver app to download and copy links.
Part 3. Best Video Editor and Converter for IGTV - Filme
With the aid of iMyFone Filme, you can conveniently capture your screen. This fantastic screen recording app not only allows you to record but also allows you to customize the records to your liking.
The best part is that you have the option of editing the videos right away or later if desired and Convert mp4 to IGTV. iMyFone Filme has a large number of themes and models to help you with video editing. To give you a clearer understanding of how iMyFone Filme functions, let's start with its features and benefits:
Key features and advantages
It has simple software that can be used without causing mental strain. This software is also ideal for beginners.
iMyFone Filme has a dual-function feature that helps you to capture the screen while still editing it.
iMyFone Filme comes with free designs and models and does not require any extra fees. As a result, you can conveniently obtain these models and prototypes at no cost.
You can open your recording right away with iMyFone Filme. This allows you to watch your video as soon as you complete it.
The audio enabling function in iMyFone Filme enables you to add audio to your screen recordings, which improves viewer participation. Audio editing feature can help you to remove background noise from video.
Watch this video to learn more about Filme:
How to Record Your IGTV Video Screen using iMyFone Filme Using Desktop?
Using iMyFone Filme to record the screen is a quick procedure with just a few steps. There are some of them:
Step 1: Record Your Video with 3 Clicks
To use iMyFone Filme to record your screen, you must first unlock your phone. Then go to the app or website where you want to record your screen and press record. Now, press the recording button to begin the recording. If you've collected all of the data you want, press the stop button to end the recording.
Step 2: Get the Video in Your Media Library at Once
To view your saved images, go to the media storage. Both of the recordings are conveniently saved there.
Step 3: Cut the Videos, add filters, and add music and text
You can crop, clip, apply a filter, and add a theme to your recordings using iMyFone Filme. You may also alter the font type and color used in your recordings.
Step 4: Export and Share your slideshow in Mp4 format
From the media storage, export the stored recordings. Convert mp4 to IGTV or other social media applications.