Reposted IGTV videos are an amazing way of working up some engagement on your Instagram without doing much work. When you know that the audience has a sweet tooth for something, why not bring it to them? It's a win-win for both you and the original creator. Let's see why and how you can do it.
Why Would You Want to Repost IGTV on Feed?
It is a known fact that videos get a lot of engagement. And when you see that a particular video is gaining a lot of attention –there's your proof of concept for getting some for yourself too. When it comes to your Instagram audience, give them what they want, but keep in mind, nobody keeps laughing at the same joke.
Reposting videos from IGTV, whether they are yours or belong to another account, can help you garner good engagement and return on investment. There are times when a particular trend or topic is resurfacing, and you had made a video about it a while ago; now is the best time to repost it and remind your fans. It adds a lot of credibility to your profile because it makes you look like you have great foresight. Also, a particular piece of content can have multiple implications, right? Reposting IGTV videos helps you gain trust, recycles your content, and increases conversion. If you are new to IGTV, then learn how to share IGTV and get yourself likes first.
Apart from recycling and reposting your IGTV videos to feed, sometimes you may also be doing it as a favor to a fellow Instagrammer, who would do the same for you when you need it. It is not uncommon for the community to ask a fellow grammer to repost their content on their feed to gain extra attention.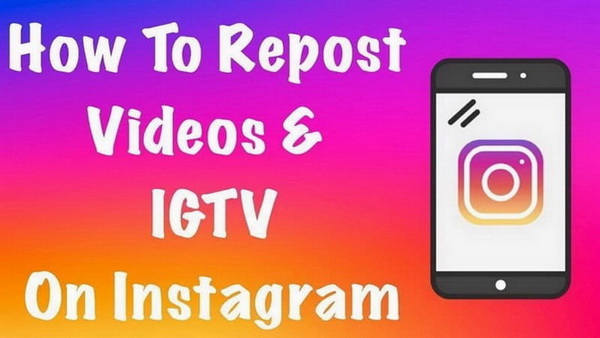 3 Recommended Ways to Repost IGTV on Instagram Feed
Many Instagram accounts are dedicated to reposting content that a different account has created. Instagram doesn't have a native feature to repost an IGTV video to your Instagram feed. However, you can still repost it to your story. Here's how:
Open IGTV and search for the video you want to repost.

On the top right, click on the paper airplane icon.

Tap add a video to your story;a 15-second preview will be shared to your story, and the original username will be displayed in the bottom left corner of the video preview. You can tap on it to watch the whole video.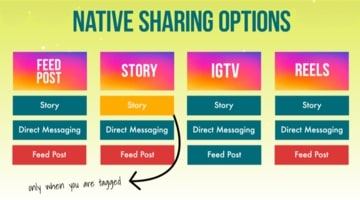 Although Instagram doesn't offer solutions for reposting IGTV to your feed, the internet still provides several options. If you still wish to repost your or another account's IGTV video to your feed, here are some recommendations to repost IGTV to Instagram feed.
It is one thing to repost your IGTV videos; however, if you want to repost another account's IGTV, that may count as copyright infringement under Instagram's terms of use. Hence, Instagram doesn't have a native feature for this purpose.
Before you go about posting other's IGTV, make sure you have their blessing. You can obtain permission by sending them a direct message by clicking on the paper airplane icon on the top right corner of your screen and getting their written consent to repost.
You can also comment on their post asking for permission and get a yes. Without obtaining permission from the source, your post can get blocked. Even worse, the original content creator can sue you for it, especially if you are making money reposting their IGTV videos. Now here's how you can repost IGTV to Instagram feed:
#1 Using Repost for Instagram
Download Repost for Instagram for your iOS or Android phone. This is a free app that integrates directly with Instagram and helps you with reposting content.
Open the Instagram app, go to the IGTV channel and search for the video you want to repost.

Tap on the video to open it. At the bottom, you will see three dots. Tap on the dots, and you will see an option called copy link.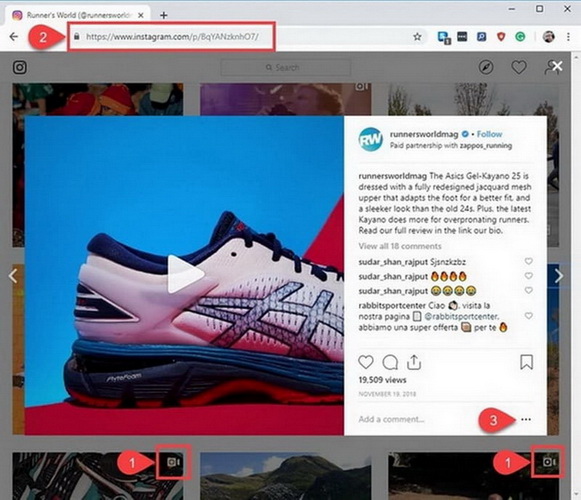 Tap on it and go back to the repost app.Repost will automatically copy and paste the URL in its panel.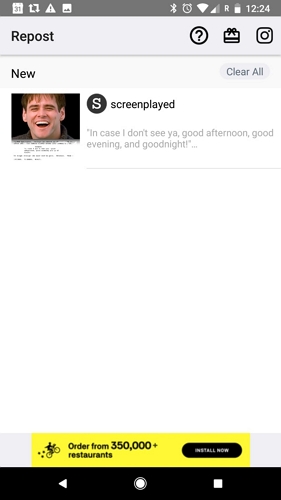 Now below the video, in the repost app, you will see the option for caption to copy; tap on it, and you will see the original creator's caption there. Tap on the add custom captionat the bottom of the screen to add your caption.
You can also choose to keep the original caption. Either way, the text #repost@username will be added to the caption. This saves you from infringing upon any copyright laws, and it lets you give credits automatically to the original creator, without which reposting would be illegal.
You can now see a preview of your video and choose to post it to your story or your feed. A good practice for the caption is not to change it altogether but add to it in your way. This way, you are respecting the original creator and also adding your signature touch.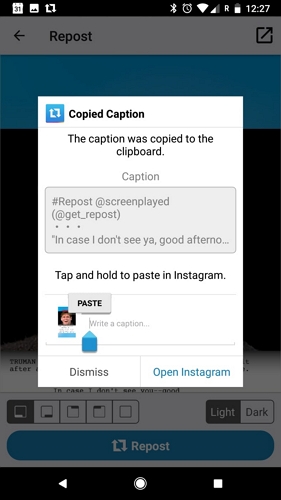 Tap on Repost, and you are now ready to repost and create your social storm.
#2 Using DownloadGram to Repost IGTV to Instagram
Downloadgram is a free web app using which you can download videos to your PC. Once you have downloaded the video, you can upload it to any social media platform. Here are the detailed steps for the same.
Search for the video that you wish to repost. Use the copy link button from the menu to copy the URL.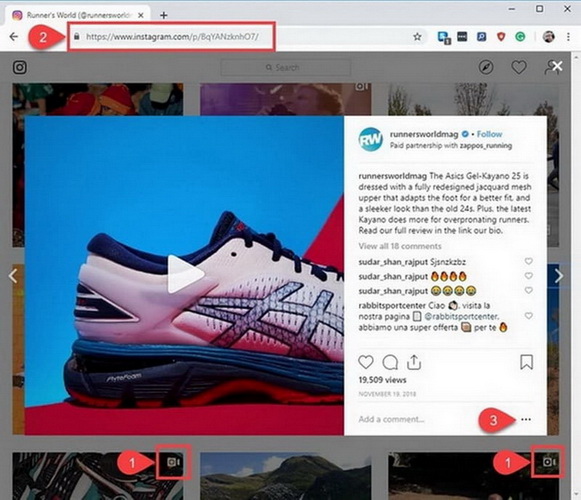 Go to DownloadGram and paste the link in the downloadgram page to download an MP4 copy of the video. Upload the video to the cloud using Dropbox/ Drive or any other app that you prefer.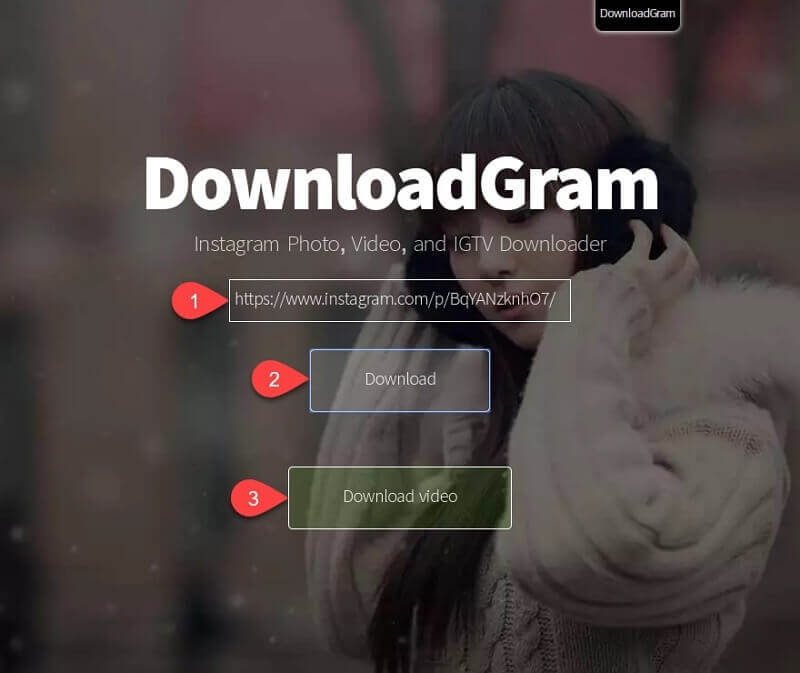 You can download the file from the cloud on any device.

While downloading the video from the cloud, you will see a share option that lets you share the video to your Instagram feed directly. Again, before reposting, don't forget to give credits to the source creator.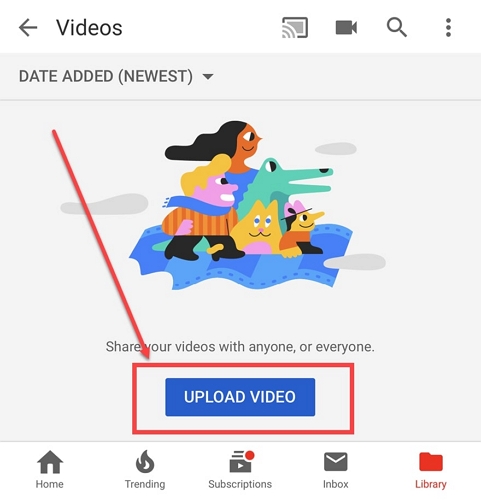 #3 Using InstaRepost
You can download InstaRepost, an app that helps you repost content from other users to your Instagram account via a mobile device.
Once you download the app, log in using your Instagram username and password, which will give the app access to your Instagram account.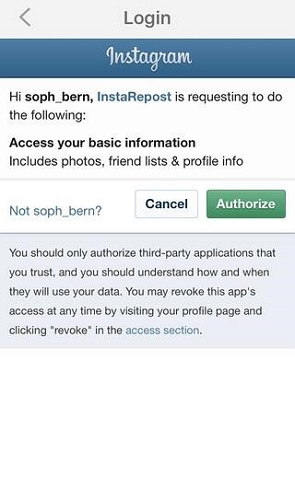 In the bottom toolbar, tap the magnifying glass icon, which takes you to the Explore tab, where you can search for the username of the account whose video you want to repost.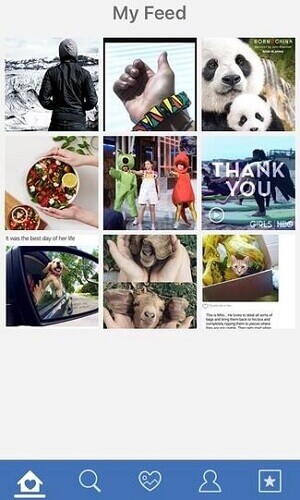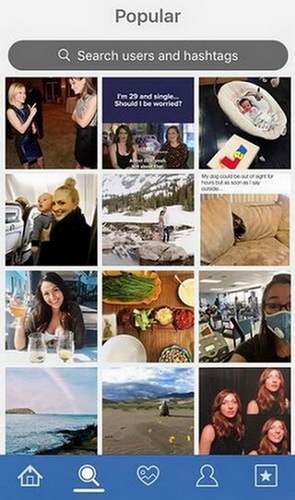 When you find the video, tap the arrow in the bottom right corner.

Thentap Repost to download the video to your mobile.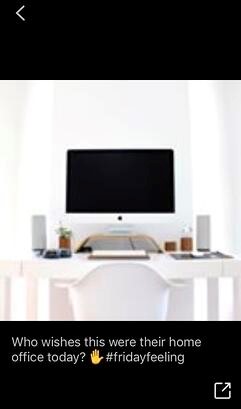 Tap Repost again, and the video will be posted to your feed by navigating to your gallery.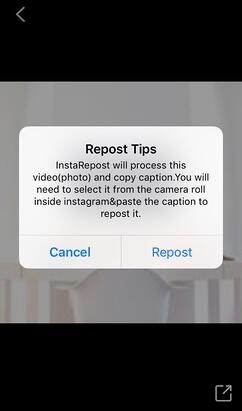 However, if you want to repost your IGTV video to your story or feed, the process is really simple. You can share the preview of the video you had uploaded, which will give the followers the option to watch the whole thing once the 15-second preview is over.
Video Editor Tools to Make and Share Trending Instagram Video
Although Instagram started as a photo-sharing app, the importance of videos in gaining engagement cannot be ignored, and Instagram soon caught on. However, it takes a really good video to get the audiences to engage because videos take a lot of time to watch; you can't just scroll over a video.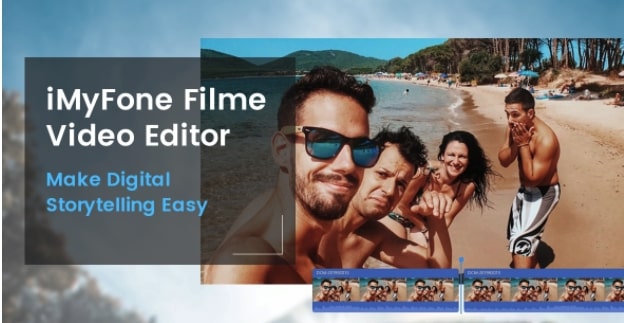 Many third-party apps can help you add effects to your video and make it catchy. One highly recommended software is iMyFone Filme which is free, open-source software that gives you the convenience of all film editing tools in one place. Key features of this software include:
Text editor for Instagram videos lets you add text in various styles like a typewriter, neon, classic, strong, and modern. You can also choose the color of your text, choose to pin it in one spot, or keep it animated.

You can also trim the videosto get them down to the length you want. You can also cut, crop, or rotate your videos to your liking.

It also has a hyper-lapse feature you can use to speed up your videos when you want to squeeze in long footage into your video.

Other features include adding effects like picture-in-picture, filters, transitions, and many more.
Instagram has grown widely in popularity, moving from being just a photo-sharing app to much more. Celebrities share glimpses of their daily life, and workouts, diets; chefs share footage of their new creations –all of which audiences love to watch. Hence Instagram got updated just like other apps to add videos that can be shared as stories, live or even a dedicated IGTV channel. If you want to remove the igtv video background noise,you can choose imyfone filme.
Reposting these videos is a great way to add some jazz to existing videos or share trending content. There are several options to repost; remember to credit the original username to avoid getting banned and go on reposting content that your audiences will enjoy.