Most people add videos on their Instagram streaks or story but they don't know how to add IGTV videos on their Instagram story. Here I have come with the steps for you to understand how to put IGTV videos on your story. But for that, you first need to know what is an IGTV video.
IGTV video is an android or iOS app that allows users to put videos on Instagram. These videos are longer than normal. IGTV or Instagram TV allows users to put a 60 minutes video directly from the web or a 15 minutes video from the phone instead of the original 60 seconds videos.
Step by step to Repost Instagram Videos from IGTV to Stories
Adding an IGTV video to your Instagram story is not that hard. It is as simple as adding anything else to your story. Here are the steps you were waiting for to know how to upload an IGTV video on your story.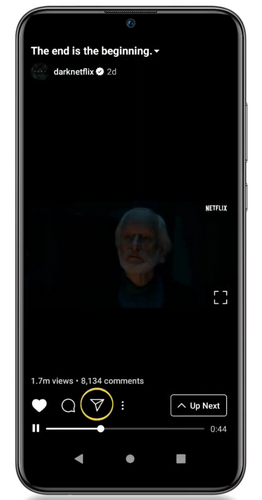 1. Select the IGTV Video to Share
The step is to select the video from IGTV that you want to put on your Instagram story. It can be directly from the website or YouTube video, or it can be from your gallery. When you have selected your desired video, click on the option 'send to'! From there you can send the video to your Instagram story.
2. Add the Video to your Story
After you have selected the video, that video will come on your Instagram story. To upload it, simply add it to your story like how you put a simple thing on your Instagram story. You can add filters, stickers, or any texts, whatever you want, on your IGTV video.
3. Post-IGTV video as your Story
After everything has been settled, you can click on the option 'share' and then click 'done' to upload it to your Instagram story.
What happens when you cannot post?
Sometimes, you cannot post an IGTV video on your story even when you click on the 'airplane' option given. In such cases, you can send the IGTV video to your friends through DM.
What are the Differences between IGTV and Instagram Stories?
We all know that Instagram stories are really easy to add. These stories are videos of about 60 seconds maximum. When we upload an Instagram story, anyone can see this. But IGTV videos are different. IGTV or Instagram video is an app that allows a user to add videos of their liking, however long it is, ranging from 15 to 60 minutes. You can add videos directly from a YouTube video or your phone's gallery.
As I have already discussed with you, IGTV or Instagram videos are videos longer than the normal 60 seconds. Whereas, Instagram stories are videos just about 60 seconds maximum.
1.Limited length
IGTV allows a user to add videos of 15 to 60 minutes on their Instagram story. Whereas, Instagram stories only allow a user to add videos of 60 seconds maximum! Make sure you are aware of the requirements of IGTV before you edit your video to make your video editing highly efficient.
2. Replies
Instagram stories get you reactions like fire, laughing faces, or DMs but IGTV videos you get likes, comments, and viewers can also send it via link.
3. Timespan
Instagram stories only stay for 24 hours long, but IGTV videos exist on your channel for a lifetime.
Why Share Your IGTV Video on Your Story?
Now you must be wondering why add an IGTV video to your Instagram story? Well, to put it in simple words, there are a lot of benefits of adding an IGTV video instead of a simple Instagram story. What those are, are discussed below:
1. Lifetime
We all know that Instagram stories disappear after 24 hours but if you add an IGTV video, it will stay on your channel lifetime and whoever becomes a new follower can see what has taken place till then.
2. More views
It mostly happens that your Instagram stories are seen by not even half of your friends but if you want all of your friends to see the post, you can easily add an IGTV video and whenever your friends see it, you will get views. In this way, they can be kept informed of the events that have taken place at your home or wherever.
These are the reasons why IGTV is better than the normal Instagram stories.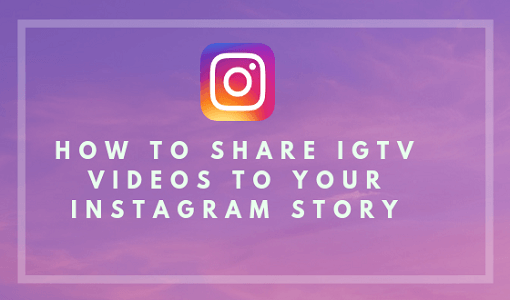 6 Epic Instagram Story Hacks you'll wish You Knew Sooner
There is a lot of epic Instagram story hacks and amazing IGTV ideas that we may or may not know or never paid much attention to. Here l will tell you some of my favorite and useful features and hacks of Instagram stories. So if you want to make your Instagram stories epic like mine, just follow the following tips:
1. Edit
if you are anything like me and like your stories edited in the best possible ways, try using the Instagram editing features. When you are adding something to your Instagram stories, there are options for editing in the upper right area. Choose whatever you want, however you want to edit the post to your taste.
2. Adjust the size
You can also adjust the size of your post. You can adjust it to the size 1080x1920 pixels.
3. Use fonts
When uploading an Instagram story, try using fonts or texts. Funky-looking texts are the best. They catch the viewer's attention and make them see the main point of the post. For example if you put a picture of a party going on, try putting texts as 'look at the cat under the table'. This will get the viewers' attention to the picture more and they will try searching for the mentioned cat.
4. Use colors
When adding text, always use vibrant colors. You can add neon colors with a dark theme or background, or you could add a dusty brown colored text with a library background or something.
5. Use Instagram's accessories
When you are uploading your Instagram stories, try using the fun features of Instagram. Like, try adding your location, time, hashtag, or GIFs, etc. whatever you like.
6. Save the stories for later
This is honestly the best feature of Instagram stories. You can save your stories and use them for later or can easily upload them on another social media, like Facebook.
Pro Tip: Edit Your IGTV Videos Before Posting with Best Video Editor
The best video editor software that you can find for your Instagram videos is iMyFone Filme.
iMyFone Filme is honestly the best editing software you can find. This software is really easy to use, anyone from a professional to newbie parents can use this software. There are a lot of features of this software that makes editing easy and fun. The final result after editing is worth giving a shot to this application.
If you want to edit your IGTV videos, try using Filme. As I said before, it has the most helpful and easy-to-understand features that make editing a piece of cake.
Key Features:
It is really easy to use the software. You don't need a professional's talent to use this software.

This software allows user to edit their pictures or videos quickly with the pre-designed templates and it also provides high-quality video editing.

It allows users to edit their videos with the help of fast video mode.

Users can also use one of the 170+ filters already present in Filme.

Filme also allows user to transition their videos by using the 110+ transitions pre-present in it.

It has pre-made 50+ audios that users can select from for their Instagram stories.

It also allows user to edit their Instagram stories however they like. This software gives your Instagram stories a professional look.

This software is legit Instagrammers, YouTubers, millennials, and gen-Z's cup of tea.
How to edit your Instagram before posting using iMyFone Filme?
Here are the simple ways you can edit your Instagram stories before uploading them:
1. Upload your video for Instagram
The first step is to save your stories from Instagram before uploading them. Then upload them in Filme for editing to give more beauty to the video.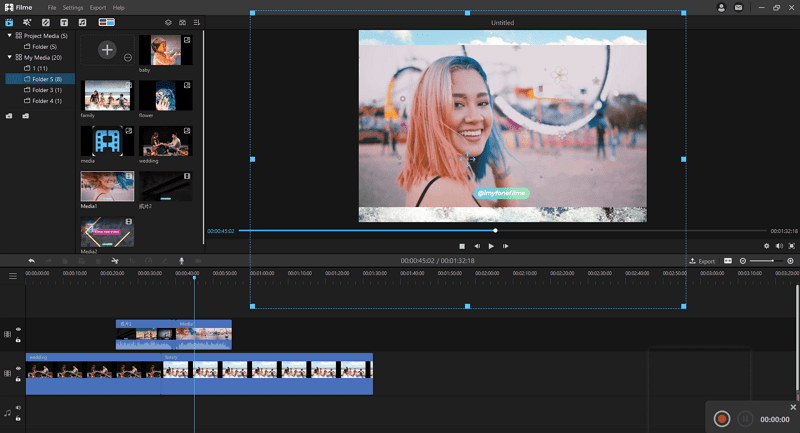 2. Add transitions, filters, music, and text
In Filme, you can easily add filters, texts, music, transitions, and whatever else you want. Try using cool features of Filme instead of the bland ones present because they are present in every other software.
3. Export and Share
Once you are done, you can easily save it and export it into your phone's or device's gallery. You can also share your masterpiece with your friends or family via email, etc.
To conclude the article, I would say that you can easily share the IGTV video on Instagram using this amazing application. In the above article, all the information is provided to aid you in selecting what you think is best for you.
Some FAQs you might want to know about IGTV
How to play an IGTV video in the story?
You can put your IGTV video in your story. However, this will be a preview of the whole video and can be up to 15 seconds long. We have already shared the complete steps to share the IGTV video on your story, so you can easily follow the steps. You can share your own IGTV video or someone else's.
Can I check IGTV video history?
Yes, you can check your IGTV history. You can do it using the IGTV application. You can install the application from Play Store or App Store. Log in to your account. You will be at the home screen. Tap on your profile, which is at the bottom right corner. Tap on the hamburger icon at the top right corner. Tap on Watch History. Now, you will have all your watch history of IGTV videos.
How can I clear IGTV history?
You can clear IGTV watch history from the IGTV mobile application. Open the application and log in to your account. Tap on your profile at the bottom right corner. Tap on the hamburger icon at the top right corner. Tap on Watch History. You will see all the videos you have watched. Tap on the three vertical dots at the top right corner. Tap on Select. Now, select all the videos you want to remove from the watch history. Finally, tap on Remove.
Why can't I share my IGTV to my story?
This problem happened with Android users in April 2020. It happened because Instagram updated the application, which is why people faced this problem. Now, there is no such problem; you can easily share IGTV videos to your story. If you are facing such a problem, update your application. You can also schedule IGTV video post.
Can you share someone else's IGTV video?
Yes, you can share someone else's IGTV video on your story or feed. It will be a preview, so you cannot share the whole video. In your story, it can be up to 15 seconds. When you share on your feed, it can be up to one minute long. Keep in mind that you can share someone else's video using the sharing option on Instagram. It is not appropriate to download the video and upload it on your own. If you upload like this, it will be content piracy.