Is there a thrilling sports tournament going on that you wish to cover and share with others? Did you manage to capture some amazing shots from the perfect angle? Then you're at the right place, as today we are going to talk about the best free video editing software for sports highlights.
To get maximum views on your sports video, you need to edit it in such a way that the audience remains captivated and doesn't lose interest. As the article unfolds, you will learn about some of the best free sports video editing software for your desktop, laptop and mobile.
Best Free Sports Video Editing Software for Desktop
If you're a beginner in the world of video editing, iMyFone Filme is one of the free sports highlight video editing software you should start with. It is simple and easy to use and understand. You can edit your sports video innovatively and unconventionally, which will certainly hold the attention of your audience.
Key Features:
Fast Video Mode - With Fast Video Mode, all you require is to add your sports video clips and create a remarkable sports video with only one click.

Trim/Crop/Split/Rotate - With Filme, you can easily cut/trim, crop, split, rotate your sports video and highlight the main content of a sporting event.

Filters and Effects - Filme has abundant filters and animations that can be applied to create splendid videos. These will help you catch the eyes of your audiences.

Picture-in-Picture - The picture-in-picture effect is specifically for sports videos because you can easily highlight the player or area you want your audience to focus on.

Text and Titles - You can add cinematic titles and text with all types of fonts and colors to make your sports videos more eye-catching.

Music and Voice - Filme allows you to add music and voice to record the most amazing moments of the sports videos.
Pros
Very easy to use for beginners.
The output sports video has high resolution.
Large collection of effects and resources that are updated all the time.
You can share the sports videos directly to YouTube, Facebook, Twitter and Vimeo.
Supports most of video/audio/image formats.
Cons
It's a relatively new product on the market
2

iMovie
iMovie is one of the best free video editing software for sports highlights by Apple. It provides many interesting features to the users which results in interactive sports videos.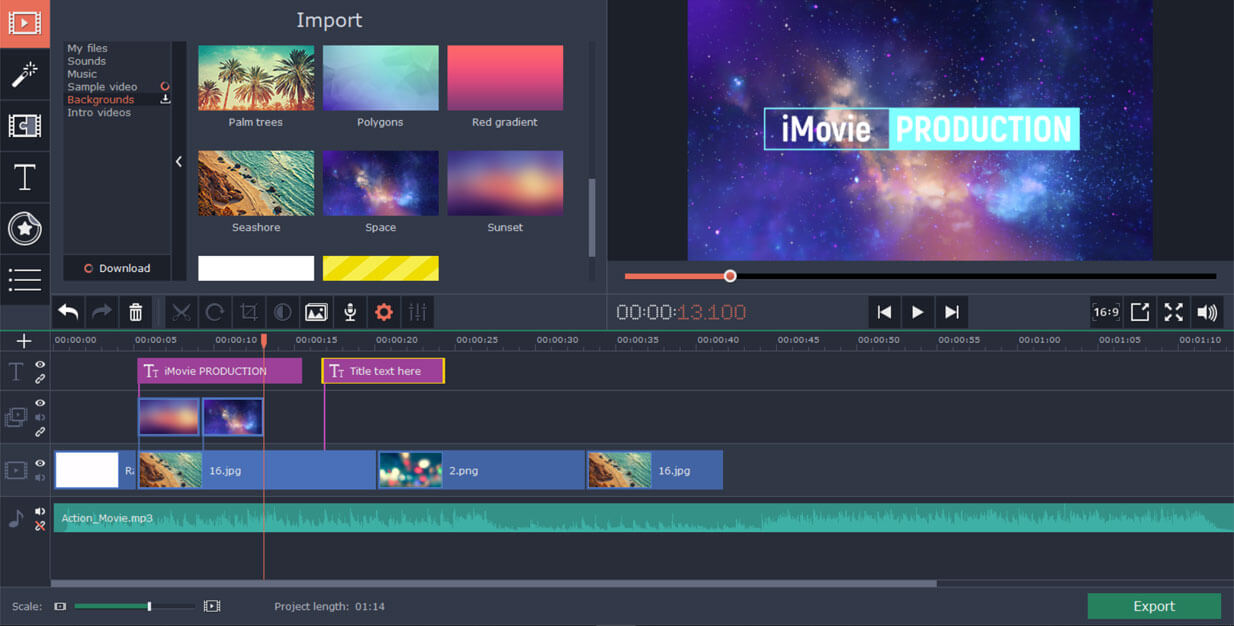 Key Features:
Picture-in-Picture - iMovie also has the feature of picture-in-picture, which is for sports videos so that you can highlight the player or area you want your audience to concentrate on. You can use arrows or shapes to highlight the point of interest.

Video Filters - What good is a sports highlight video without exhilarating effects? iMovie has 10 spectacular video filters to give your sports video a proficient effect. The pause and slow-mo effects are used by most editors to keep the audience on the edge of their seats.
Pros
Easy interface
High-quality effects and titles for impressive sports videos
Classy themes
Lots of audio tools
Cons
Motion tracking feature is lacking
No 360-degree video editing
Interface is not customizable
Pricing and Compatibility
iMovie is a free video editor by Apple and is compatible with Mac and all iOS devices.
3

Vegas Pro
If you're a flourishing YouTuber, who has tried all basic free sports video editing software, then it's time you switched to something more advanced. Vegas Pro is a video editing software used by professionals to create some of the renowned TV shows. So, if you want your channel to be as popular as those shows, get Vegas Pro.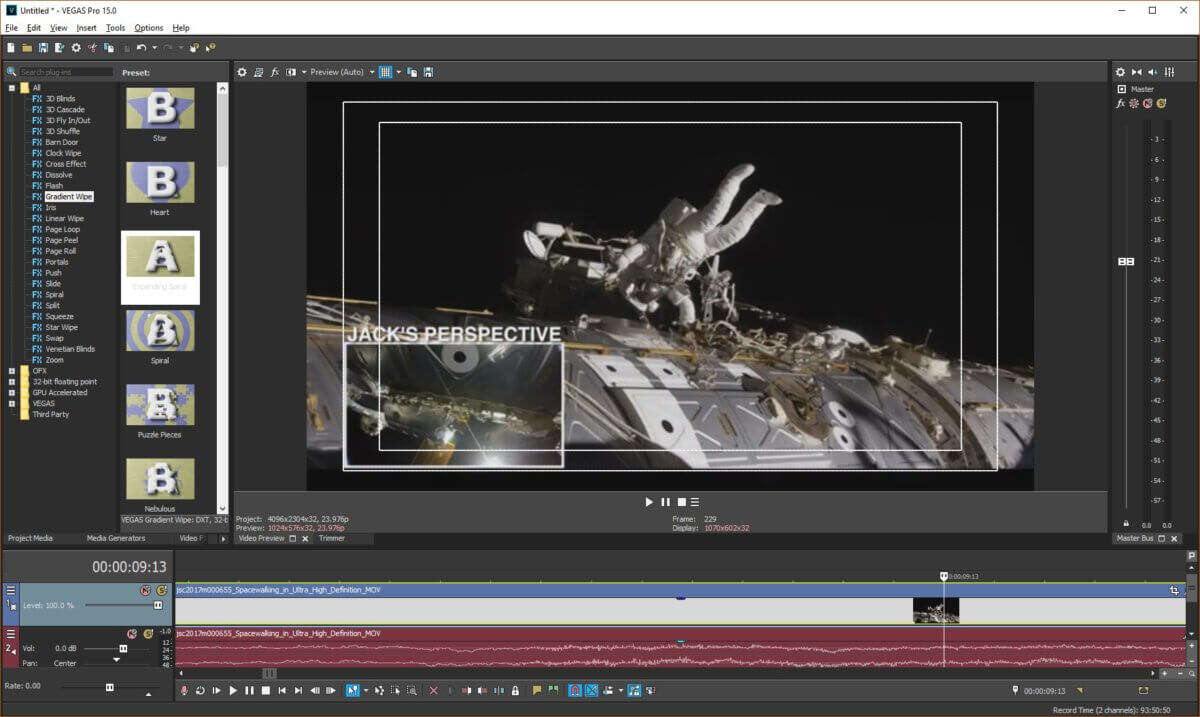 Key Features:
Effects and Modifications - Any changes you want to make to your video clips can be done by simply right-clicking on the clip. Clicking on "Video Event FX" will open the Plugin Chooser from where you can choose tons of effects and modifications. You can further edit each effect to get the desired result.

Event Pan/Crop Windows - The Event Pan/Crop window feature of Vegas Pro is most famous with video editors. This window enables you to carry out editing for each clip individually. It also allows you to magnify a certain portion of the clip at the set time. This feature enhances sports video to another level.
Pros
It has high-quality built-in effects ideal for commercial use
A variety of free and paid plugins are available online
Numerous YouTube tutorials are available to guide you on how to use this program
Cons
Some users find that other software offer better benefits
It has many additional features that are hardly used
Pricing and Compatibility
①Vegas Pro is available for a 1-month free trial period. You can purchase it for more features.
②Vegas Pro is compatible with all versions of Windows. However, it is not supported on Mac.
Best Free Sports Video Editing Software for Mobile Users
Many users make videos using their mobile cameras and so editing it on their device is the most convenient option. Therefore, we have listed some of the best app to make sports highlight videos for mobile devices.
1

iMovie App
No, you're not experiencing déjà vu. We did mention iMovie earlier, but that was the desktop version. The version we're talking about now is for mobile users. iMovie is a free sports video editing software by Apple.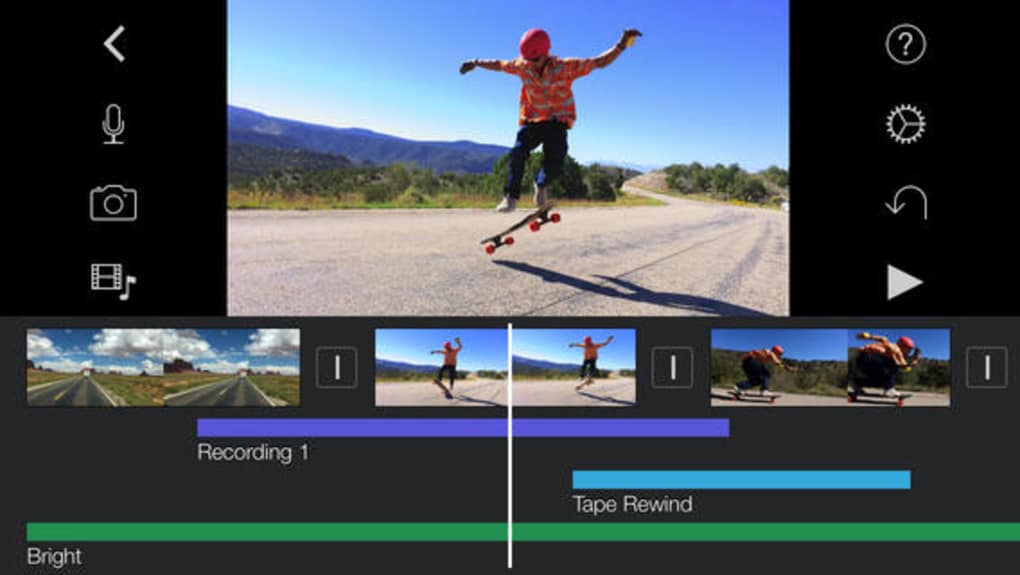 Key Features:
Custom Elements - iMovie enables its users to create cinema-like sports videos by adding custom logos, cast names and credits. It has many templates to choose from according to the feel of the video. This feature is great to hold the attention of the audience.

Premium-quality Titles - Apple iMovie comes with a wide range of creatively styled titles. You can also edit the font, size, and text color according to your preference and make your sports video unique.
Pros
Light interface
Various of effects and titles for sports videos
Classy sports themes
Cons
Not support Android
No 360-degree video editing
Pricing and Compatibility
iMovie is a free video editor by Apple and is compatible with all iOS devices.
2

Splice Video Editor
Splice is one of the best free sports video editing software for editing videos on your mobile. It enables you to create amazing sports videos and post them to your social media accounts simply and smoothly.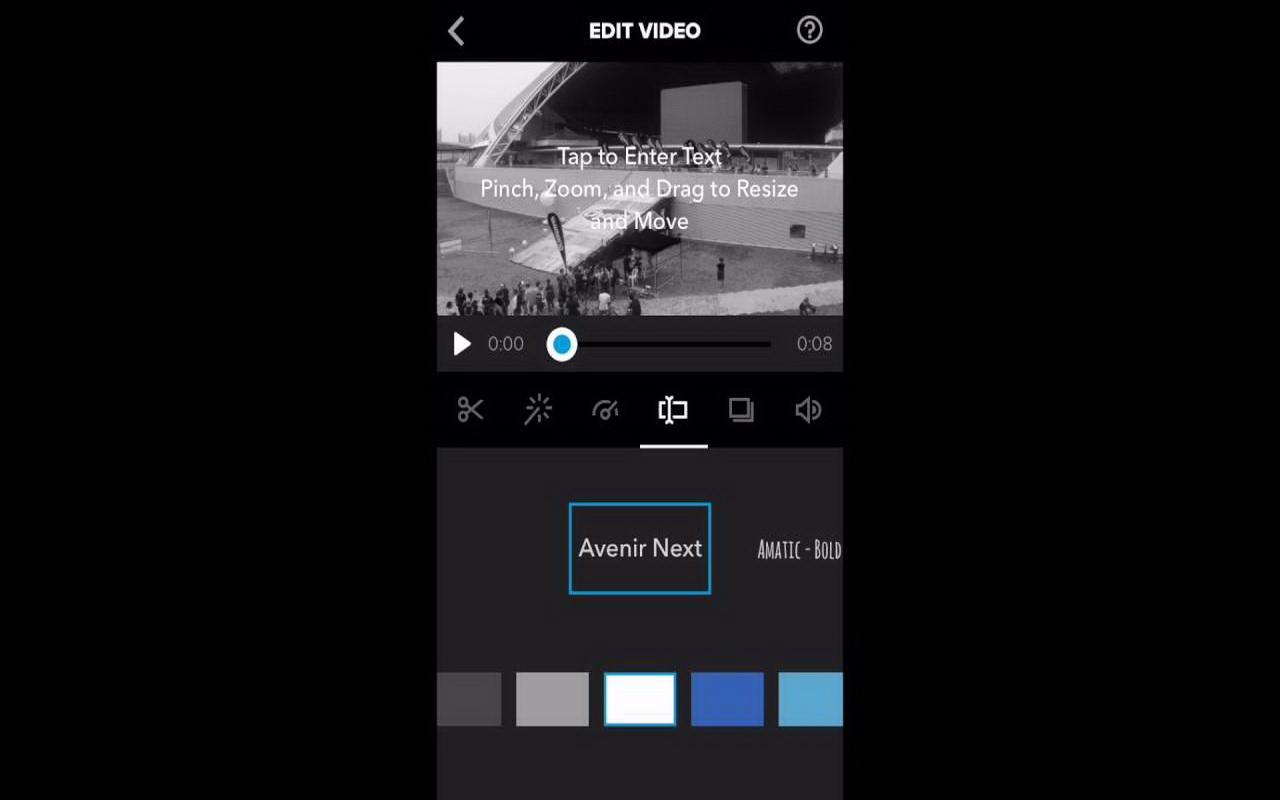 Key Features:
Trim, Crop and Focus - Nobody wants to sit and watch unnecessary footage. Therefore, to create high-quality sports video, it is essential to trim extra footage and focus on the exciting moments only. This is possible with Splice. You can easily trim the clip to highlight the main content of the sporting event so that the audience doesn't zone out while watching it.

Effects for Video Enhancement - In most sports videos, usually there's a part or segment that needs to stand out to show its significance. For this purpose, video editors usually slow them down or put them in black and white. Splice has 12 different filters and numerous effects that can make your sports video visually interesting. You can apply them to each clip to make it pop out from the rest.
Pros
Easy to use
Contains all basic editing features
Simple social media sharing options
Integration with iTunes
Cons
The desktop version is more precise
The number of effects and transitions is lesser than other competitors apps
Pricing and Compatibility
Splice Video Editor by GoPro is a free sports video editing software available for free download on Google Play Store and Apple Store.
Useful Tips for Editing Sports Videos
Although you can create cinematic videos with the help of those apps we have discussed above, you could still use some tips to enhance the quality of your work.
1. Keep it Short - The trick to creating a good sports video is to keep it short. Try to make videos that are minimum 2 minutes and maximum 4 minutes long. People tend to lose interest if a sports highlight video is longer than the mentioned time.
2. Keep Effects to the Minimum - Sports videos are all about the moves and shots that take place during the game. Try not to apply filters or effects during the action. You can use them before or after it, but don't clutter your video with more filters or transitions than required.
3. Music - Music is an important part of a sports video, but make sure the sound isn't loud enough to drown out the original sound of the clip. Also, choose music that is low key so that it doesn't distract the viewer. Try aligning dramatic parts of the video with the dramatic part of the music and use longer clips in the beginning to build momentum.
Final Thought
Always use the best free sports video editing software that you are comfortable in working with. Most free video editors have all the basic features required to create a spectacular sports video, even if you're editing on your phone.
So, download a free video editor now and get your sports video editing on. Our recommendation is iMyFone Filme. It is the best software for sports video editing and comes with abundant effects and resources for you to choose from. You can create a stunning sports video in a few minutes. Try it out first!