It's easy to find a video editor nowadays to help you create, edit and improve the quality of your official or unofficial videos. While free video editors are not so desirable as they always have bothered ads or watermarks. So are you thinking to pay for a video editor with no watermarks? That's not necessary! In this article, I will introduce the best free video editors with no watermarks, I mean, real free. Keep reading…
1. iMyFone Filme – Best Free Video Editor with No Watermarks
iMyFone Filme is a free video editing software for both individual and corporate bodies. The software has a user-friendly interface that is easy to manipulate by novice and professional editors alike. The fast video mode allows you to choose from numerous fancy templates for a quick video and slideshow editing.
Meanwhile, the editing processes are not difficult too. You can easily add stunning effects or use other advanced features to make the video of your choice. On the basic editing interface, you can easily crop, split, rotate, adjust speed, and add effects.
What's more, the iMyFone Filme video editor has numerous effects and resources that will improve the overall quality of your video. These effects are carefully designed and developed by experts to suit different needs. Whether you are editing a video for formal or non-formal purposes, iMyFone Filme got you covered.
More importantly, the software is free to use. It doesn't display annoying/excessive adverts or add watermark. The software allows you to retain full ownership of your video.
A simple step-by-step guide to make a video in Fast Video Mode:
With Fast Video Mode, you can create a favorable video just in minutes.
Step 1 - Choose a Template: Tap "Fast Video" and choose from the numerous templates available for your video. Some templates are perfect for birthdays, while others are great for weddings, holidays, business, education, and so on. Make sure you choose the most suitable template for your video.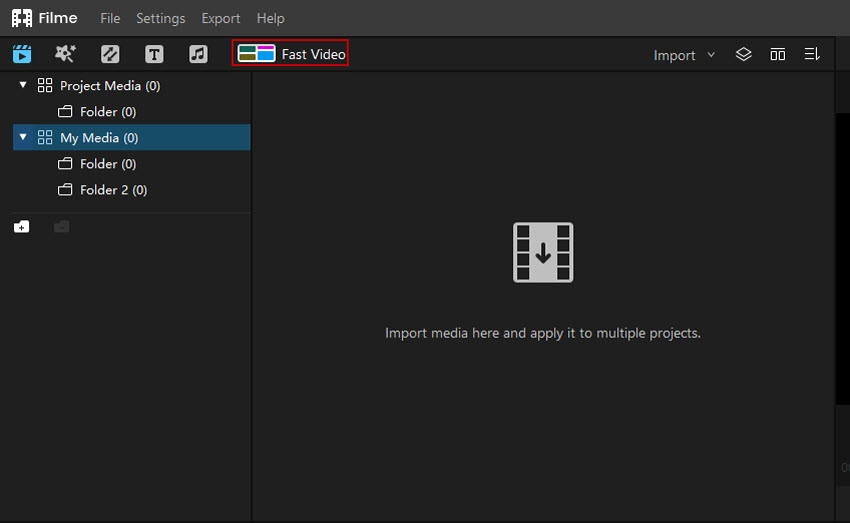 Step 2 - Add Media: Click on "Add your media" and locate the video file on your computer.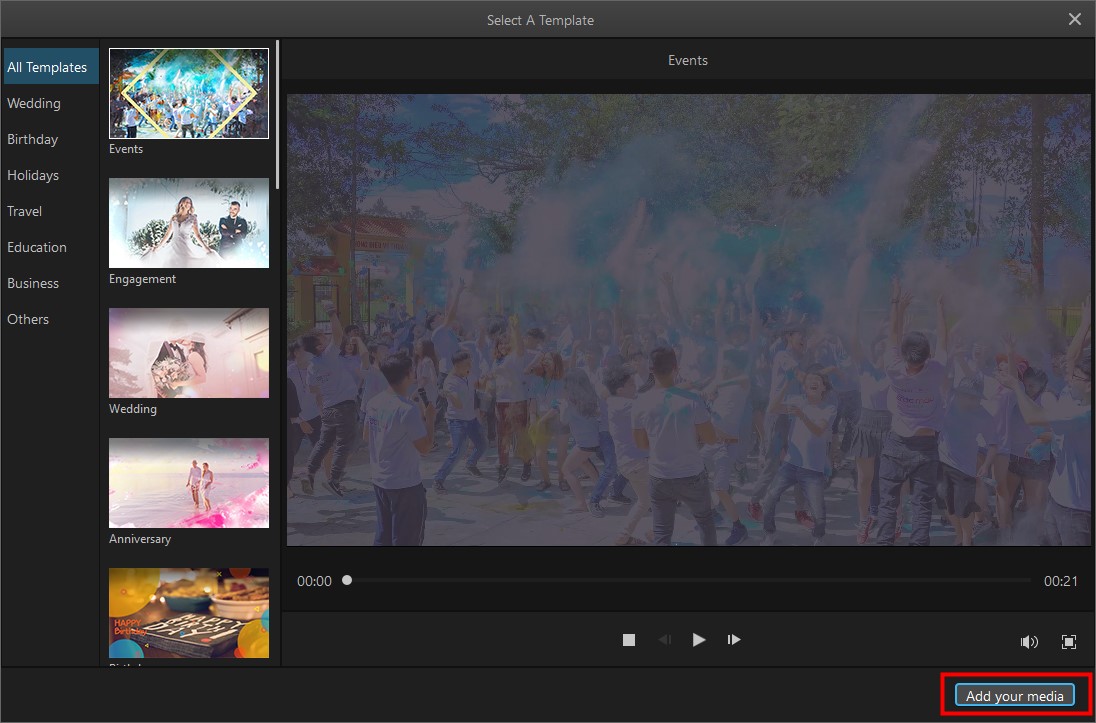 Step 3 - Preview: The next stage is to preview your video. Check for errors omissions. You can always go back and use the free editing tools to modify your video to your desired taste.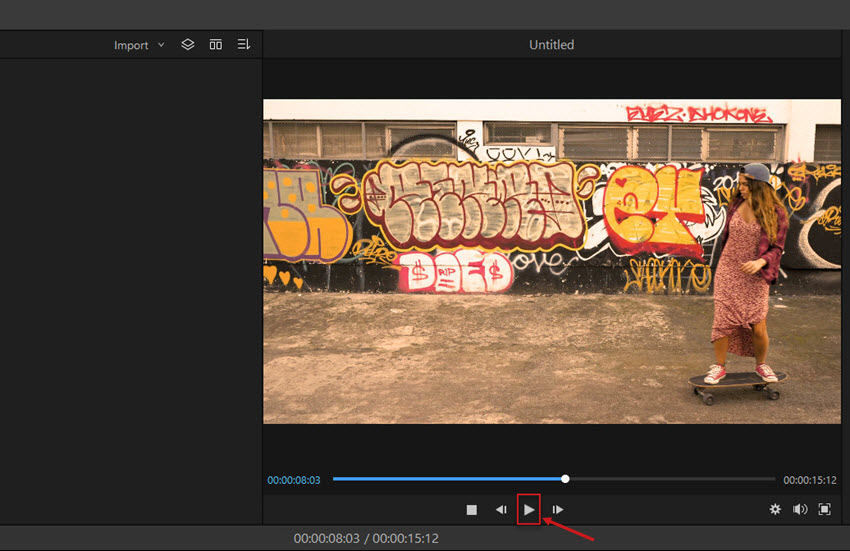 Step 4 - Export: Are you satisfied with the outcome? If yes, simply click the "Export > Export Video" button and save your video. So easy!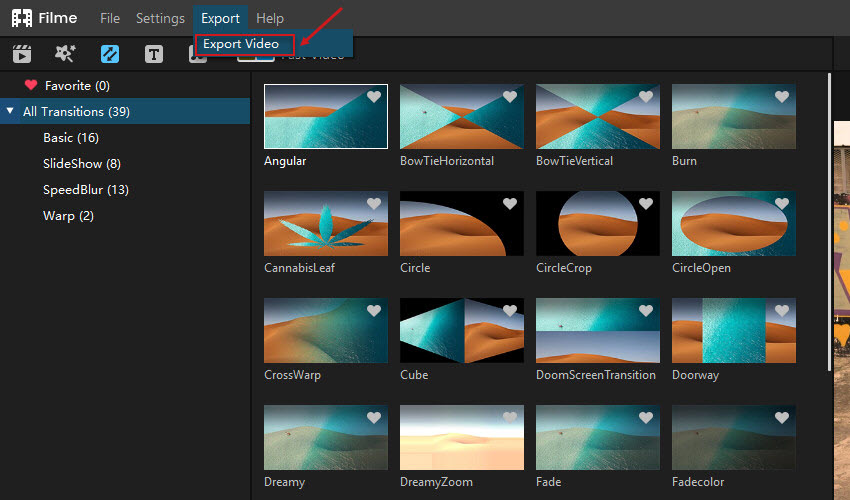 2. VSDC Free Video Editor – Best Video Editor for Beginners
VSDC is yet another free video editor with no watermark perfect for personal and business purposes. This software comes with a set of tools for editing, improving, recording, and capturing audios, videos, and photos. With over 5 million happy users, this free video editing software is a good step in the right direction.
VSDC video editing software has a PRO version too for professional video editors. This version comes with even more complex and sophisticated features for experts.
Meanwhile, VSDC is a non-linear video editor which means that video and image files do not necessarily have to follow a direct (linear) sequence. Instead, they can appear in different locations in the scene synchronously with other objects and at any time.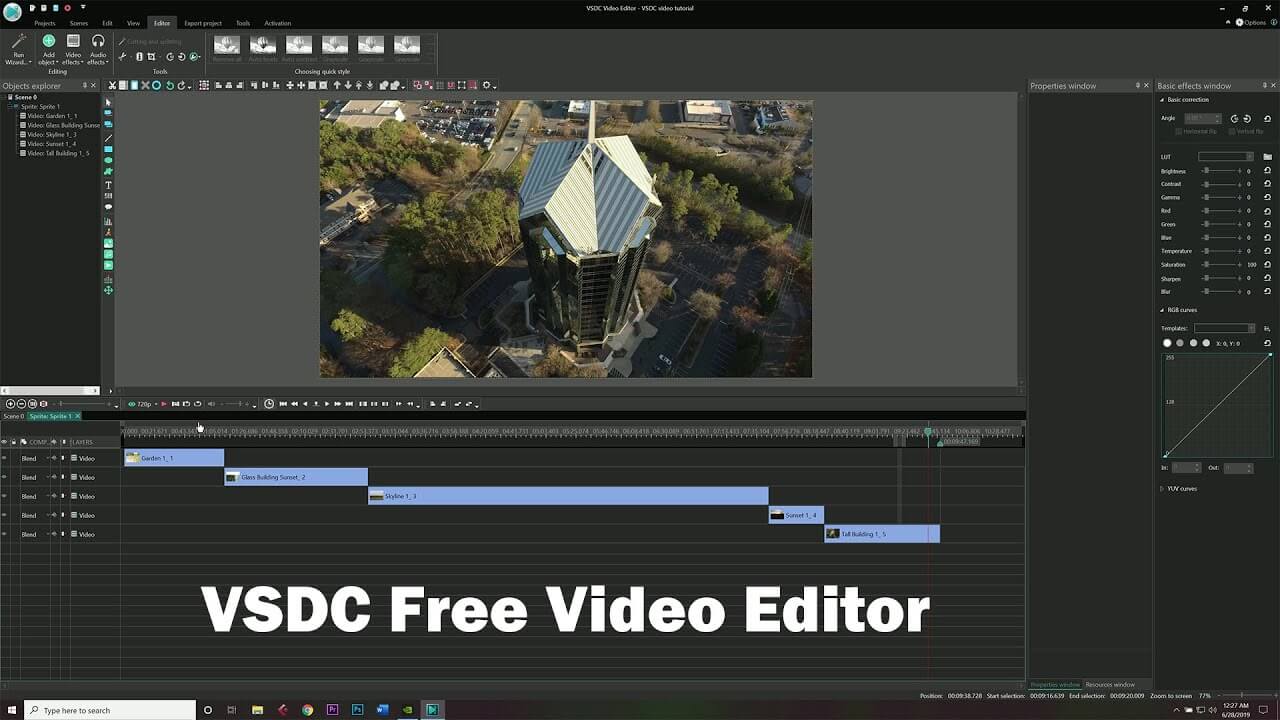 Pros of VSDC:
Free to use

Non-linear video sequence

No watermark
Cons of VSDC:
The interface looks overwhelming

Requires some skills and expertise to use

Free version has some limitations
3. Shotcut – Best Open Source Video Editor
Shotcut is free video editing software compatible with Linux, Windows, and Mac OS computers. The software supports hundreds of audio and video formats to produce excellent video quality. The supported image formats include BMP, GIF, JPEG, PNG, SVG, TGA, TIFF, WebP as well as image sequences.
Shotcut also has audio and video filter features. The filter covers various aspects like audio balance, bass & treble, bandpass, compressor, copy channel, delay, downmix, expander, gain, high pass, limiter, low pass, noise gate, normalize: one pass, normalize two-pass, notch, pan, pitch, reverb, and swap channels.
Shotcut has many other exciting features for both novice and professional video editors alike. The auto-rotate and reverse features, among others, are excellent features you cannot afford t miss. More so, you can easily cut, trim, cut, copy, and paste using this free video editor with no watermark.
Other exciting features about this software include wide compatibility, hardware support, and cross-platform and codex independent.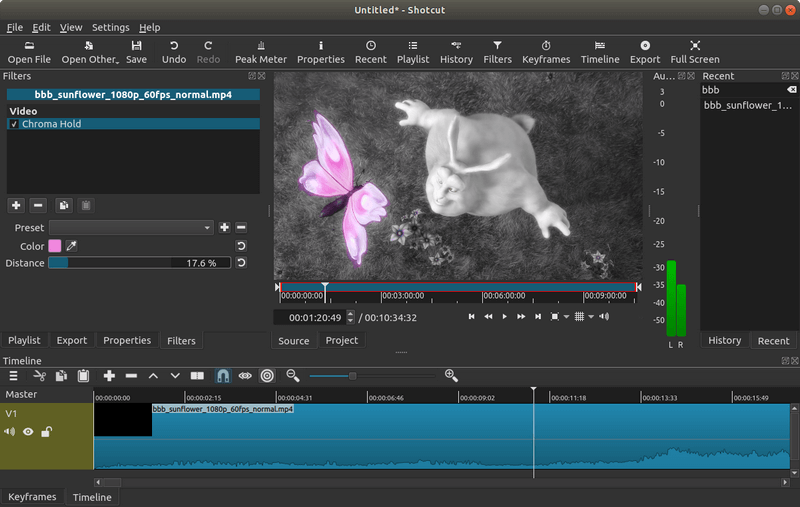 Pros of Shotcut:
Easy and straightforward editing

Intuitive interface

Supports wide format

Wide compatibility
Cons of Shotcut:
No built-in sharing to popular sites

No 360 VR or 3D support

Requires more practice to master the features
4. OpenShot – Best Straightforward Video Editor
OpenShot is a cross-platform video editor that works on Windows, Linux, and Mac OS computers. The video editor allows you to add as much as possible layers as watermarks, background, and audio track. More so, the software has different templates for adding titles to your video.
It is very easy to start using OpenShot too. Just drag photos, videos, and audio files from your computer to the user interface to start editing. Also, you can quickly crop, trim, and cut your video until you get your desired outcome.
Furthermore, you can use the video effects to remove the existing background and watermark from your video and add new colors, images, and audios into the video. Don't forget to add the 3D effects and animations to make your videos stand out.
Meanwhile, OpenShot supports over 70 different languages and can easily be translated using the LaunchPad. Control the timing and sequence of your video. OpenShot gives you the freedom to adjust the speed and direction of your video. These are a few of the amazing features you will get from this free video editor with no watermark.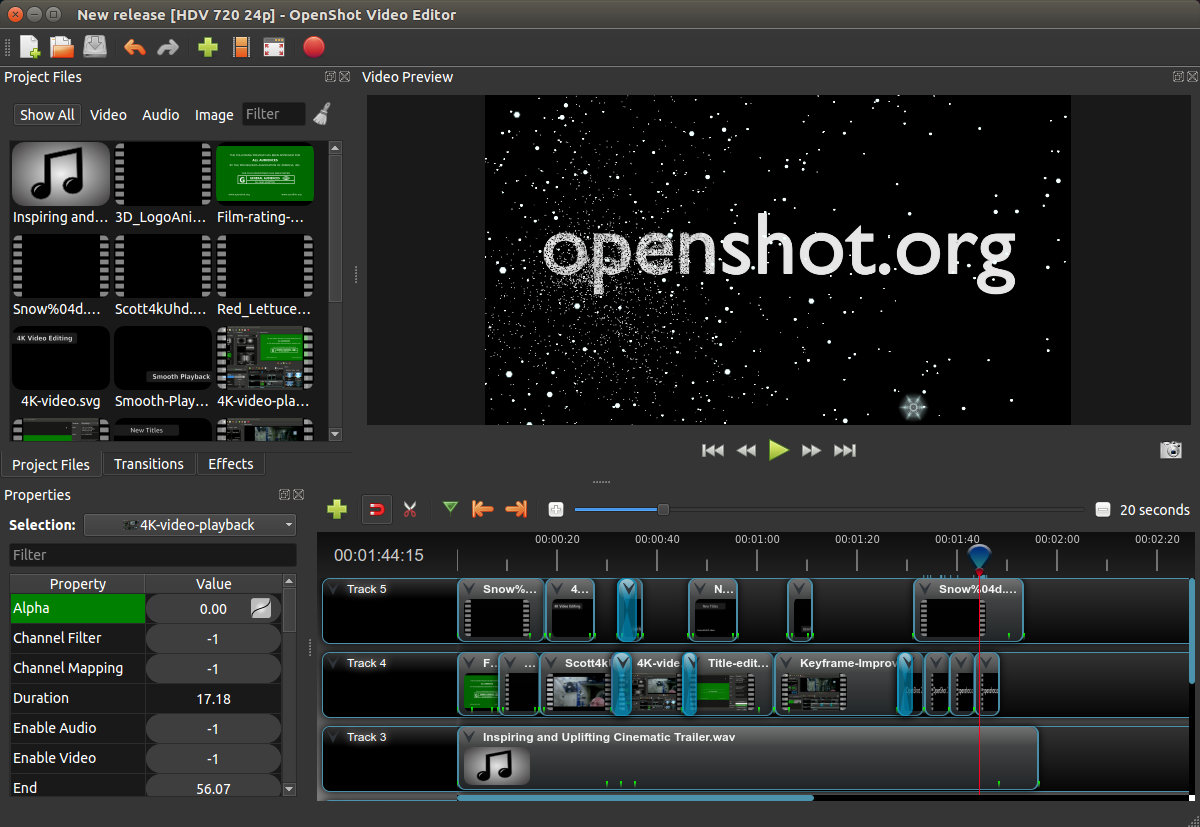 Pros of OpenShot:
Works with Windows, Linux, and Mac OS systems

Completely free to air

Unique and awesome effects
Cons of OpenShot:
Effects are very limited

Can be very buggy at times

Some users reported app crash and loss of data
5. Lightworks– Best Video Editor for Professionals
Lightworks is a free cloud-based video editor containing essential functions and features for stylishly creating videos. The software produces videos in all formats, suitable for social media, Vimeo, YouTube, and 4K film projects. Over the years, this free video editor with no watermark has been used in the making of top Hollywood like The Wolf of Wall Street, Pulp Fiction, LA Confidential, and Hugo.
What's more, Lightworks makes it easy to edit clips and shots via the drag and drop method. The software also features excellent editing features like color blending and grading which helps to enhance the quality of the video images.
Another interesting feature is the keyframing. This function allows for an easy and smooth transition between clips. More so, it works perfectly Blackmagic fusion that gives users access to graffiti, transitions, filters, and graphics from Boris, a visual effect solution.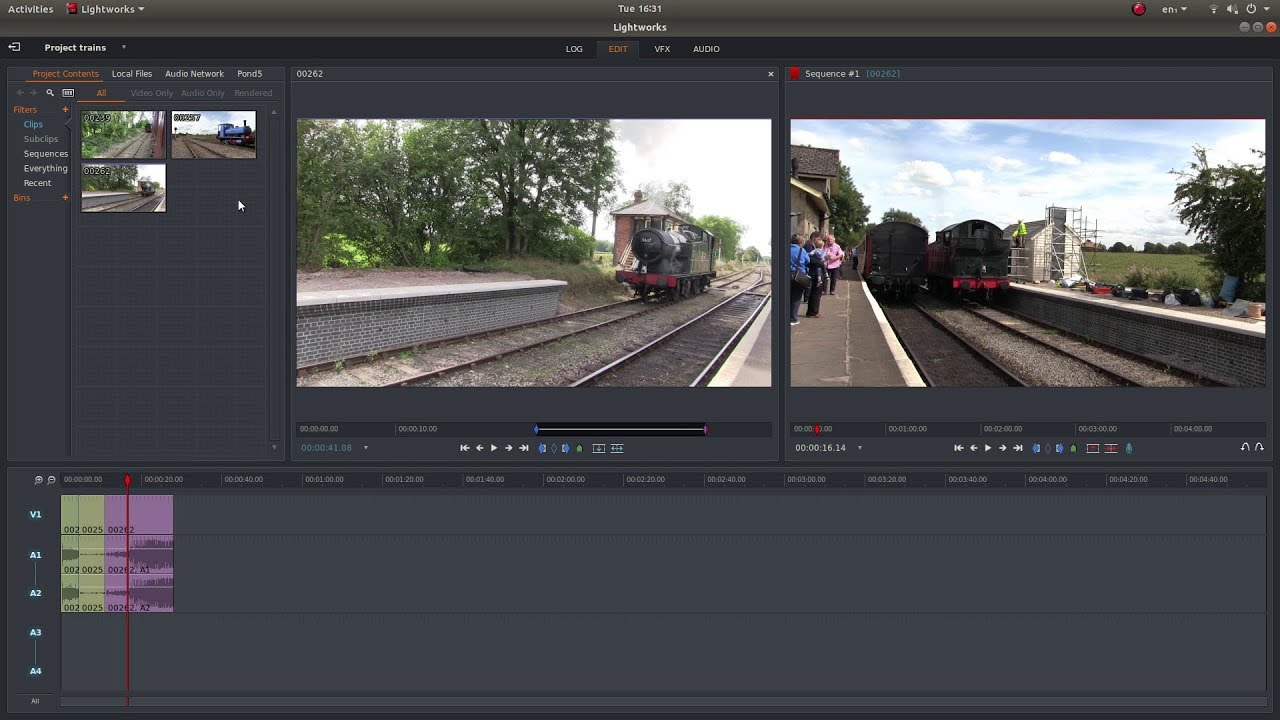 Pros of Lightworks:
Contains keyboard shortcut

Flexible drag and drop interface

Delivers content in any format
Cons of Lightworks:
Some features are exclusive to Lightworks PRO

Mac MENU does not have a support option
6. Video Grabber – Best Free Online Video Editor
The video grabber online video editor is software that lets you create stunning and amazing videos for private and public use. This free video editor with no watermark features numerous exciting tools like effects, transitions, and filters.
It supports audio, video, and photos of almost any formats too. This, there is no limit to what kind of files you can include in your video. Furthermore, video grabber does not only let you edit videos but also help you to save and process them for sharing on different platforms.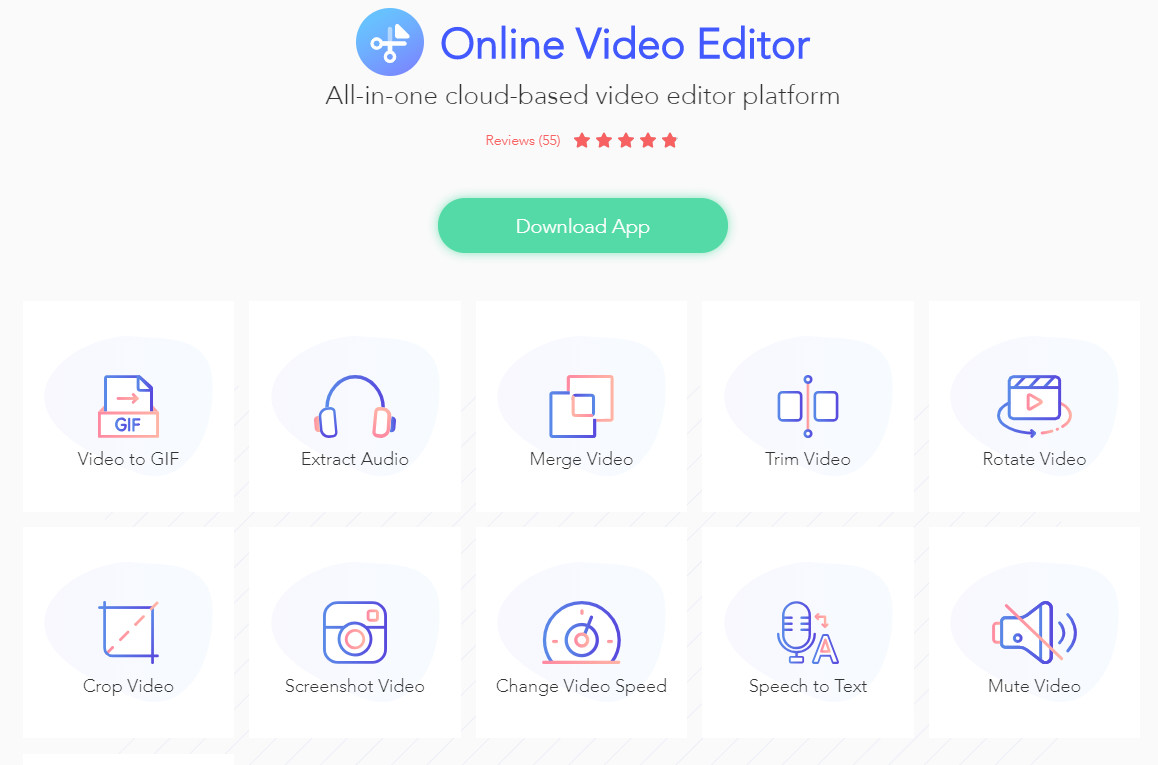 The major features of this Video Grabber include:
Video Converter – allows you to convert videos into a different format

Video Splitter – Allows you to split, shorten and separate a single video into 2 or more

Video Merger – Allows you to merge several videos into a single one.

YouTube Video Editor – Easily edit videos and share directly on YouTube.

Video Cropper – Allows you to remove unwanted parts from a video.

HD Video Editor – Also edit high definition (HD) videos easily.

DVD Creator – Works with DVD Burner to produce playable DVDs.
Cons of Video Grabber:
Functions are very limited, only basic edits provided.

The processing time depends on your internet speed.
Bottom line
Here are the 6 top free video editors with no watermark available for both beginners and professionals. Most of the software has a Pro version with proves ranging from $10 - $100 per annum. The PRO version gives you access to many other features, tools, and functions for perfect video editing. iMyFone Filme is the only one provides full features in its free version. Why not have a try?