A vlog without a vlog topics is like a house without a foundation. Finding an appropriate vlog idea for your video before unfolding your storyline is a great way to hook your audience! However, it is not easy to decide on a theme without ideas provided.
Stuck with what to do next for your vlog to make your effort on video pay off? Want suggestions about your next vlog to keep your audience engaged and entertained? Great! You are on the right path.
Part 1. 100 Vlog Ideas You Need to Give It a Shot
Here are the top 100 vlog ideas that will boost your engagement with your audience!
10 Daily Vlog Topics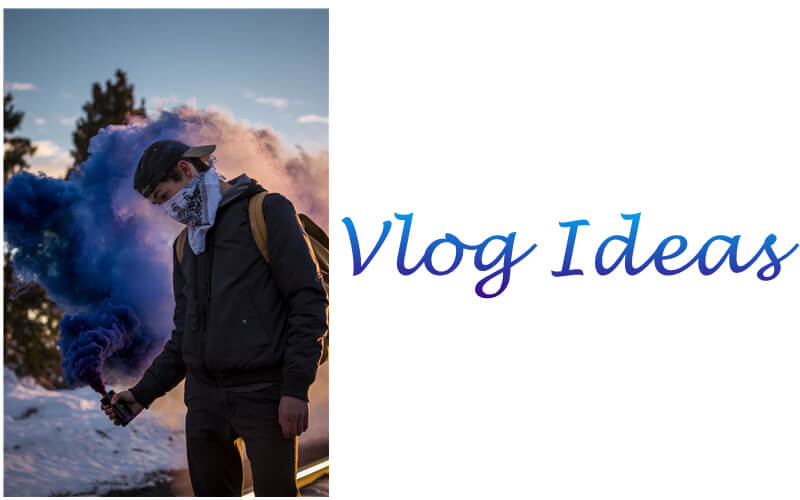 For all the vlog videos, people need to do a lot of editing to keep the videos short, precise and entertaining for the viewers. For all that editing and much more, use iMyFone Filme Vlog Editor as it is one of the best software for creating top-notch vlog videos. You can create best vlog with iMyFone Filme Vlog Editor with few clicks, Download iMyFone Filme Vlog Editor now.
1. Daily life vlog
The first thing to do in a vlog is giving an introduction or whatever seems fit. Most people start vlogs by giving their introduction so that if a new person is watching, they can also know who they are.
"Ideas are easy. It's the execution of ideas that really separates the sheep from the goats."― Sue Grafton
Make your vlog ideas come true from now on by start your shooting today!
2. Eating show vlog
Most vlogs contain the content where the vlogger is going to a famous restaurant or a place with some high-rated food their followers recommend. It is honestly the most generic and fun vlog topic, and one never seems to stop watching.
3. Review
Review does not only have to be on the new hot-shot celebrity and gossiping about his/her life. There are a lot of reviews topics a person can pick from. Like, reviews on a certain mobile company, video game, etc.
4. What's in my bag
If a person is a first-time vlogger, the most common thing they do is give an introduction and answer the most-asked questions, etc. but to try something new, "what's in my bag?" has trended a lot, and it is also eye-catching and interesting to watch.
5. Music vlog
Music vlogs are rare, and that's why they are more interesting to watch. Not many people have a lot of knowledge on the musical rhythm or instruments; that's why this kind of vlogs are treasured more than others.
6. Opinion vlog
Well, for starters, opinion vlogs are a good idea too. A person can talk about the ongoing problems, like Palestine, and share their opinion; this can help spread awareness. By doing so, they may contribute to the matter somehow.
7. Tech vlog
Tech vlogs are important and in need nowadays, where there are a lot of electronics, and people don't have the correct knowledge to use them. For example, if someone gets a new iPhone but doesn't know how to use it properly because they have been using androids their whole lives, then these vlogs may prove helpful for them.
8. Traveling vlog
Traveling vlogs are the best option. While the viewers can have fun watching the new places being discovered and seeing new places, the vloggers are also going through the same euphoric feelings, and thus makes the viewers and vloggers have mutual feelings.
9. Motivational vlog
Motivational videos are everywhere, but motivational vlogs are way better. This is because the person giving this life-changing advice is genuinely concerned as well; they might have gone through the same thing and don't want others to go through it.
10. Unboxing
Unboxing new items is fun. There are two benefits of unboxing vlogs. One is that you can record yourself while unboxing things ordered only, etc., and if something is damaged, to have proof. The second is that you can talk about anything and everything while unboxing.
10 Fun and Challenge Vlog Ideas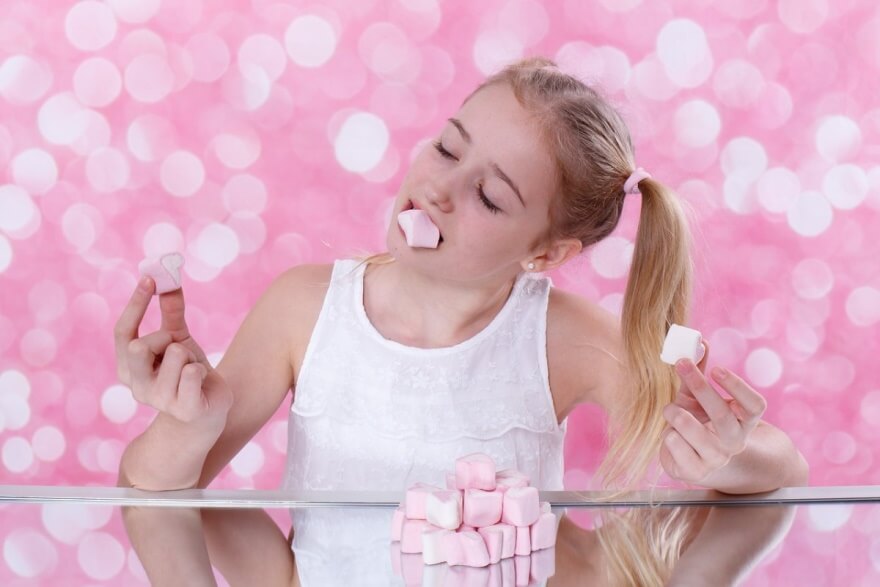 11. Record yourself before and after
These challenges are honestly really funny. Like you get to know something new, something you thought you knew or never paid much attention to, and it got out to be something entirely different. For instance, there was a challenge to record yourself before, and after searching the word ":)" on the internet, they were something else, honestly.
12. Try not to laugh
As you can tell by the name, this challenge is to not laugh whether or not someone's tickling you. You need to keep a straight face, no smile or laugh, basically be a robot to win this game. You might see or hear or even feel something funny, but keep a straight face, and you win.
13. Say anything
In this challenge, there are supposed to be two people minimum. One person has to say a word, and the other has to say a word right after them without a pause, but not even a single word should be repeated, or you are will get a piece of tape on yourself.
14. Chubby bunny
It is a fun challenge. All you have to do is put a marshmallow in your mouth and say chubby bunny. The only condition is that you are not allowed to chew, swallow or eat the marshmallow. After you have successfully done that, the same goes for the other players.
15. Innuendo bingo
This game is between two people who have to keep water in their mouths while sitting closely in front of each other. A sound or a conversation will be played in the background; you are not supposed to spew the water; if done so, take another mouthful. The last to have water is the winner. The sounds mostly have a double meaning, but never the actual sound of adultery or anything, but it does point out something related to that.
16. Touch my body
As you can tell by the name, it has been the most intimidating challenge of all time. This challenge is mostly done by couples or between opposite-sex friends. In this game, one has to be blindfolded and guess the body part of the other player by the feel. The person who blindfolded them has to place their finger on someone their own body, and that's how it goes.
17. Weird food combinations
As you can tell by the name, the player has to try weird food combinations given to them by either their followers or their family or friends, etc. this can get disgusting, and often people puke but still, some of them turn out very good.
18. Ghost pepper
In this challenge, you have to eat the spiciest pepper out in the world that is the Indian red pepper. The longer you can take it, the funnier it gets for the other person to break the record.
19. Last to leave
As the challenge states, the last person to keep standing or leave is the winner, and they are often given prices. For example, two or more people have to hold a piece of paper while standing, the last person to keep holding onto that piece o paper while standing wins, and the award is theirs.
20. The Disney challenge
In this challenge, two or more people listen to a Disney sound or voiceover and guess the movie and the person. If it is a song, you have to tell its name by listening to the background music for 5 seconds.
10 Education Video Blog Topics
21. Medical School Experiences
You can make a vlog on this topic, as it is essential that everyone knows what to expect when going to medical school. Most people don't know what to expect because it isn't even the field they wanted; it's what their parents wanted.
22. Institute and Student Life Experiences
It is a great idea if you are going to be blogging about the institute and student life experience, as this will give others experience too, or even an idea of the future.
23. Overseas Student Experiences
If you are an overseas student or have someone related, you can blog about this topic, as many students are afraid of going to new places with new environments and unknown dangers.
24. How to Prepare for Entrance Exams
Let's admit it, preparing for an entrance exam is always hard as the questions will be unexpected, but there is always a certain thing or place where the paper is made from. If you have figured it out, then you should make a blog about it and help others prepare well.
25. Ups and Downs about University
Every university has its ups and downs, but it would be better if they have already been mentioned and the student has been warned because the unknown is dangerous. This idea is a must-try one.
26. The transition from University to Work
The transition from university to work is a topic talked about rarely, and thus why you should talk about it. Its knowledge is important so that we can be prepared.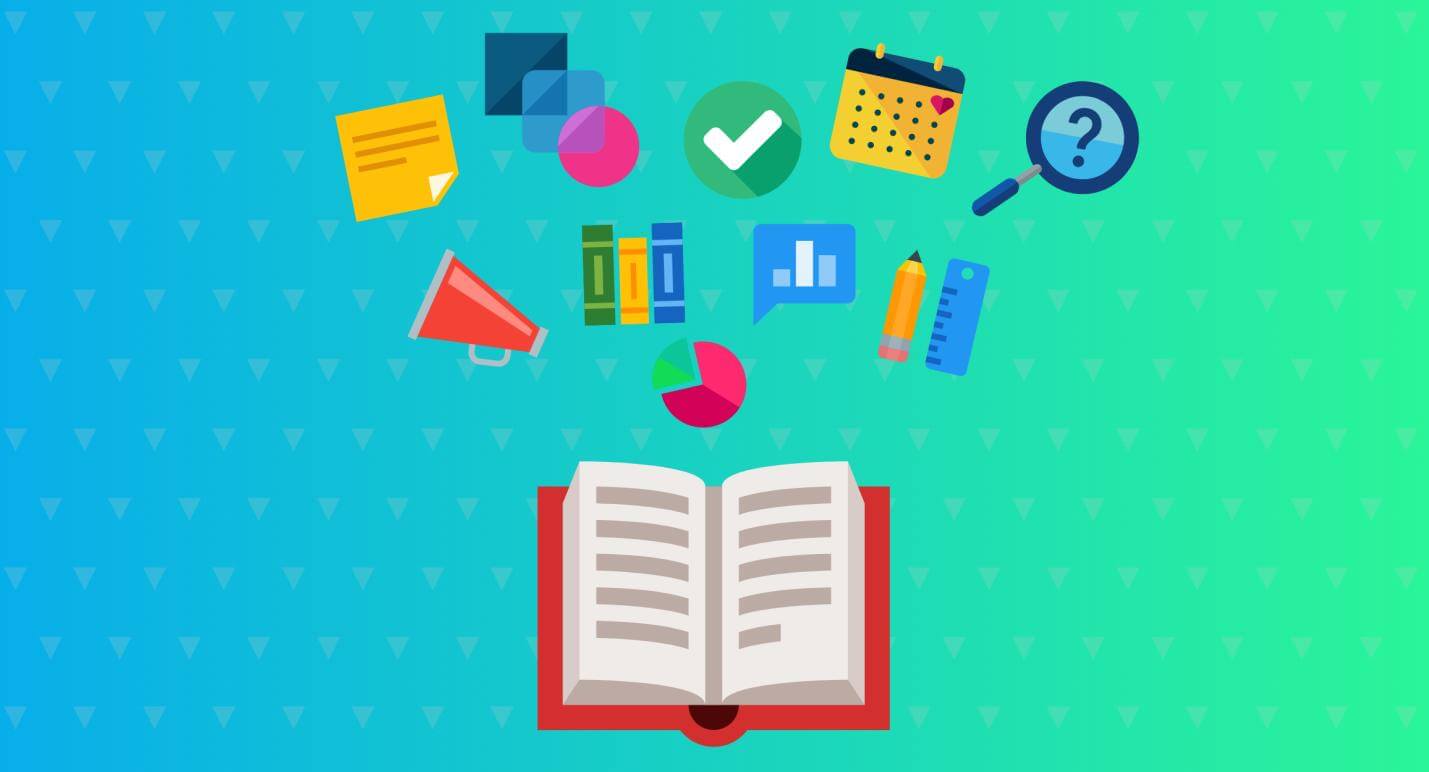 27. Scholarship Students
You should make a blog on the scholarship students, how they have to maintain a certain percentage, and the things they need to stay away from; it is always good to be warned before.
28. Healthy Study Schedules
Everyone needs a healthy study schedule but doesn't know the appropriate sequence they should be put in. So, if you are going to make this, it will be a great idea and will help others greatly.
29. Collab with Student Vloggers
Collaborating with other student vloggers will be a great opportunity for others as they will have someone with experience to tell about the daily life of the institute.
30. Dorm Tour
It will be a great help to both students and the institute if you give a dorm tour as that is the place that tells about the living space you'll be getting.
10 Vlog Ideas for Couples
31. How we met
People are always curious to know how the couple came to be. Doing a "how we met" vlog will easily catch people's eyes and will be beneficial for you.
32. Daily life routine
There are many vlogs where people do their daily life routine, but couples routines are different. They are more intriguing to watch and are a better idea than the normal daily life routine vlogs.
33. My boyfriend does my makeup.
This is honestly really risky and thrilling at the same time. This is perhaps one of the most intriguing Youtube video ideas for girls. We all know men don't know how to apply makeup, but to see them struggling to do that just to make you happy. That's cute!
34. Relationship advice
Everyone needs relationship advice, but it's even better when it's coming from a couple itself. You can do a vlogging where you both give relationship advice, like what to do or don't, and also answer the most frequently asked questions about the relationship.
35. Try challenges
You can try different challenges with your partner, that's the best way to spend time together. There are many challenges on TikTok or Instagram where the couple needs to do this or that; you can try that.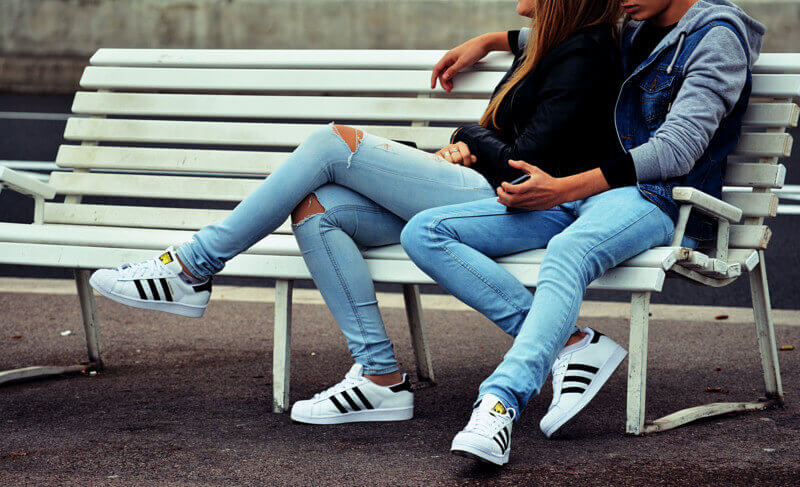 36. Matching outfits
Matching outfits with your boyfriend is always an ideal romantic thing a couple wants, but you can do vlogging where you show how exactly you guys convinced each other with different articles of clothing. Also, this will give others an idea of what to wear that matches perfectly as well as look stylish.
37. Pull pranks
You can do vlogging, where you prank your partner with stupid challenges on the internet and record their reaction.
38. Surprise visits
You can do a vlog where you surprise your boyfriend with a visit, whether he is in the gym or somewhere in a meeting. This will surely catch him off-guard and will be a pleasant moment for both of you.
39. Travel together
You can try to do vlogging where you travel with your partner to your desired place and try different things.
40. Know-me-to-well
You can try making vlogs with your partner where you ask each other facts about yourselves and know how much you guys know about each other.
10 Beauty Vlog Ideas
41. Rating the worst beauty parlor
This can be a great thing to start your beauty vlogs from. There are vlogs where the person goes to the worst-rated beauty salon to try it out by themselves. The experience won't be that great and a total waste of money, but you would know why people did what they did.
42. Rating the best-viewed salon
Yeah, the opposite can be done as well. This will give you a great experience as well as a fun adventure. Your money won't be wasted as you will realize how professional's work and mistakes you have been doing why your makeup is always done differently.
43. Trying celebrity looks
The most commonly done vlogs are the ones where celebrity looks and makeups are tried. If you are good at makeup, then you can also try this idea. Who knows that maybe that look will suit you better than your original one, right?
44. Answer the questions
You can also answer the most googled questions in your vlog. There are a lot of questions related to using this or that hacks that you can answer. This may even help others from doing a disaster to themselves.
45. Product review
There are a lot of people who wants to know what beauty products their idol or celebrities use. You can buy those exact products and try them on yourself and review what's so good in them. Also, you can try new products and give them reviews.
46. Try hacks or advice
You can try different famous hacks on your vlog. There are a lot of 5-min hacks about makeups that you can give a try. For instance, there is a makeup hack to make a foundation of the correct shade with paints, or you can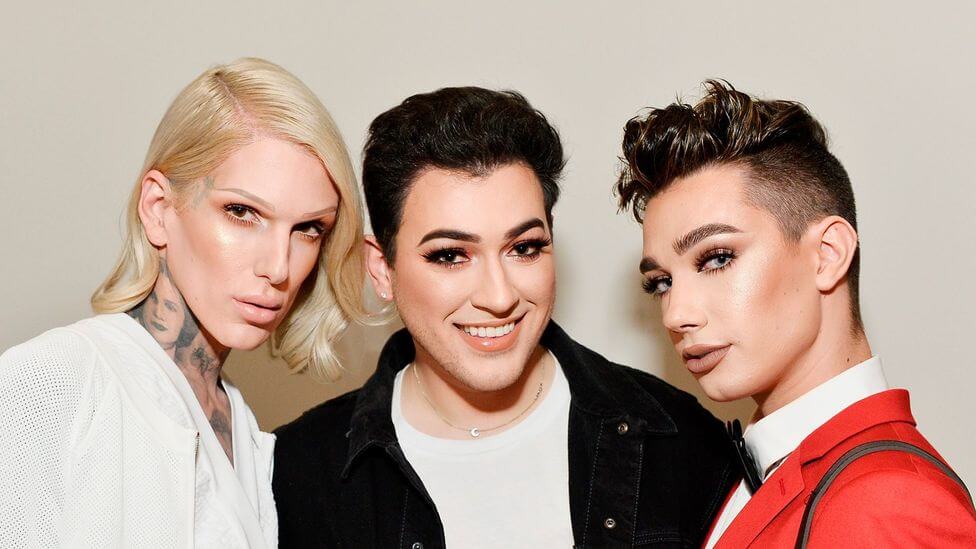 47. Fastest makeup getting salon
People want to get ready quickly, but they don't know where to go, so you can go to different salons and try raking them according to the time they take. This will help the audience and who knows you too one day.
48. Cheapest salon
Well, just because a place is cheap doesn't mean it's bad, but it also doesn't mean it's going to b good. No one wants to try risking their time and money, but then again, they want to know, so it will be good to try this one.
49. Expensive salon
You can vlog about going to an expensive salon and rate its makeup look, its staff, and interior, etc. People like looking at new and shiny things; this will surely catch their attention.
50. Outfits to go with a makeup look
Try vlogging about articles of clothing with different makeup looks. You can teach people what goes with what style, like the bold makeup look with a skin-tight red dress, or a summer dress with a light natural makeup look, etc.
10 Active Lifestyle Vlog Topics
51. Day in the Life
Make a video of how you spend your whole day. Give a short view of what a vlogger does in his/her whole day can tell the viewers a lot about their vlogger. This helps in bridging the gap between the vlogger and his/her audience.
52. Food Preparing Ideas
Make a video about how the person prepares the meal. Like how they wash vegetables before cutting them and cooking them and how to clean up afterward.
53. Healthy Breakfast ideas
Vloggers can inspire the audience to eat a healthy breakfast as this is the most important meal of the day. Always start the day with a healthy and energizing meal!
54. Healthy Lunch Ideas
Shoot a video on what to eat for lunch and how to keep the food healthy will attract many people as everyone looks for a healthy diet to keep them fit.
55. Healthy Dinner Ideas
Making a vlog on what to eat for dinner and giving ideas to the viewers about what to eat according to their body types.
56. Exercise Ideas
Make a vlog about daily exercise to keep a healthy and fit body as a healthy body has a healthy mind.
57. House/Room Tour
Vlogs on room tours or apartment tours attract a lot of people and also tell a lot about the vlogger's personality to his/her viewers.
58. House Maintaining Ideas
Make a vlog on keeping the house clean and adjusting everything in whatever space a person may have.
59. Skincare Routine Ideas
Vlogs on skincare routine advice and ideas will engage a lot of people as grooming is what everyone needs to do to get accepted in our society.
60. Planting/Gardening Ideas
Make a vlog about ideas and tips in maintaining gardens or plants as plants are refreshing on only for the environment but also for human souls and eyes.
10 Personal Growth Vlog Ideas
In these depressing times, everyone needs motivation and inspiration for their personal growth. Some of these top 10 personal growth vlog ideas may help the viewers. These ideas are:
61. Meditation
Meditation and yoga vlogs help everyone in relaxing and unwinding their tensions. So, try making vlogs related to these mindfulness meditations for others' personal growth.
62. Productivity
Vloggers can help and inspire the viewers in helping them to set a mind in doing at least one productive thing in their whole day.
63. Enjoyment
Making a vlog about inspiring people to do what they enjoy will help many in their personal growth.
64. Add value to the world.
Inspiring the audience in doing their best and adding value to the world is also something to do for personal growth. Vloggers can inspire their audience to do their best to add value to our world.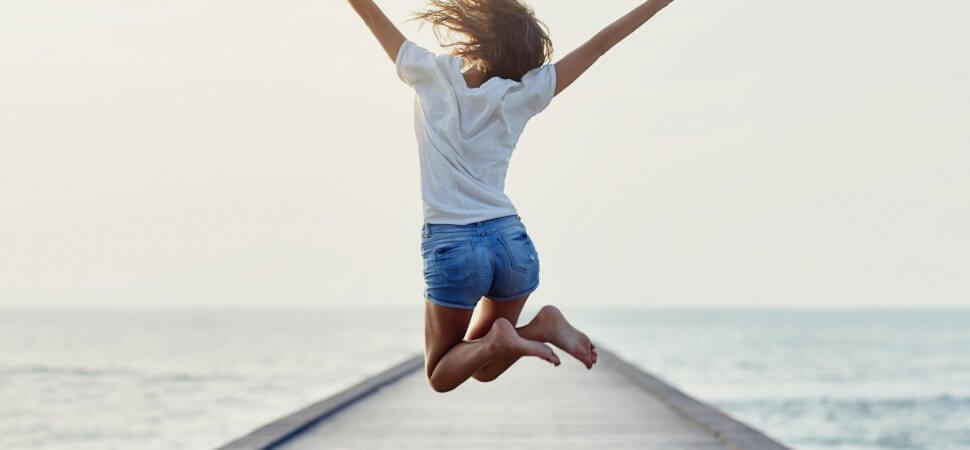 65. Goals
Making a video about goals and inspiring people to set their life goals is the first step towards personal growth. Especially in this time of crisis, motivation is what everyone needs so that they can believe in themselves and do something for not only themselves but for others too.
66. Helping others in their paths
Vlogger can help their viewers by engaging them and giving advice to the viewers. Helping others in their difficulties is the best thing a vlogger can do. What better than helping people in finding the right path!
67. Purpose of life
Every single person has a purpose in life. Why he/she is born and what they have to do in their life to be a part of this world. Finding a purpose is very important as everyone can do some betterment and contribute to this world's betterment.
68. Discovering the greatness
Making a vlog about how to discover all the greatness this world has to give will inspire many people in their personal growth. So many people crave to find something. This is their passion and what they want to do.
69. Change the way of thinking.
Make a vlog about changing the way of thinking and make some room for other's opinions too. Tell the viewers to be open so that they can better understand what the others have to say.
70. Change the way of living.
Vloggers can tell their viewers to start by changing their routines and give real-life examples. Tell them how you, as a vlogger, did some personal growth and overcome your insecurities and shortcomings.
10 Unusual Vlog Ideas
There are so many unusual but not so unusual topics that the vlogger can cover. Some of them are:
71. Make a Tour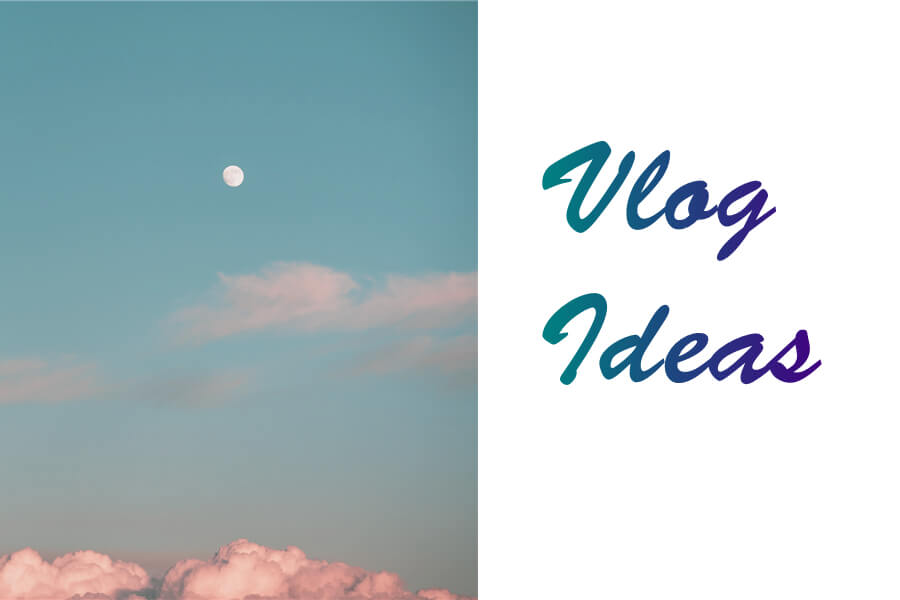 If vloggers are visiting a new place or looking at something unusual, they can always make a video and explain about the visit and show it to their audience. Like, if they are visiting a market in a new country, then they can shoot a video and share what difference they saw in their own country and in the country they are visiting.
72. A Sneak Peek to Behind the Scene
Behind the scenes have always been enjoyable as they give you an entirely different view of the show or event! They are fun because there is so much going on backstage and so many funny moments. So, vloggers can make videos behind the scenes to attract their audience and make them want to know more.
73. Survival Techniques
Survival techniques are not always literal survival tricks. There are other things too that come in survival techniques. Like, getting to know what a particular spice was used in your favorite meal from your favorite restaurants. These are good videos to make to help your audience.
74. What's Your Favorite
Vloggers can collect some of their favorite things and then talk about them. This will let the audience know more about them. Viewers always want to know more about their favorite vloggers, so it's a good way to let them know more about you.
75. Do's And Don'ts
There are so many things that we do wrong. Make-up is the best example as every person has a different face type and cut. The same make-up can't be applied to all types of faces. So, vloggers can give an inside about it and tell what to do and what not to do for a specific face type.
76. Demonstrations/Tutorials
There is so much that you can write about, but so many things are just not that well explained in the written articles. It is a great way to give demonstrations and then explaining too. Like, you can give a demonstration about some magic trick by showing it and then explaining it. You can't just write it down. So, demonstrations and tutorials are always a good way to engage your viewers.
77. Event Showcase
Vloggers can try capturing short videos of an event if they have attended it. This way, they can talk about the event and tell their audience more about it. In this way, the audience will get short clips instead of just the occasional pictures. This is also helpful by attracting the audience towards the event without even giving all the juicy details.
78. Compilation Videos
Compilation videos are really good in not only telling your audience but also getting to know how far you have come from the beginning till now. People can easily see the growth they have made.
79. Shopping Hauls
People always get excited to show off something that they wanted to buy, and now they have it. It is a fun way to engage the viewers in what you have shopped for. But, keep in mind to only show off the things and talk about them if you are excited about them. The more shopping you have to show, the better it is but only include the things that you are excited about.
80. Collaborations
Make a collaboration vlog as this is very helpful in getting to learn from the others and also getting a whole new audience of the others. Collabs with other famous people are so much helpful that vloggers should try this.
10 Funny Vlog Ideas
In this time of crisis, nothing is better than giving some laughter to others. Here are some top 10 funny vlog ideas to entertain the audience:
81. Pranks
In the time of lockdown, there are not many people who can do it at home, but they can always try shooting a video of pranking their roommates or housemates. It is a fun way to spend time and to entertain their viewers.
82. Funny Baby Fails
Babies are just so innocent and funny that their failed attempts for something just attract everyone so much that everyone goes 'Aww.' Try making a video of a funny baby that fails to release some stress from others.
83. Funny Animal Fails
Just like babies, animals are also the best way to cuddle with. There are a lot of funny moments where animals do something funny. People can shoot the video and post it on their channel and give an inside about their life to the viewers. Like, you can shoot a video of your pet being cute or following you or being innocent when demanding a treat.
84. Parody
Everyone has a particular way of talking or walking, or doing stuff. Vloggers can make a funny video or parody of some famous people and laugh at their viewers.
85. Funny scares
Every one of us has experienced getting startled or scared by our friends or family. Vloggers can try making a video of them scaring others or their families.
86. Mannequin Challenge
There are so many challenges going on nowadays on youtube. The mannequin challenge is one of them. Vloggers can try this, too, with a hidden camera to record people's reactions. Everyone gives a different but fun reaction to the mannequin challenge. Vloggers can search youtube to get some creative ideas of how to do this challenge.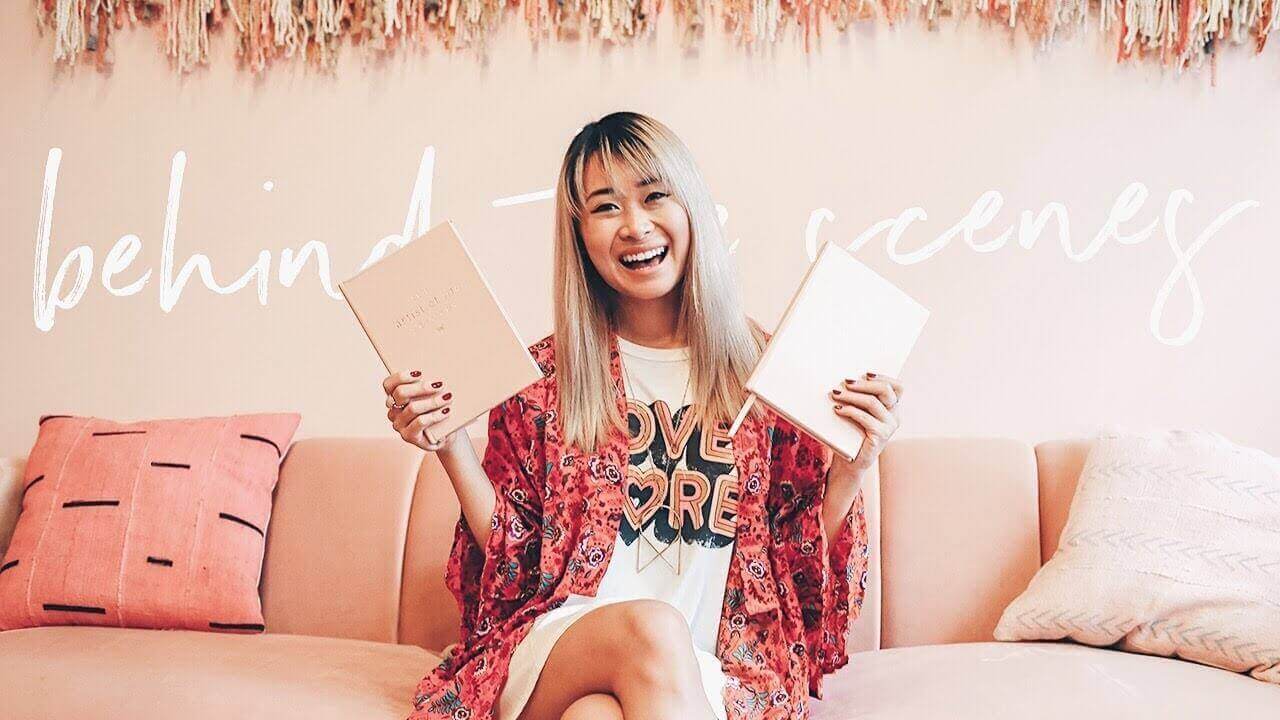 87. Bottlecap Slow-Mo Challenge
Another one of the challenges on youtube is the Bottle-cap challenge, where people try opening the bottle cap with their feet in a slow-mo video. Vloggers can try shooting this video and posting it on their channel.
88. Ice-Bucket over the head Challenge
This challenge was created to get a raise in donations and awareness about amyotrophic lateral sclerosis. In this challenge, people have to pour a bucket full of ice and cold water on their heads. Vloggers can try shooting this challenge and entertaining their viewers, and spread awareness about it.
89. Walmart Funny costumes
There are so many funny cosplays and costumes in the market, but the best ones are in Walmart as there are cheap copies or duplicates of famous brands that are always fun to wear. You can try the funny costumes there are and make a video to share with people.
90. Reaction videos
Vloggers can make funny reaction videos on some famous show or other people's TikTok. This is so much in trend nowadays. Try giving it a shot!
10 Travel Vlog Ideas
Everyone knows the first thing to start a vlog channel is by introducing themselves and letting the audience in. But after attracting the audience, people often get stuck with what to shoot next to keep the audience entertained. So, to help people with travel vlog channels, here are the top 10 travel vlog ideas:
91. Thrilling Moments
People with adventurous personalities can always try some adrenaline-boosting activities and make a video to get their audience's pulse racing with anticipation and thrill. Travel vloggers can try bungy jumping or other thrilling activities to give the adrenaline pump to their audience that will keep people hooked to the video.
92. Blooper
The first shot is rarely perfect to post on youtube, so more than one shot is taken to get the perfect video. Most of the time, bloopers are very funny to watch, and vloggers can post them too to keep their audience engaged and entertained. The audience will get to know more about the vlogger, so it is a fun way to catch the attention of more audiences.
93. Rare/Unfortunate Event
Unfortunate conditions are always there, and if a vlogger gets stuck in one of them, it is a good idea to film it all and let their audience know how they handled it or how they spent that particular time. Like, if there is a flood or heavy rain and you are stuck in your hotel room, you can make a short video to let your audience know why you could not post or how you are spending the time. People can make a video of how they helped people if there was a flood. This is a good way to engage their audience!
94. Traveling Tips
Vloggers can make a video where they are giving traveling tips for the people that want to travel to one of the places that the vlogger has already been to. This will be very helpful for the other travelers.
95. Promoting Your Product
Many travel vloggers not only shoot videos of their travels, but they also may have other things to sell to. Like, they could have written a book about their travels or guidebooks for the tourists. Through vlogs, they can easily promote such products of theirs'.
96. Upcoming Trips
The vlogger can let his/her audience know about the upcoming trip he/she is planning. This way, the vlogger can also get some suggestions from his/her audience and can get ideas from people's suggestions.
97. Sharing Interesting Stories
Vloggers can share interesting stories that they must have because everyone has something to share. There could be an unfortunate event in their childhood or some other tragic or surprising moment that they can share.
98. Pranking Travel Buddy
Mostly, vloggers have a travel buddy with them to enjoy the travel with. They can always make a prank video on their partner and share it with the audience to make it enjoyable for others too.
99. How-To Videos
Vloggers can always make a how-to video to help people if they are also traveling to that particular place. Like, they can make videos on 'how-to-survive-a-night-in-forest' or something like that to help others.
100. Include People
Try including other people, too, in the vlogs. Like, you can invite some other famous vlogger in your video, or you can get someone from the public to accompany you for one of your videos.
Part 2: 100 Vlog Video Songs You Don't Want to Miss for Your Vlog Background Music
These songs, such as Loudness & Clarity, She's Right Here can be your best vlog background music.
Part 3: Best Software for Creating Top-Notch Vlog Videos
For all the vlog videos, people need to do a lot of editing to keep the videos short, precise and entertaining for the viewers. For all that editing and much more, use iMyFone Filme Vlog Editor as it is one of the best software for creating top-notch vlog videos.
Filme is the best editing app used by professionals as well as newbies. It is easy to use and understand software that lets you make amazing edits within a minute with its pre-prepared everything.
Wonderful Features of iMyFone Filme
User-friendly, without any technical knowedge required to edit your vlogs.

Easy to get multiple resources for vlog creation, intros, outros, texts and music, with no extra fee at all.

Free to try the editor, during which you can check the compability.

Able to edit your vlog fast and easily.
How to Edit your vlog using iMyFone Filme?
Editing your vlog is the same as editing a video in a video. All you have to do is select the videos and set them in sequence, and combine boom! It's done. The steps are as followed.
1

Add Your Clips to Filme
The first thing you need to do is add all the videos you want to combine into the filme. For that purpose, you need to open filme, and then click on the black and white export media icon on the left of your screen.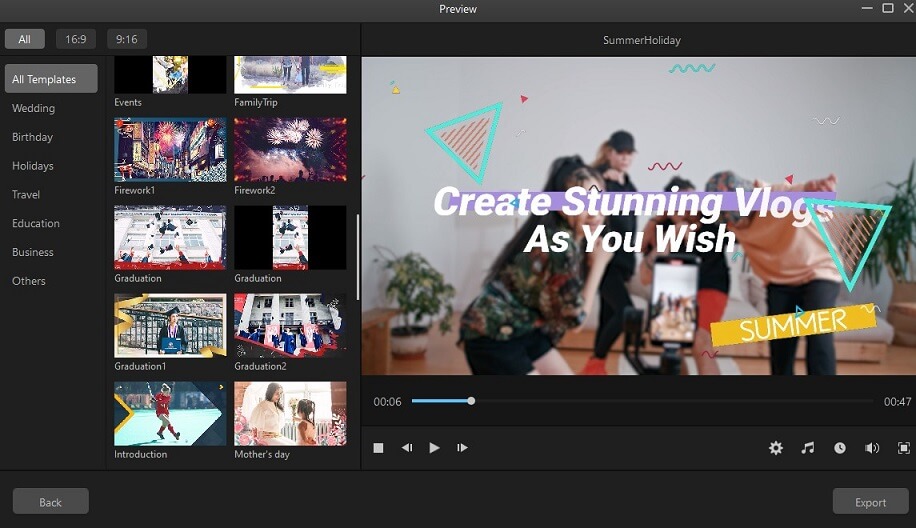 2

Edit However You Want
After you have added the videos, you can edit them however you want. You can adjust the time or add effects. When combining videos, make sure you do not double over a video or cut the other clip's seconds.
3

Add Audio or Music
If you want, you can add audio on the full video, or at certain parts, for dramatic effects. There is a music icon in your toolbar; click on it, a box will open that will allow you to add music from your library.
4

Add Texts, Subtitles or Captions
You can add texts if you want in certain parts of your video. Just click on the text button available on the toolbar, and write whatever you want.
5

Save Your Video or Share it on Soical Platform
When you are done, click on the Save button, and it will appear in your gallery. If you want, you can share this with your friends via social media or email.
Final Words
"Ideas are easy. It's the execution of ideas that really separates the sheep from the goats."― Sue Grafton
Action always speak louder than words! Don't hesitate to execute your video ideas with the above tips. Last but not least, making a great intro for your vlog or Youtube video is also of vital importance. Find your cup of tea and make it a reality!