You must have known a lot of tiktokers who make an enormous amount of money through Tik Tok, by doing various things, showing their faces and skin, but if you are someone who isn't so keen on showing even your face, but want to make money through TikTok, I can help you with that.
There are a lot of ideas to help you make money through TikTok without showing your face. In this article, there are many ways or ideas shown, so read till the end.
For all those who don't know how Tik Tok works, I'll tell you. You need to make a short video of any gene and upload it on Tik Tok. It helps you to gain followers and likes. There are a lot of tiktokers who also don't show their faces but have gained massive fans. You can also go live and earn thousands of dollars with enough followers.
Top 10 Tik Tok Account Ideas without Showing your Face with Examples
1. Sports
If you want to make a TikTok video to earn money, this is one of the most effective ideas. In this, you can make TikTok videos about football or even basketball and also share a few tricks about these sports. If you are a football player, you can also make a video about you making a few long-distance goals or even sharing coaching tips for new players. You can also show the equipment for different sports, like the best technology for e-sports, or tennis court, etc. You can also share some sport rules that all the new players or people interested in the sports should know, or share information about people's favorite players. You can also share the player's rating, like how Messi is known worldwide, etc.
After you decided the theme and content for your TikTok video without showing face, if you want to make your TikTok video stunning and stand out, merely editing on you iPhone is unrealistic. To make your videos attractive easily, without any technical issues, you can download iMyFone Filme on PC to edit your next TikTok video now, after that, you can upload it to TikTok, Youtube, Instagram, Vimeo and so on. Download iMyFone Filme now below.
2. Travel
You must have seen many travel videos, so you have an idea of what exactly to record, but for those who haven't, I'll tell you. You can make video transitions from you buying tickets to riding the airplane and then reaching your destination. You can also share some airport tips, or flight booking tips, to holiday tips. You can also make a video on hidden locations, where you are going to camp, or the camper locations, including the staycation location.
3. Lif Hacks
You can also share some life hacks or teacher-school tips to help both teachers and students with exam tips. Students struggle to pay attention to their studies; you can share some quick revision tips or quick hacks to keep attention on one thing, like quick math tips. You can also upload videos about tips on mummy-babies, or even interview tips, employment tips, C.V tips, or how to get your dream job tips.
4. Unboxing and product review
Unboxing and product review is helpful to others as well as you. You can have proof if something comes damaged, or if it doesn't, the others are getting the help that this company is worth their money. This can help people get an idea of what they are going to buy and what to expect the result to come. It shows them the pros and cons of buying from that particular company. You can unbox your recent purchase, like a scented candle, and give a review on how exactly it smells like or even kitchen items. You can also do unboxing for amazon products or eBay items, it will help the company, and they mostly give thankyou gifts.
5. Make Videos With Pictures
Making videos with the help of pictures is the easiest way to make money on TikTok. You can make amazing content using pictures in a video that has nothing to do with you.
By using different types of pictures, you can keep the audience on their toes, wondering what the next video will be. You can share memes or even informative things using pictures in your video. This doesn't even take up much of your time, just a few pictures and a few clicks here and there, and you are done.
6. Using a mask
The obvious thing is if you don't want to show your face, simply cover it using whatever you want. Wear cool masks, and if you want, change style or color or even pattern, but always put up your mask if you have started it. Changing colors or shapes are just to spice up your appearance. One of the benefits of this is that whenever they see you in a video, they will instantly recognize you, as people do when they have seen someone's face.
Also, it will help keep your audience with you till the end because curiosity keeps people follow up. They will always be curious about how you look and wonder when you are going to show your face. If you make an announcement of your future face revealing, I bet you that you won't lose your followers till the end because people mostly get bored and unfollow others. Remember this is to keep your audience entertained, and no rude comments should be passed while reviewing something. Otherwise, you will gradually start losing your audience.
7. Develop curated content
If you think the genres mentioned above are not for you, then you might like this one. It is quite simple. All you need to do is deep surf the different contents of TikTok and then combine the best ones and make a video of your own.
Not only by me but by all, it is the best TikTok account idea of 2021. Just find the best content, and then post them from your account while giving the credits to the owners. If you want, add filters, effects, or even music or voiceover.
It might look like reposting someone else's content, but you must do the voiceover and add some kind of emotional meaning to the video to make it your own. In this way, it will add your opinion to the video and enhance its meaning and value.
8. Gaming
Gaming has become a significant source of money for this generation. We all have access to the internet in this generation, from 3 years old to even 70+, and there are various online money-making options one cannot deny. Tiktok has also helped earn money from gaming, how, you might ask. Well, for starters, you can post videos of you playing games or doing live streams on TikTok. You can share with help man gaming tips, multiplayer tools, cheat codes, especially of GTA, or tell about the best gaming console, computers, mouses, microphones, etc.
9. Arts & Craft
If you are a creative person, who loves painting, skating, and other stuff, this category is perfect for you. In this, you can make short videos about gift ideas for home or essential arts skill tips that people might want to know. You can also share the best items for art and craft, drawing tips, tools for drawing, handwriting tips, cute pets sketches, or even how to sell a product. You can share videos of your pets doing fun stunts, like chasing their tail, or a pet learning how to do handshakes, or even animal health. You can share some pet diet plans, or how to take care of a pet, how much a pup costs, or even training sessions.
10. Comedy
Everyone needs a good laugh when they are just watching TikTok videos to pass the time. So, making a comedy video is a fun way to engage the viewers with you. You don't necessarily have to show your face for comedy as you can tell a funny story. It could be about yourself or an incident that you may have observed. ?You can also share some funny pick-up lines that you may have heard. Pickup lines are just really fun if the other person also is a fun-loving type. You can also record a scene of someone doing something stupid. You can edit and then share a funny clip from your favorite movie or comedian. Not only this, but sharing embarrassing stories also lightens the mood.
Other than all these things, you can capture a prank that you may have played on your family and friends. It is always interesting to see different reactions of others to pranks. These prank videos give ideas to others too so that they can try them on their family and friends too.
Things to Note Before Monetizing TikTok Without Showing Your Face
There are many things that you should note before you can monetize a TikTok video without showing your face. aside from all the video ideas for faceless videos, here are some of the things you should look out for:
1. Time for posting your content
To get as much viewer engagement as you can, you need to look for the right time to post your faceless video content. According to some survey reports, it was seen that most usability of TikTok is from 6 pm to 12 am. So, to get a large amount of people to watch your video, you should post your content around that time. This is the time when most people are online and relaxing after a hectic day of work. And providing your content at that time is bound to get a lot of views on your video. At around 8 am, unique and catchy content is available for the users, and this new content will also display your video for the online users. So, it's best to look for the best possible time to post new content.
2. Using hashtag
The use of hashtags is very important if you post videos and content without your face reveal, as it gets difficult for the viewers to recognize you without a face. Using the appropriate hashtags will get the viewers to see exactly what they want to. Make sure your hashtag is unique and represents your niche very accurately. This unique hashtag shows your unique niche so that your viewers can recognize you instantly with it. Hashtags also get known or famous, and this can also boost account engagement.
How to Create TikTok Videos without Showing Your Face with Video Editor
There are lots of software to edit your videos. If you are looking for software to help you create TikTok videos without revealing your face, then iMyFone Filme is the software you should be looking for.
iMyFone Filme, one of the best editing software, can help you in any type of editing to conceal your identity. There are many topics to make a TikTok video about, and they don't mostly require you to show your face. So, to hide your face and to make your video attractive, you can use Filme to do some major editing to make it a masterpiece. There are many tools and features that you can easily use to make your post look professional.
How to Edit Your Videos Using iMyFone Filme.
Step 1: Import Media
The first thing is; first, you will have to import the file you want to edit. To import the media file, you have to click on a white and black icon. A window pops up after clicking the icon. From that window, you can select as many files as you want to import and edit.
Step 2: Add Effects
The simple raw clip can get a bit boring. So, you can add effect to enhance the beauty and make the video a bit more on the professional side. There are many built-in filters, transitions, and video modes that you can use on your video.
Step 3: Cut/Crop
Sometimes we tend to drag on and on about something, and it can get a bit boring for the viewers. So, to keep your video short and exciting, you will have to cut or crop some parts. For that, you just have to drag the video and leave it wherever you seem to be fit.
Step 4: Add a Message
No social media video is completed without some sort of text. It is very simple to add text in Filme. Especially when your video does not show your face, it will be good to add the text along with the visual representation of your post.
Step 5: Save
The last step is to save your edits and make your video fit for TikTok. The save button is on the top left side of Filme. After saving it, you can share it on any social media platform or email or anywhere else you want to.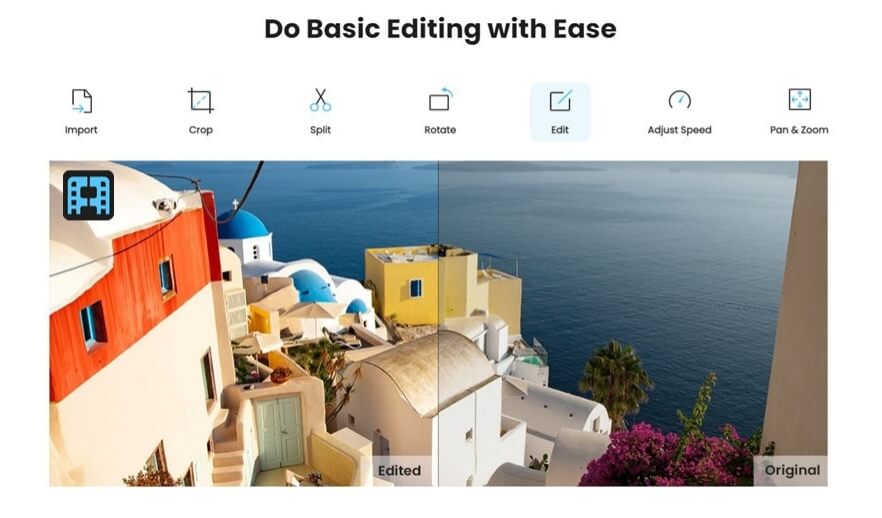 iMyFone Filme
Create Viral TikTok Videos with Best Video Editor!
Download Now