Recruiters hardly spend a few seconds on most resumes because if they can't find it appealing at first glance, they don't spend more time checking further. Thus, it is the wish of every candidate to attract viewers at the start of their video resume. But for that, you need to create a highly engaging and perfect video that can stand out from the crowd. If you don't have much experience, all you need is iMyFone Filme - The best tool for beginners is the latest video editing software of iMyFone.
If you are looking for how to make a video resume that can win the race, you are in the right place. We will guide you on how you can create a perfect video using a free video resume template. Let's begin.
Part 1.  4 Free Video Resume Template Maker
If you want a perfect video resume, you need to know what should be included in an engaging video template.So this part will introduce the best elements and steps for you.
1. What Should Be Included in a Good Video Resume?
The first thing that a good resume should include is your creativity. You need to brainstorm a new idea that can attract the recruiter. You can tell a story, share your experiences or anything else that can engage the viewers. You can use a free video resume template, but it is better to make it customized and implement your unique idea. Make sure to write a script before you begin.For the beginner, the iMyFone Filme is the best choice for template video maker.
Plan everything in the start and make sure to keep the video concise. No one would like to spend much time on your resume, so make it as short as possible after including the required details.
You need to show your skills, tell the recruiters why you are interested and why they should hire you. Try to tell everything according to the job description.
Finally, there should be a call to action in the video. You can ask the recruiter to see your portfolio or LinkedIn profile.
2. 5 Free Template Video Resume Maker
Let's have a look at some free video resume makers to make a perfect video resume. You can easily pick a suitable video resume template free of cost.
Biteable is a web-based tool that can create stunning resume videos. You need to select a suitable template and customize it according to your needs. You need to edit the text, images, background, and style. You can add images, videos, animations, and other media from the library well. If you are thinking about adding a voiceover or music , you can also do that.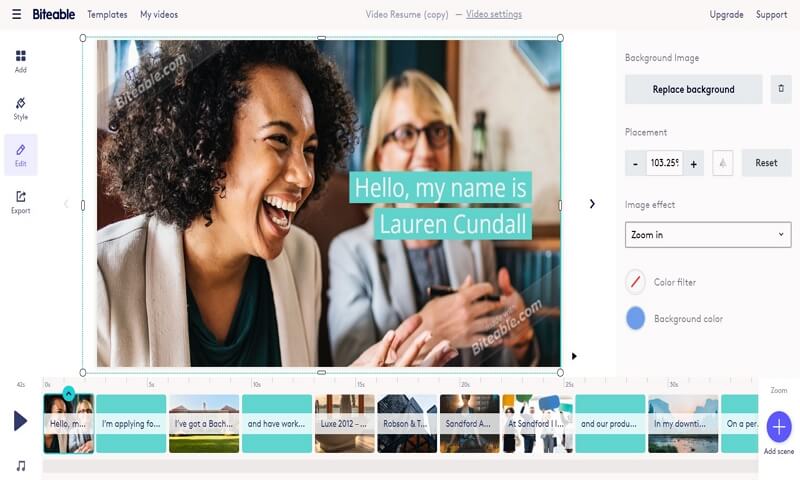 Filmora is a popular video editor, and it can be used to create video resumes. You can record your video or import a recorded video. After that, you can add text, images, objects, voiceover, music, effects, transitions, or anything you like. Your video resume will be ready without any hassle. It is a beginner-friendly video, so you won't face any problems. However, keep in mind that it does not have any paid or free video resume template; you need to start from scratch.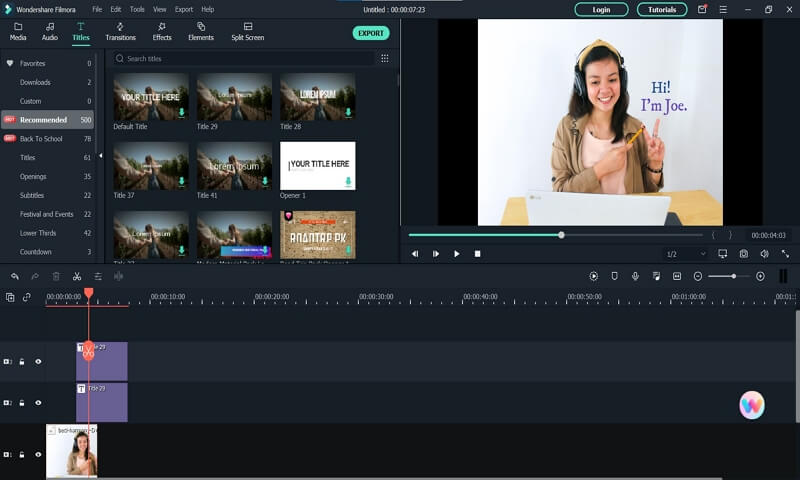 Animaker is one of the best animated video makers. It is a web-based tool, so you can get started after opening the official website. If you want to create an animated video resume, you should go for it. It has a few templates, and you can pick a free video resume template. However, you can also have a blank template and create everything according to your needs. It is just like an online video editor, so you can add text, animated characters, images, videos, effects, music, or anything you like.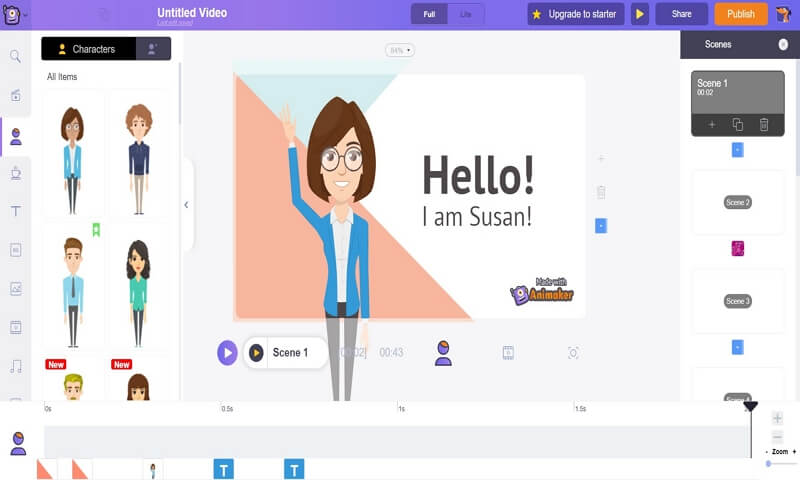 Renderforest is also a commendable online video resume maker. You can design different types of resumes and CVs using its trending templates. The templates are professionally created, and they are more than enough to create an excellent resume in a few minutes. You just need to customize the templates and make everything as you require. Just customize images, text, color, and music, and you have your video resume ready.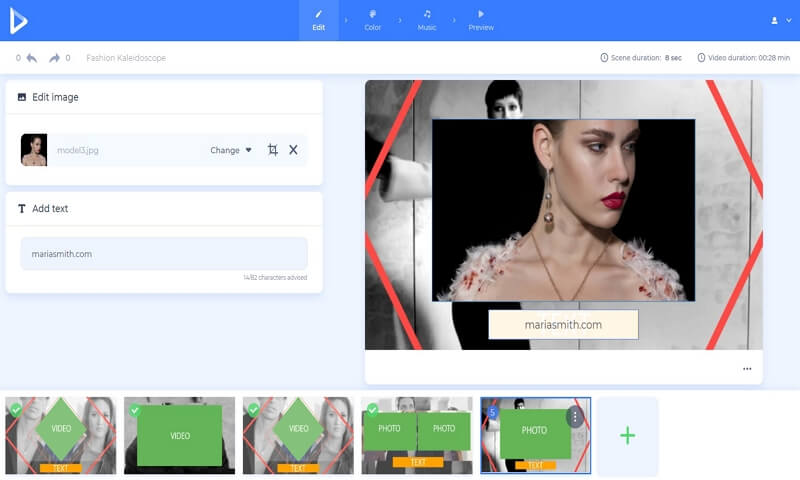 Hippo Video is for creating a recorded resume. It will record your video using the laptop's camera. After recording, you can edit your video using its web-based editor. You can add text, crop/trim video, add emojis, apply blur effect, use annotation, and make a few more changes. It is the simplest tool to create a recorded video resume. Just prepare yourself like you are in front of the interviewer and record a video; that's all.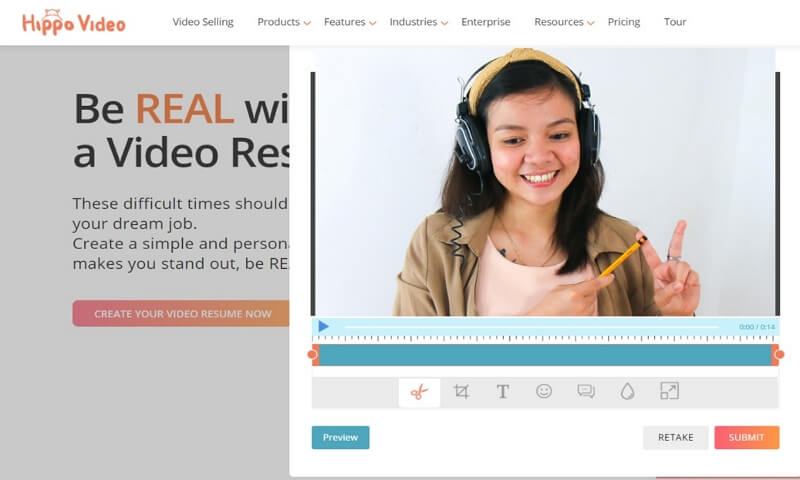 Part 2. Tips for Creating a Video Resume
After you have found a reasonable template download source, in front of thousands of template results found, you will need to understand and prepare these things:
1. Prepare a Script
A video script is the utmost important aspect of creating any video. You cannot start making your video without a script because it won't look professional, and you will end up wasting your time. Thus, it is better to write a script first.
For preparing a good script, keep the job description in mind. You need to cover everything in the job description to tell the recruiter you are the perfect fit. Once you know what you want to include in the video, it is time to brainstorm how to present everything. You can think about storytelling or anything that can engage recruiters.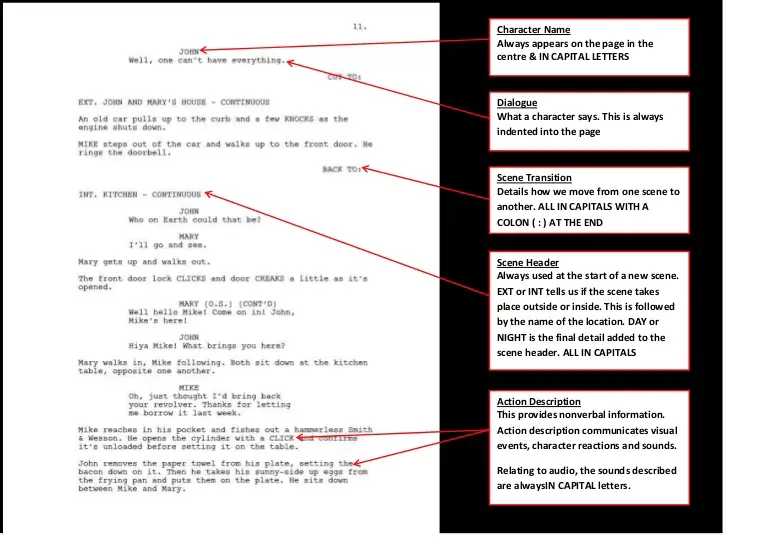 2. Know Your Audience
It is better to know your audience/recruiters. You must have an idea who is going to take your interview or see the video. You can ask the representative via email. Once you know who will see the video or who the recruiter is, you should research them. You can see the LinkedIn profile to get a better idea. It will tell you what the recruiters are interested in. This way, you can create a better connection.
3. Show, Don't Tell
Your words shouldn't be words only; you need to show what you have. For instance, if you are presenting your biggest strength, it is not enough to say, "My biggest strength is time management." You need to back up your words through a story or experience. You can share your past experience when you managed your time skillfully. Moreover, make sure to quantify everything, such as you managed to organize an event that had 10,000 visitors. You need to show what you have if you want to stand out from the crow
4. Keep it Brief
It is important to keep the video concise and brief. It shouldn't include a long story. You need to make everything clear in a few words; the less, the better. For this, you can focus on the job description and talk about the relevant things. It will help you keep the video brief and to the point.
Part 3. How to Make a Video Resume with Templates ?
There are different tools and software available for making video resumes. All have a different method or procedure for creating a video. However, almost all have similar steps that you need to follow. Thus, we are giving you a step-by-step guide on creating a video resume on Biteable. You can follow similar steps in other tools as well.
Step 1: Open the Tool
Biteable is a web-based tool, so you don't need to download anything. You can go to the official website and start creating your video resume. If you are using any desktop tool, then you need to download it and install it on your device.
You need to sign up on Biteable. You can do it using your Google account.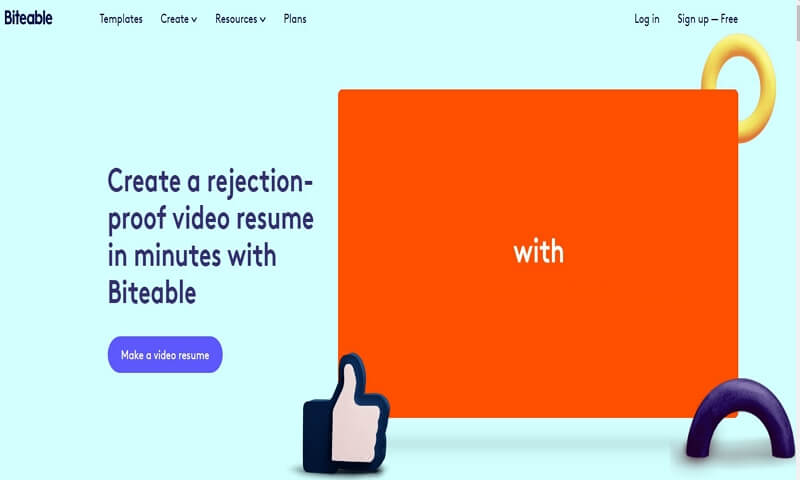 Step 2: Choose the One-click Template
It is time to pick the one-click template on the website. There can be dozens of templates on websites, but you need to pick according to your needs. You can also pick a free video resume template. While picking a template, you don't need to look at the images and text as you will customize those things. Even if they are not appealing, don't worry. You can make them appealing using your own media. You just need to look at the layout and style of the template, nothing more.
Select a template on the Biteable.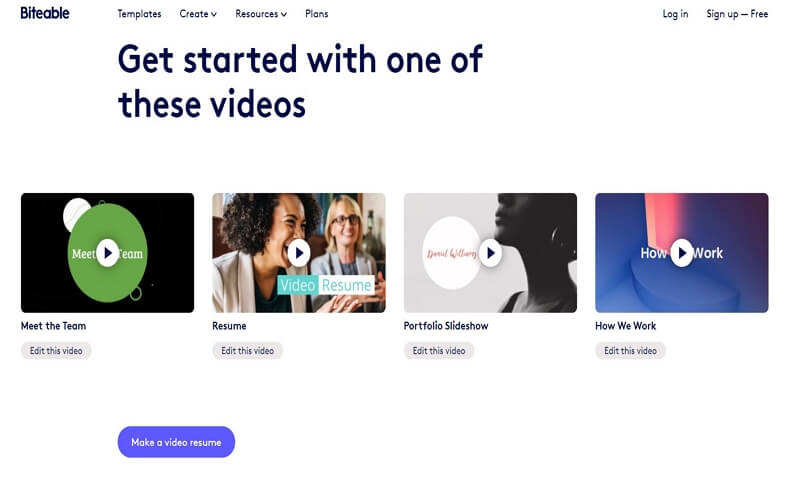 Step 3: Select Clips
Since you have selected the template, it is time to add media. The templates have default images and videos for your ease, but you need to change them and make them personalized.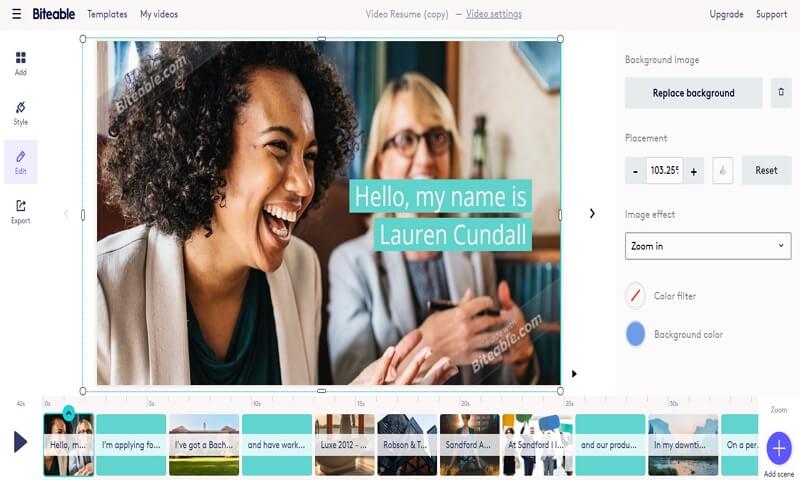 The first step is to change any image that is in the background. You can replace it with your own images. In Biteable, you will see Replace Background option on the right. Click on the option. You can either choose media from Biteable's own library or from your computer.
You can also change the position of the background, its placement, image effect, color filter, and background color. All this can be done using tools on the right panel.
Similarly, you can change the background of all slides in the template. Once you are done, you can go to the next step.
Step 4: Personalized the Content
It is time to personalize the text. Templates have random text by default. You need to make everything personalized. Just click on the text on any slide, and you will see the editing option on the right panel. Type anything you want.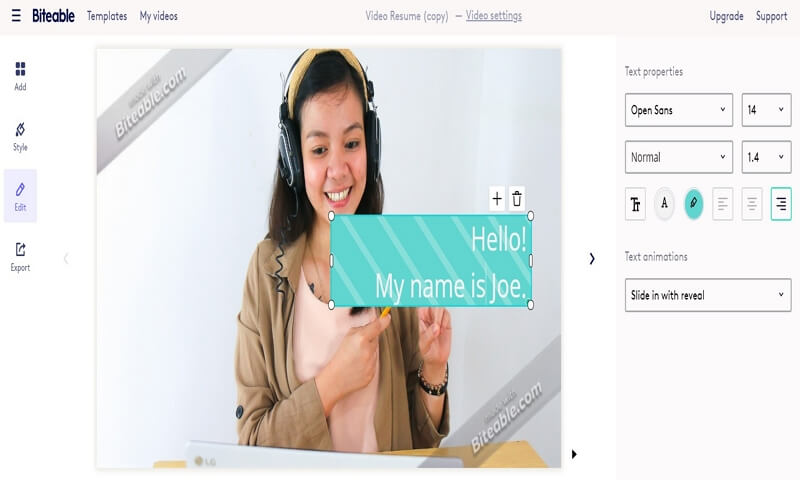 After customizing the text, you can adjust its font, size, style, background color, and animations. You can select anything you like from the panel. Moreover, you can also move the text and drag it to the position where you need it.
Step 5: Preview & Export
When you have customized everything according to your needs, you are ready to export the video. See the preview first. On the left, you will see the export button. Click on it and click on Build Video. The tool will start rendering your video, and you can download the video after that. It is better to go for a premium plan because the watermark is not suitable for resumes.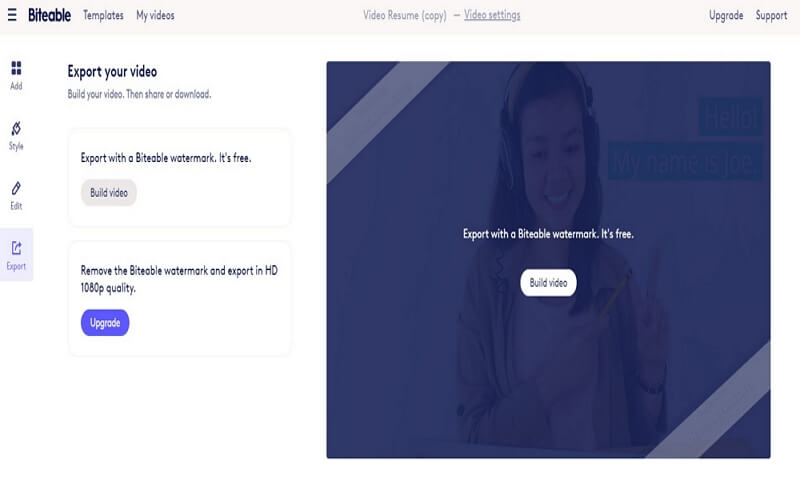 Part 4. The Best Template Video Maker - iMyFone Filme (Window & Mac)
iMyFone Filme is an exceptional video editor because of its stunning tools and features. It can be used to create any type of video according to your needs. You can create resumes, vlogs, party videos, tutorials, educational videos, marketing videos, event promos, and everything you can expect. It is an all-in-one tool for creating stunning videos.
You can use Filme to design a professional resume for your needs. It is an amazing video editor with tons of features that can help your resume stand out from the crowd. The best part is that it is a beginner-friendly tool that anyone can use without any hassle.
With many useful features for new users, you can make your own first incredible design with Filme:
Features of Filme
If you're wondering why Filme is worth buying, here are the key reasons
1. Templates
The templates of Filme are stunning. There are dozens of templates available for different purposes. Whether it be professional, educational, party, or anything, you have a professional template ready to catch the attention of the viewer.
You can select a free video resume template in Filme and add images to it. After that, you can edit the video in the video editor. You can add text, images, background, or anything you like. You can customize everything according to your needs.
Most importantly, if you want to add your recorded video, you can also do that.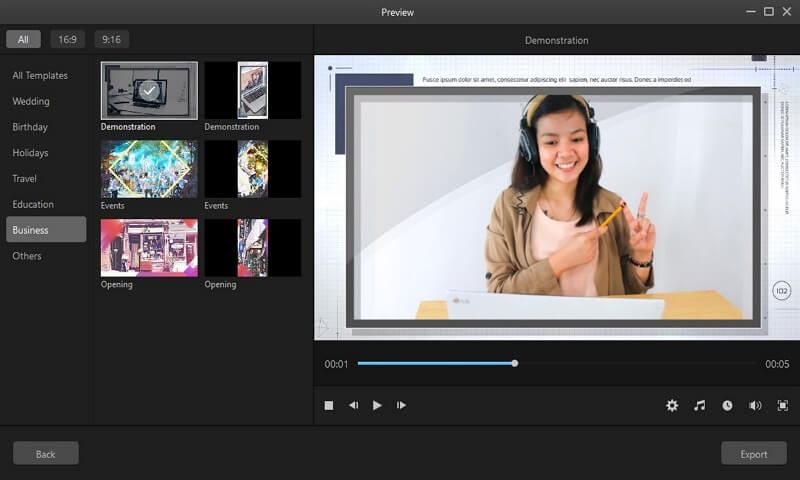 2. Advanced Editing Tools
The advanced editing tools of Filme make the video pixel-perfect and more attractive. You can use the filters, effects, transitions, stickers, text styles, GIFs, objects, or anything you like. It will make your video stunning.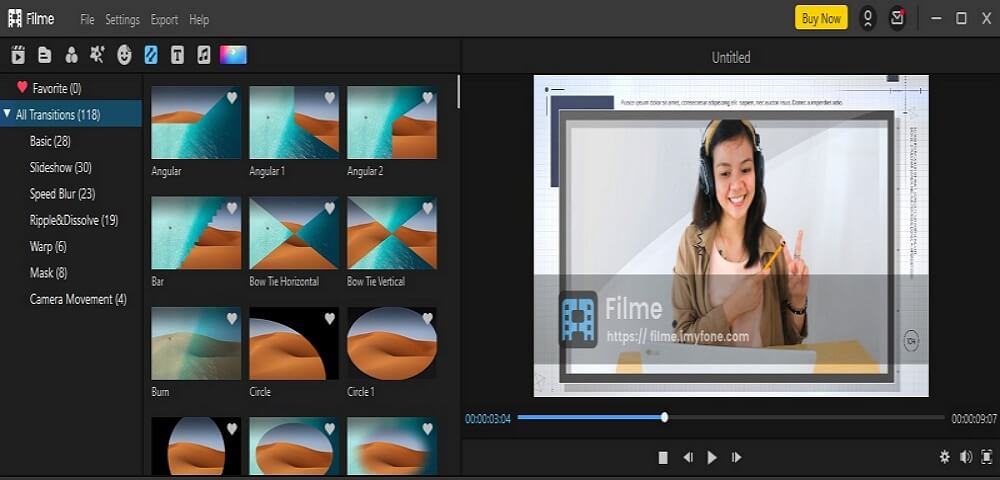 3. Audio Editing
Filme also offers audio editing. If you want to add a voiceover, you can add it with one click. You can also add music and adjust its volume and effects. You can make everything professional and according to your requirements.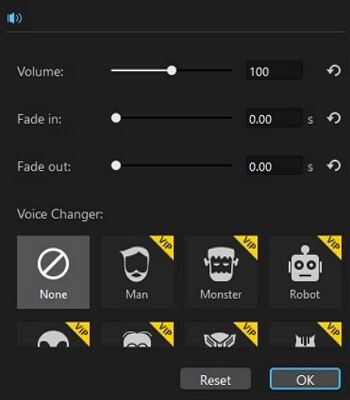 4. Export Options
The video can be exported in any format you like. You can easily share the final video on email, Linked In, or any other platform. You just need to select the format you need. You can adjust the resolution, quality, file container, codecs, and other things.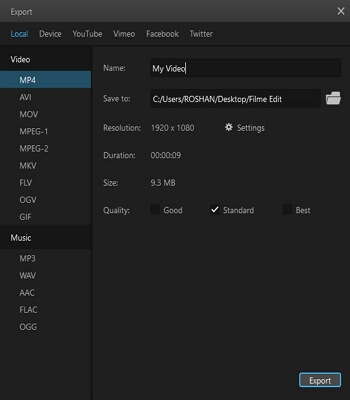 Final Thoughts
We have seen how you can create stunning video resumes using different tools. We have discussed the step-by-step method that you can follow. You can select a free video resume template and get the job done in no time. We recommend Filme for creating video resumes. It is an advanced yet user-friendly video editor, so you can make a stunning video without any hassle. Its features and tools can make your videos more engaging and attractive. Download Filme and create a resume for fre