If your goal is to make your presentations stand out, it is time to switch to PPT videos. Research shows that visual presentations are effective, but most people prefer videos in place of static images. PPT videos capture the attention of audiences immediately, and they might be all you need to spark conversations. The videos appeal to all levels of learners and they are easy to make. All you need is the best free PPT video templates. iMyFone Filme is among the user-friendly software tools that allow the easier and free creation of slideshow videos for school projects and businesses.This guide will provide you with a list of the best PPT video template sources and help you make your first video easily.
Part 1. Great Websites for Free PPT Video Templates
Free PPT video templates are great video backgrounds for PowerPoint video presentations that can be helpful for people who create entertainment presentations or videos in PowerPoint. Individuals who mostly use them are in the media industry and they include digital design agencies, animation factories, and large advertising networks. You can also use a video background PPT template to create PowerPoint video presentations for your organization or classes. For the PPT video Template, the Filme will be the best choice for you.
The templates will save you time and money. You can add text, custom visual elements, and assets easily to have a final PPT video complete in minutes. A template also allows the production of a series of similar videos. But if you want your videos to look different from those that other people have released, you can customize them to match your needs. You can add a logo watermark and other visual touches to prevent other people from using your videos. Below are the top 3 video makers with free PPT video templates.
Biteable is among the best free-to-use video-making tools that offer free PPT video templates. So, if you are running on a bottleneck budget or you would want to create the best video presentations for educational or branding purposes, this is the right tool for you. In addition to PPT video templates, Biteable provides PPT video templates free download for other types of videos. You can edit the offered templates, layouts, and other settings to suit your projects.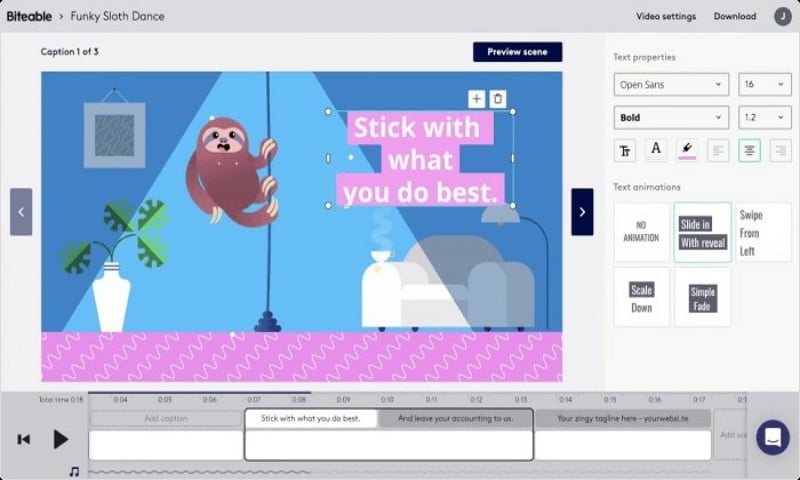 Pros:

Pro 1. Offers a huge library of video templates, animations, and scenes in various categories

Pro 2. Allows you to base your video creation on your profession, video type, and the purpose for creating it

Pro 3. Allows you to create videos without downloading any files onto your computer or mobile device

Pro 4. It is ideal for beginners and experienced video creators
Cons:

Con 1. The website is very slow

Con 2. There are limits to replacing and editing elements in the niche-focused templates

Con 3. There is no download option for the created videos. You will have to use a link sent to your email to download them.
Most people know Canva as a graphics design tool for social media platforms. However, if you did not know, you can use it to create beautiful presentation videos. Canva offers all the tools you need to make high-quality presentation videos. Apart from its PPT video templates and photos, it allows you to add elements like frames, charts, grids, gradients, shapes, illustrations, lines, social media logos, avatars, and more. You can add the background of your videos with a single click.
Pros:

Pro 1. It allows the creation of PPT videos in a few minutes

Pro 2. You can access your videos from any place

Pro 3. It offers thousands of video templates and free photos

Pro 4. It is user-friendly

Pro 5. Offers many presentation layouts
Cons:

Con 1. Limited functionality

Con 2. It can be hard to customize the templates
Templates by 24slides is a 100 percent free online library that offers hundreds of premium presentation templates that are updated weekly. As one of the largest presentation design companies, 24slides produces thousands of customized slides every year. Their goal is to empower the everyday presenters by providing them with templates to boost the impact of their presentations, boost their confidence and productivity. You can choose a video game PPT video template on the platform and use it at no cost.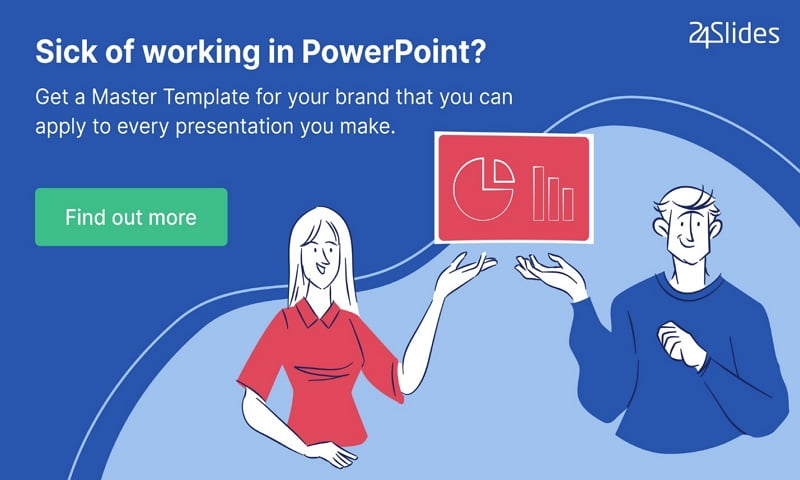 Pros & Cons

Pro 1. Offers many great PowerPoint templates that will align with your design aesthetics

Pro 2. Free to use

Pro 3. Easy to use and immediately available

Pro 4. The templates are ideal for both professionals and beginner-level video creators

Con 1. No editing tools
Part 2. Tips for Making Effective PowerPoint
PowerPoint slides are very easy and fast to create and update. However, they can also spell disasters for both experienced and inexperienced presenters. For your presentation to be effective, you have to ensure that it is a visual aid and not a distraction. Here are the things to keep in mind when creating one.
1. Fonts
You have to choose a single sans-serif font such as Helvetica or Arial and use it for the body copy and headlines. Avoid serif fonts like Times New Roman and Palatino because they are hard to read. Further, choose a font size of fewer than 24 points for the headlines. You can still use larger fonts to show importance.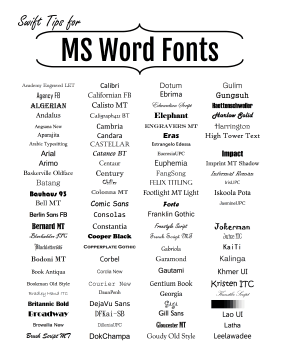 2. Design and Graphical Images
PowerPoint allows the use of design templates and graphical images during the creation of presentations. Free PPT video templates are designed to help you keep your slide presentations consistent. They contain the title and slide masters with custom formatting, color schemes, and styled fonts to help you create a unique slide.
When creating the slide, you should keep the background subtle and consistent. Limit the number of transitions and using one transition allows your audience to know what to expect. When adding images, ensure that they are of the same size. Use the same border and arrange them vertically or horizontally. Ensure that your design is clean and consistent. You can download template video Undangan Pernikahan PPT Gratis to create better PPT presentations.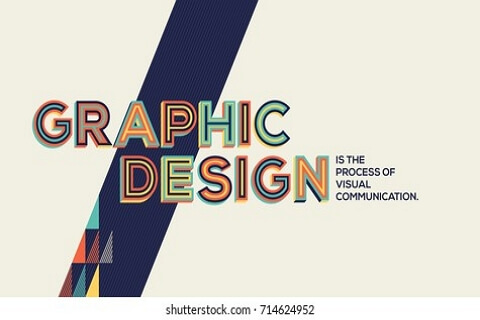 3. Color
Use colors in your presentations sparingly. Bright colors will make the small objects and the thin lines stand out. Still, some vibrant colors are very hard to read after projection. Stick to less than four colors in every chart and remember to check the colors on your projection screen before your final presentation because they may look different from the colors on your computer monitor.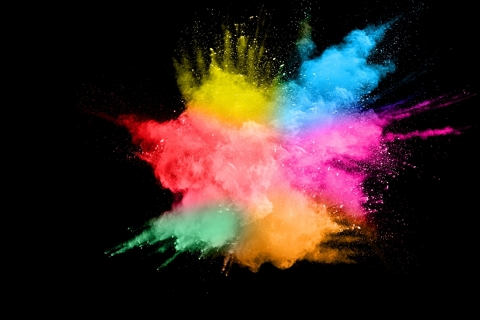 4. Insert Video
Adding videos in your presentations will make your presentations engaging and help your audience remember your message. While the insertion of a video may look straightforward, not every video will fit in your presentation. Ensure that the video you choose is relevant to the message.
Part 3. How to Make a PPT Video in an Easy Way ?
PowerPoint allows you to add videos in slides easily. But before adding any video to your presentation, ensure that it will add value and help the audience. After opening your PowerPoint presentation, follow these steps to add video clips.
Method 1. Insert Video into Powerpoint Manually
Step 1: Click on the Slide You Want
Open your PowerPoint presentation and move to the slide where you want to add the video. You can always reorder the slides later if a need arises or you change your mind.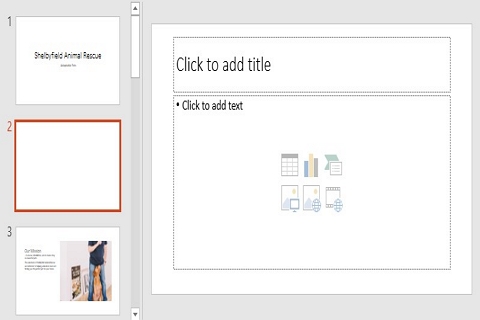 Step 2: Go to Menu and Click Insert
From the Insert tab, click on the lower half of the provided video button and wait for a drop-down menu to pop up. Choose the Video on My PC option on the drop-down menu that pops up.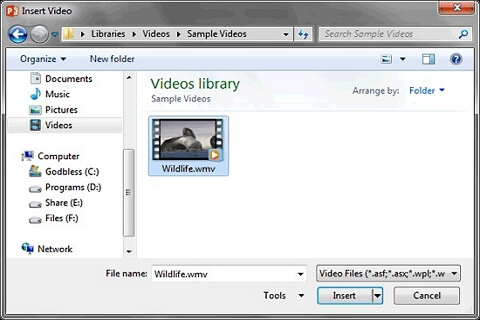 Step 3: Find the Video You Want to Add and Click Insert
Locate the folder that holds the video you want to insert on the Insert Video dialog box and select the video by clicking on it. Click on the Insert button to add the video. This step will add the video clip to your slide and embed it as a part of the presentation file.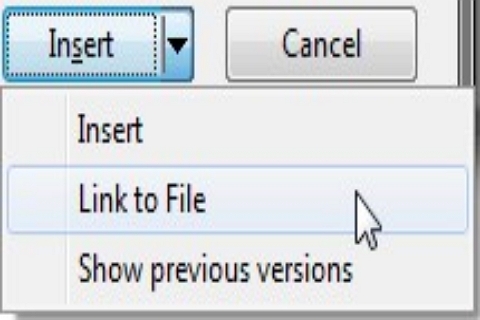 Step 4: Adjust the Format
Move to the Video Format toolbar and ensure that the video plays how you want it to play. For example, if you want the video to take a center stage immediately you click on the slide, choose "Play Full Screen" and Start Automatically."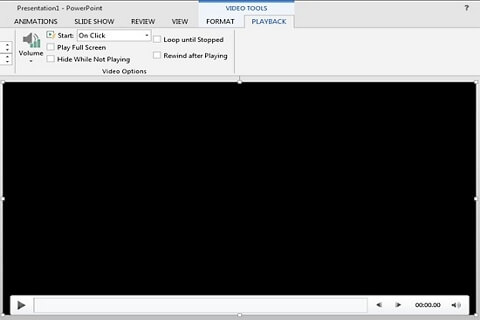 To do that choose the video so that the two Video Tool contextual tabs can be visible. Click on the Video Tools Playback tab to activate it. The tab offers various options for playback control. Locate the Start drop-down list and choose the "Automatically" option.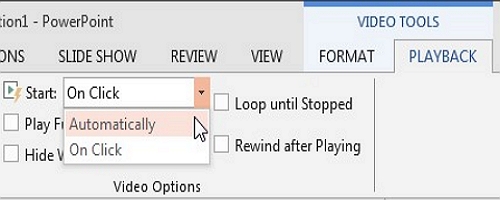 Step 5: Preview and Save
Test the video to ensure that it plays as expected. Remember to save the presentation more often to keep all the changes.
Method 2. Make Video PPT in an Easy Way with iMyFone Filme (Windows and Mac)
To make a PPT video easily, you just need to choose the best video creation tool that offers PPT video templates free download. iMyFone Filme is among the best tools to use. Here is a quick introduction to one of the best tools and the steps you should follow to create the best slideshow presentations.
iMyFone Filme – The Best Tool for Beginners (Windows and Mac)
iMyFone Filme is among the user-friendly software tools that allow the easier and free creation of slideshow videos for school projects and businesses. It allows the users to cut, crop, fade, add music and add many other effects to their videos during the editing phase. Even though most of the edits might not look necessary, they will help you make your presentations catchy and get the attention of your audience faster.
Features of Filme
If you're wondering why Filme is worth buying, here are the key reasons

Offers many templates to allow the making of beautiful slideshow videos in various styles.
Offers a Fast Video mode to allow the fast creation of slideshow videos
Offers abundant resources and effects, such as animations, transitions, filters, and titles, to allow editing
Allows the users to add texts in different styles in their slideshow videos to make them attractive
Allows mixing of video, photos, and music into a single slideshow video
How to Use Template to Create a Video PPT
iMyFone Filme video maker offers many free PPT video templates to allow better creation of presentations videos. Here are the steps to follow when using a video storyboard template PPT to create your presentation video.
Step 1: Click on the "Fast Video"
To make a video faster with iMyFone Filme, you will have to use the Fast Video option. Press the Fast Video logo situated on the top toolbar. A new menu will pop up.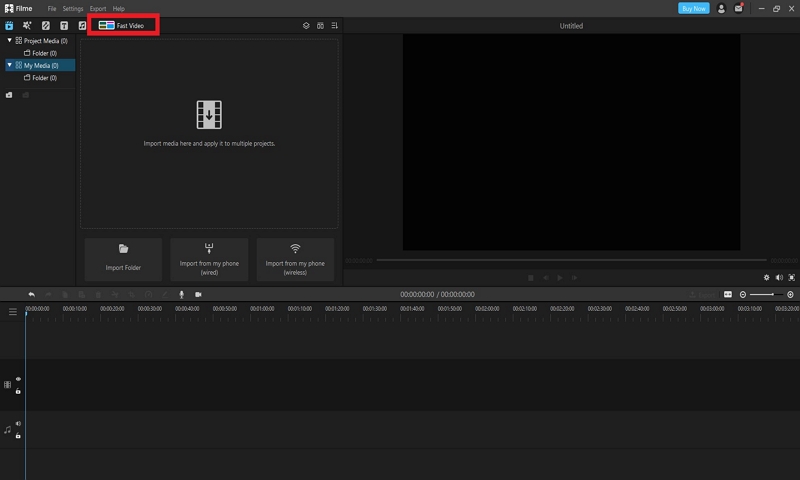 Step 2: Choose the Template
On the menu that pops up, choose a template, such as a video game PPT template. Ensure that the template you choose matches your subject.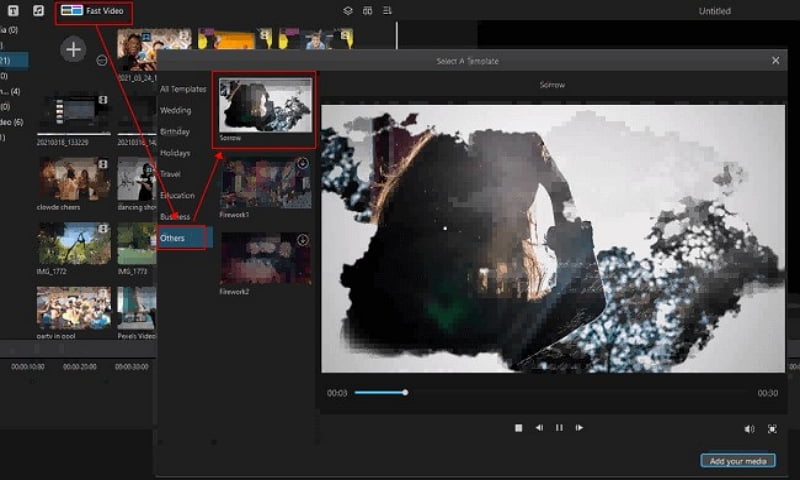 Step 3: Import Your Picture and Preview
After downloading the template, choose to Add Your Media option and click on the import folder to add videos or images. After adding the videos and images, they will appear in the library. Click the "+" sign button to add your video files or images. They will be attached automatically and you can place them in the grid.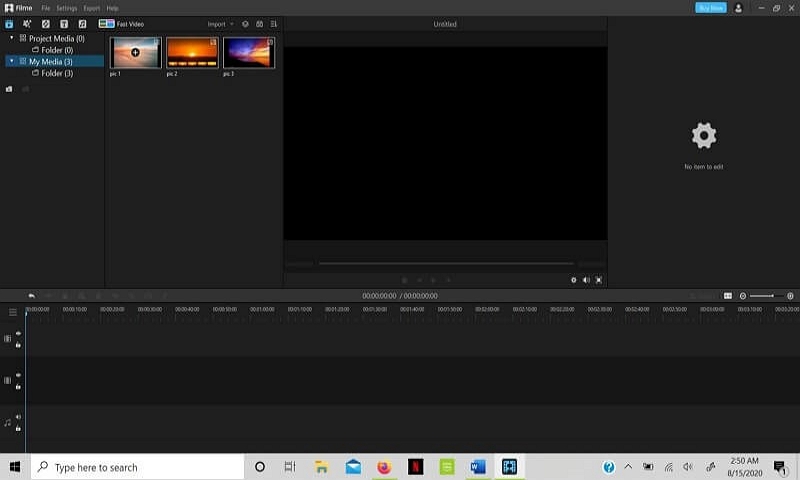 Step 4: Change the Sound and Text
To add music, click on the music sign situated on the top toolbar and choose your favorite music. Adjust the timing of your music so that it matches your slideshow by extending it or moving it according to the presentation.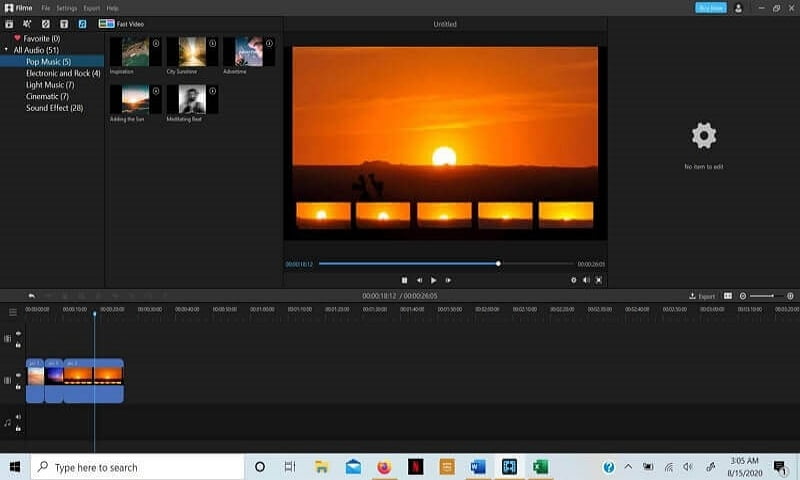 To add text to the slideshow click the T icon on the toolbar and expand the "All Texts" option in the Media Library section to access the different word formats. Choose the word format that matches your subject and right-click to choose "Apply" from the list. Drop the word format on the timeline to start editing the texts. You can customize the texts to add flavor to your video.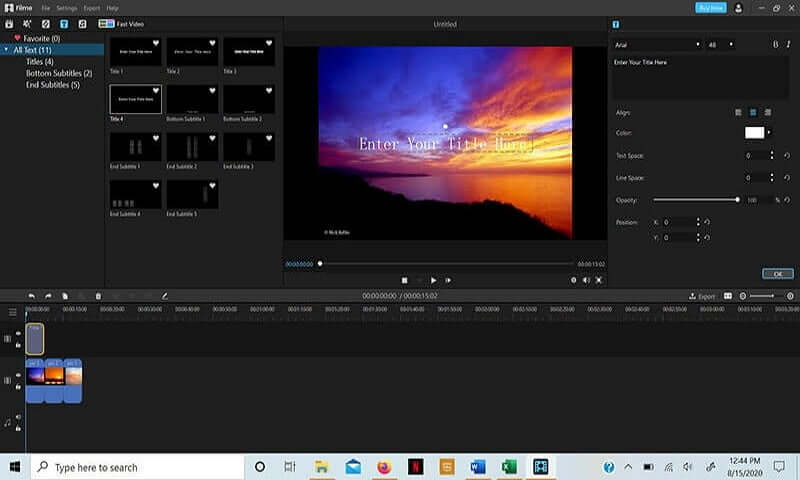 Step 5: Preview and Export
Now is the time to preview and export your video. Press on the "Preview" button situated at the bottom right of your screen. If the slideshow is ready, share it or save it on your device by pressing the "Export" button and choosing where to save it.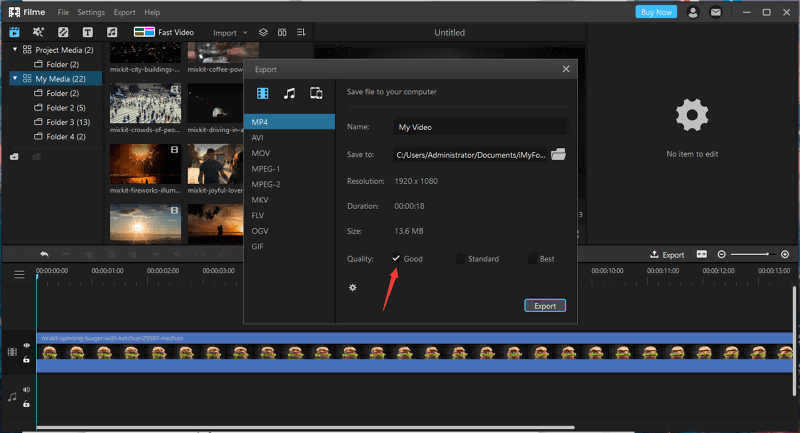 Final Thoughts
If you would want your presentations to stand out and captivate your audience, you have to go the video way. Videos are easy to publish in PowerPoint and they deliver great results. Adding one or several videos to your presentations will break up your PPT slides smoothly and keep your audience engaged and focused. The above tools provide PPT video templates to allow the easier creation of PPT videos. Try them today.