Music increases the engagement of the viewers to the video, which is why you see videos along with background music. It is a good idea to add music to your videos, but the question is which application you can use. There are hundreds of tools and applications available, so it becomes difficult to pick the best one.
In this article, we are going to make this easy for you. We have picked the top 8 apps to add music to video. We will also compare these apps so that you can select a suitable one. As a bonus, we will share a desktop video editor that you can use for professional video editing.
Part 1: Top 8 Apps to Add Music to Video on iPhone and Android
iMovie is usually the first name that comes to mind when we think about iOS video editors. It is because it is an official application released by Apple and is completely free. You don't need to pay anything to edit your video, and there won't be any watermark. Thus, it has become the first choice of iOS users.
You can add music to your video using iMovie; just drag it to the timeline. iMovie has a library for music and sound effects. There are 80+ tracks available to add to the video. Moreover, you can also add your voiceover by recording your voice in real-time.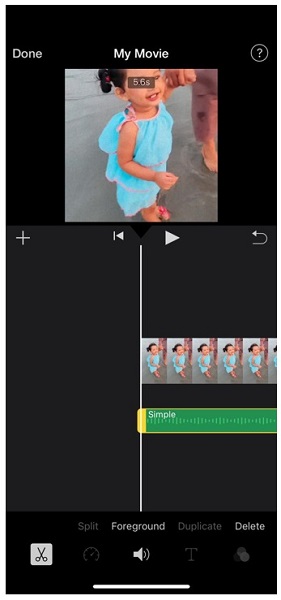 iMovie is a basic and simple video editor. Beginners can also use it, and there are tons of tutorials available on the internet. It also has 14 cinematic templates to create Hollywood-style trailers in no time.
You can do almost all basic edits to your videos. iMovie also has themes, filters, transitions, and text to make the video more appealing. Surprisingly, you can have a picture-in-picture effect and edit green screen videos in the video editor.
VivaVideo is a well-known application that professionals also use for quick video editing. It is an all-in-one mobile application and has almost every tool you need, so you can also call it a mini video editor. It can be used to create videos for YouTube, Facebook, TikTok, or any other social media. It has some stunning tools to make your videos more appealing.
You can add music to your videos by using VivaVideo. It has a huge library of music that allows you to add them with one tap. You can also use its sound effects to make the video more attractive. The sound of the video can also be edited. You can adjust its volume, use the voice changer to change the tone, and reduce noise in the audio. Moreover, you can also record your voice and use it in your video.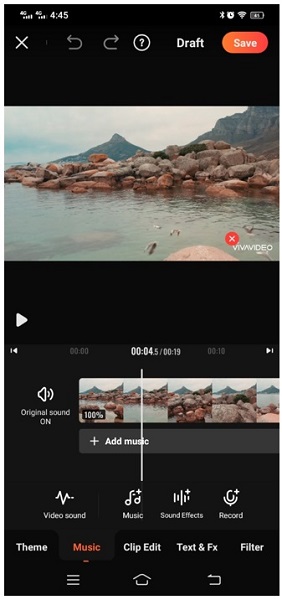 VivaVideo has all the basic and some advanced video editing tools. It has several themes to make stunning videos in no time. You can add text, stickers, overlays, effects, and filters. The best part is that you can adjust the brightness contrast, sharpness, temperatures, and other settings.
Magisto is a very popular video editor for slideshows, movie making, and collages. You can make basic changes to your videos and add stunning graphics to make them more appealing. The app is mostly preferred for creating social media posts. You can make eye-catching collages, convert images to slideshows, and edit your video to perfection.
You can music to your videos by selecting from its vast library. You can choose the desired music or import it from your device. It is a very basic video editor, so you cannot expect more.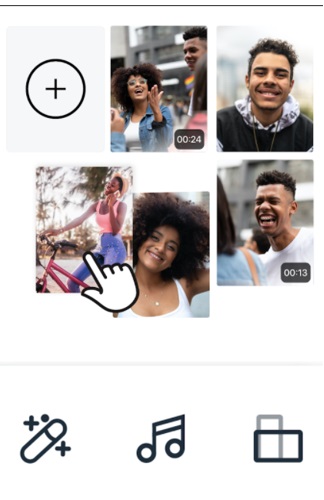 Magisto can help you add text, change colors, adjust duration, add stickers & objects, and apply a stunning animated background.
It is a very basic editor, and it is quite expensive. It offers a free trial once you provide the details of your payment method. You can find better applications cheaper than this application.
InShot is a versatile tool, which can be used for video editing, photo editing, and collage making. Mostly, it is used for video editing and is quite famous for that.
It has got some amazing features for adding music and sound to your videos. You can add any music or sound effect to your video from its library or select an audio clip from your device. The best part is that you have five audio tracks; thus, you can add multiple audio clips at the same instant. This feature is just like a desktop video editor. Other than that, you can adjust volume, split audio, and make other changes. You can also detach the audio from a video.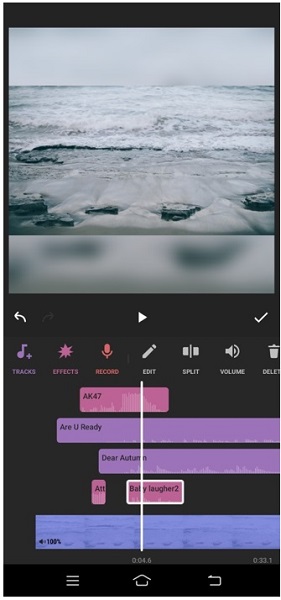 InShot is an excellent video editor for editing social media videos. It has almost everything, including effects, text, and filters. There are various tools to adjust speed, change the background, crop, reverse, rotate, freeze, flip, and duplicate.
Glitchcam is famous for creating glitch videos by using its awesome glitch effects. It is an excellent video editor, and you can edit your videos for free. It allows you to change aspect ratios, so you can easily create videos for YouTube, Instagram, TikTok, Snapchat, and other social media platforms.
The best feature is its free music library. You can add music to your videos without worrying about copyrights. You can use the video as you like. It also offers some commonly used sound effects. After adding music and sound effects, you can adjust its volume and fading effects. You can also adjust the duration by trimming and splitting. Most importantly, you can add four soundtracks at an instant. Thus, it is good for adding music, songs, and sound effects.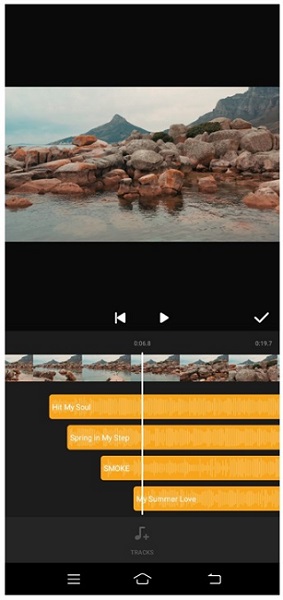 It offers tons of effects, filters, stickers, and text styles. You can easily create an awesome video using its features and tools. Finally, you can add a mesmerizing glitch effect to attract the viewer.
Videshop is a perfect video editor for beginners. Even if you are editing for the first time, it could be a good choice. It has a very simple and user-friendly interface; however, it has all features you need to create awesome videos.
You can add music to your videos without any hassle as it has its own music library. You can choose romantic, classical, happy, cinematic, or any type of music you like. Moreover, it has a vast library of sound effects, and you can find almost every sound you need for videos.
But keep in mind that you cannot have multiple tracks for audio. Thus, it is suitable if you don't want to add more than one audio clip or sounds. After adding music, you can adjust its volume and wave. If you want to add a voiceover, you can also record in real-time.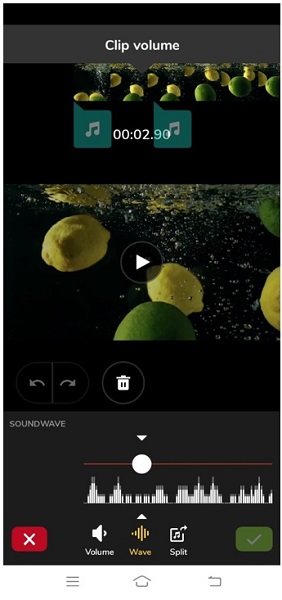 You can use Videoshop to add filters, text, stickers, and transitions and edit your video as you like. It has got all the basic tools you need for trimming, cropping, video reversal, flipping, and rotation.
Video Star is a very advanced video editing application. It has splendid features that you cannot find in other mobile apps. However, it is a paid tool; you need to pay for monthly subscriptions and advanced features to take your video editing skills to the next level. But the basic app is available for free.
You can add the desired music to your video using Video Star. You can modify the pitch of the existing audio, add a fade in/out effect. It can help you edit your audio to attain perfection.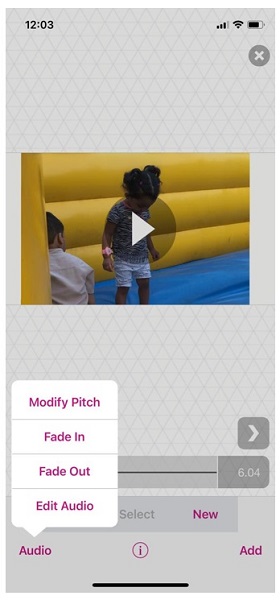 The app is perfect for creating catchy videos for your social media audience. Moreover, you also need to understand that this app is a bit difficult to use. You might find some tools quite difficult.
Splice is one of the simplest video editing applications for Android and iOS. We are calling it a simple video editor because its interface looks decent. You will have only three buttons on the video editor, and they are for Media, Text, and Music. You can easily create videos for any social media as it offers almost all the possible aspect ratios.
You can use Splice to add music to your videos. It has around 400 music tracks in different genres. If you add one music track to your whole video, it is a suitable application. We do not recommend this app if you want to add multiple music tracks, sound effects, voiceover, and other audio because it has only one soundtrack on the timeline. Thus, it is quite difficult to manage multiple audio files. Moreover, there is no built-in library for sound effects.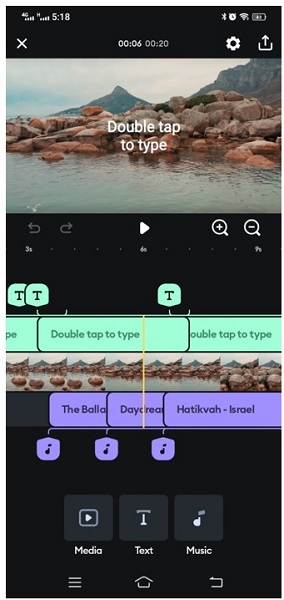 In the free version, you only have basic tools for text, music, and video. However, the paid tool has advanced features, such as transitions, effects, video refining options, thousands of royalty-free tracks, and a lot more.
Part 2: Comparison -What is the Best App to Add Music to Video
1. Comparison
Ease of Use
Beginners usually find a simple and easy tool for video editing. If you are looking for the simplest video editor, you can go with Splice and iMovie. These are user-friendly and perfect for your needs. You can use them for basic editing. For better features, you can choose VivaVideo, Glitchcam, and InShot; these are perfect for almost all editing needs. The most difficult among all these is Video Star because it has some advanced features.
Features
The features of VivaVideo are commendable. It has almost every tool and feature content creators need. After that, we recommend Glitchcam, InShot, Videoshop, and Splice. Video Star is also amazing, but it is a bit difficult.
User Reviews and Ratings
The highest rating among all video editors is secured by InShot. It has a rating of 4.8 on the Play Store. Then it comes Glitchcam with a rating of 4.7, and it is also from InShot's developers. VivaVideo also has a commendable rating of 4.6. VideoShop and Split are also equal to VivaVideo in terms of rating.
The users of InShot, VivaVideo, and Glitchcam love to use the apps because of their exceptional features.
2. What's the best app to add music to a video?
We recommend three apps in the first place, and those are InShot, Glitchcam, and VivaVideo. We recommend these as they have multiple soundtracks on the timeline, so you can add multiple audio clips at the same instant. You can also choose sound effects and music from their library. Moreover, they have tools to edit audio with perfection, and their timeline is user-friendly.
Part 3 Best Software to Add Music to Video - iMyFone Filme
Mobile applications are excellent for quick video editing and if you don't need optimal results. These apps are good for beginners and people who edit their personal videos. For professionals, it is recommended to use a desktop video editor.
Mobile apps also have many restrictions. The first restriction is on the resolution; most of them do not import high-resolution videos, such as 4K, and they don't even export high-resolution videos. Moreover, they have limited file size and video length. Thus, if you want perfection, accuracy, and optimal results, there is nothing better than a desktop tool.
We recommend Filme for video editing. It is a desktop tool for Windows and macOS. You can create stunning videos by using it. It has exceptional features that you won't find in other video editors.
Features:
It is a beginner-friendly video editor; it is not like other video editors that require prerequisite knowledge. You can start without any experience.

Filme has a library for music and sound effects; you can add them to the video with one click.

The audio editing features of Filme are commendable. You can change your voice, adjust volume, and apply fading effects. You can also detach the audio of a video.

It is a versatile tool that has a slideshow maker, PPT to video converter, video format converter, audio editor, screen recorder, voice recorder, and video resizer.

You can create videos for any purpose. You can select the desired settings according to the requirements of any social media platform.
Steps to Use Music to Video Using Filme
Step 1: Open Filme on your computer and click on Editing Mode.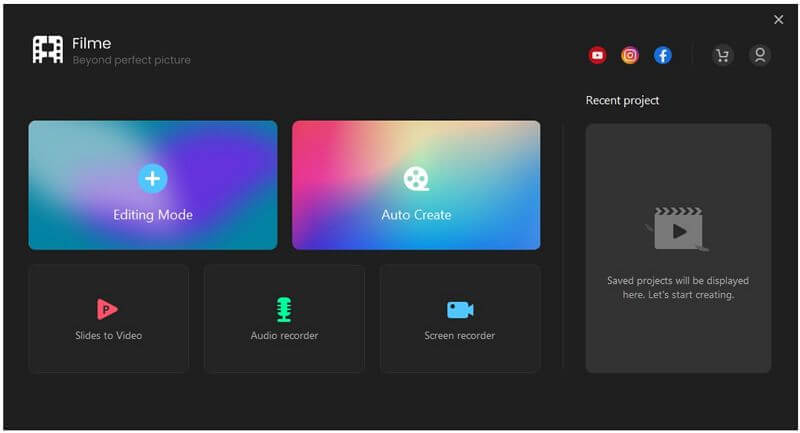 Step 2: Go to File>New Project and select the aspect ratio according to your requirements.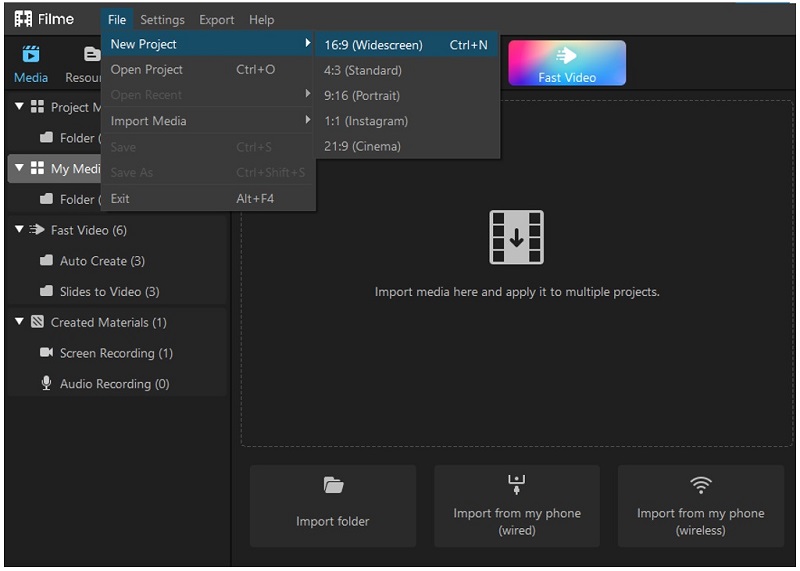 Step 3: Import video and audio files from the media menu. If you want to add any audio from your computer, you can import it at this stage.
Step 4: Drag the video to the timeline. Now, drag the audio file to the timeline. If you want to add any music or sound effects from Filme's library, you can go to the Music menu and add anything you like.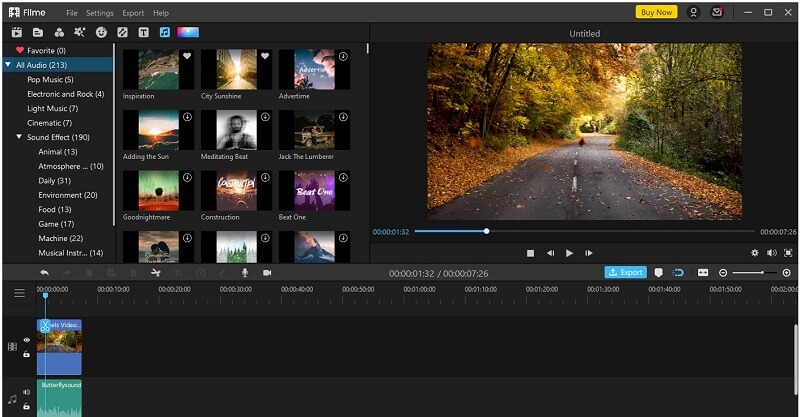 Step 5: If you want to add a voiceover, click on the microphone above the timeline. Record your video, and you can also change your voice in real-time.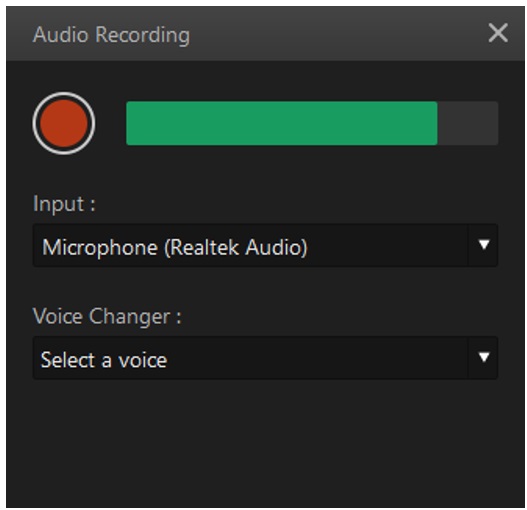 Step 6: You can make other changes to the video, such as adding effects, filters, transitions, stickers, or text. When you are ready, click on the Export button and export the video according to the desired settings.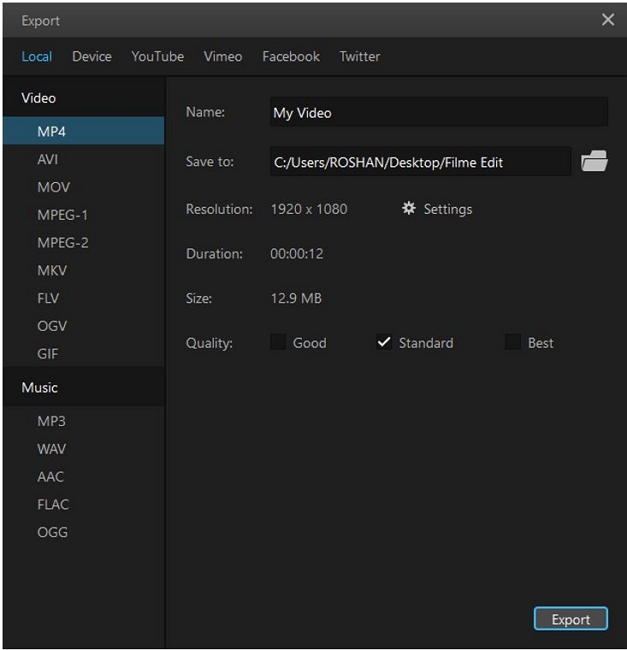 Conclusion
We have seen some of the best apps that you can use to add music to video clips. We have shared applications that are available on iOS and Android. You can easily pick a suitable application to add music to video. But if you want to take audio and video editing to the next level, you should use a desktop tool, such as Filme. It is a user-friendly video editor that anyone can use, and it has excellent audio and video editing tools that can take your skills and video to the next level. You can effortlessly create an awesome video for any purpose.