One of Premiere Pro's best features is the ability to use video templates. With free templates, you can instantly create many different types of video projects. If you are looking for Premiere Pro video templates to download and edit videos, this article is for you. Let's check it out to know where to download Premiere Pro video templates and tips for finding and using video templates. 
If you don't have much experience, all you need is iMyFone Filme . It is the best video editor for beginners. It comes with various popular video templates that you can choose from. And it is super easy to get start. You can download it for free and try it out below.
Part 1. 4 Top Sites to Download Free Premiere Pro Templates
There are many great and free Premiere Pro templates on the internet. But, most of them are premium models. Don't worry, if you're short on budget or looking for a template for a personal project, we've got you covered.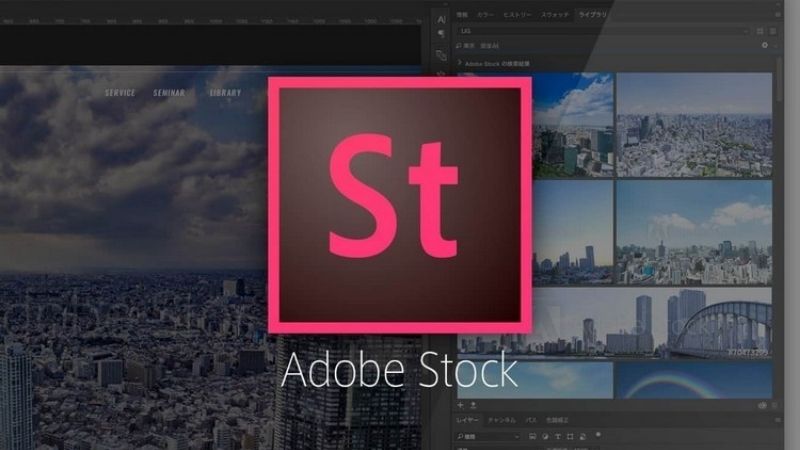 Adobe Stock provides a streamlined template store for the entire Adobe Creative Suite application. Adobe Stock also offers stock images, audio & video. Easy-to-use filters let you choose apps, subcategories like infographics, transitions, text, or titles.
Pros & Cons

Pro 1: Abode stock is the most trustful & famous website for graphics design.

Pro 2: Have a wide range of verity available.

Con 1: Adobe stock's licensing account is rather pricey. It is not something that everyone can afford.
Canva is a visual design tool for websites that were created in 2012. Canva is a drag-and-drop app with over a million images, graphics, videos, and fonts to choose from. With numerous accessible templates, Canva allows users to create social media graphics, presentations, posters, and other visual material. You can easily find the premiere pro video wall templates here.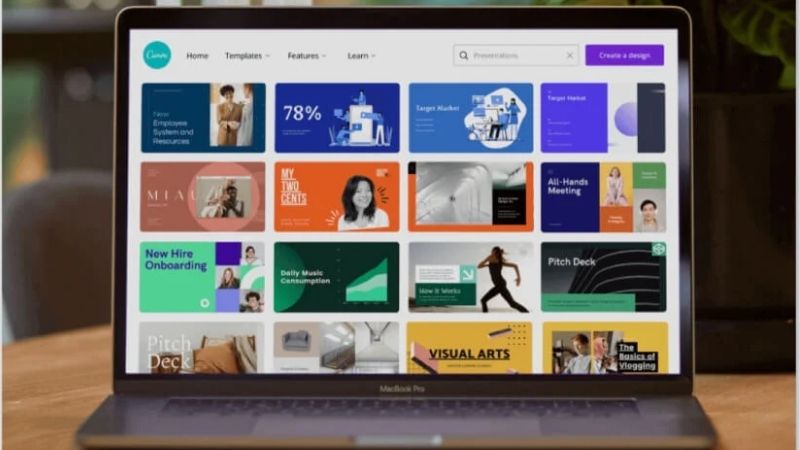 Pros & Cons

Pro 1: Easy to use.

Pro 2: The price is reasonable.

Con 1: Simple design, do not have many outstanding designs
Mixkit provides free stock material for editing practice, including unique music videos, promotional films, nature clips, drone videos, and more. These stock videos might help you improve and professionalize your videos. After posting on your social media networks, you may simply attract additional visitors.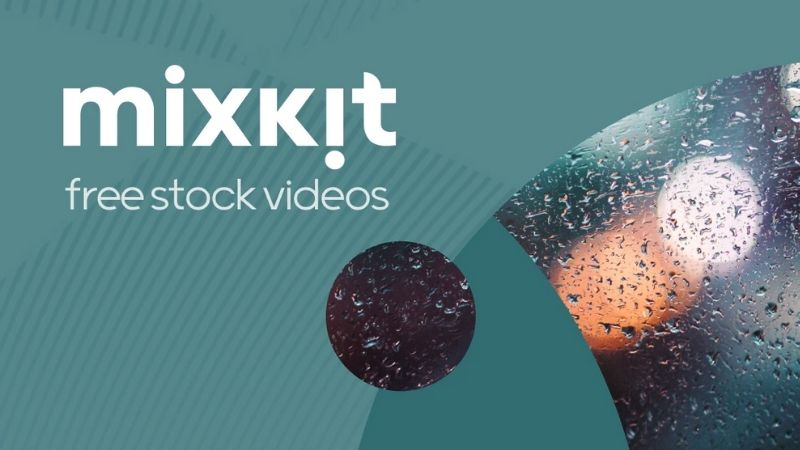 Pros & Cons

Pro 1: The websites allow users to share and download stock videos.

Con 1: It's possible that some stock videos were utilized in other projects.
With nearly 500,000 resources, Motion Array is an all-in-one platform dedicated to filmmakers and videographers. It takes your project from concept to completion, allows for unlimited content downloads, exclusive plugins, video collaboration, review tools, and web portfolio builder. It's a good website to find free promo video template premiere pro.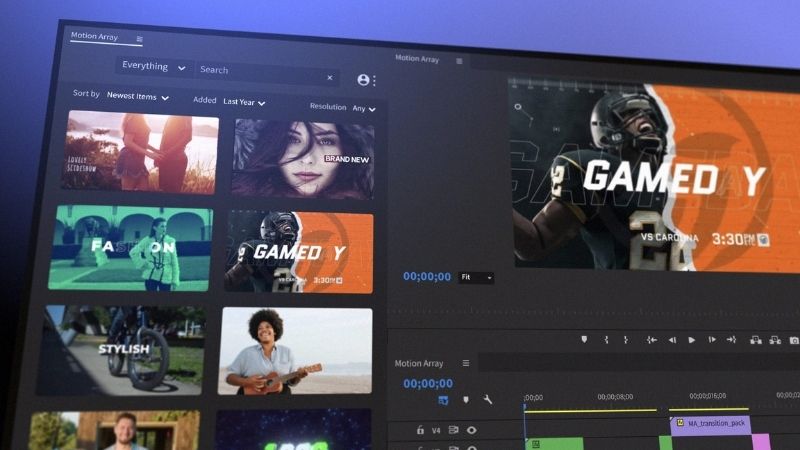 Pros & Cons

Pro 1: Smart search

Pro 2: Huge collection of top-class videos.

Pro 3: Free downloads, free banner generators, and free video converters are all included in the freplan.

Pro 4: Quality tutorials.

Con 1: Unavailability of a complete package.
Part 2. How to Create an Online Magazine with Video Template?
After you have found a reasonable template download source, in front of thousands of template results found, you will need to know which templates you will need to use. To find a proper Premiere Pro template for your project, you need to understand and prepare these things:
1. 8 Basic Classification of the Premiere Pro Templates
Intros / openers
Intros/openers are the opening part of the video. Usually, the intro will last about 5-30 seconds for the purpose of introducing or promoting the brand for the main character/owner of that video. This helps create sympathy and impressions for video viewers. Impress your viewers with professionally designed and elegantly animated Premiere Pro templates. An intros maker with template will help you both reduce the time of producing and impress viewers about your product.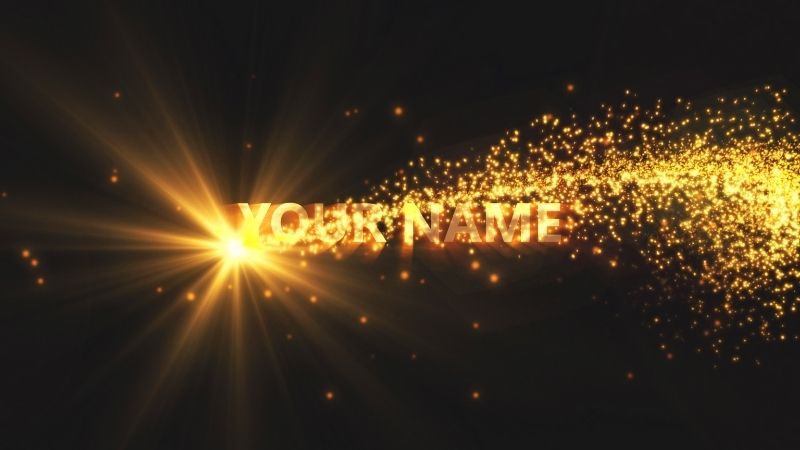 Slideshows / Photo slideshows
Slideshows / Photo slideshows are very popular templates. You can use them for weddings, romantic slideshows, fashion videos, short corporate slideshows, your memory videos, lifestyle videos, product promos, showreels, modern promos, conference openers, youtube channels, and social media promotion. Just need some images and soundtracks, and you can make your own incredible video with slideshows templates.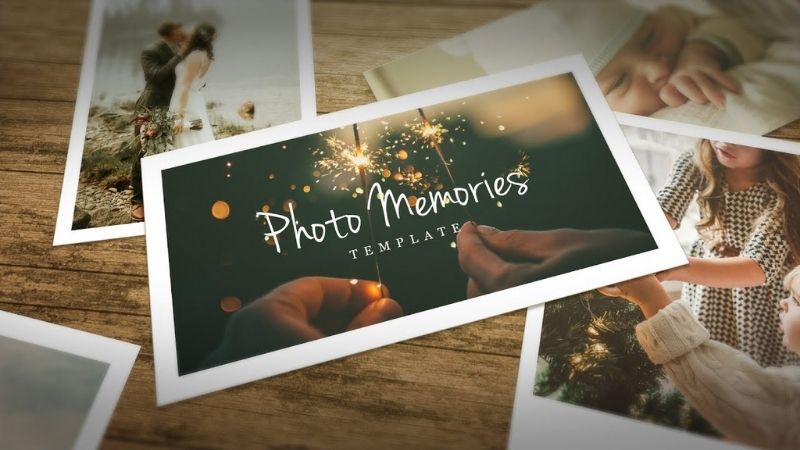 Transitions
A video without transitions will absolutely not be eye-catching enough. Therefore, let your video explode with attractive transitions. With the transition templates, you can add some action in your videos with the different sound designs for each transition. You can use this type of template for slideshows, promo, kid's videos, YouTube.
Logos (log intros / log stings)
Logos templates will help you stylize it for your brand with colorful, stylish, and useful logo reveal with customizable color. This template can be used for customizing your social media channel, website, presentations, video productions, and others. You can start to download it and change colors, add your brand logo, and type your own text with any font to make your own logos.
Lower Thirds
Lower thirds templates are easy to customize and simple to use. You can start with editing the text and the colors used in the graphics. They are perfect for your social media video, presentation, business promo, event, vlog, interview, portfolio, TV show, and other media. Impress your audience with clean and creatively animated Premiere Pro video templates of lower thirds.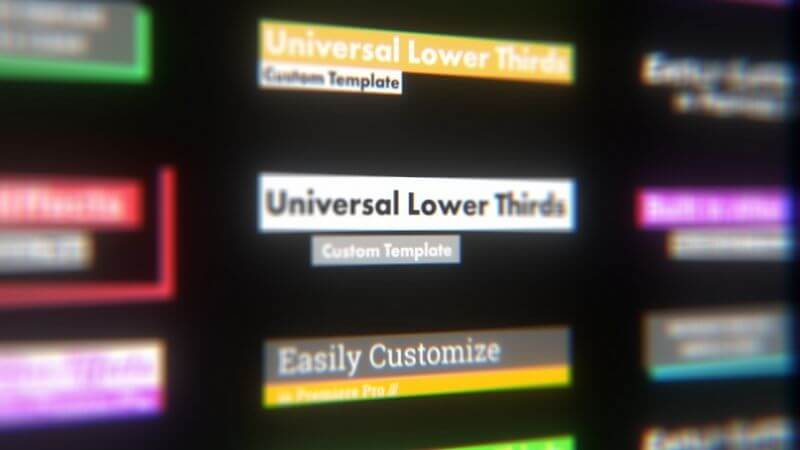 Text / Typography Templates
Typography is one of the important elements in a video or music video with lyrics. Thus, you will not want to take much time to adjust texts in your project. A typography template is a quick and easy way to add dynamic and lively typography to your project. To use typography templates or lyric video template premiere pro free, you just need to simply open it up, change the text, and you're finished. Typography templates are a fantastic way to highlight any important moments, people, and places in your videos.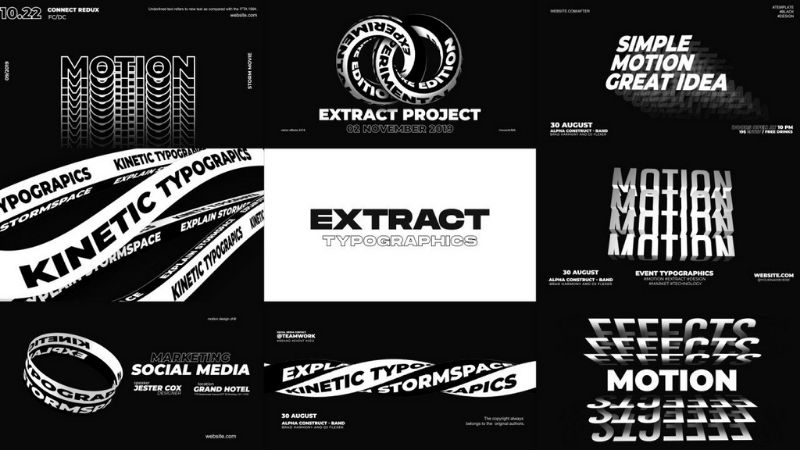 Wedding Videos
A wedding video is a fantastic way to enhance the appearance and feel of your anniversaries and wedding invitation videos. To make the whole wedding video, the video maker may take a lot of time to finish it. Wedding invitation video templates Premiere Pro will support you to impress your audience by available gorgeous design and dynamic animation in one template. All you need is the idea and design materials.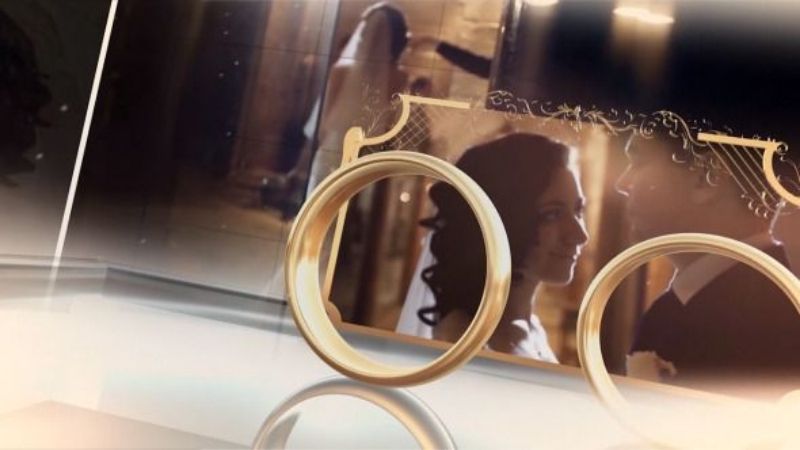 2. Locate Your Video Materials
Besides the 8 types of templates above, there are many classifications that are suitable for each demand. Understanding the classifications of the templates, then based on your other needs, you can easily locate your video material. Choose your own Premiere Pro video templates and download them with other material to your PC and ready to run your project.
Part 3. How to Use Templates in Premiere Pro ?
When finding an appropriate template, you will need to know how to use this template in Premiere Pro.
1. Import Presets
If you have effects presets on your computer, they can be easily be imported to Premiere Pro. Follow these steps to import your presets:
Extract the downloaded file containing the preset folder.
Open Adobe Premiere Pro.
Find the Effects panel >> Select the Presets folder.
Right-click and select Import presets.
Find the downloaded preset file (.prfpset extension) and select Open. Then, the preset has been successfully added to Adobe Premiere Pro.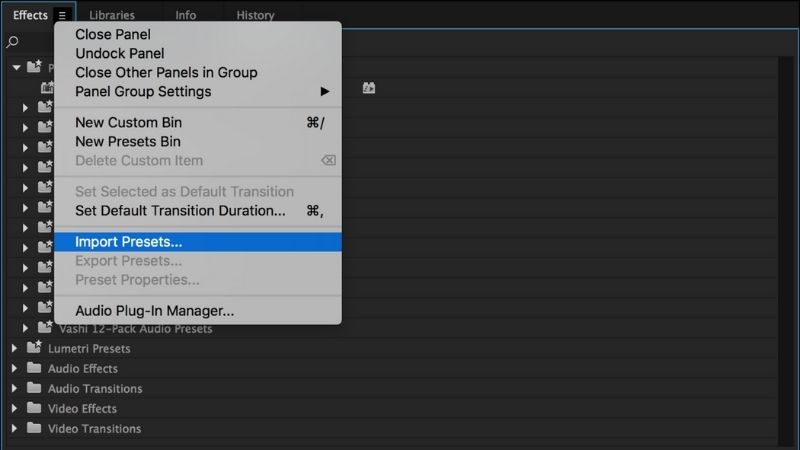 2. Import Template Premiere Pro Projects
In Premiere Pro, you may import a template (.mogrt file) from your PC. You may copy templates into Premiere Pro's Local Templates folder once they've been installed so that you can utilize them in any Premiere Pro project. In the Essential Graphics panel, it's also available.
Click the icon at the bottom of the Essential Graphics panel to browse to a template.
Navigate to a folder where the templates are saved, and click Open. The template gets copied to Premiere Pro's Local Templates Folder and is available in the Essential Graphics panel.
You can also install multiple templates at once by dragging them from the Finder or the Explorer Window into the Browse tab of the Essential Graphics panel.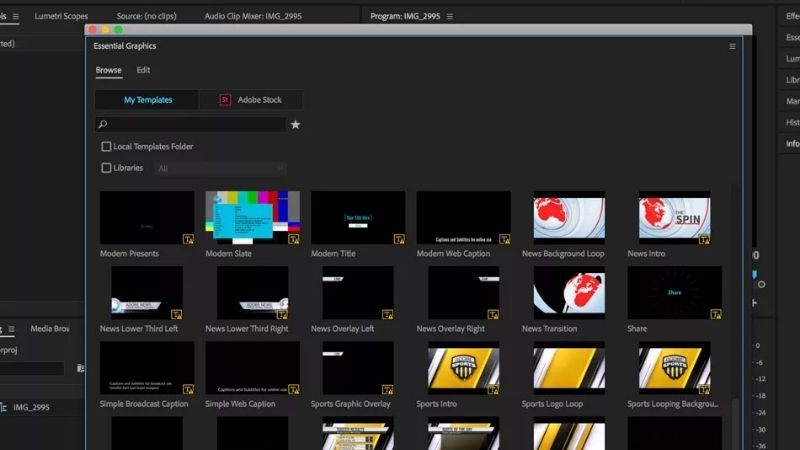 Part 4. The Best Template Video Maker - iMyFone Filme (Window & Mac)
You are a new designer and don't have too much time to learn how to use new design software, then all you need is iMyFone Filme - The Best Tool for Beginners is the latest video editing software of iMyFone. It's a user-friendly video editor that lets you do everything from basic to advanced video editing. It may be used to edit films for family and friends, share them on social media, or use it for business.
With many useful features for new users, you can make your own first incredible design with Filme:
Features of Filme
If you're wondering why Filme is worth buying, here are the key reasons
1. Easy to Use for Beginner
Friendly-users interface
Cut/trim, crop, split, rotate, alter the speed, create picture-in-picture effects, and more without any technical expertise.
Easily add and adjust music and voice to your films to record and share your most treasured moments.
Change the movie or object's audio and colors to create a specific style or ambiance.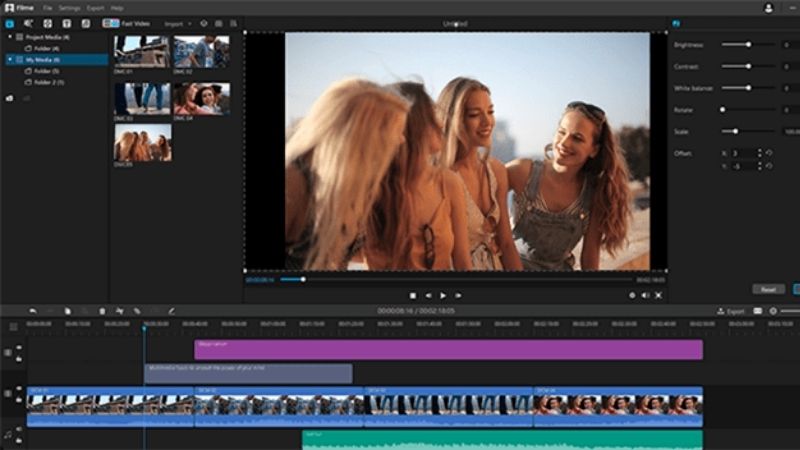 2. Stunning Templates
Create beautiful presentations in seconds with elegant templates.
Add a variety of transitions templates to your video to wow your viewers on social media.
Create dramatic titles and typography in a flash, with a variety of fonts and colors to pick from Filme's template.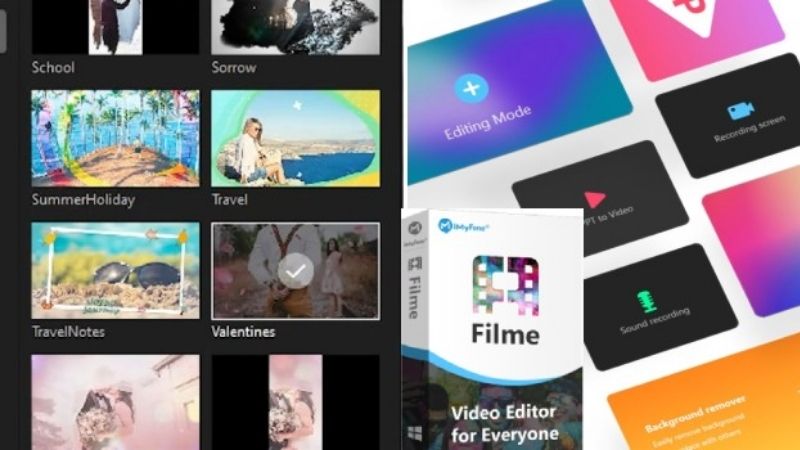 3. Unlimited Sources
There are a lot of effects resources available for you to use to add filters and animations to create colorful and polished digital stories.
Layer movies, music, text, pictures, transitions, animations, and overlays on top of one other.
Final Thoughts
Have you found the Premiere Pro video templates that suit your needs and ideas yet? Choose a reputable movie template manufacturer who will make the process of modification simple. Filme is one of the video template tools that genuinely stands out above the others. Hopefully, this article will help you get the most professional video project possible.