A free template video maker for beginners will help you spread your message through online videos effectively. According to Statista, around 87.2 percent of internet users in the United States watched videos each month in 2020.

Statista also shows that the amount of time people spend watching online videos is also growing rapidly. Unfortunately, creating videos from scratch is a daunting task for most beginners. If you don't have much experience, all you need is iMyFone Filme - The Best Tool for Beginners is the latest video editing software of iMyFone. So, we have a list of the 5 best free template video makers for beginners that will make the whole process easy for you.
Part 1. What Types of People Want to Use the Free Video Template?
The internet offers many video templates, ranging from easy to pro ones. Video templates come in the form of sample videos, such as credits, and video intros, or effects like overlays, filters, 3D effects, and 4D effects.

They also come in form of other resources, such as music, texts, video backgrounds, and sound effects. Also, every interesting video that can be used in other videos repeatedly may be referred to as a video template. Here are the groups of people who find free video template helpful.
People Who are Working for Marketing
Around 75 million individuals in the United States watch online videos each day and mentioning the word 'video' in a marketing email's subject line increases the click-through rate by around 13 percent. If you are a marketer, video maker templates will make your video creation work easy.
People Who Want to Share Their Life Online in Video
Videos stand as the future of social sharing. You have to choose them if you want your story to reach more people. Videomaker templates will help you do that easily.
People Who Work for Educational Propaganda
Students are opting for online videos when learning something new, including basic skills such as changing tires or new dances. The auditory and visual nature of videos appeal to a wider audience and allows user allow users to process information naturally. Individuals who work for educational propaganda can also benefit from video templates.
Part 2. 5 Practical Free Template Video Maker
The internet offers many free template video makers for both beginner-level and experienced video editors. Here are our top 5 choices.
1. Biteable
Launched in 2014, Biteable stands as one of the best online animated video makers that allow users to create beautiful videos easily. This free video maker with templates is designed for marketers, businesses, individuals, agencies, and entrepreneurs that would want to make videos for their Instagram and Facebook campaigns. You can use it to build cartoons, commercials, advertisements, slideshows, presentations, and any other type of video content.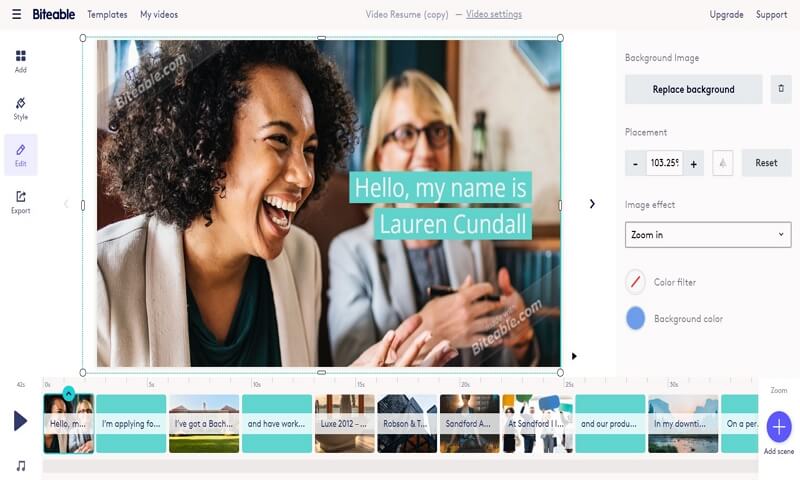 Pros:

Pro 1. Free, simple and easy to use

Pro 2.Offer a pleasant user interface and support voiceover through audio uploads

Pro 3. A large template library

Pro 4. You can add the pre-designed templates and stylish solutions to every video scene
Cons:

Con 1. It does not support direct social sharing

Con 2. Limited customization
2. Canva
Canva is another freemium online video maker with templates designed for professionals, beginners, and organizations that want to make eye-catching videos. It was launched in 2007 by Melanie Perkins, a college student who realized that people found the premium programs like InDesign and Adobe Photoshop hard to grasp and use. It offers millions of fonts, high-quality graphics, and images that you can use to build your videos.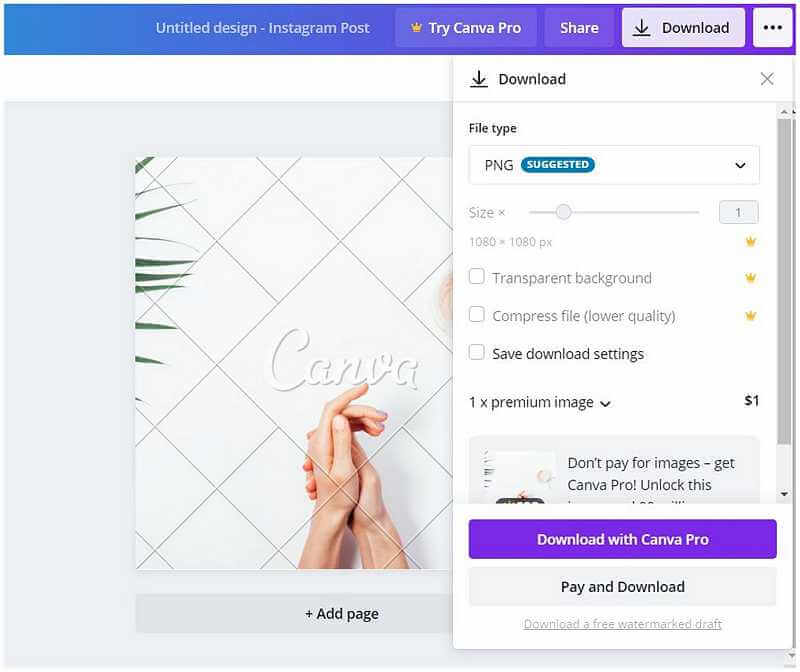 Pros:

Pro 1.Very easy to learn and use and offers many graphics and assets for design

Pro 2. It is online-based meaning that you can access it anywhere and with any device

Pro 3. The developer offers many tutorials to help you get started

Pro 4. It is compatible with iPhone, iPad, and Android devices
Cons:

Con 1. You will need a reliable internet connection to use it

Con 2. Most of the templates are very basic
3. Vimeo
Vimeo was started as a video platform for professionals and creative in the year 2004 and today it has over 70 million users. It is a video sharing and hosting platform similar to YouTube and comes with many tools, such as the Vimeo Create video editing program, which is designed for inexperienced video editors. It offers many templates in various categories.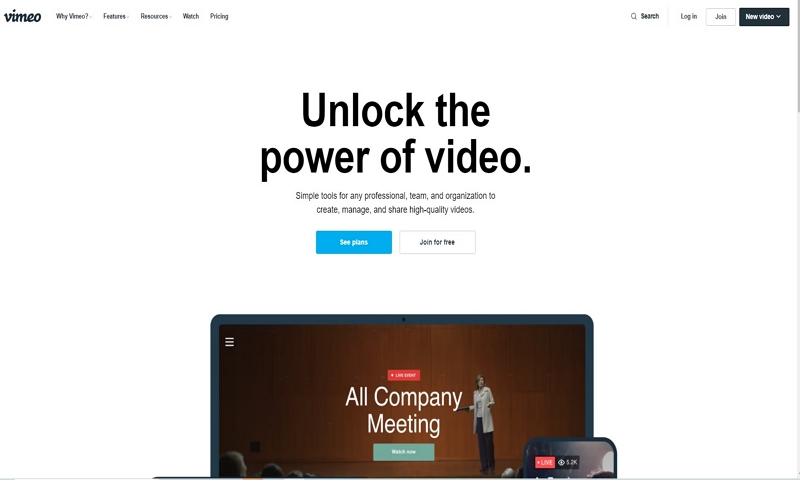 Pros:

Pro 1.Vimeo offers a user-friendly interface that does not need any formal training

Pro 2. Easy to use

Pro 3. Easier sharing of videos on many social media platforms
Cons:

Con 1. The search feature is not reliable

Con 2. The editing features are limited
4. Promo
Promo.com is another video maker that allows users to make and customize their video content. Some of the key functionalities to expect to include video and online ad maker, free collage maker, social media calendar maker, and the image resizer. The platform allows users to make content for various social media channels such as Twitter, YouTube, Facebook, and Instagram. The templates you can use include travel planning, Memorial Day campaigns, real estate, travel planning, and Father's day.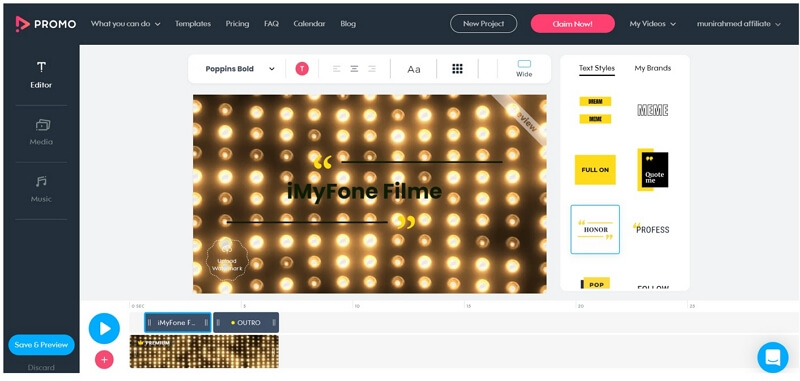 Pros:

Pro 1. Allows easier creation and sharing of videos

Pro 2. Offers a unique photo collage maker

Pro 3. Provides a free image resizer

Pro 4. Great creative content collection to support creativity
Cons:

Con 1. Unfriendly customer support team

Con 2. Tricks people to buy the one-year plan
5. Animoto
Animoto is an online video maker with templates that creates professional-looking marketing videos and slideshows out of multiple videos, images, and sound clips. The free video maker with templates is very easy to use and intuitive. You can add text effects, music, and combine videos and images, and music. To start using it, you just need to complete the registration process. After that, choose the "create video" option and upload your videos and photos.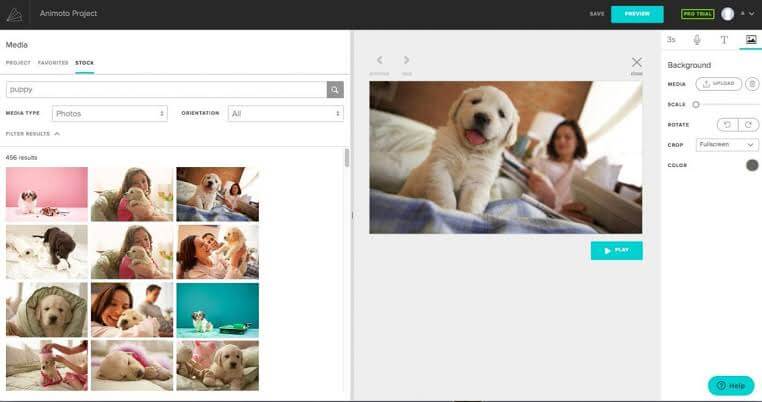 Pros:

Pro 1. Extremely user-friendly

Pro 2. Free plan option

Pro 3. Large images and music library

Pro 4. Many free video templates
Cons:

Con 1. Individual clips are not editable

Con 2. Limits users on the creative font
Part 3.How to Find the Most Suitable Video Templates for Your Video
Free easy video maker templates are made for various purposes but each of them comes with a unique mood and features. Therefore, you have to do the selection carefully if you want to create enticing videos. Here are the steps you have to follow when choosing one.
1. Determine the Subject
The first step when choosing a free video maker with templates is determining the subject of your video. The internet offers a wide range of easy video maker templates and you will find one to match your needs regardless of your video subject. There are templates designed for food, gaming, beauty, fitness, marketing, personal finance, and other video subjects. Ensure that the video template you select matches the subject of your videos.
2. Select the Context for Your Videos
Video context is the place or environment in which your video content lives. The video context is important when it comes to harmonizing the video with your website design, making emphasize on the embedded videos, and grabbing the attention of website visitors.  Choose a video maker template that will leverage the video context.
3. Choose the Social Media to Post the Video
While you can publish your videos on every social media platform out there, the success rate will highly depend on the type of videos you have produced, the target demographic, and how the target audience receives them. The great news is that there is a social media channel for every demographic and type of video. You will also get a video template designed for the social media platform you intend to use
4. Get the Right Personalized Templates
When choosing a video template, you have to decide on the type of content that will be static and the one that will be dynamic. Audios, images, text, and videos can be dynamic in a personalized video template. Also, you have to think about the type of content that will help you achieve your goals easily. After that, choose a personalized template.
Part 4. How to Use the Template for Your Video – iMyFone Filme (Windows and Mac)
iMyFone Filme comes with many benefits for the users such as many applications with various functionalities. You can use it to trim/cut, edit, crop, and split videos, add transitions, effects, and text. You can also use it to change the speed of your videos, add and edit audio or images, and customize the video atmosphere. It will work for you whether you are planning to make traveling, wedding, birthday party, or marketing videos.
Key Features of iMyFone Filme
If you're wondering why Filme is worth buying, here are the key reasons:

feature 1. The best multi-function video editing software tools for computers
feature 2. Ideal for both beginner-level and advanced-level users
feature 3. Use this tool to edit videos or make them from the photos saved on your devices
Stunning Video Templates
iMyFone Filme offers many stunning templates that you can use to manipulate your videos easily. The templates are very easy to use. To use one, you just need to double click on it and it will apply automatically. The video template categories include birthdays, weddings, holidays, travel, education, business, and others.
1. Split and Trim Videos
The tool allows easy splitting of videos into several sections. All you need to do is place the Timeline pin at the end of the part you intend to split and click on the scissors icon. Alternatively, you can drag the edges to trim the end or beginning of a video.
2. Crop and Rotate Videos
To crop a video, you just need to click on the Crop icon. Choose the aspect ratio, specify the size or crop the video to preserve a single part on the window that appears. Click ok to complete the process.  You can also rotate the video.
3. Speed Adjustment
iMyFone Filme allows the creation of slow-motion or fast-forwards motions with a few clicks. All you have to do is choose a clip and apply the slow or fast speed factor.
4. Slideshow Creation Mode
The slideshow creation mode allows the creation of videos from photos and clips. You can use it to add default effects or music tracks to make the slideshow impressive. You can also choose the theme that matches your video slideshow, such as memories or travel.
5. Picture-in-Picture Mode
This unique feature allows the addition of a clip in another clip. That provides you with the PiP effect you might have seen on your smart TV. You can watch two videos at the same time or watch an event from two angles if it was shot with two cameras.
Part 5. How to Use Templates to Design a Video Using iMyFone Filme
iMyFone Filme is made for both beginner-level and experienced video makers. That means it is very easy to use. Here are the steps to follow when using it to make a video.
Step 1: Download and Launch iMyFone Filme
Visit the official website and download the iMyFone Filme software and install it on your device. It is compatible with Windows 7, Windows 8, Windows 8.1, and Windows 10 devices. It is also compatible with macOS 10.12 Sierra and later versions.
Step 2: Choose the One-Click Template
iMyFone Filme offers many built-in one-click templates to allow users to make impressive and adorable videos. To choose a template, go to the Media Button and select the video option. Choose a template and click on the "Add Your Media" button. 
When using the Fast Video Option, move to the media library and select "Fast Video." The system will redirect you to the "Fast Video Mode." Choose your template and continue.  iMyFone Filme has many templates including birthdays, weddings, business, and education video templates.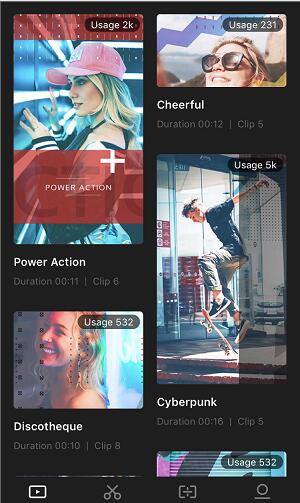 Step 3: Select Clips
Select your desired category and apply the effects according to your video subject and context. iMyFone Filme will enhance the quality and speed of your video. The video playback increase option allows adjustment of the speed and creation of breathtaking time-lapses.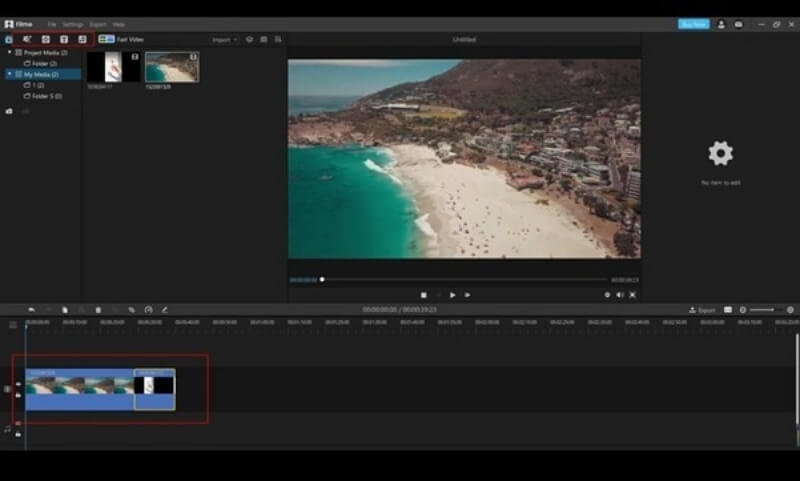 Step 4: Preview and Export
In the video preview part, ensure that everything is set. If the video is how you need it, click on the "save" or "export button." That way, you will export the video to any of your devices.
Filme also offers advanced audio editing. You can have multiple soundtracks in the timeline and edit sound as you like. You can trim and split the sound and change its volume. Filme is also a voice changer software that can change the voice in one click.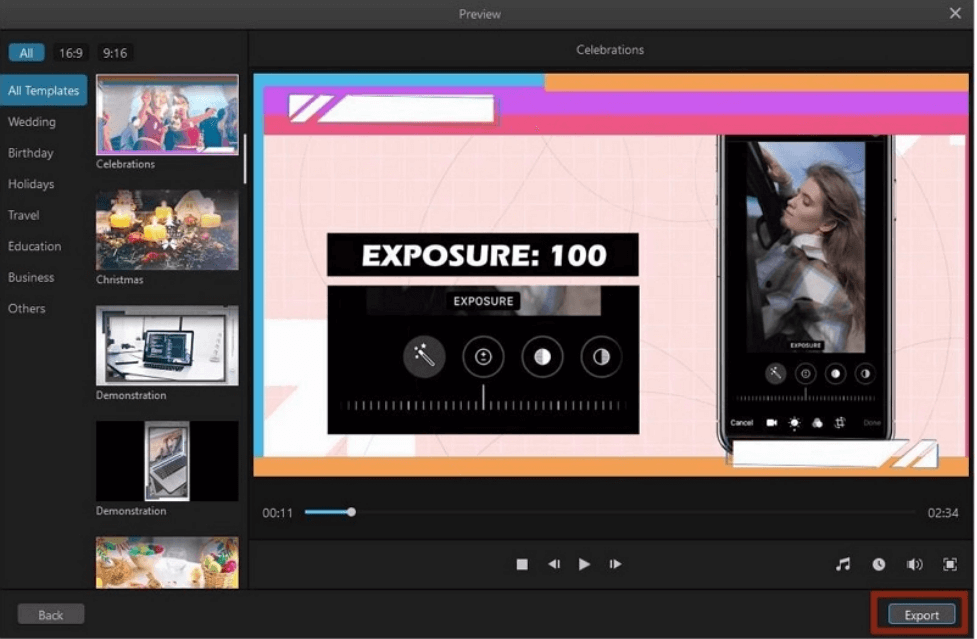 Final Thoughts
There is no need of learning how to make video templates. The free template video maker you choose will dictate the results you get every time. Peruse the above reviews of the 5 best free template video makers for beginners to find one that suits your needs. iMyFone Filme is another great video template maker free of charge to try if your goal is to create stunning videos that will attract many people regardless of your niche.