The combination of photos and music is a great way to express emotions as they often complement each otherLooking to create a photo slideshow on your iPhone but don't want to install any third-party app? You will be glad to know that it is possible thanks to the built-in Photos app. Photos app allows you to choose photos in the slideshow by date or album, select specific fonts, background music, and more.
Part 1. How to Create a Slideshow on Your iPhone's Photos App
As mentioned above, Photos app on your iPhone is sufficient enough to get the job done when it comes to creating a photo slideshow on iPhone. Although the process is a bit lengthy and some users may even find it less convenient as compared to some third-party slideshow maker apps, it is quite easy to follow.
Steps to Create and Edit Slideshow via the Photos App
Following is a step-by-step process to create photo slideshow on iPhone via Photos app:
Step 1: Launch the Photos app on your iPhone.
Step 2: When choosing photos to add to your slideshow, you have several options, e.g. by date, via the Memories tool, and creating an album with your selected photos.
Way 1. To create a slideshow via the date method
1. Tap on the Photos icon. Your photos will be arranged by date (Years, Months, Days).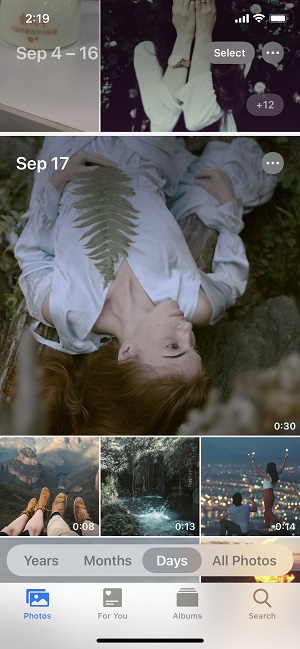 2. Now select the ones that you wish to add to the slideshow and then tap on the right arrow sign shown on the right side of the date.
3. The slideshow will be generated.
Way 2. To create a slideshow by using Memories
1. Tap on the Memories icon shown at the bottom and then find the Memories page. It will have your photos organized in several groups sorted by dates.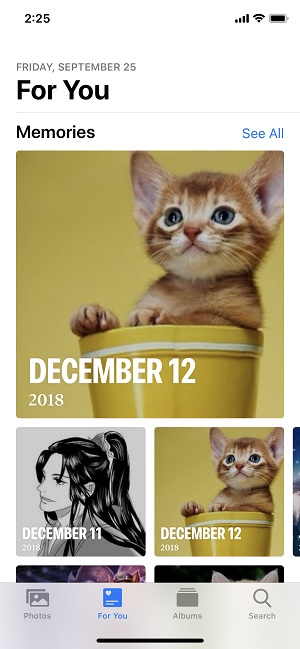 2. Simply select a specific Memory collection to create a photo slideshow on iPhone.
Way 3. To create a slideshow by selecting your own photos
1. You will need to create a new album first and put your desired photos in that album. You can create a new album by tapping on the + symbol located in the upper-left corner.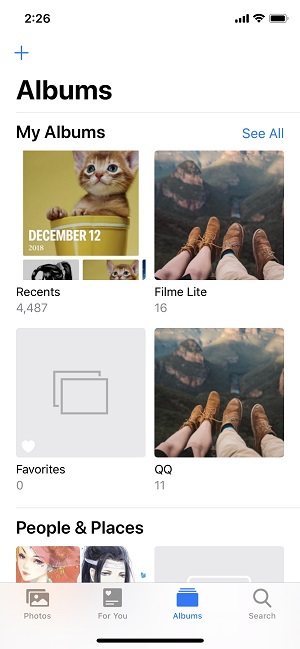 2. Then give it a name and save it.
3. After that, navigate to the Collections section and choose the photos that you wish to add to the slideshow.
4. When you are finished, tap Done. Your new album will be created which you can access in the My Albums section in the Photos app.
5. Generate the slideshow by opening the album and tapping on the right arrow.
Step 3: Once the slideshow is created, you can edit it. There are several themes available. Each theme has its own background music and font. You can preview them by selecting them and tapping on the Play button.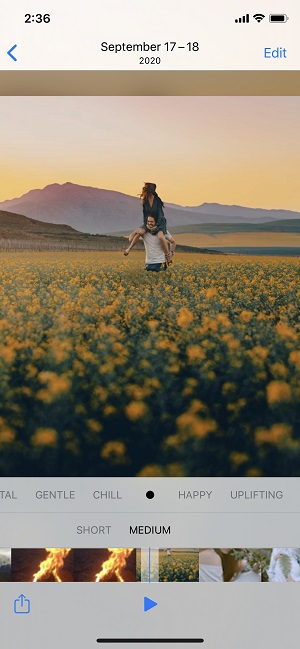 Step 4:  You can adjust the slideshow duration by using the timer on the screen in the edit window.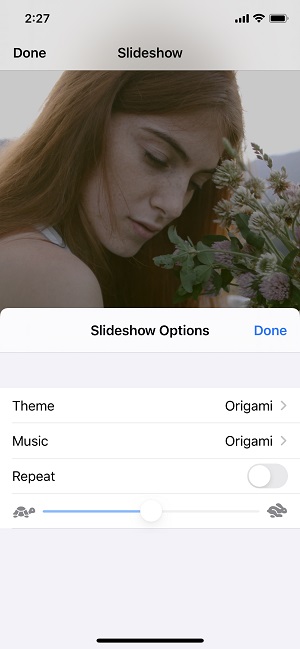 Step 5: When it comes to slideshow customization, you can change various aspects such as title, title style, music, title image, duration, photos added, etc. Use the corresponding options to change them and then tap Done to save your changes.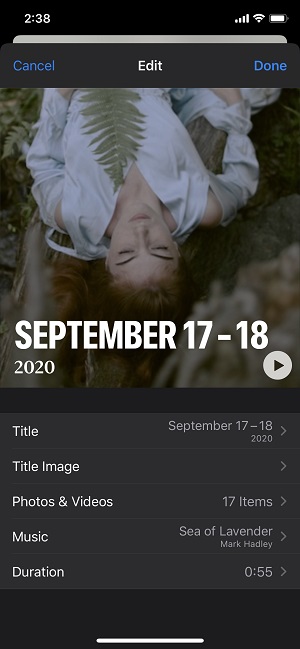 Pros
Simple, easy to follow slideshow creation.

No need to download or install any third-party app.

Several intuitive methods to create slideshow, e.g. by date, by album, via Memories, etc.
Cons
Lengthy slideshow creation process.

Limited number of themes for customization.

Lacks several customization features, e.g. stickers, templates, filters, effects, etc.
Watch this video to see how to use Photos App on iPhone to create slideshow:
Part 2. A Better Alternative App to Make a Slideshow on iPhone
While the built-in Photos app is decent if you want to create video from photos iPhone without installing any third-party app, it is not the best way to create photo slideshow on iPhone. There are many more powerful apps out there that can help you create a stunning slideshow and enhance it with tons of effects, filters, transitions, etc.
iMyFone Filme Lite is one such app. It is basically a video editing app for iPhone but it also comes with slideshow creation feature which is excellent. It has built-in templates for quick slideshow creation. Its Fast Mode is perfect for anyone looking to create a photo slideshow on iPhone with just one click. Filme Lite is easy to use and relatively fast as compared to many other slideshow maker apps available for iPhone.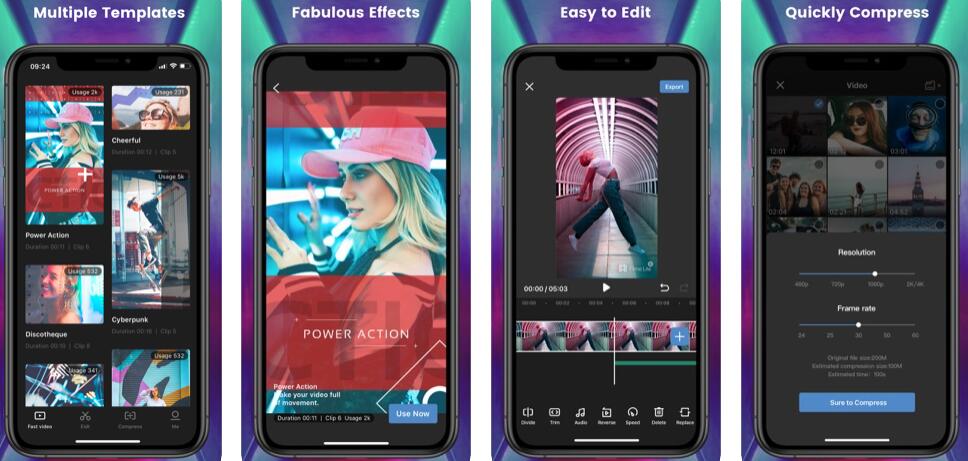 Following are the key features of this app:

Fast Video mode allows you to create a premium quality slideshow video with just one-click.

Dozens of video templates, including Cyberpunk, Power Action, Melody of Youth, and more.

Preview feature lets you view the slideshow video without saving it so that you can make any changes if required in real-time.

All standard video editing tools are available, e.g. trim, reverse, adjust speed, etc.

Large royalty-free music library.

Resize and compress a video to make it shareable on social media platforms.

Share your slideshow video creations on your favorite social media platforms directly from the app.

Support to compress your videos or slideshow to a small size.
Filme Lite offers ease of use which should be your top priority when choosing basically any app for your device. Filme Lite provides easy access to all of its features and has an intuitive interface to help you perform any action conveniently without requiring any technical knowledge.Also, this app comes with numerous slideshow templates, much more than what the built-in Photos app offers. This allows for some amazing slideshow customization. Filme Lite has an exclusive Fast Video mode which is excellent for those who want to quickly create a high-quality slideshow with just one click. Not many slideshow apps offer such feature, which gives Filme Lite an edge over them.
How to Make a Slideshow via Filme Lite
Follow these instructions:
1. Install iMyFone Filme Lite on your iPhone. You can get the app from the Apple's App Store. Once the app is installed, launch it.
2. Once the Filme Lite app is launched, start by selecting your desired template for your slideshow. The app offers several templates that come with unique effects and filters. Choose the one that best suits your preferences.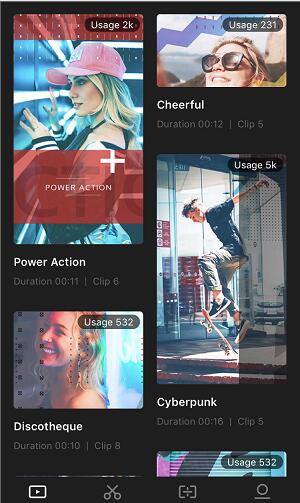 3. Next, the app will prompt you to select photos. Browse your photos and choose the ones that you want to add to your slideshow.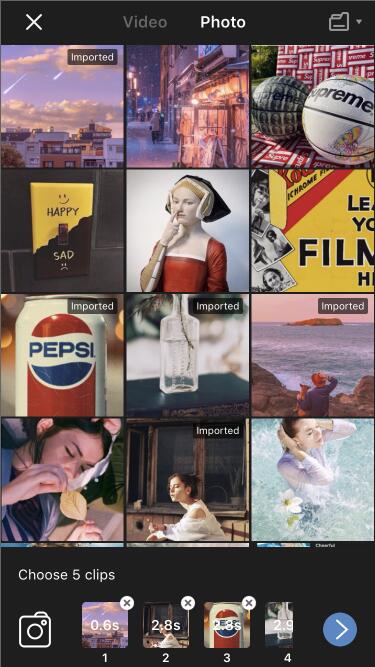 4. On the next window, you will be able to preview your slideshow as well as edit it. So, use the app's interface to customize your slideshow according to your preferences. You can also hit the back key to make additional changes to your slideshow for iPhone.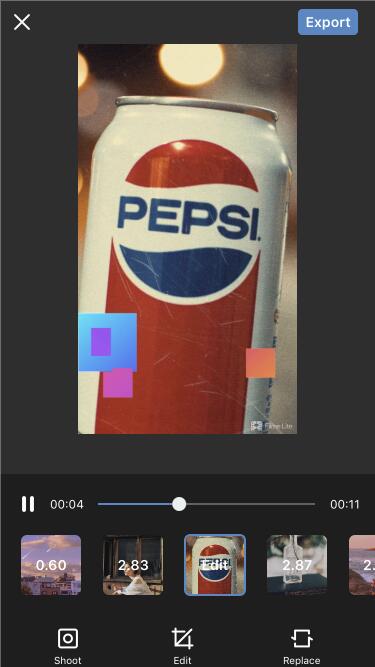 5. Once you have configured everything, simply tap the Export button. Filme Lite will save your photo slideshow. You can then share it on Facebook, Twitter, Instagram, etc. directly from the app via the Share option.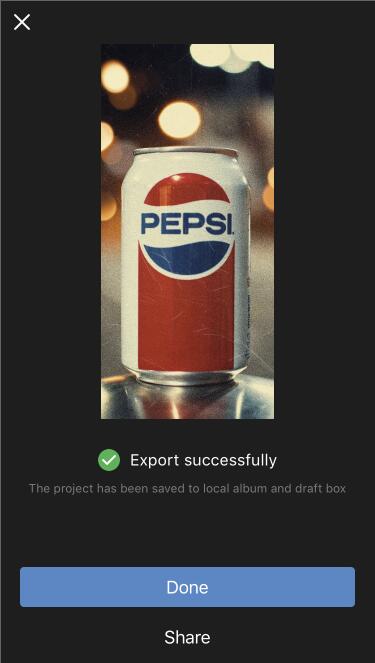 Conclusion
In conclusion, you can create a slideshow on your iPhone without installing any third-party app. The built-in Photos app offers some decent features to help you achieve this. However, it has certain limitations. If you are looking for more customizations and an enhanced slideshow making experience, then it is recommended that you install iMyFone Filme Lite on your iPhone. This feature-rich app is suitable for both beginners and advanced users.