Have you ever intended to convert Powerpoint files into MP4? Then you don't need to install PowerPoint reader software to still be able to open and view files, even better, you can watch PowerPoint presentations on TV, with a larger screen. To help you have the most convenient experience in PowerPoint to MP4 conversions, iMyFone Filme was developed. Let's check it out through this article to know how to convert PPT to MP4 online free.
All You Need to Know about How to Convert PowerPoint to MP4 Online Free
Part 1: More Easier Tool than Online Converter - iMyFone Filme
Among many PPT to MP4 online converters free; light, convenient, and easy-to-use software is also a great solution for PowerPoint to MP4 conversion. An online tool is often limited in file size or the number of files, and many other things, meanwhile, the editing software can handle all of these limitations.
iMyFone Filme is a beginner-friendly video editor file converter for those who find the shortest way to convert Powerpoint to MP4. With a few steps, your PowerPoint file will be easily converted into MP4 format for the usage of many different purposes.
How to Convert PowerPoint to MP4 with Filme
You can convert PowerPoint to MP4 with Filme by the following steps:
Step 1: Install and open Filme on your PC. Filme has various tools in the started screen like video editor, screen recorder, audio recorder, and slide to video converter. Click on 'Slides to Video' to open the PowerPoint to MP4 converter.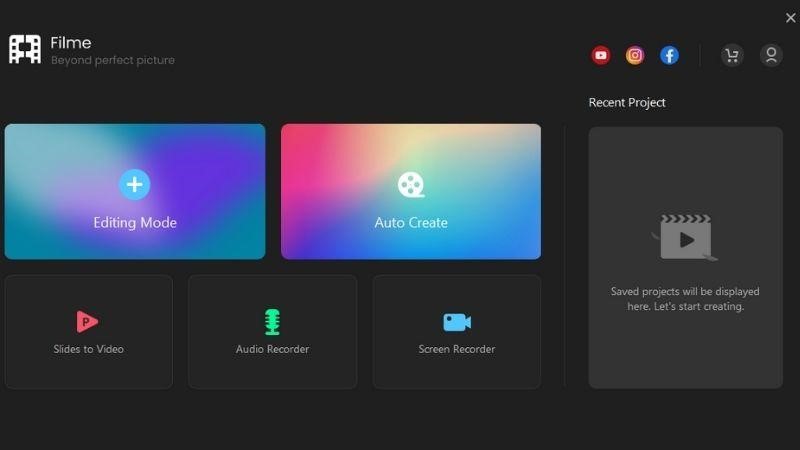 Step 2: Import PowerPoint files. Click on the '+' button and choose files from your computer then import them to Filme. You can select various files to import.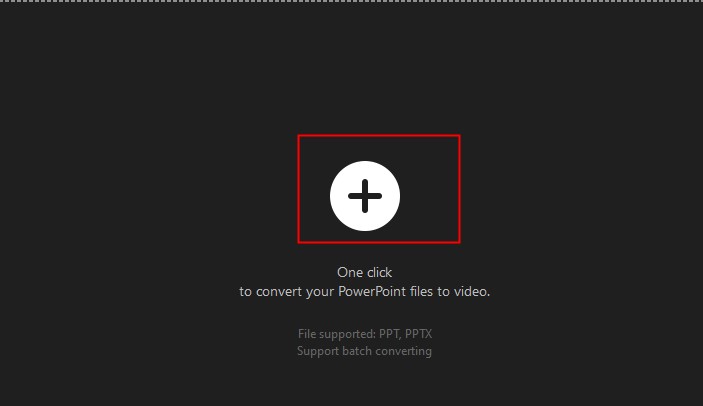 Step 3: Customize it. After importing, you can customize delay duration, frame rate, and video quality in the Setting. Then, click 'OK'.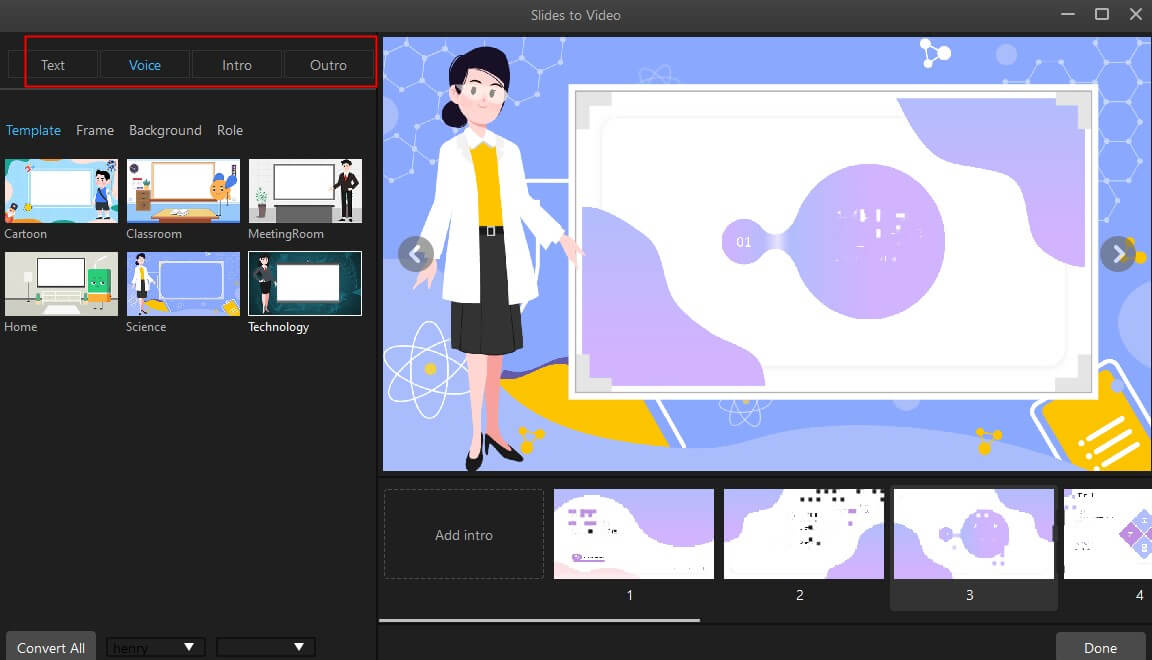 Step 4: Click 'Convert'. After conversion, click 'OK'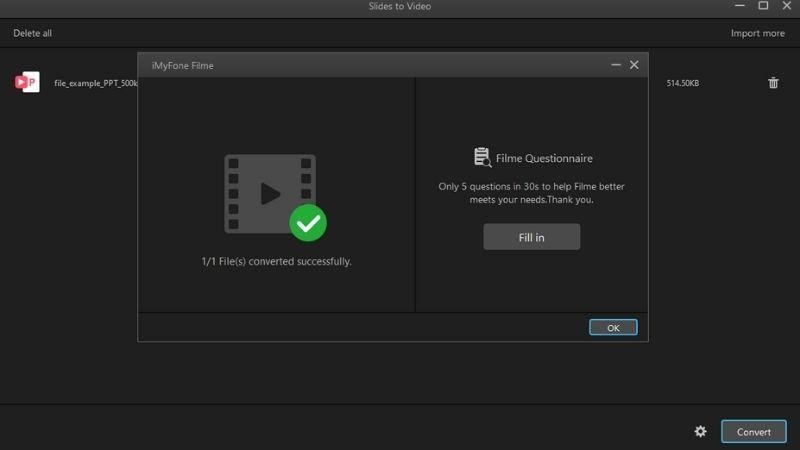 Step 5: Change the sound and text. After finishing the conversion, you can edit it like a video by many tools on Filme. You can cut, trim, change sound and text, adjust color, filter and many things with simple steps.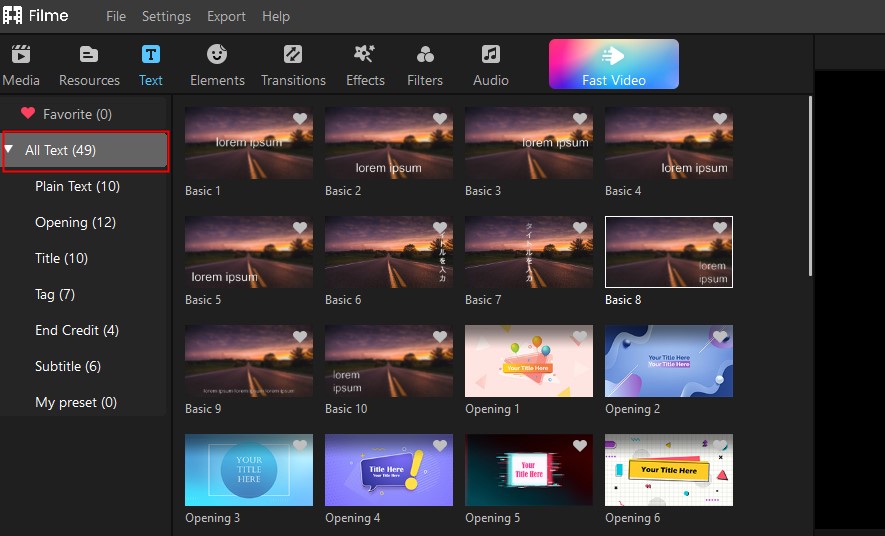 Step 6: Preview & Export. After editing your MP4, click 'Export'. Choose your settings and click on 'Export'.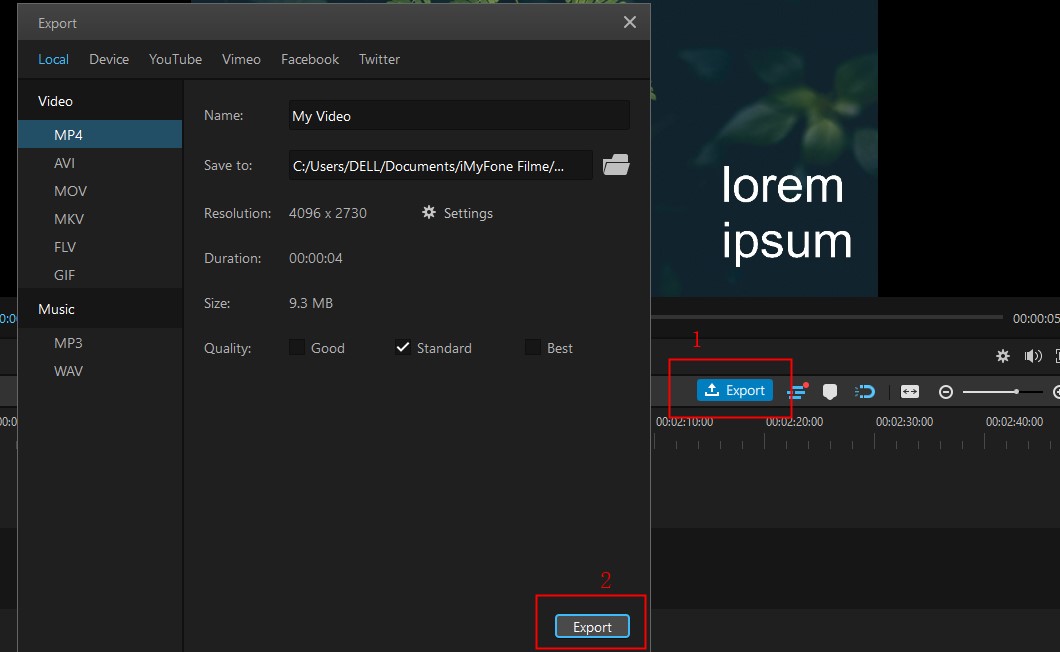 Outstanding Features of iMyFone Filme in PowerPoint to MP4 Conversion
There are many factors that make Filme become the first choice for converting PowerPoint to MP4.
Outstanding quality: While converting PowerPoint to MP4, the quality of slides in the PowerPoint will be remain, with no reduction of any pixel.

Unlimited quantity: You can convert as many files as you want each time.

Easy adjustability: You can easily adjust the quality, frame rate, and duration of the conversion.

Professional editor: You can edit the conversion like a video with many available tools from Filme that is the best free vedio editors for beginners to make the best final product.

Flexible export: You can export files in any format.
Part 2: Top 5 Free Online PowerPoint to MP4 Converters
If you have a simple PowerPoint that needs to convert to MP4, an online PPT to vedio converter free will help you save time and still have a satisfying product. There are many free online converters on the internet and each has its own pros and cons and usages. Let's check out the top 5 free online PowerPoint to MP4 converters.
CloudConvert is a full-featured online file converter that can convert nearly every music, video, document, ebook, archive, picture, spreadsheet, or presentation format like PowerPoints. It's a device- and platform-agnostic service that simply requires a contemporary browser and a stable internet connection to use. If you are looking for a PPT to MP4 online converter free or just a reliable general MP4 converter, Cloudconvert has got you covered.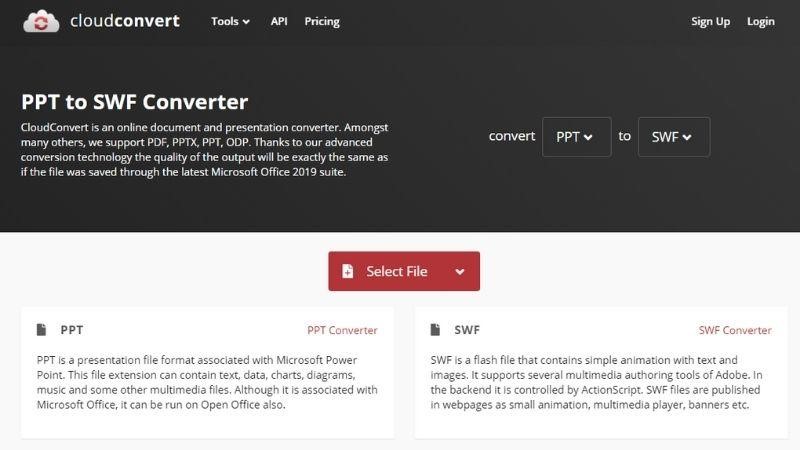 How to use:
Step 1: Head to Clouldconvert website.
Step 2: Choose the type of convert (convert...to…).
Step 3: Click on 'Select File' and choose PowerPoint files that you want to convert to video. You can also choose 'Add more Files' to add more files to convert.
Step 4: Click on 'Convert' and wait for the conversion.
Step 5: Download your video.
Pros:

Variety of high-quality conversion options.

Supports many popular cloud services.

Platform/Device independent.
Cons:

Just 25 conversions per day for free.
Converter365 is a web-based tool that converts files between a variety of formats. It requires no e-mail registration or the installation of third-party software on your computer to use. Only a web browser and internet connection are required for this converter. This enhances its utility by making it available on a variety of devices.
How to use:
Step 1: Head to Converter365 website
Step 2: Use 'drag and drop' or click on 'Add files' to upload your files, or you can add a link to convert.
Step 3: Choose the format to convert to.
Step 4: Click on 'Start conversion'.
Step 5: Choose 'Download file' or a 'Download all files as ZIP' to get your video. Or you can copy links to them if you don't need to download files.
Pros:

There are multiple formats available for you to choose from.

Quickly converting, saves time.

You can add more files at a time.
Cons:

The limited file size is not more than 100MBs.

You can only freely convert ten files per day.
Convertio is an online file format conversion application that supports many different types of formats from text, images, videos, PowerPoint, etc. Especially, Convertio is integrated with Dropbox, Google Drive cloud storage services so that we can get the original file and save the destination file after conversion. Convertio is also a good option to convert PPT to MP4 online free.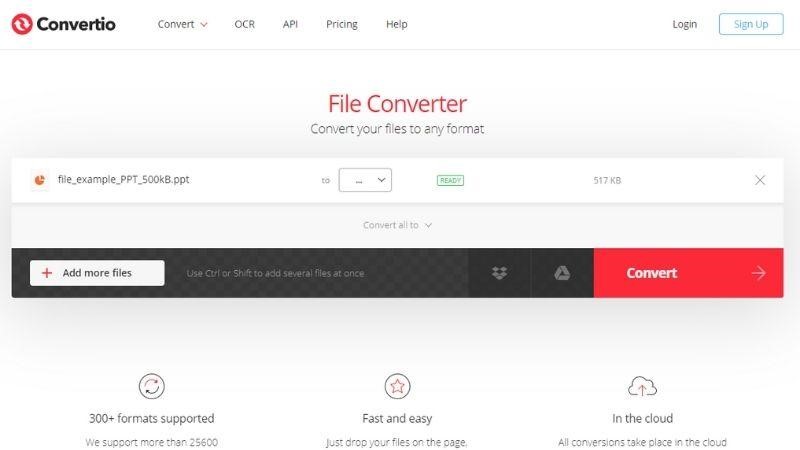 How to use:
Step 1: Head to Convertio website.
Step 2: Choose to download files available on your computer, from hosting services, or via file URLs. You can upload multiple files at once to Convertio.
Step 3: Choose the format you want to convert for the uploaded files.
Step 4: After choosing the format, click the red 'Convert' button to proceed with the conversion.
Step 5: Choose the 'Download' button in each file. If you want to download multiple files at the same time, click on 'Download archive'.
Pros:

Support batch conversion.

Save files to Google Drive/Dropbox.

Apply changes to all conversions.

Convertio has Optical Character Recognition technology for converting scanned documents.
Cons:

100MB maximum file size

Cannot convert PNG with transparent background

YouTube converter does not work
Online-Convert is old software that supports video conversion. Not only supports many video formats, but Online-Converter also makes converting images, PPT files, and audio very simple. However, installing software has the downside of making the computer run slow. If you don't convert videos often and want to convert PPT to MP4 online free, you can use Online-Convert to convert videos online without installation.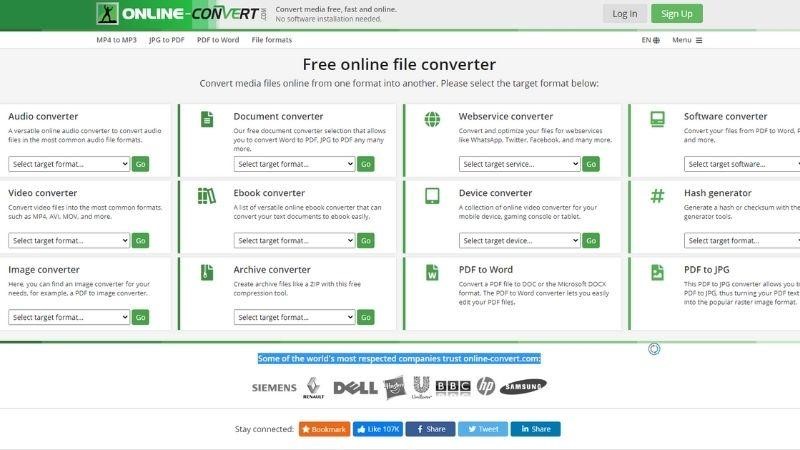 How to use:
Step 1: Go to online-convert.com.
Step 2: In the 'Video Convert' section. Select the video format you want to convert.
Step 3: Click on 'Choose file' to add your files.
Step 4: After choosing the file to convert, you can customize the resolution, video quality, trim video... and many other features right on Online-Convert. Finally, choose 'Convert file'.
Step 5: After converting successfully, click on the 'direct download link' to download the video to your computer.
Pros:

You can upload files from your computer, Dropbox, or Google Drive.

Flexibly adjust pixels, resolution, file size, duration, and many other settings.

You can also adjust audio settings, codec, quality, and channel.
Cons:

The output file can only be MP4.
ConvertFiles is a straightforward tool that allows you to convert files between various video, music, images, and text formats. It's entirely free and can handle files up to 250 MB in size. This service, unlike others, does not allow you to upload files from a cloud folder or choose it as an output destination. However, it works rapidly with huge files and may email you a download link as soon as the conversion is finished.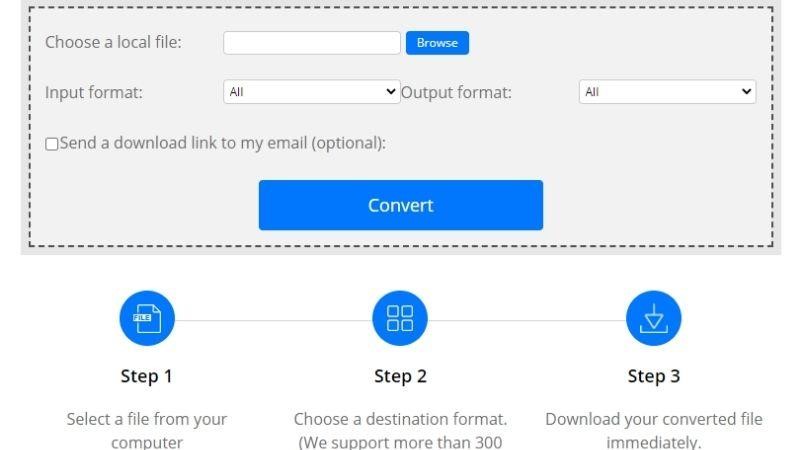 How to use:
Step 1: Go to ConvertFiles.com.
Step 2: Select a file from your computer using the browse function.
Step 3: Choose a conversion format (MP4, ZIP, DOC, PNG…) ConvertFiles supports most formats.
Step 4: Download your converted file immediately right after the conversion process finishes.
Pros:

ConvertFiles can handle large files.

Supports more than 300 formats.
Cons:

Doesn't support import and export to/from other cloud services like Google Drive or Dropbox.
Part 3: The Elements Shouldn't be Included in the Presentation Video
PowerPoint often includes a large number of things that are only compatible with the format. A presentation video is converted into a different format, which implies that certain elements of the video may be lost. You should pay attention to these elements to avoid getting errors while converting PowerPoint to video. Consider the following example:
Previous versions of PowerPoint 2007 media objects would not be included in the movie. You have the option of converting it to a new format or upgrading the file to include it.

Unless you have a 3rd-party QuickTime codec called ffdShow, QuickTime media will be deleted after conversion until compatibility is enhanced.

Macros and OLE/ActiveX controls won't also be included after converting PowerPoint to MP4 either. Thus, remove it before converting to avoid errors.

Some converters will not support converting these elements in the PowerPoint: Animation, links, entrance/exit effects, sound effects, tables, objects, all charts (except line, bar, pie),notes, comments, SmartArt, or background added with slide master.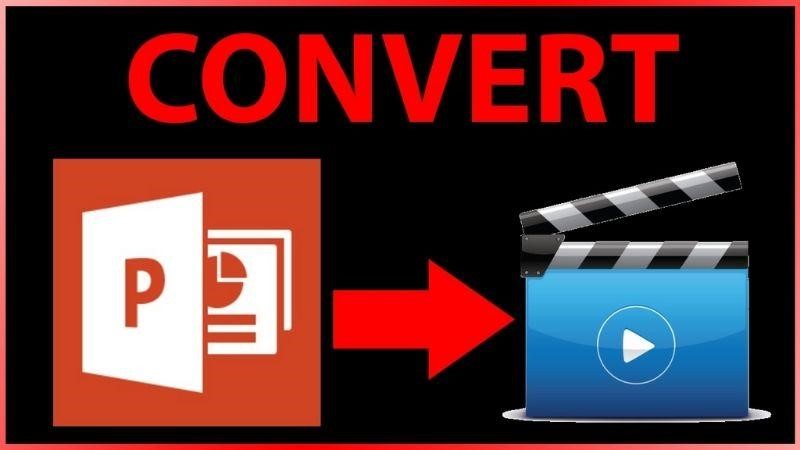 Final words
To sum up, it's easy to convert PPT to MP4 online free if you know how to use as many as online converters. The article has shown you the best tools for you to convert your PowerPoint. Despite having many conveniences, online tools have many limitations. Thus, iMyFone Filme has been recommended as the best application for converting PTT to MP4 that can meet all your needs.