Roronoa Zoro's voice brings authenticity and charisma to projects, captivating audiences with its iconic and powerful tone.
In this article, we'll introduce how to get Roronoa Zoro's voice with AI .
Part 1:Basic Info of Zoro
Roronoa Zoro, also known as the "Pirate Hunter," is a fictional character created by Eiichiro Oda for the manga series and media franchise, One Piece. He made his debut in 1997, appearing in the third chapter of the manga, which was published in the Weekly Shōnen Jump magazine.
Roronoa Zoro is a central character in the popular anime and manga series "One Piece." Known for his exceptional swordsmanship, Zoro is a determined and fiercely loyal member of the Straw Hat Pirates. With his dream of becoming the world's strongest swordsman, he wields three swords in combat and embodies a strong sense of honor and determination.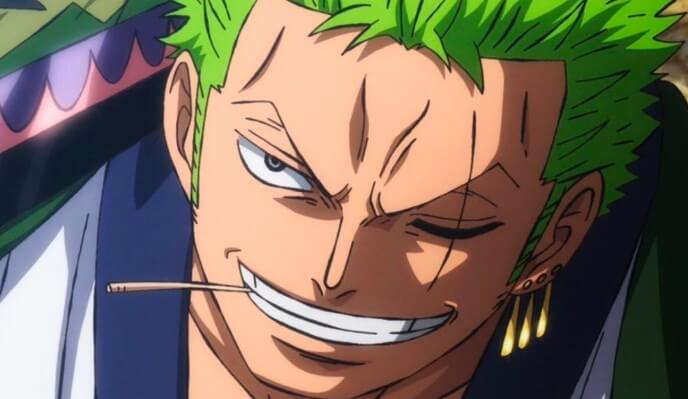 In recent years, the rapid progress in AI technology has led to the development of voice-generation tools that can replicate the distinctive voice of Roronoa Zoro. This offers fans an exceptional opportunity to create deepfake voices, providing a unique and immersive experience.
Part 2: Who Voiced Roronoa Zoro?
In the Japanese version of the anime series "One Piece," Roronoa Zoro is voiced by Kazuya Nakai. Nakai's powerful and distinctive voice brings the character's strength and determination to life. In the English version, Roronoa Zoro is voiced by Christopher Sabat, who skillfully portrays Zoro's tough and serious demeanor with his commanding voice. Sabat's portrayal has made him an iconic voice for the character in the English-speaking fan community.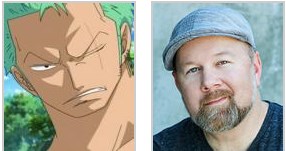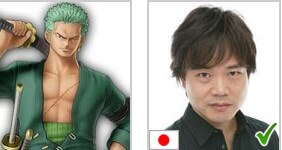 Part 3:How to Generate a Zoro Voice with AI Tech?
1) iMyFone VoxBox- AI Voice Generation
VoxBox, an advanced AI voice generator, offers the authentic Zoro voice experience. With over 3200 voices in 77 languages, VoxBox accurately replicates the unique vocal traits of anime characters and real-life celebrities. you can easily obtain Roronoa Zoro's natural voice with this powerful AI tool for making voiceovers for your content.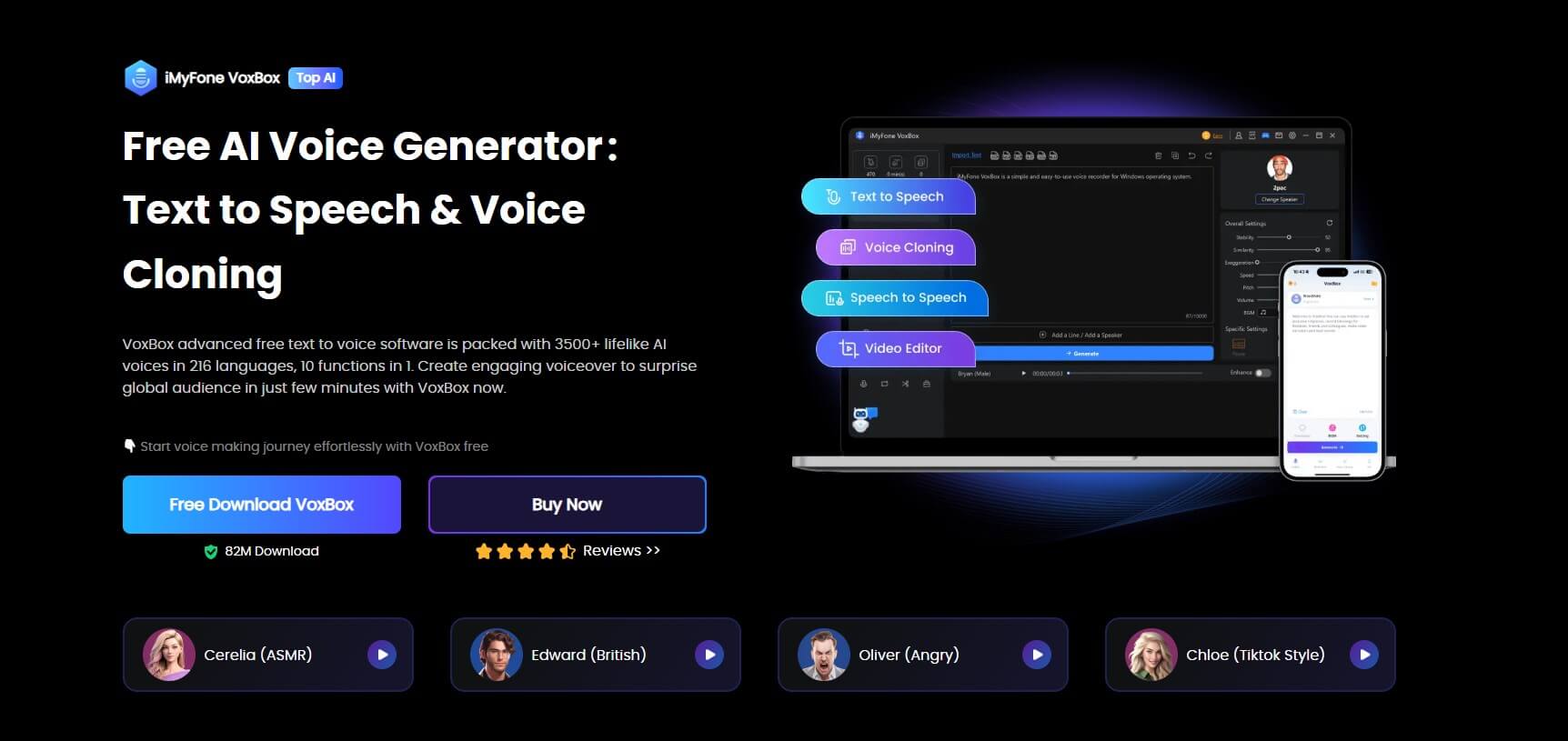 How to Create Roronoa Zoro's Voice with AI?
Step 1: Download VoxBox and install it, click on "Voice Cloning" you can upload the relevant famous human voice to clone, and then wait a mins. you can get the Roronoa Zoro's voice you want.

Step 2: Select the "Text to Speech", Type the Cloned Voice name like Zoro's to choose and then enter text to generate.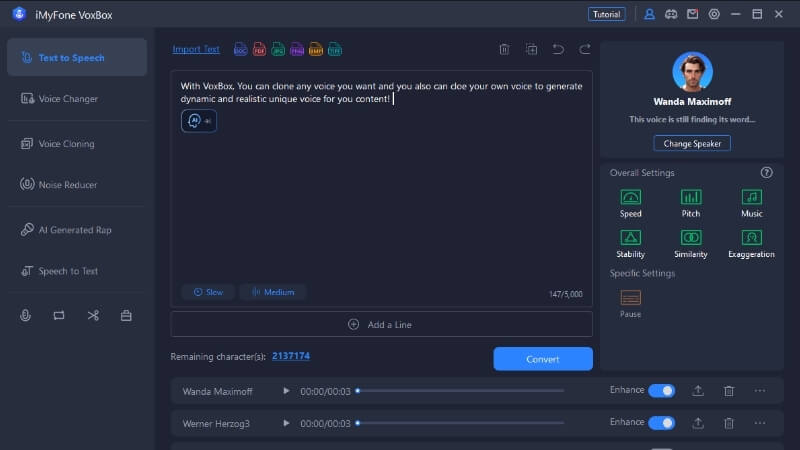 Step 3: Click the "Convert" button to export the realstic Zoro's voice.
Features:
Diverse voice options, ranging from anime characters to professional human voices.

A library of over 3200 AI voices, supporting 46 languages with 100+ accents for natural speech.

Functionalities for text-to-speech, voice cloning, and text transcription.

Customizable voice settings, allowing adjustment of pitch, speed, and volume.

High-quality audio output formats (OGG, WAV, MP3) for excellent sound.

Versatility for various applications, including business, entertainment, and social media use.
2)Listnr
Listnr, an AI voice generator, offers high-quality voices for voiceovers in online courses, explainer videos, ads, and more. It allows podcast recording and editing, customizable voice styles, and integration options through its TTS API. Share audio on social media platforms with ease.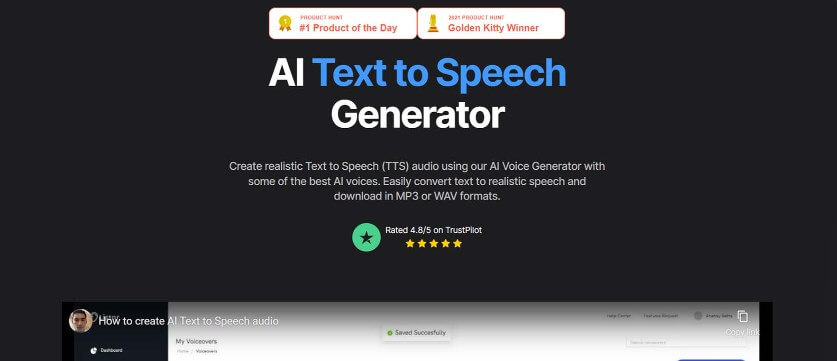 Features:
A vast collection of 600+ voices is available in 75+ languages.

Five distinct voice styles to choose from.

A state-of-the-art text-to-speech editor for precise customization.

Unlimited downloads, exports, and audio embeds on external websites.

Efficient voice cloning service for quick results.

Comprehensive podcast hosting, recording, and editing capabilities
3) Synthesys
With the Synthesys suite, you can create AI audio, video content, digital art, and AI avatars. It offers over 254 voices in 140+ languages, including the option to generate videos with digital avatars. The user-friendly interface allows audio merging, pronunciation improvement, and word replacements.
Features:
Unlimited voiceover downloads.

35+ real human voices.

Wide language support with 140 languages & 374 voices.

Lip-synching AI video technology.

Voice cloning option to upload your own voice.

Library of AI avatars to choose from or create custom avatars based on yourself.
Conclusion
Using an AI voice generator to get Roronoa Zoro's voice offers fans a unique way to replicate their favorite character's iconic voice. For those interested in experiencing this, iMyFone VoxBox is the perfect solution. Try VoxBox today and unleash the power of AI voice generation with Roronoa Zoro's voice at your fingertips.