Have you known to make waves in recent news of the Drake AI covers, making waves in recent news? And did you catch the latest album featuring AI Liam Gallagher as the vocalist, titled "Oasis"?
Among various AI song generation, we all know most of them are based on the artist's voice. But traditional text-to-speech software merely provides voice generation, how to meet people's needs makes the biggest convenience, and also supports making songs by singing text-to-speech voices. Keep Reading, we'll listed best 5 AI generators based on artist voices for your any purpose.
Bonus Tips
Listening to deep fake Voice generated by an AI music artist voice generator.

Part 1: Listed of Top Music Cover Based On Artist AI Voice
Following is the list of the Top 10 AI music cover songs based on the artist's voice

Drake AI - Decisions(Zam Adams)

Lana Del Rey AI - Cardigan (By Taylor Swift)

The Weeknd AI - Greece (By Drake)

Drake AI - Winter's Cold (By Lvcci)

Juice WRLD AI - Die For You (By The Weeknd)

Notorious BIG AI - The Message (By Nas)

Lil Uzi Vert AI - Puffin On Zootiez (By Future)

Michael Jackson AI - I Feel It Coming (By The Weeknd) *Studio Quality*

Freddie Mercury AI - Thriller (By Michael Jackson)

XXXTentacion AI - Drowning (By A Boogie Wit Da Hoodie)
Part 2: Top 3 AI Music Artist Voice Generators 2023
VoxBox is an AI voice generator that provides an artist's AI voice for creating AI songs, AI rap, and celebrity voiceovers. With VoxBox, you not only access AI text-to-speech (TTS) voiceover from popular artists' voices but also allow you to make your favourite artist's voice via voice cloning with AI.

Features:
100+ Artist AI Voices: offers a wide selection of music voices, including Taylor Swift, Drake, Juice Wrld, and more.

Export in multiple formats like MP3 and WAV.

VoxBox's text-to-speech and voice cloning technologies generate natural and expressive voiceovers.

Dubbing in 46+ languages using its TTS capabilities.

User-Friendly Interface: The interface is designed to be intuitive and easy to use.

Enhanced security and fast processing
2) Voicemod Text to Song
Voicemod's text-to-song feature allows you to make songs with the distinctive styles and tones of these AI artists' voices. But it only provides access to 7 AI music artist voices spanning various genres such as Pop, Trap, HipHop, Classic, and more.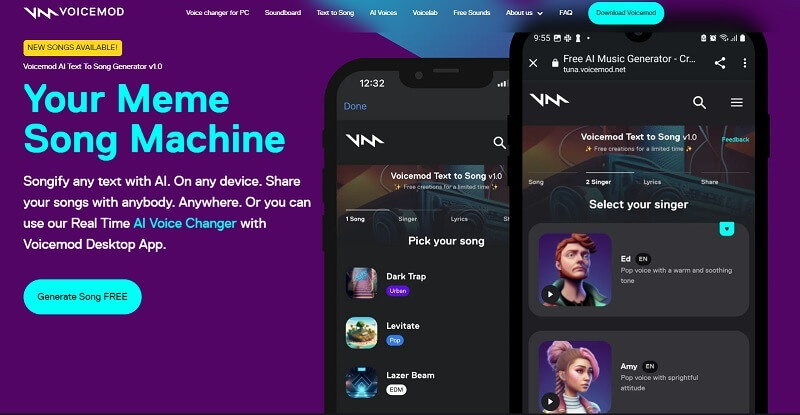 Features:
7 AI music artist voices covering various genres for versatile song creation.

Voicemod offers 8 instruments representing diverse genres to enhance your compositions.

Voicemod is compatible with multiple platforms, ensuring a seamless experience across different devices.

Voicemod suggests the most suitable singer based on the style and genre of your composition, helping you find the perfect voice.

Musical Meme Creation
3) Uberduck.AI
Uberduck.ai is an AI rap generator with more than 100+ artists' voices that allows you to create AI vocals and voiceovers. but it more aims for users to make rapping, you can find that there are more funny voiceovers of TikTok virus videos to be generated via it.

Features:
Over 5,000 expressive artist voices for creating AI vocals and voiceovers with diverse tones and styles.

Utilize the provided APIs to quickly build powerful audio applications, enabling you to develop custom audio experiences in a short time.

Custom Voice Cloning

Join a vibrant ML community, collaborate with fellow creators, and leverage AI research to develop innovative creator tools, enriching your projects.
Part 3: Top 2 AI Song Generators Based on Artist Voice
1) AI Cover Songs
This website was an online cover song with AI based on artist's voices, but now it is offline.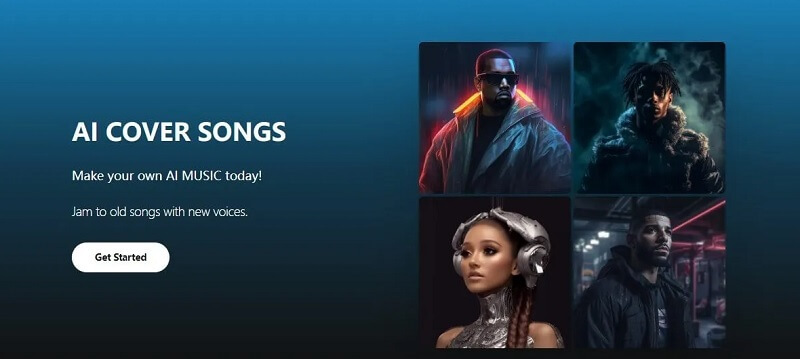 Features:
Choose from three music artist AI voices to achieve your desired custom AI cover songs.

Provide the necessary song details to personalize your AI cover song.

Delivery in popular audio formats like MP3 or WAV, ensuring seamless playback across various devices and platforms.
2) Voicify
If you are looking for an AI song generator based on the artist's voice, it is your best choice. Voicify is the popular song generator for AI covers with your favourite artist's voice in seconds, As seen on YouTube, most users have created cover songs featuring renowned artists like Kanye West, Drake, and Travis Scott.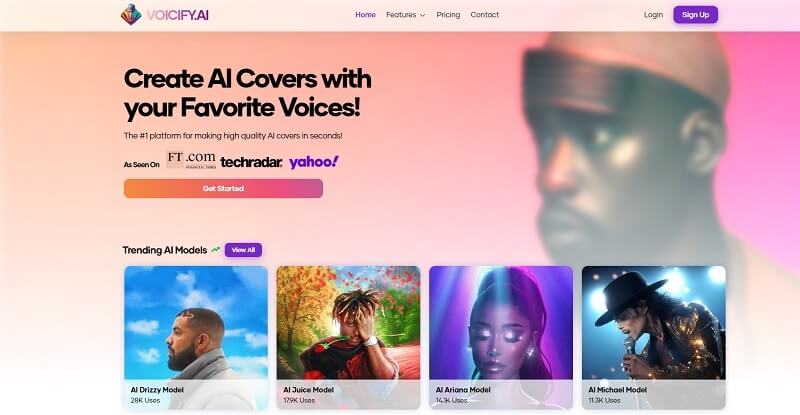 Features:
Choose from a wide selection of 58+ music artist AI voices for your creations.

Create tailored AI voice models to meet your specific requirements.

Experience faster processing with the priority queue and seamless integration with stealth generation.

Enjoy unlimited generation credits as a paid user for unrestricted AI voice generation
Part 4: How Gets More Artist AI Voice Easily?
To access a broader range of AI artist voices, consider the following options:
Voice Cloning Services: you can choose some best voice cloning platforms such as VoxBox, Voice.ai, and ElevenLabs that aim to provide voice generation. most also support you with custom artist voices.

Collaboration with AI Developers: You can tap into their expertise and potentially create custom voice models or expand their existing collection of artist voices.
Always ensure that you respect copyright and intellectual property rights when using AI artist voices.
Part 5: Latest News About Music Artist AI Voice
In April 2023, the AI-generated track "Heart on My Sleeve" by AI Drake gained massive viral attention, prompting labels to swiftly remove it from all streaming platforms. However, the song had already amassed an impressive 600,000 Spotify streams, 15 million TikTok views, and 275,000 YouTube views before its takedown.
Renowned singer Holly Herndon, a prominent figure in the AI music realm, has ventured into offering her own voice as a service called Holly+. She has also launched her own AI music podcast, delving into discussions surrounding these intriguing topics.
In a recent development, notable vocal artist Grimes took to Twitter to express her support for individuals utilizing her AI-generated voice. She declared her desire to receive 50% royalties for any chart-topping song featuring her AI voice.
Conclusion
Whether you find voice generators based on an artist's voice or song generators based on an artist's voice, we have given the best 5 artist AI generators for making songs or voices.
But if your requirements only meet artist's voice generation, the suitable choice is VoxBox, cause which is not only offers AI artists voice cloning but also has 3200+ artists' text-to-speech voices, and even supports making songs based on artist voices with AI, Download and try it now.