Have you listened to the AI-generated song that imitates Drake, making waves in recent news? And did you catch the latest album featuring AI Liam Gallagher as the vocalist, titled "Oasis"?
Among various AI music applications, voice generators are taking center stage, surpassing other categories in both popularity and performance. Traditional text-to-speech software merely provided speaking capabilities, requiring musicians to manipulate melodies separately using tools like a cover song generator to achieve a singing effect. However, the landscape is rapidly evolving, with recent breakthroughs in vocal timbre transfer now becoming accessible to the wider public. These advancements are revolutionizing the way voices are synthesized, allowing AI music artists to effortlessly transform the text into captivating melodies.
Bonus Tips
Listening to deep fake Voice generated by an AI music artist voice generator.

Part 1: Listed of Top Music Artist AI Voice
Experience the latest trend in music: fans utilizing AI to recreate vocals resembling famous artists like Drake, The Weeknd, and Liam Gallagher of Oasis. This groundbreaking development holds immense potential for the music industry. While a few notable examples have garnered public attention, countless fans have already embraced AI technology to transform popular songs with fresh voices. Witness the transformative power of AI as it revolutionizes the way we perceive and reimagine music.

Drake AI - Decisions(Zam Adams)

Lana Del Rey AI - Cardigan (By Taylor Swift)

The Weeknd AI - Greece (By Drake)

Drake AI - Winter's Cold (By Lvcci)

Juice WRLD AI - Die For You (By The Weeknd)

Notorious BIG AI - The Message (By Nas)

Lil Uzi Vert AI - Puffin On Zootiez (By Future)

Michael Jackson AI - I Feel It Coming (By The Weeknd) *Studio Quality*

Freddie Mercury AI - Thriller (By Michael Jackson)

XXXTentacion AI - Drowning (By A Boogie Wit Da Hoodie)
Part 2: Top 3 AI Music Artist Voice Generators 2023
VoxBox is a artist AI voice generator offers a comprehensive solution for creating AI songs and captivating voiceovers with a variety of AI music artist voices. With VoxBox, you can utilize text-to-speech (TTS) technology to compose your own AI songs and engage your audience or fans.

Additionally, VoxBox provides an all-in-one package with advanced features such as voice cloning, conversion, and editing. This enables you to customize and enhance your audio content with ease.
Features:
100+ Artist AI Voices: offers a wide selection of music voices, including Taylor Swift, Drake, Juice Wrld, and more.

Export in multiple formats like MP3 and WAV.

VoxBox's text-to-speech and voice cloning technologies generate natural and expressive voiceovers.

Dubbing in 46+ languages using its TTS capabilities.

User-Friendly Interface: The interface is designed to be intuitive and easy to use.

Enhanced security and fast processing
2) Voicemod Text to Song
Voicemod's Text to Song feature allows the creation of AI-generated cover songs using the distinctive styles and tones of these AI artists. which provides access to 7 AI music artist voices spanning various genres such as Pop, Trap, HipHop, Classic, and more.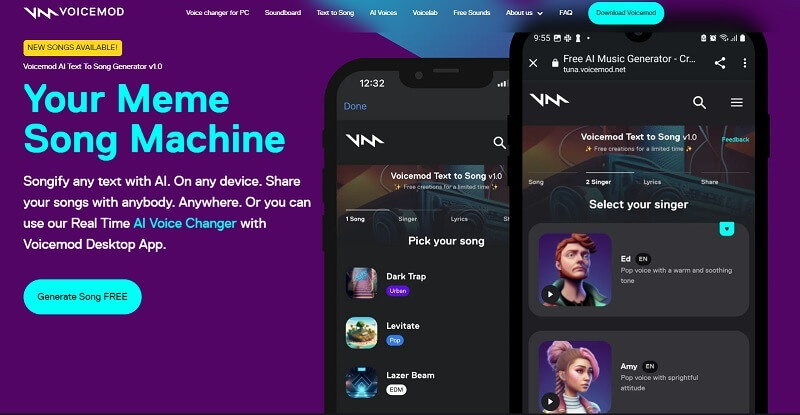 Features:
7 AI music artist voices covering various genres for versatile song creation.

Voicemod offers 8 instruments representing diverse genres to enhance your compositions.

Voicemod is compatible with multiple platforms, ensuring a seamless experience across different devices.

Voicemod suggests the most suitable singer based on the style and genre of your composition, helping you find the perfect voice.

Musical Meme Creation
3) Uberduck.AI
Uberduck.ai is an AI rap generator that allows you to create AI vocals and voiceovers using a diverse selection of over 5,000 expressive voices. Moreover, you have the option to synthesize your own custom AI music artist's voice, enabling a truly personalized audio experience.

Features:
Over 5,000 expressive artist voices for creating AI vocals and voiceovers with diverse tones and styles.

Utilize the provided APIs to quickly build powerful audio applications, enabling you to develop custom audio experiences in a short time.

Custom Voice Cloning

Join a vibrant ML community, collaborate with fellow creators, and leverage AI research to develop innovative creator tools, enriching your projects.
Part 3: Music Cover Generator with AI Artist Voice
1) AI Cover Songs
Rediscover old songs with fresh artist voices as you create your own AI cover songs with AI COVER SONGS. Get started today and be among the first to try this exciting feature, adding a unique twist to timeless classics.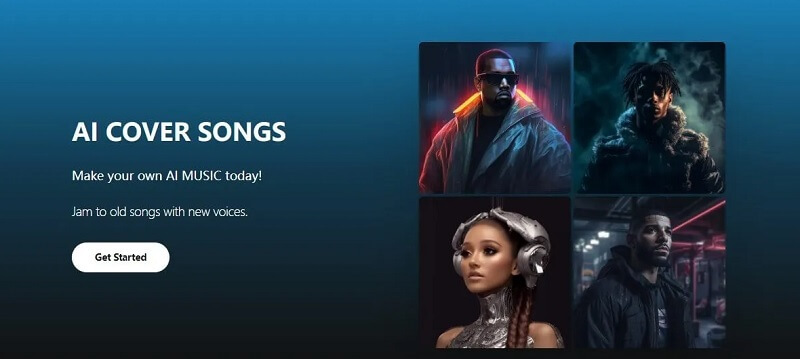 Features:
Choose from three music artist AI voices to achieve your desired custom AI cover songs.

Provide the necessary song details to personalize your AI cover song.

Delivery in popular audio formats like MP3 or WAV, ensuring seamless playback across various devices and platforms.
2) Voicify-AI Song Cover Generator
Voicify is a popular song cover generator that covers music with your favorite artist's AI voice in seconds! As seen on YouTube, Voicify has created AI music covers featuring renowned artists like Kanye West, Drake, and Travis Scott.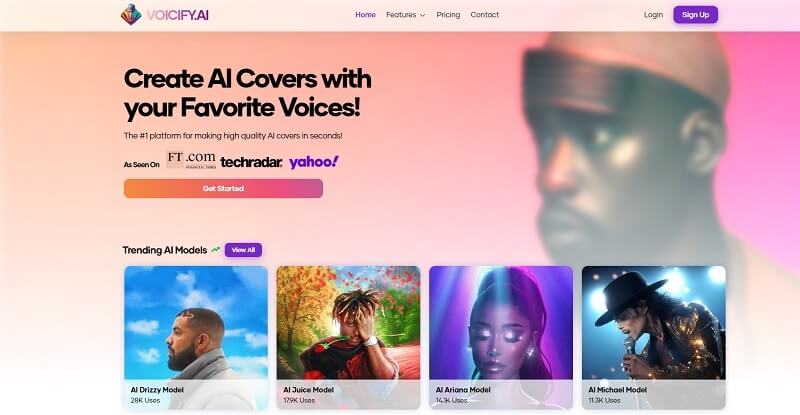 Features:
Choose from a wide selection of 58+ music artist AI voices for your creations.

Create tailored AI voice models to meet your specific requirements.

Experience faster processing with the priority queue and seamless integration with stealth generation.

Enjoy unlimited generation credits as a paid user for unrestricted AI voice generation
Part 4: How Gets More Artist AI Voice Easily?
To access a broader range of AI artist voices, consider the following options:
Voice Cloning Services: Explore reputable platforms such as VoxBox, Voice.ai, and ElevenLabs that specialize in providing AI-generated voices. These services often offer a diverse selection of artist voices. Conduct thorough research to identify trusted voice cloning services that suit your needs.

Collaboration with AI Developers: Engage with AI developers or teams who specialize in voice synthesis and cloning. By collaborating with them, you can tap into their expertise and potentially create custom voice models or expand their existing collection of artist voices.
Always ensure that you respect copyright and intellectual property rights when using AI artist voices. Obtain the necessary permissions or licenses to use the voices in accordance with your intended purposes
Part 5: Latest News About Music Artist AI Voice
In April 2023, the AI-generated track "Heart on My Sleeve" by AI Drake gained massive viral attention, prompting labels to swiftly remove it from all streaming platforms. However, the song had already amassed an impressive 600,000 Spotify streams, 15 million TikTok views, and 275,000 YouTube views before its takedown.
Renowned singer Holly Herndon, a prominent figure in the AI music realm, has ventured into offering her own voice as a service called Holly+. She has also launched her own AI music podcast, delving into discussions surrounding these intriguing topics.
In a recent development, notable vocal artist Grimes took to Twitter to express her support for individuals utilizing her AI-generated voice. She declared her desire to receive 50% royalties for any chart-topping song featuring her AI voice.
Conclusion
In conclusion, AI artist voices provide exciting possibilities for creative expression and customization in various applications. Whether for AI-generated cover songs, voiceovers, or other creative projects, accessing a diverse selection of AI artist voices can enhance the quality and personalization of the final product. and we also provide several AI generators like VoxBox , etc that provide AI artist voice, you can choose your favorite one to generate music
However, it is important to be mindful of copyright and intellectual property rights when working with AI artist voices, ensuring that proper permissions and licenses are obtained for their use. By responsibly leveraging AI artist voices, we can explore new realms of creativity and engage with audiences in unique and captivating ways.