Today, we'll introduce the best AI voice generator, both in its free and paid versions, and demonstrate how our advanced technology delivers lifelike AI Ronaldo voices for all your content requirements. Whether you're crafting advertisements, recording podcasts, or producing video commentary, AI Ronaldo's voice imparts a distinct touch of authenticity and charm to your content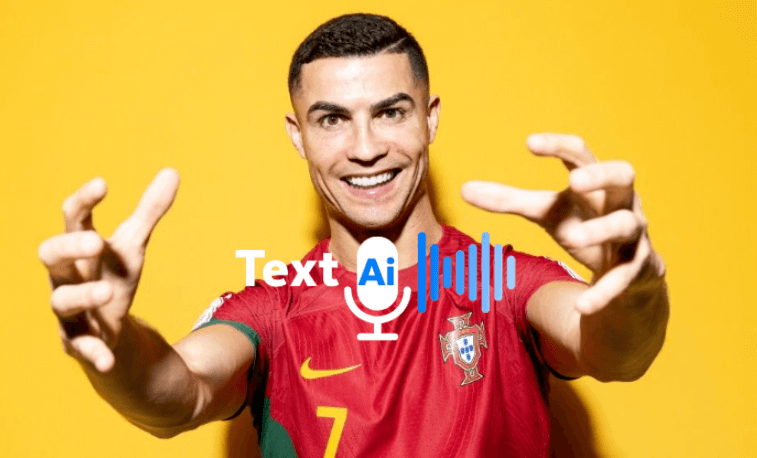 Listen to AI Ronaldo's voice demo for free and download VoxBox to receive a complimentary 2000-character text-to-speech conversion using Ronaldo's voice


Part 1:Facts of Cristiano Ronaldo
Cristiano Ronaldo, born on February 5, 1985, is a Portuguese professional footballer widely regarded as one of the greatest players in the history of the sport. Known for his exceptional athleticism, skill, and goal-scoring ability, Ronaldo has played for top clubs like Sporting CP, Manchester United, Real Madrid, and Juventus. He has won numerous awards, including multiple FIFA Ballon d'Or titles. Off the field, Ronaldo has become a global brand and an influential figure in the world of sports.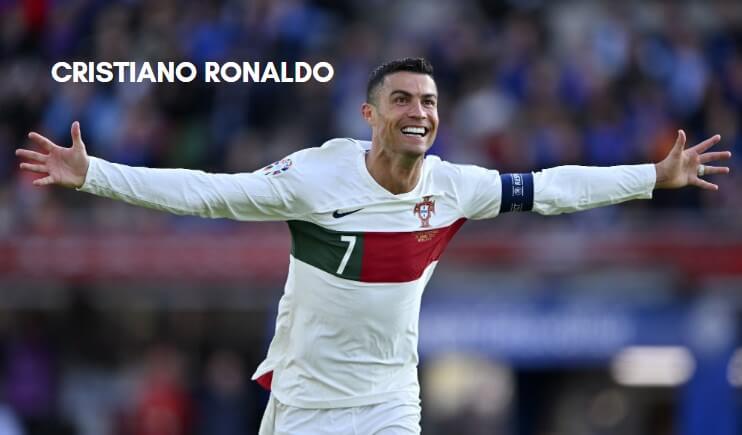 In recent years, AI voice generators have been developed that can replicate Ronaldo's voice, offering fans a unique way to experience his thoughts and messages.
Part 2:How did AI Ronaldo Voice get via Voice Generator?
Unlock the Unique Ronaldo AI Voice with VoxBox: Our advanced AI voice generator offers instant voice cloning and text-to-speech technology. Enhance your content's appeal, whether it's a podcast or a video, by replicating celebrity athletes voices like Cristiano Ronaldo's.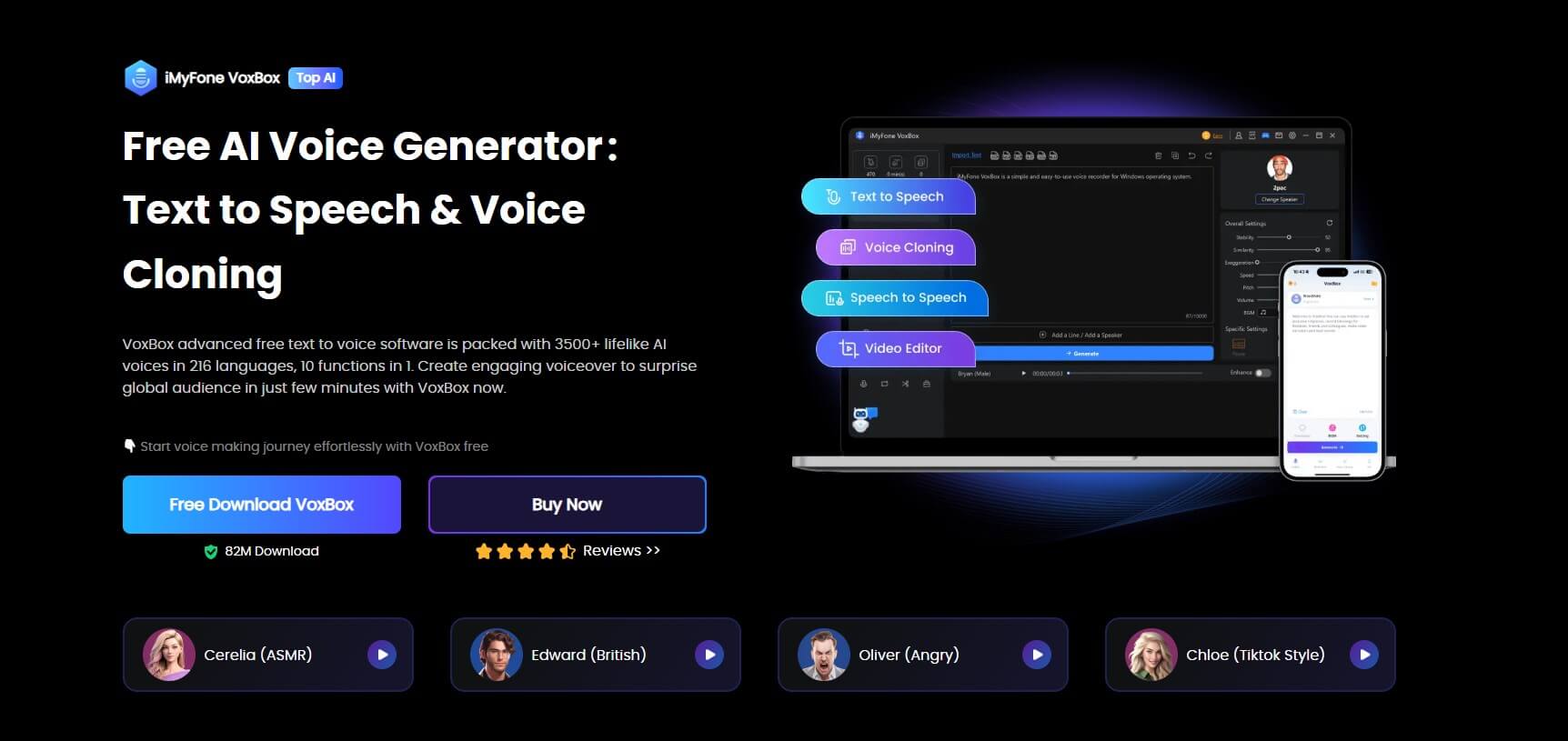 Bonus Tips
Watch the Video to Learn How to Use AI Cristiano Ronaldo Voice Generator
How to Create Ronaldo AI Voice: Steps Simplified
Step 1:Download VoxBox and install it, click on "Voice Cloning" and you can upload the relevant famous human audio to clone, and then wait a minute. you can get the CR7 AI voice.

Step 2: Then click the "My cloned voice" choose "use" and go to the "Text to Speech" lab. Type your script, and then "convert" it.

Step 3: You also could choose "text to speech voices", and search "Cristiano Ronaldo" , and type your script to get realistic voiceover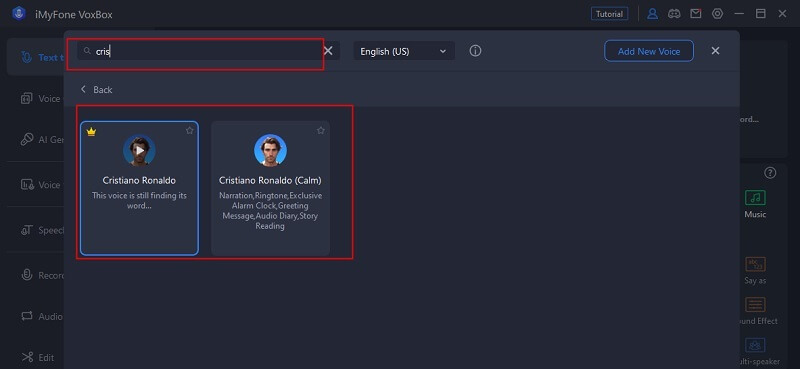 Features:
Multiple text-to-speech voice options, including Twitch streamers and football players, for diverse content applications.

Support for 77+ global languages, ensuring seamless international dubbing.

Tailor voices with customizable settings like pauses, volume, speed, and pitch.

Enjoy instant voice cloning and superior quality technology, offering various cloning options.

Free provides additional audio functions such as recording, speech-to-speech, and speech-to-text support.
2)Murf.ai
Murf.ai is your online AI voice generator, featuring advanced voice cloning tech. Easily replicate an AI voice akin to Ronaldo. With 120+ authentic text-to-speech options in 20+ languages, achieve lifelike, natural speech effortlessly.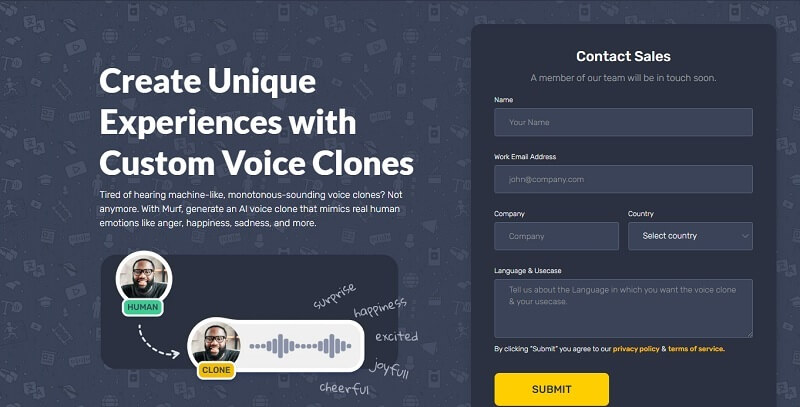 Features:
Instant Text-to-Voice Conversion

Access 120+ realistic text-to-speech voices in 20 languages for AI voiceovers.

Ideal for various applications: promo videos, explainers, e-learning, podcasts, and more.

Personalize AI voices with pitch, punctuation, and emphasis.

Elevate home recordings into pro voiceovers and collaborate effectively.

Feature-packed studio for seamless voice production.
3) ElevenLabs
ElevenLabs Prime Voice AI excels in voice cloning, tailoring AI voices like Cristiano Ronaldo, Biden, and more famous celebrities. which aims to deliver top-tier, lifelike audio for creators and publishers. Ideal for storytelling, newsletters, blogs, and audiobooks.

Features:
Generate premium audio with human-like nuances, ensuring high-fidelity results.

AI adapts delivery contextually, enhancing speech naturalness.

Perfect for immersive storytelling, lifelike newsletters, dynamic blogs, and audiobook production.

Share audio clips, engage on leaderboards, and stay updated on the latest creations.

Accurately clone voices from audio samples, enabling precise replication of specific voices.
Part 3: The Benefits of Ronaldo's Deepfake AI Voice
The desire to create a deep fake voice of Ronaldo stems from the allure of imitating his unique vocal characteristics and the potential benefits it presents in various industries, including entertainment, advertising, and education.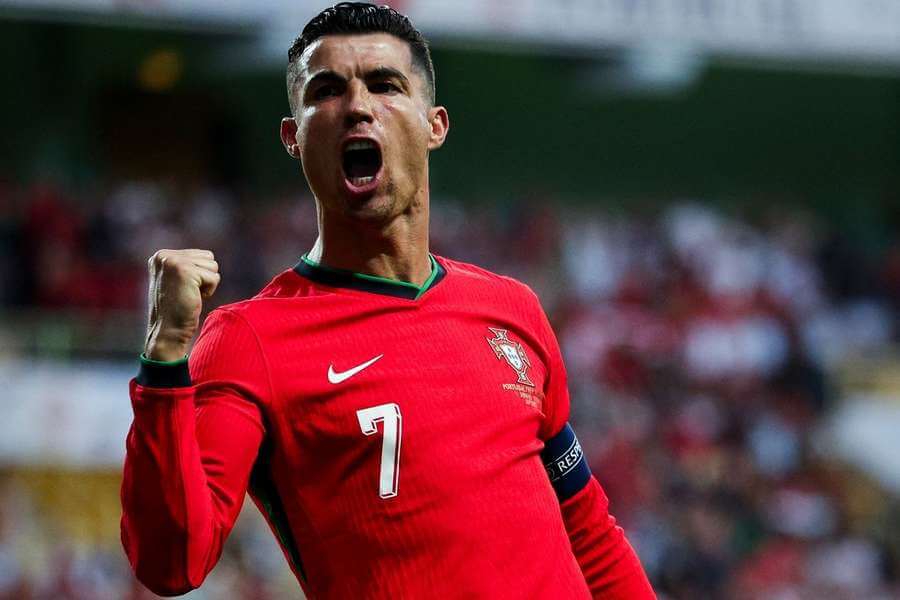 Benifits:
Imitating Ronaldo's Vocal Characteristics: Ronaldo possesses a distinctive voice that is recognized and admired by millions of fans worldwide. and By using AI to mimic Ronaldo's voice, individuals can experience a sense of familiarity and emotional connection, leading to enhanced engagement and enjoyment.

Dubbing movies and TV shows: Deep fake voices can be employed to dub Ronaldo's voice into different languages, allowing his fans from around the world to enjoy his performances seamlessly.

Brand endorsements:Brands can leverage the deep fake voices of Ronaldo to create captivating advertisements and endorsements, enhancing their reach and brand visibility.

Video games and virtual reality:Incorporating Ronaldo's voice into gaming and virtual reality experiences can provide more immersive and realistic gameplay, enhancing the overall user experience.
Conclusion
In conclusion, the AI Ronaldo voice generator obtained through advanced AI voice cloning and text-to-speech offers a solution to a common user pain point. These tools simplify the process of creating lifelike voice content, addressing the need for authentic narration in various applications. Whether it's for podcasts, videos, or more, it ensures engaging voiceover content.

Download VoxBox now and get unlimited free voice generation.