Halloween is one of the most participated festivals of the year. It is celebrated and enjoyed by kids as well as adults. People and kids tend to dress up and wear scary costumes to haunt other fellow people. They go door to door for the sake of trick or treat.
As Halloween approaches, people tend to brainstorm ideas on how they can scare and prank people. Using scary voices and pranking friends is also a great idea that many people adopt.
In this article, we will discuss how you can generate scary voices using text-to-speech to prank friends on Halloween. and we will share many scary voice generators that you can try.
Try it Free
Part 1:The Story of Halloween
The story of Halloween originates from the ancient Celtic festival, which is called Samhain. The Celts mostly lived in Ireland or the UK about 2000 years ago. The leaves turn from yellow to orange. People tend to take out their jackets and start carving pumpkins for Halloween.
The word "Halloween" originated from "All Hallows' Eve", as it pays homage to saints. Before the 7th Century, All Hallows'Eve was celebrated on 13th May, but it moved to summer when Pope Boniface IV made the call and tried to offset this festival with a different religious celebration. Then the word All Hallows' Eve became Halloween. People believe that Halloween is the time of the year when the boundary between the real world and the next becomes very thin, and it becomes easy to connect with the dead.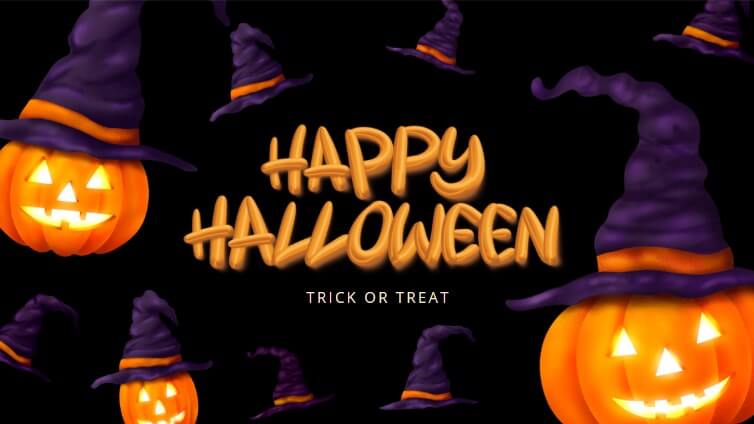 Part 2: 4 Useful Scary Text-to-Speech Generators Artifacts for Halloween
iMyFone VoxBox is a text-to-speech voice generator that you can create horror and deep voices for Halloween and prank your friends. which is easy to use.
Features:
VoxBox allows you to genrate voices more than 3200+ like Ghostface, Spongebob, etc.

VoxBox Supported 100+ accents like Hindi,Aussie accent, etc.

VoxBox Supported 46+ languages like Spanish, Japanese, etc.

Supported adjust parameters like Pause, Pitch, Volume, Speed & Emphasisc.

Multi functions like Video convert, speech-to-text, Voice record, audio eidt, etc.

It supports different audio file formats.
How to Generate scary voice:
Step 1: Downlaod Voxbox and install it, then open it, and click on "text-to-speech".

Try it Free

Step 2: Select the voice type, then type your words, click on "Convert".

Step 3: After seconds get audio. Click on the "Play" button to hear what it sounds like. Then "Export" the audio to your computer.
Tips
Listen to the Scary Voice Generated by VoxBox.

2) Typecast
If you are looking for an online text-to-speech tool, then Typecast will do the thing for you. You can create AI and generate a voice for up to 60 seconds for free with this tool. It has different options, allowing you to adjust the voice.
Features:
With Typecast, you can create not only text-to-speech but also AI-generated videos.

It also allows you to control the tones and emotions of the audio output.

Typecase has a feature that enables you to create facial expressions.

It also has subtitles, custom virtual humans as well as background features.
How to use:
Step 1: Go to the Typecast website. You will see the option of "Try Now". Click on it, and it will take you to a new page. Here, you can enter the text or paragraph that you want to convert to speech.

Step 2: It has different options. Choose the tone, speech pace, pause, tempo, pitch, and voice of the audio output. Then click on the "Play" button to hear the voice.

Step 3: If you are satisfied with the voice, then you can click on "Download" and save it on your computer. However, if you don't like the output, you can make changes to it and then listen to it again until you find the perfect output.
3) Speechify
Speechify is the only tool that is available on multiple platforms. You can download it on Android and iOS devices as well. Developers can also generate API using this tool. The best thing about Speechify is that you can take a picture of any book or page, and it will read it aloud, so you don't have to read it yourself.
Features:
Speechify has more than 15 languages from which you can choose your desired output narrative.

It has more than 30 natural human voices to choose from.

You can use this tool across different devices (Android, iOS, and Chrome).

It allows you to adjust the speed of the generated audio content.

You can also scan the printed text, and Speechify will read it for you.

Speechify has other features like a floating widget, inline player, and also active text highlighting, which sets it apart from other tools.
How to use:
Step 1: Go to Speechify website and download the tool to your smartphone. You can also add it as your Chrome Extension.

Step 2: Type the text, choose the voice and play speed and then hit on the play button to hear the output.

Step 3: If you like the output, then you can download it to your phone or computer as well.
4) Cereproc
If you are looking for a professional text-to-speech tool that can work with multiple software and computers, then Cereproc has no competitor. With Cereproc, you can replace the voice of your computer, phone, and tablet with a different range of languages and accents. It has a great voice cloning service as well.
Features:
The voices of Cereproc are not just real, but it makes them suitable for any type of application that you want.

CServer of Cereproc is a multi-channel, high-performance, TTS server.

It is best suited for multi-threaded environments and applications like alert systems, multimedia, and chatbots.

It also has a cloud service that you can use to access the CereVoice TTS engine.

Cereproc has a voice cloning service that you can use to create a computer version of your voice.
How to use:
Step 1: To try out the tool, you can go to Cereproc homepage. Here, you will see a block of voice demos. Enter the text, select the language and choose the voice in which you want to generate the audio output.

Step 2: Click on "Play," and you will hear the voice of your text/script.

Step 3: It is a paid tool, so you cannot download the speech output for free. It has personal and commercial use depending on the requirement of the user. You can purchase the plan that suits you the best.
Conclusion
In this article, we have discussed different voice generators that you can use text-to-speech to create a scary voice. There are both desktop software and online tools when it comes to text-to-speech voice generators.
However, if you are still confused about how to choose scary voice generators, I'd recommend iMyFone VoxBox. It is a simple and effective text-to-speech generator that has more languages and Ai voices . Do not wait for more, download and install it.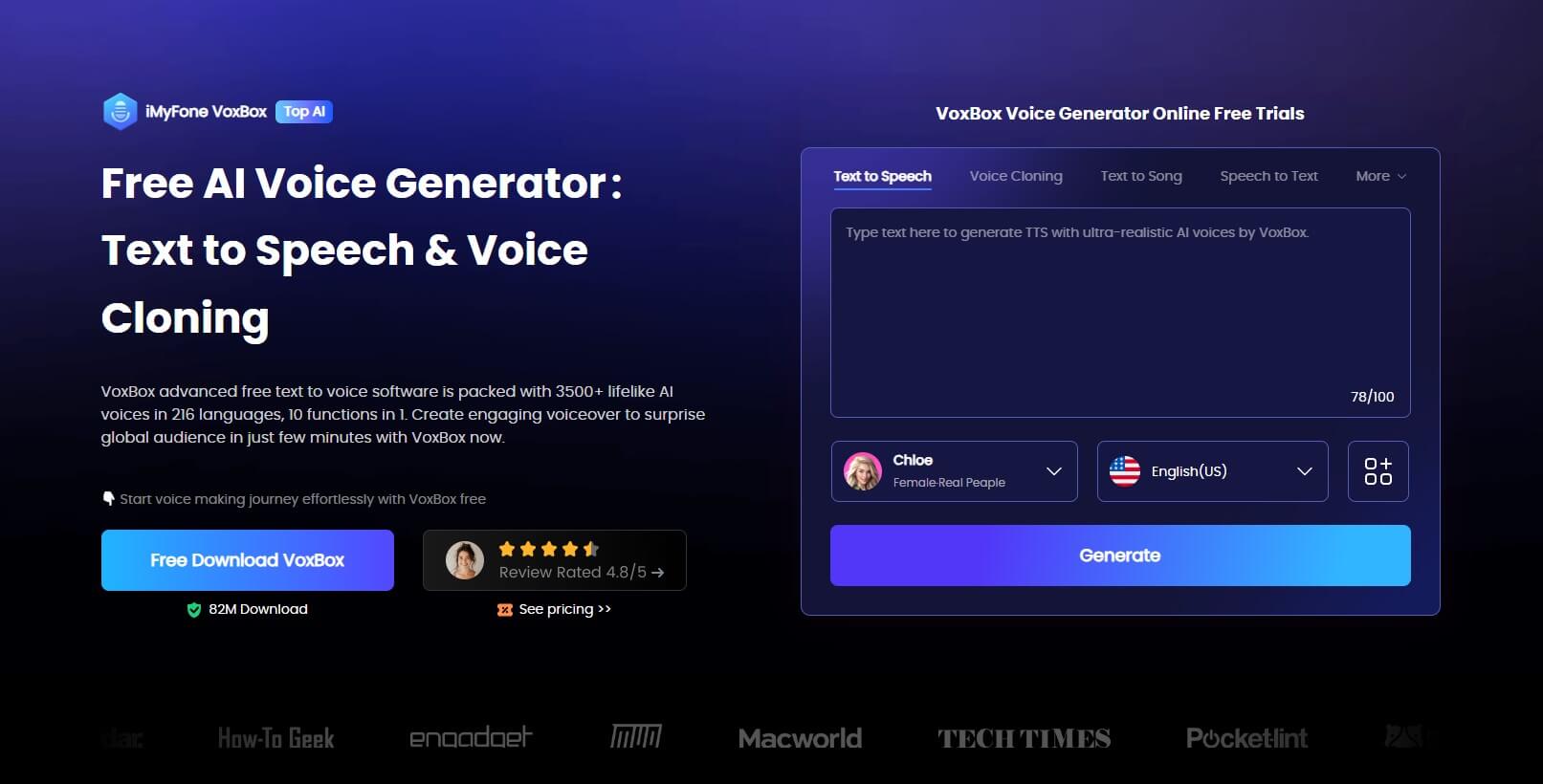 Try it Free