Text-to-speech technology has come a long way in recent years, and the demand for high-quality, natural-sounding voices has never been greater. One of the most popular voices among users is the Eric text-to-speech voice, which is known for its deep, rich tone and clear pronunciation.
Whether you're creating an app, website, or video, having a high-quality Eric voice text to speech can make a big difference in the user experience. In this article, we will share the best possible ways to create an Eric text to speech AI voice.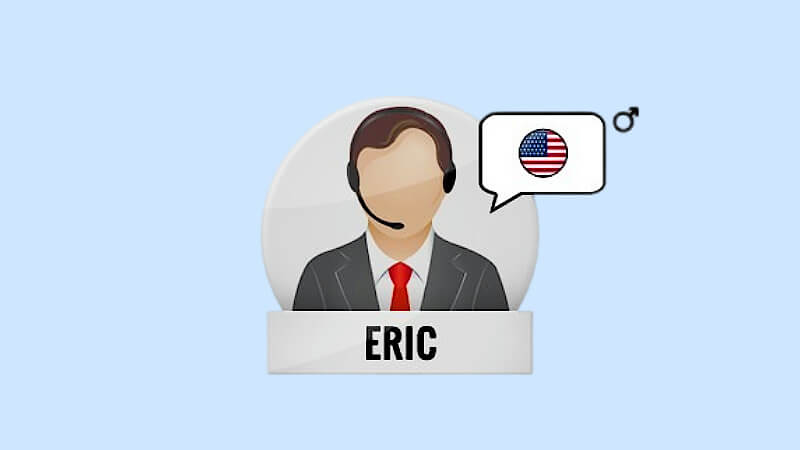 Tips
Listen to the Eric AI Voice Generated by VoxBox.

Part 1: Best Eric Text to Speech AI Voice Generator
In this section of the article, we will introduce you to the best Eric text to speech voice generator software currently available in the market. So, let's get started without much further ado!
iMyFone VoxBox is a powerful voice generator for text-to-speech conversion . It is known for its high-quality voices and easy-to-use interface. With iMyFone VoxBox, you can create a customized Eric tts voice by recording your own voice or by editing pre-existing voice samples.
It supports batch conversion of text to speech Eric and allows you to save the output in various formats such as MP3, WAV, and others.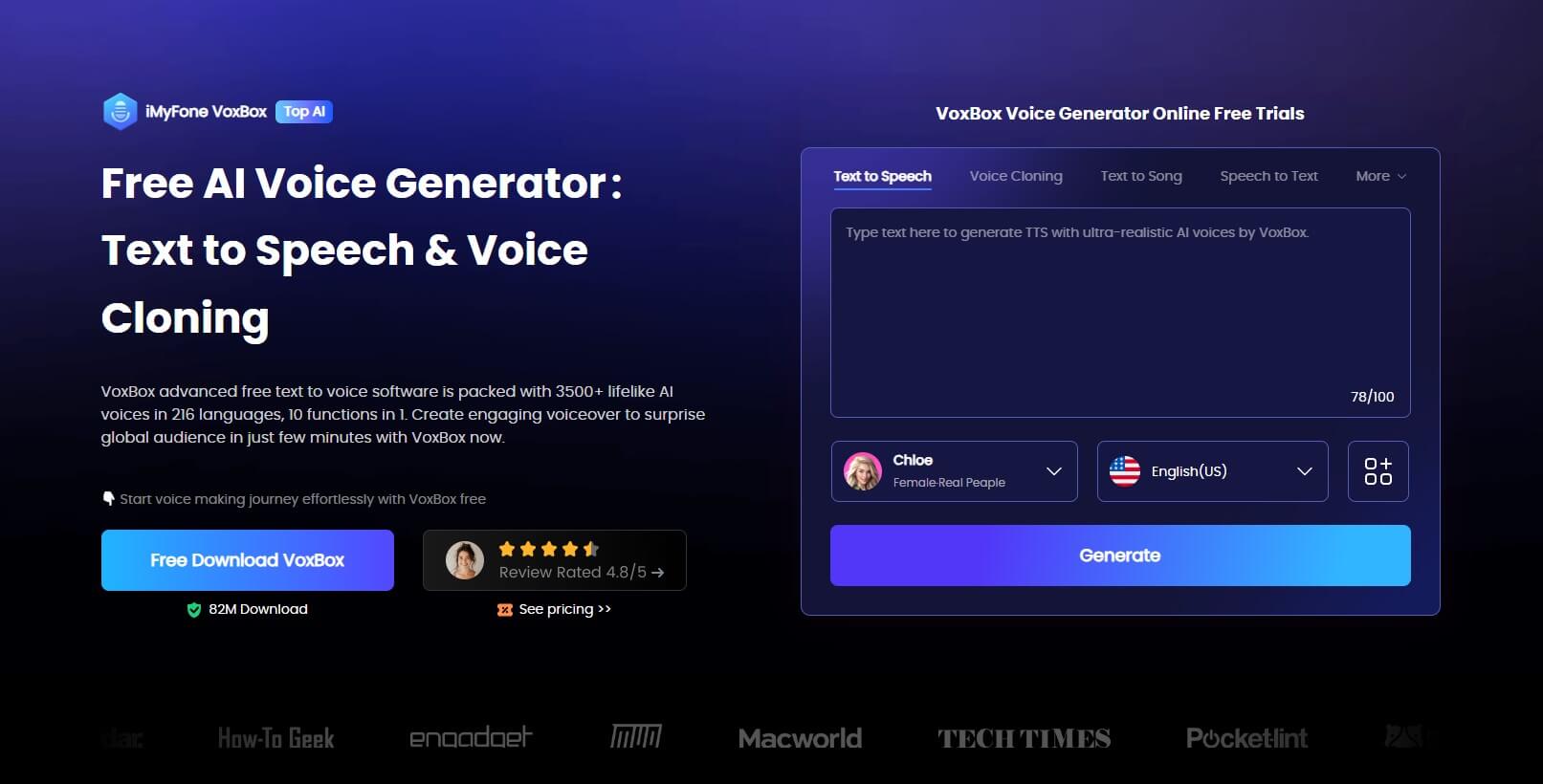 How to Steps:
Step #1: Download and install VoxBox on your device.
Step #2: Go to Text to Speech Section, select Eric voice option and enter text for text to speech Eric voice conversion.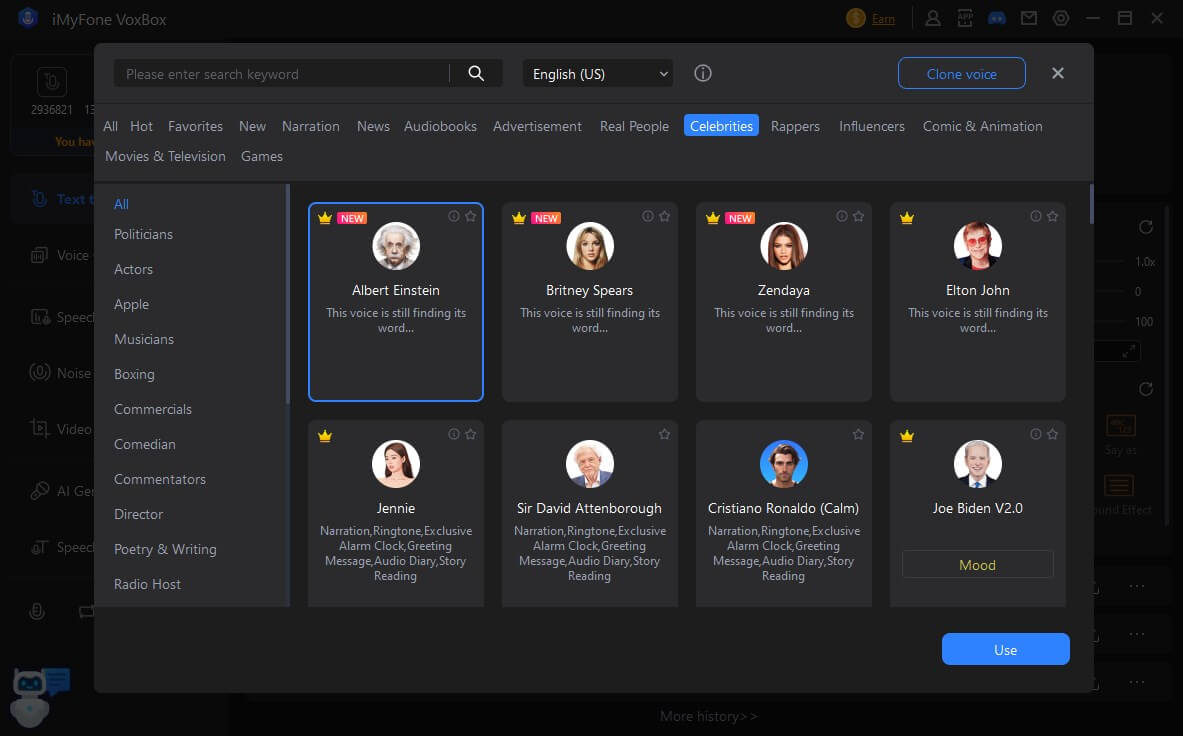 Step #3: click 'convert' and VoxBox's AI powered TTS will convert your text to speech within seconds, then you can save it.
Key Features:
Provides support to quality catalog of over 3200 voices including president, news reporter, singer, etc.

Generate results in 46+ global languages.

It can generate Eric voice text to speech just with few seconds.

100+ accents like Italian accent, Russian accent you can change.

Various functions of Text-to-Speech, Speech-to-Text, Voice Record, Video Converter, Audio Edit.

AI voice cloning to make Eric voice.

Ability to adjust speed, pitch and volume during TTS.
Pros:

Beginner friendly.

Produces results very quickly.

Free trial is available.
Cons:

Need you to install the software.
Part 2: Other Eric Text to Speech Generators Recommended
1. Readloud.net
Readloud.net is an excellent software for Eric text to speech. It is intuitive and easy to use, with great sound quality and a wide range of customization options. It offers great value for money, making it the ideal solution for any text-to-speech needs.
How to Steps:
Step #1: Go to readloud.net and select Eric ( male voice) to proceed.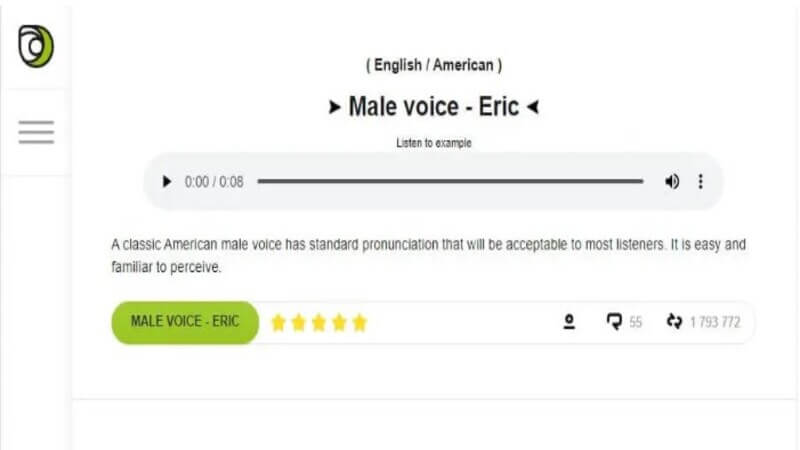 Step #2: Put the text that you want to convert Eric text to speech in the given space.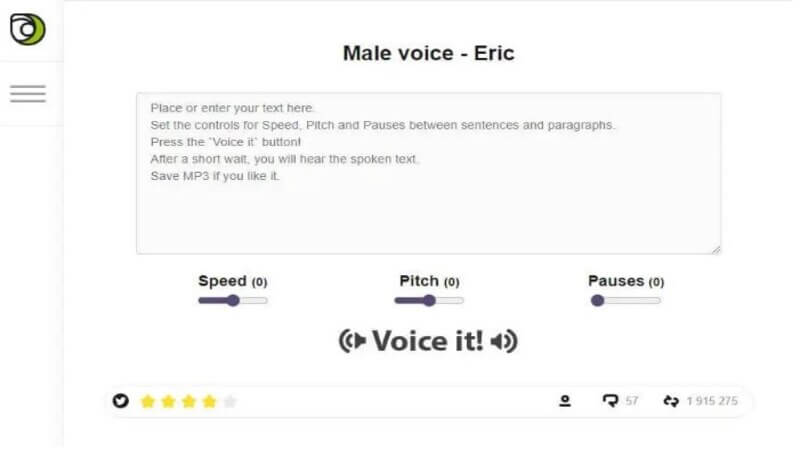 Step #3: Hear out the converted Eric tts voice and save it for further use.
Pros:

Easy to use tool.

Simple and straightforward design.

Free Eric text to speech conversion.
Cons:

Limited range and quality of voices available.

Limited tools for customizing the text-to-speech experience.

Price point may be too high for those on a limited budget.
2. Ivona
Ivona is an industry-leading text to speech Eric software powered by NextUp technologies. It provides high-quality Eric AI voice in multiple languages, offering natural and lifelike speech synthesis that can be used in a variety of applications.
Ivona is easy to use and has a wide range of features, giving users the ability to generate natural-sounding text reads with just a few clicks.
How to Steps:
To use Ivona to convert text to speech Eric, follow these steps:
Step #1: Go to the Ivona software on your computer.
Step #2: Select the language and voice in which you want to generate the text-to-speech synthesis.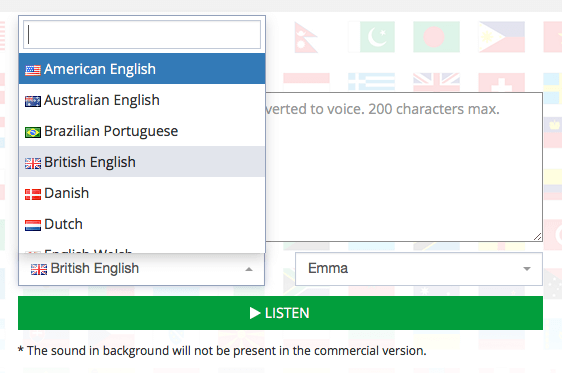 Step #3: Import or type in the text that you would like to convert into speech and create the audio file with your text-to-speech conversion.
Pros:

Easy to generate Eric voice.

AI powered.

Fast to produce results.
Cons:

Eric tts is not available at the moment.

Free trial is very limited.

Limited sounds available compared to competitors.
Part 3: FAQs about Text to Speech Eric
1. How can I make Eric text to speech voice?
To create an Eric text-to-speech (TTS) voice, you will need to use a TTS software that allows for voice customization and recording. One such software that we ;recommend is VoxBox.
With VoxBox, you can create an Eric (male) voice by recording your own voice, and then using the software to process and apply that recording to the TTS engine.
2. Which is the best text to speech Eric tool?
There are several text-to-speech (TTS) tools that can be used to create a voice that sounds like "Eric." The best tool for you will depend on your specific needs and preferences. However, one TTS tool that is known for its customization capabilities and user-friendly interface is VoxBox.
3. Can I make Eric Text to Speech for free?
Eric (male) is indeed a popular voice for text-to-speech, and there are a few ways to create a TTS voice that sounds like Eric for free. One option is to use a free TTS software like VoxBox.
Conclusion
In conclusion, creating a Eric text to speech can be a fun experience. By following the steps outlined in this article, you can create a AI voice that is truly unique and tailored to your needs.
If you're interested in trying out this process, we highly recommend giving iMyFone VoxBox a try. It's the best option available and will allow you to create a high-quality Eric TTS or STT in no time.