There are plenty of online and offline audio editing tools that allow you to record, edit and customize any audio file. However, text-to-speech is a unique feature that not every audio tool offers.
Uberduck.ai is a tool that provides text-to-speech as well as custom voice clones. Let us see what this online tool is all about and whether it is safe or not. Moreover, we will discuss a better alternative to this online audio tool.
Part 1: What is Uberduck.Ai?
If you are looking for an online audio tool that can convert text to speech without any problem, then Uberduck.ai is a great tool. It is an open-source voice AI community that helps you to create and share with other people.
It doesn't require any downloading and installation as it is an online tool. So, it is an easy-to-use tool that is accessible from everywhere. It has a free version as well as a paid version for users that want to enjoy premium services.

Features:
It has API documentation that helps the developers to create full flesh audio apps.

It has more than 5000 expressive voices from which you can choose.

You can close your voice for different purposes.

It has a diverse studio that enables users to use royalty-free voices for personal and commercial use.

Reference audio helps you to sing or rap along with the audio.

It helps you to synthesize your custom voice clone.

It has a Discord group for all types of queries and problems.

The community of Uberduck.ai is very helpful as it can help you in many ways.
Part 2: Is Uberduck.Ai Safe?
Uberduck.ai is not a new tool in the business. It has been available for many years. Due to this reason, people rely on this tool and think of it as a safe and secure tool to use.
You can sign up for Uberduck.ai without worrying because it is reliable. The data you share on the website is kept confidential and is not exposed in any matter. Whether you use a text-to-speech feature, API documentation, or even a custom voice clone, your data will not be shared. If you allow it to share with the community, then it will share; otherwise, it will not.
Uberduck.ai is not only safe but it offers different features to the user. It is better and safer than other online tools. Safety is an important aspect that everyone should look for. We are exposed to the internet and anything can happen if we don't take precautions. So, instead of using untrusted applications, we should use tools like Uberduck.ai that are safe, reliable and easy to use.
Uberduck.ai has limited features. If you want to try a more diverse and better tool, then you can use iMyFone VoxBox. Let us get into the details of VoxBox in the next part of the article.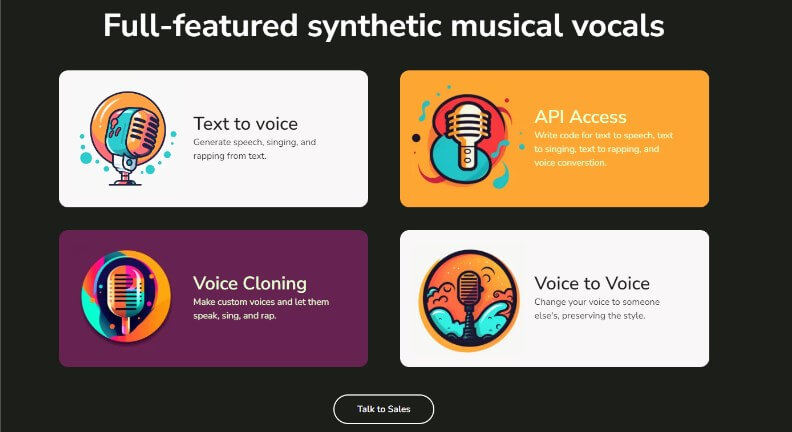 Part 3: Best Uberduck.Ai Alternative - VoxBox
If you don't want to use an online tool, then VoxBox is the best tool to use. It is compatible with PCs and works efficiently. You can use this tool to record and edit audio using different tools. Moreover, it has a text-to-speech feature that is reliable and effective.
Voxbox is famous for its high-quality outputs as it doesn't lower the quality due to file size. It can be used for different applications, including songs, speeches, meetings, and more. You can also export multiple recordings at once with it.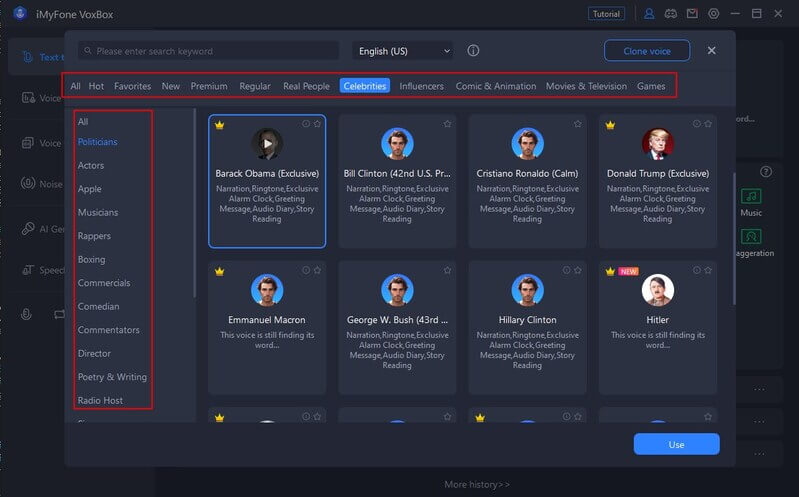 Features:
9 global languages like Spanish, Japanese, french.

3000+ voices like rappers, YouTubers, cartoons, celebrities, etc.

It allows the user to cut, trim, delete, and clip any audio file.

Supported voice record even from platforms like iTunes.

VoxBox has a voice recording feature as well as text-to-speech.

You can import and export audio files in different formats.
Pros:

VoxBox has a user-friendly interface making it easy to use.

It is an offline tool and doesn't require a stable internet connection.

It has a wide voice library to choose voices from.

VoxBox is a safe and reliable tool.

The privacy of the user is not compromised.

It has a trial version that you can download and explore the tool.
Cons:

Compatible only with Windows.

Features are restricted for trial version users.
Conclusion
Whenever you look for any audio tool, whether it be an audio recording, editing, text-to-speech, voice clone, or more, make sure to look for a security tool. The safety of a tool is very necessary. It is because your computer data is exposed to anything that you use. Uberduck.ai is a safe and reliable TTS voice-generating website that helps you to generate different types of voices. It is an online tool and works flawlessly. However, if you want a desktop tool, then you can go for iMyFone VoxBox, as it is a much better alternative because of its user interface. VoxBox also has multiple features that you can enjoy as a user. Download the trial version for free and check out all the features of this audio tool.